The second Underclassman All-American Game tipped off on Saturday in Atlanta at Wheeler High School showcasing a nice collection of talent and names to track in the coming years. The 2019 Class is a strong one. With players like Zion Williamson and Romeo Langford last year, here are some of the names to look for moving forward from this year's game.

East
Charles Bassey 6'10 230 PF/C – 2019
Bassey was a man amongst boys leading the East to victory. He cleaned up everything around the basket, finished in transition, and even hit a three a few steps behind the line. Although he's far from a finished product, he's so physically gifted and doesn't play outside his game. He's very quick off the ground and has a nose for the ball and exhibits a never-ending motor. Bassey was the top prospect to play in the game and led his team to win MVP with 35 points, 20 rebounds, and 6 blocked shots.
DJ Jeffries 6'7 190 SF – 2019
Jeffries showed intrigue with his athleticism and playmaking ability. He's very good with the ball in his hands and can beat you by attacking or passing with his versatile floor game. He took it to the rim with aggression as well as showing some touch on his jump shot. Jeffries makes it look easy when he's on the floor finishing with 14 points.
Matthew Hurt 6'9 200 PF – 2019
Hurt showed good face up ability and skill at his height. He can put the ball on the floor and get where he wants. He displayed his court vision distributing in a high-low game when paired up with elite big men Charles Bassey and Isaiah Todd. Hurt played well defensively and showed versatility on both ends of the floor. He ended up with nine points, five rebounds, and three assists.
Isaiah Todd 6'10 195 PF – 2020
Todd has the makings of a big-time player down the road. At 6'10 with coordination of a wing, he is very intriguing. He's a very good slasher and reacts to the defense quickly showing advanced instincts using a go to spin move in traffic. Although he didn't connect on many jump shots, he can play inside and out. Todd posted ten points and seven rebounds in the win.
Anthony Edwards 6'4 200 SG – 2020
The combo guard had a very good game, making plays in a variety of ways. He was solid all around. He possesses good strength and athleticism. Displaying his court vision, keeping his head up, and passing out of drives as well as getting to the rim to score for himself. He knocked down his opportunities at the free throw line as well as showing his form from the floor. Edwards had the top play of the game with a poster dunk on Xavier Foster and finished with nine points, five rebounds, and three assists.
West

James Wiseman 6'10 210 PF – 2019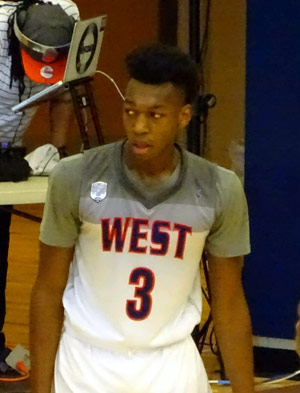 Wiseman has impressed every time I've seen him with tremendous size, length, fluidity, and skill set. A majority of his points came from inside the paint on put backs and utilizing his size near the basket, but he did show some face up ability throughout the game, even knocking down a three. He runs the floor incredibly well and is a very good defender. He hasn't even started filling out his frame as he just turned 16 on March 31 but once he develops physically, he'll be an absolute handful for the opposition. Wiseman ended with 21 points and ten rebounds to earn MVP of the West. There is no limit to Wiseman's potential and I expect him to become a household name in the near future.
De'Vion Harmon 6'1 195 PG – 2019
Harmon is extremely difficult to contain when he gets going downhill. His ability to drive and get to the rim is the foundation of his game. He finished in traffic and through contact with his physical play. At the end of the game he got to the free throw line at will but missed a handful of his free throw attempts. Although he got to the basket when he wanted, he doesn't take many outside shots which would open up his game much more. Harmon finished with 13 points, four rebounds, and four assists.
Xavier Foster 6'9 190 PF – 2020
Foster was the best shooter in the game. He has the size of a power forward but the skillset of a three-man. All 12 of his points came from threes and he showed some Klay Thompson like tendencies pulling up on a three on one break and passing up on a driving opportunity to take a few steps back to attempt a three. He showed some straight line driving ability but needs to work on gathering himself and finishing at the rim as he didn't connect on his layups. Foster showed a solid overall game with 12 points and four rebounds. He may have been the youngest player in attendance as he will be 14 for a couple more months.
Jaemyn Brakefield 6'8 210 PF – 2020
Brakefield didn't have a great game with only six points and two rebounds but showed some skill with his size. Still raw but he has a transition game and made some nice moves although it didn't always result in a made basket. Brakefield played limited minutes when I saw him for Huntington Prep this past season but should have a bigger role next year.