The top of this year's draft is beginning to shape up similar to last year's, with a big three having emerged on our Top 100 Big Board and then a major drop off. Many in the media have anointed Jahlil Okafor as the certain top overall pick. He's obviously a very polished and safe pick who will excel as a low post scorer, and if the draft were held today that might be the case. But with a long season left to play out, we feel the top pick is still wide open and either electric playmaker Emmanuel Mudiay or intriguing center Karl-Anthony Towns may ultimately go first. The team that ends up with the pick will likely factor into things as well.

Rising
Emmanuel Mudiay 6-5 185 PG Congo (Guongdong) 1996
Mudiay is currently nursing an ankle injury that is expected to keep him out for roughly two weeks. The rumor mill suggests that he may not play out the entire season, so there will likely be a rush of scouts and executives heading over to China to catch a glimpse of him as soon as he returns to the court. It is extremely difficult to judge his talent in his current setting, as Chinese teams do not emphasize defense and the guard play can be abysmal. Stephon Marbury continues to extend his career and excel as a scoring lead guard over there, for instance. Regardless, we viewed Mudiay as the top long term prospect in the high school class, and despite not proving his wares in college, missing that subsequent development, we still feel he is worthy of the top overall selection. If you missed it, you can read our first Mudiay Watch here. We'll follow that up with another edition before long.
Karl-Anthony Towns 7-0 240 C Kentucky Fr.
While his statistics aren't exactly eye popping, Towns has quickly established himself as Kentucky's clear cut top prospect and as possibly the top bigman prospect in the country. He is currently one of the nations leaders in blocked shots, coming in limited minutes within the Kentucky platoon system. His offensive game, while lacking the post polish of Okafor, shows tremendous potential due to his great form and developing range. He should be a very good pick-and-pop option in the league with his face the basket skills. He has even developed a hook shot that is gaining consistency. The fact that he is practicing every day against two of the best bigmen on the college level in Willie Cauley-Stein and Dakari Johnson is also a real plus. Is he as impactful a player right now as Okafor? No. And he also has far less pressure to produce day in and out. But, he does have considerably more untapped potential to develop, which could make him the better long term prospect. Strength and post development will obviously be keys to reaching his full potential. A very smart and motivated kid with a competitive streak, Towns should continue to improve as the season rolls along and a UK title only helps his cause.
Jahlil Okafor 6-11 270 C Duke Fr.
Offensively, Okafor is as polished and effective a post player to come into college basketball in some time. Drawing comparisons to players such as Al Jefferson and Kevin Love, it's apparent that he can be a very effective low post scorer at the NBA level. In his past two games he has struggled some with getting his shot blocked and looking a little heavy legged, but he continues to pile up impressive statistics. He's shows excellent ability to be a go-to scorer on the block and has the strength to overpower most college opponents and get post position near the basket. Okafor remains possibly the safest pick among the big three, but his upside is debatable, being less explosive and athletic. Despite not being an above the rim, spectacular type of athlete, his body control and footwork is impressive. He has been championed as the likely #1 pick by many, and he has come out of the gates very strong, scoring a career high 24 (12-14 FG) in today's game against Furman. We still are not sure he goes first, as both Mudiay and Towns offer more potential. It will be interesting to see how things develop as the season continues.
Myles Turner 6-11 240 PF/C Texas Fr.
Turner moved all the way up to four on the mock in last week's update, showing tremendous potential as both a shot blocker and mid range shooter. He's shown excellent flashes in the half court with great shot blocking ability and a nice extended mid-range jumpshot. His shot blocking ability supersedes both Okafor and Towns. He has "tight" hips and legs which at times affect his transition game. Bigmen often take the longest to grow into their bodies, so the hope is that over time his leg tightness will wane. His 25 and 10 in 25 minutes in Texas' latest game against St. Francis show the big potential he has a scorer and rebounder.
Montrezl Harrell 6-8 240 PF Louisville Jr.
Harrell has been on fire through the first few games, adding new facets to his offensive repetoire. He is still a guy whose bread and butter is his toughness and ability to do the dirty work. However, he has apparently worked considerably on his shooting range and is developing some post skills around the basket. He may not ultimately get into the top half of the lottery, but at this point he has been as good as anyone outside the top 3-4 players, and has moved into that range on the latest mock draft. If he can maintain his current level of play for the entire season, he could potentially challenge to be a top 5-8 pick this year.
Chris McCullough 6-10 220 PF Syracuse Fr.
McCullough impressed scouts over in NYC the weekend with his tremendous athleticism and shooting ability. He is a wiry forward with face-up skills, in the mold of a Chris Bosh. Through five games, McCollough has been extremely productive and has yet to be held below double figures. He is also averaging an impressive 15.3 ppg, 7.8 rpg, 3.0 blocks per game. Not only that, he is getting those stats up in spectacular fashion, with numerous highlight dunks as well as a wet mid range jumpshot. His lateral speed and quickness could allow him to potentially even play minutes at the SF position, though he is more of a natural PF with his great length. While his body is thin, he is wiry strong and has a frame that should allow him to add strength without losing much mobility. McCullough is now projected as a top 10 pick in the 2015 mock draft.
Justise Winslow 6-6 225 SG/SF Duke Fr.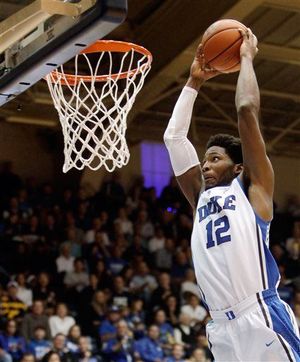 Winslow was the biggest riser on the mock this week, going from a projected 2016 top 20 pick (17) to the 8th overall pick in 2015. Winslow has dazzled in the first two weeks of the season, showing a blend of speed, athleticism and a solid feel for the game. His outside lefty shot has been clicking, one of the main reservations scouts had coming into the season. Scouts came away from the Stanford game raving about Winslow's ability to play fast as well as under control, exhibiting a much more advanced offensive skillset than expected with an ability to create shots, hit outside jumpers along with his standout defensive intensity. His block on Chasson Randle, where he leaped completely over him, displayed an elite level athletic ability. Winslow shined in the high school showcase games, and has confirmed that it was no fluke with his early season play. Duke has not produced a ton of "one-and-done's", but it is looking more and more likely that they will have two this year, with Winslow joining Okafor. It is looking like that it may also be in the lottery.
Kevon Looney 6-9 220 SF/PF UCLA Fr.
One of the hottest names in this year's draft class, Looney has been projected as a mid first round one-and-done pick, for over a year now. He has exceeded expectations thus far with his versatility, plus his desire and aggression on the offensive end. His overall stat line after four games shows his tremendous versatility, as he is averaging 14.8 ppg, 12.0 rpg, and 2.8 apg with just 0.8 turnovers per game. His rebounding numbers are what stand out the most, which comes as no surprise as he led the NBPA camp in rebounding while in high school in back-to-back seasons. This is also a kid that played point guard for his high school team at times. An area of his game that needs improvement is his outside shot. If he can show some consistency with his mid-range shooting, he can crack the top 10 of this year's draft. The lazy Kevin Durant comparison needs to be scratched, however. He might compare to KD if instead of one of the league's best shooters, Durant struggled from range and had thick legs. Better comparison may be a more involved Lamar Odom, which would still make for a very nice prospect.
Christian Wood 6-11 220 PF/SF UNLV So.
On a nationally televised game against Temple over the weekend, Wood played like a lottery pick. He used his great length to be a force around the basket, converting dunks as well as blocking shots at the defensive end. Greg Anthony, who was an analyst on the telecast, gushed over his potential. He has long been a tremendous physical specimen, having been a borderline top 25 prospect in high school while playing at Las Vegas' Findlay Prep. It now appears that his agility is beginning to catch up to his physique. Wood needs to maintain his level of aggressiveness and consistency this season and if he can he will have a real shot at the mid-first round based on his freakish dimensions (7-2 wingspan) and potential.
Daniel Hamilton 6-7 185 SG Connecticut Fr.
The younger brother of former first round pick Jordan Hamilton, the UConn freshman has emerged as a possible lottery pick in 2016. Daniel is still very thin, but the game comes extremely natural to him and he has prototypical length and size for the position. With a pretty jump shot and standout athleticism, he has the look of a potential future NBA starter on the wing. He has started off the season in impressive fashion and appears to be the best of the bunch among a talented group of prospects in Storrs.
EC Matthews 6-4 185 PG/SG Rhode Island So.
Matthews has built on to what was an excellent summer showing at adidas Nations. He was the catalyst behind Rhode Island's upset OT win over ranked Nebraska, which had fans storming the court. Matthews took over the game offensively in the closing minutes, facilitating off the dribble from the top of the key, and showing his ability to create for himself and others. He will need to show better ball control and point guard ability, as his assist-to-turnover ratio is a bit of a concern early on. If he continues to play as he did over the summer and the early part of the season, Matthews will be in the discussion for a first round spot in 2015.
Falling
Wayne Selden 6-5 230 SG Kansas So.
Selden was projected as a lottery pick going into this season, however his inability to get by opponents off the dribble is concerning. He has an NBA body and gives solid effort defensively. He also has a big wingspan and can attack the glass hard, as well as showing nice finishing ability off of ally-oops. It is impossible not to notice his struggles to start the season, as he put up a donut in his most recent game against Rider. He has very disappointing numbers through three games, with 6.3 ppg on 25% FG and 12.5% from 3. On the positive side, he did have 9 assists in his zero point game. Selden has moved from a mid-first rounder in 2015 to the first round of 2016, as he may need more time than once thought.
Kelly Oubre 6-7 190 SF Kansas Fr.
A second Jayhawk heads the falling list, in a year where Kansas' streak of Big 12 titles looks potentially vulnerable. Oubre's lack of readiness has been apparent. He has struggled to prove that he is ready defensively in practices, resulting in limited playing time. Maturity has long been a question mark according to those around him, so he will need to stay positive, listen to the coaching staff and work through these early struggles. Maintaining a team focus is a major key. Still a player with a great deal of potential, who started the year out 2nd on the big board with his combination of athleticism, physical tools (7'2" wingspan) and scoring ability. Oubre now looks more and more like a player that would benefit from a second year in college, to figure things out and mature into a more all-around player.
AJ Hammons 7-0 280 C Purdue Jr.
Hammons has been a big tease for the past two seasons, with legitimate center size, some athleticism and flashing low post ability. Some felt, this site included, that this was finally his year to make a jump in productivity. Unfortunately, it does not appear that the light has come on, with Hammons struggling out of the starting gates. He has excellent size, mobility and some real offensive potential, but this has not equated to high level productivity at this stage of the game. He started the year as a projected first rounder, but has fallen deep into the 2nd round of the 2016 draft.
Delon Wright 6-5 180 PG/SG Utah Sr.
Wright has struggled some through the early part of the season, as he appears to be pressing with increased expectations. His overall numbers are not so bad, as his assist-to-turnover ration is excellent. But, he struggled most in his biggest game so far, going 2-13 against San Diego State. He is a big point guard with solid scoring ability, but still has not shot the ball well from the outside while being well below his extremely efficient junior year FG%. He remains on the 2015 board as a borderline first rounder, but he has work to do to hold onto his spot.