The talent level present in today's college game continues to astound on a nightly basis. From point guards to centers, and from BCS conferences to the mid-majors, the NCAA game is fully saturated. This week's Stock Watch was hardly an easy task to compile, with names like Olivier Hanlan and Nick Johnson being scrapped from the list.
Rising
Marcus Smart, Oklahoma State
Only a supremely confident player would return to school amidst this incoming draft class; a player who values winning, improving, and his teammates. That is Marcus Smart in a nutshell – a natural leader. The new and improved 2013-2014 version of Smart is on a mission to leave a legacy in Stillwater. Through five early season contests, he's averaging 21 points, four rebounds, four assists and four steals per game.
Smart stole the national spotlight on November 19th, torching ranked Memphis for 39 points in 33 minutes en route to a 101-80 thrashing. He hit 5 three's, got to the free throw line 16 times, notched five steals, and blocked two shots just for good measure. He followed up that effort with 25 first half points versus South Florida, including a 47-foot halftime buzzer beater.
After shooting 29% from distance as a freshman, Smart clearly targeted the range dimension as the most critical area for improvement. With his combination of power and playmaking off the dribble, he's able to get into the lane at will against collegiate guards. But rather than face heavy congestion on a nightly basis, Smart took the proactive approach. Blessed with intelligence and savvy well beyond his years – on and off the court – he realized cleaner looks would be available on the perimeter. He's shooting 36% on 2+ makes, while still getting to the stripe with great frequency (9 FTA).
What Smart lacks in lateral quickness defensively, he makes up for in tenacity and quick hands. He's not afraid to get burned, bodying up ball handlers with his strong frame and pressuring them into miscues.
Smart expressed these feelings to USA Today on the Andrew Wiggins hype: "They are saying he is the best college player there is and he has not even played a game yet. Of course that hypes me up. It is all talk. He still has to put his shorts on one leg at a time like I do. It is all potential. I am not saying he can't do it. But he has not done it yet." Expect him to hover in the 3-6 range for the duration.
Adreian Payne, Michigan State
Suffice it to say, Payne isn't thrilled at all the media attention flowing towards the prized freshmen either: "Yeah it pisses us off. But we just use it for motivation. Aint nothing else we can do about it." Subsequently, he's upped the aggression meter substantially, attempting 12 shots per game on a crowded roster, without a dip in efficiency: 17 points per game, 51% FG, 47% 3PT, and 81% FT.
Payne is displaying his prowess as a potential stretch-4 (pick and pop threat) more and more with each passing game. He attempted 14 three's in a two-game stretch versus Portland and Virginia Tech, making seven. Additionally, he possesses the agility to face up and put the ball on the deck and finish with vigor. Payne is a high-level, explosive run/jump athlete (38 no-step vertical) with a 7'4 wingspan. Despite averaging eight boards per game, he could use an infusion of "mean streak" on the interior. His body has filled out nicely to withstand the pounding. He scored 15 points against Kentucky, but recorded only three rebounds.
With ready-made NBA attributes, Payne has soared eight spots on our big board since the beginning of November. Offensive clunker last time out versus Oklahoma aside, he's playing his way into lottery territory for top-ranked MSU.
Joel Embiid, Kansas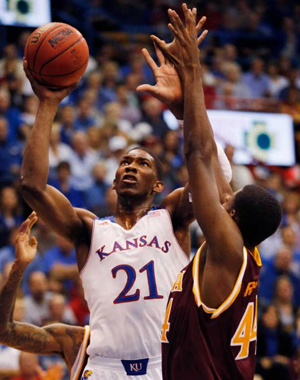 Yeah, he's raw. He's been playing organized basketball for all of two years. But this dude is so talented it's scary. He's already packed on serious muscle to his frame – with wide shoulders to continue building – all the while still maintaining freakish athleticism. At 7'0 250 Embiid makes all movements effortlessly and runs the floor like a gazelle. He's a demonic shot blocker with a 7'5 wingspan, explosive leaping ability and quick second jump.
Innate skill is present in abundance as well, as Iona learned all too well. He made a one-dribble cup move from the free throw line with an underhanded finish, appearing entirely comfortable in the process. Embiid understands positioning in the post, and he makes himself available to the passer. His jumpshot form looks pure; it's simply a matter of getting up shots and repeating the delivery. Oh by the way, he dished out five assists against Duke. He's got the feel.
Averaging nine points, eight rebound and 1.5 blocks in 19 minutes, Embiid's progress is coming fast and furiously. The sky is literally the limit when his foundational skills become routinized. He's moved up five spots on our board to #4, and it's becoming increasingly likely that he's not finished.
Roscoe Smith, UNLV
The Connecticut transfer looks like a new performer since returning from his redshirt season. Smith spent his year on the sidelines building up his frame, and as a result is playing with determination not seen in his two years at Storrs. He's leading the NCAA in rebounding by a wide margin over Julius Randle (16.3) – a far cry for his 3.4 figure as a sophomore – and he went off for 18 & 21 in a home loss to Arizona State.
Smith has found renewed life playing in a defined role that encompasses his strengths. Rather than hanging out on the perimeter and hoisting threes, he's letting his athleticism shine on the interior and overwhelming the opposition. He does possess more wide-ranging skills, but no one can argue with the results of simplification. See the ball, get the ball. A seemingly forgotten prospect just one month ago, Smith cracked the first-round (#27) on our November 21st mock.
Jahii Carson, Arizona State
A world where Jahii Carson shoots 56% from three-point land is a frightening place for Pac-12 coaches and the national landscape alike. One of speediest guards in the country (if not the fastest), forcing Carson to settle from deep was supposed to be a winning defensive possession; not anymore. He's operating like a pick-and-roll maestro: letting fly when defenders back off, attacking mismatches with a big, facilitating easy baskets when forcing a third defender to step up and dropping in floaters when they don't. Given a roster filled with three-point gunners and 7'2 Jordan Bachynski in the middle, how do you stop Carson? Nobody has yet. The Sun Devils are 6-0, coming off an exhilarating W over Marquette at Wells Fargo Arena.
His slight frame and small stature limit his draft upside, and there are definitive concerns on the defensive side of the ball. But offensively he's a relentless playmaker extraordinaire and a spin-o-rama waiting to happen. Carson has moved up ten spots to #33. As ASU keeps racking up victories, he'll keep rising up the board.
Marcus Paige, North Carolina
Paige's early season freshman hiccups are officially in the rearview mirror. He announced his presence with a 32-point, 9/12 FG, 11/11 FT performance at Louisville, setting the tone for a season-altering road victory. Through five games, Paige is hitting 53% from the floor, 53% from deep (3 makes) and 93% from the line. Sparked by improved comfort level and confidence, his entire on-court mindset appears to have changed.
The 6'1 southpaw point guard is scoring in all areas: deep bombs, floaters, tear drops, isolation drives and moving without the ball. Paige uses pump fakes, jab steps and rip through's to substantial effect, creating space for jumpers or penetration. Despite lofty scoring totals, when he penetrates, he's looking to setup teammates. He's not a standout athlete, nor does he have great size, but he plays with intelligence and has long arms. Keep an eye out for Paige on our 2015 mock.
Elfrid Payton, Louisiana-Lafayette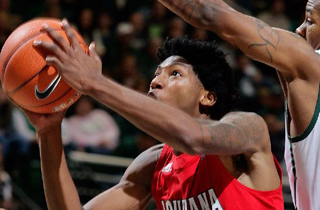 Payton obtained national recognition upon selection to the U-19 USA team, but he's only just beginning to show off his array of talents. The lengthy 6'4 point guard is filling up stat sheets: 27 points and three steals at Arkansas; 20 points, nine rebounds and seven assists at Baylor; 32 points and 21 free throw attempts versus Oakland; 13 points, nine rebounds and eight assists at Coastal Carolina. Unfortunately, accompanying these prolific numbers is an awkward number in the turnover column – 5.2 per game. Constantly in attack mode, Payton is susceptible to over-dribbling and penetrating into traffic.
He's the Ragin' Cajuns only true perimeter playmaker, and he's a darn good one, so it's hard to be overly critical. Payton is extremely creative off the bounce with a potent first step off the "killer crossover". His long strides allow for getting to the rim with ease. His pull up jumpshot in the mid-range has improved leaps and bounds since his drive-exclusive freshman campaign. He possesses huge upside as an on-ball defender and passing lane dynamo. Payton currently sits at #25 in our 2014 mock draft.
Down
James McAdoo, North Carolina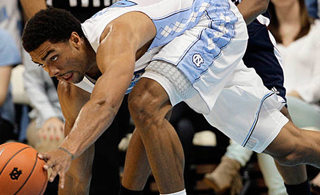 How many lives does the inflated draft stock of James McAdoo have? He's running on thin ice to be sure. McAdoo was a complete non-factor against Louisville, missing 8 of 11 shots and finishing with nine points and two boards. The game was too physical for him. Flat out, end of story. Now a junior, he stills relies on his athleticism to get by, never having identified his core strengths as a player. Does he want the rock? If so, where does he want it? What's his game? You can feel him overthinking out on the court. 27 & 13 versus Belmont is nice (missed eight free throws), but let's see him accept the challenge on the bright stage against top competition. His lack of progress is infuriating. With players behind him steadily advancing their standing, McAdoo's place inside the lottery will be short-lived.
LaQuinton Ross, Ohio State
Ross, who was a red-hot commodity following last year's NCAA Tournament, has fumbled the ball coming out of the 2013-2014 gate; with a capital F. When a one-dimensional scorer can't make a shot, it's not going to look pretty. Ross is hitting 23% of his field goals through five games, and 2/20 over his last three. He's a feel scorer who is absolutely lost right now, to the point that he's hardly even getting PT. It makes sense: he doesn't facilitate, he doesn't defend and he doesn't rebound. Why should he play? Ross has slipped from #45 to #28.
Mitch McGary, Michigan
McGary is doing the same 'little things' that he became infamous for as a frosh… but the hope was he'd take the next step and start dominating. It hasn't happened yet. While he posted a productive 14 & 12 double-double against Florida State in Puerto Rico, he's otherwise been pedestrian – topping out at 7 FGA, 2 offensive boards and 9 points. He needs to get more assertive or Michigan will struggle to find easy baskets. Not surprisingly, the hyper-physical McGary has had difficulty adjusting to the new foul rules. He's fallen eight spots on our mock to #28.
Alec Brown, Wisconsin-Green Bay
It's not often a player with a last outing triple-double will find his name on the "stock down" list. However, Brown has thoroughly earned his spot with uninspiring play. He's shooting 33% from the floor, 50% from the line and has yet to connect on a triple (43% last season). Despite being 7'1, shooting is arguably Brown's greatest strength. In his only real test versus Wisconsin, he fouled out in 18 minutes, scoring two points, grabbing a single rebound and committing five turnovers. He is PASSIVE and unsure of himself. It may sound harsh, but nobody cares about 15/10/10 TD's against Minnesota-Duluth – and he still shot just 5/14. Brown can't afford further regression if he hopes to get drafted (#58). He's supposed to be passed this walking on eggshells stuff.
Follow Adam on twitter for ACC and national insights @AdamGaneles