Andrew Wiggins, 6'7" 205, SF, 2014- There really isn't much else to be said about Wiggins. He is clearly the best prospect in high school basketball. and it's not even really close. His natural ability is off the charts and he is beginning to show an improving skill level to go along with his freakish athleticism. The scary thing about it is that he is still relatively raw compared to a Jabari Parker and he is still dominant on a nightly basis. His handle could use some tightening and his jump shot is streaky right now, but his raw talent takes over and allows him to do things that most cannot. He has the first step to get to the rim against virtually anybody. The sky is the limit for him and he's only scratching the surface.
Julius Randle, 6'9" 245, PF, 2013- Randle did nothing to damage his reputation as one of the most talented players in the country. He has a lethal combination of power and quickness that leaves without peer at this level. He can play down on the box and he can step out and put the ball on the floor to get to the basket. He won his head to head battle on the scoreboard against the consensus # 1 ranked player in the country, Jabari Parker, guiding his team to the victory. He has a tendency to float too much and he doesn't rebound or defend with the same passion that he looks to score with. He also doesn't seem to be in great shape as he's seen grabbing his shorts early in games. Nevertheless, he is a great talent who can be as good as he wants to be if he dedicates himself and hones his craft.
Jabari Parker, 6'8" 220, SF, 2013- Parker has not had his best spring, but he flashes the ability that have him ranked as the # 1 player in the country. He is highly skilled and polished and has an IQ that belies his youth. He has yet to turn 17, but he plays with the poise of an NBA veteran. He does not have blinding first step quickness like Wiggins or freakish athleticism, but he has more than enough to be an elite player at the highest level. I still would like to see him become a more consistent long range shooter, but he has good form and the work ethic to correct it.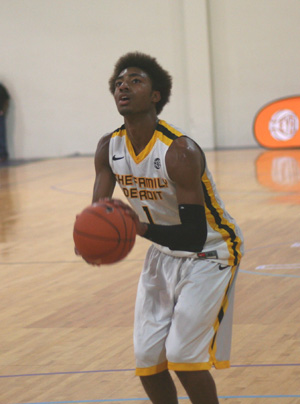 James Young, 6'7" 210, SF, 2013- Young wasn't at his best this weekend, due in part to not getting enough touches, but when he did touch it he displayed the ability that he has shown all spring. His best asset is his ability to put the ball on the floor and get to the basket. He has a reliable jumper out to 3 and he's one of the better athletes in the class. He has rounded out his game and seems to be headed towards a top 5 five ranking by the end of the summer. Kentucky and Michigan St. are the rumored leaders in his recruitment and either program will suit him fine.
Nick King, 6'7" 220, SF, 2013- King is another lefty wing in this class that has played well this spring. He's a good athlete and slasher and can shoot the ball out to 20 feet. He is dangerous in triple treat position where he can use his jab step, one/two dribble step back jumper to rack up numbers. He's a very good athlete who runs the floor and hits the offensive glass. He has a winners mentality and will take the big shot when the game is on the line. He recently narrowed is list down to North Carolina, Texas, Florida, Memphis, and Georgetown.
Rondae Jefferson, 6'7" 215, SF, 2013- Jefferson is a do it all wing type with a good feel for the game. He often plays point forward for his Team Final travel squad and can facilitate as well as any wing in the class. He has a strong body and he uses it well to get in the lane to score or set up a teammate. He can play multiple positions and he can also defend multiple positions. His jump shot is streaky at best right now and he will have to work on it to become more of a perimeter threat at the next level, but all the physical tools are there to be an elite college player and a good pro.