Why Syracuse will make the Final Four:
Because they possess the widest array of talent, balance, experience and depth of any team in the East region. They can hurt you at every position, and when someone's energy is low, Boeheim just pops in someone new like a fresh set of batteries. Potential threats include Kansas State, who shoots just 34% from three. Vanderbilt appears tough, but I'd fear Kansas State more. Not sure I'm confident in the Dores' ability to move the ball through the Syracuse zone. Florida State locks down on D, but will have to get past Ohio State to see the Orange. Even if they do, I'm not sure they have the firepower to last 40 minutes in a ring with Syracuse. And of course there's the Buckeyes, who match up much better with Boeheim's crew with the loss of Melo. I also expect the athleticism, strength and length of Scoop Jardine, Dion Waiters, Brandon Triche and Kris Joseph to make life difficult for Aaron Craft as a facilitator.
With a loss to Cincinnati in the Big East tournament, Syracuse had a few days to regroup and freshen up. Boeheim said that following the loss his team had two of their best practices all year long. Regardless, they have a much bigger challenge in front of them without Melo patrolling the middle.
Why Syracuse won't make the Final Four:
If they don't reach the Final Four, it will be because their bigman Fab Melo has been declared ineligible. Tuesday's announcement is a huge blow to the Orange, as Melo was the anchor to their 2-3 defense. Teams will be able to find shots around the basket much more easily. The 2-3 is also vulnerable to teams getting hot from the perimeter, any team on any given day can catch fire through ball-movement and rhythm. Last year VCU shot 35% from downtown throughout their regular season. They shot 43% in their five NCAA tournament wins. Like I said any team could heat up on any given time, and the zone makes it easier to do so.
Best Non-Number One Seed: Ohio State
Wish I could say someone sexier but I'd be lying if I did. Ohio State is clearly the second best group in this region, with a core group of players that has the talent and intelligence to reach a Final Four. They've earned wins over Florida, Duke, Indiana, Michigan State, Michigan and Wisconsin. With Sullinger returning for the sole purpose of winning a National Championship, the big goal has been set now for a year. Three weeks ago they were championship contenders, and a few losses to Michigan State shouldn't change that.
Top Potential Matchup: Syracuse vs. Ohio State
Undoubtedly the two best teams in the East. If they do meet, I like Syracuse based on matchups and style of play. See, "Why Syracuse will make the Final Four".
Top First Round Matchup: Gonzaga vs. West Virginia
Both teams' respective nuclei slightly resemble one another, with a point guard, versatile forward and center as the strong positional players. Kevin Pangos vs. Truck Bryant, Elias Harris vs. Kevin Jones and Robert Sacre vs. Deniz Kilicli should be the key matchups to watch for. Expect this one to go down to the final few possessions, as West Virginia is currently listed as one-point favorites. I like WV to advance on the backs of their motivated seniors.
Overall Sleeper: Vanderbilt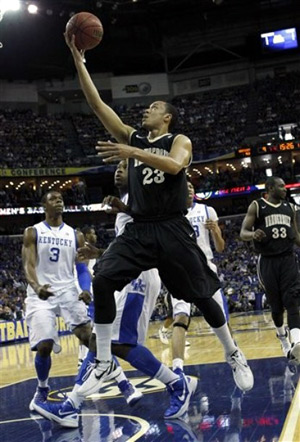 Coming off a win against Kentucky, Vanderbilt has proven they have the necessary weapons to defeat any school regardless of talent. They're playing with confidence and passion, and own one of the most diverse offensive trios in John Jenkins, Jeffery Taylor and Festus Ezeli. Vandy is top five in the country in three-pointers made, making them a threat to take out more accomplished and higher seeds.
With Melo out, Vanderbilt has a real good shot at escaping the East bracket. If the Commodores can get past a Wisconsin team that defends the three well, they might have the advantage in the Sweet 16 vs. Syracuse. This would have been a tough matchup for Syracuse at full strength when you consider Vanderbilt's ability to shoot the three. But the Orange are also one of the worst defensive rebounding teams in the country, and that was with Melo. Don't be surprised if Festus Ezeli wears a bib when he feasts on the Syracuse front line.
As for Ohio State- if Vanderbilt is playing its best they can compete with a vulnerable Buckeye team. They'll need to keep defending at a high level, but who knows if Ohio State even escapes Florida State. I'd say at this point with Vanderbilt's overall talent, they're in as good of shape as anyone to march out of the East alive.
Sweet 16 Sleeper: Cincinnati
If Cincinnati plays as well as they're capable of, J'Covan Brown won't be enough to upset the Bearcats. That makes for a second round matchup with either St. Bonaventure or Florida State. Cincinnati's Yancy Gates has the size and strength to body up with Andrew Nicholson or Bernard James, two keep bigs that play important roles for the Bonnies and Seminoles. If Cashmere Wright and Sean Kilpatrick hit their open looks, and Justin Jackson wins the 50/50 balls and provides weakside help, Cincy is capable of winning multiple games in this tournament.

Final Four Sleeper: Florida State
I don't care if the shooter at the craps table looks like Rosie O'Donnell, if the dice are hot I'm riding with. Despite looking shaky at certain points of the year the Seminoles find themselves on a roll, coming off an ACC tournament championship after knocking off Duke and North Carolina in consecutive days. They forced both teams to shoot a combined 10 for 40 from downtown, playing stifling pressure perimeter defense. Florida State holds opponents to 38% shooting from the floor, good for 5th in the country. With Michael Snaer, Luke Loucks and Delvidas Dulkys all shooting over 37% from downtown, and Ian Miller's scoring prowess off the bench, the Seminoles might have just enough offense to afford their defense to do most of the talking.
Florida State has picked a really interesting time to be playing their best basketball. If you rode the hot wave last year, you might have won your bracket with Connecticut.
Top Coach: Jim Boeheim
Despite all the distractions, Boeheim has guided his team to a number one seed in dominating fashion. At this point, he's experienced every basketball-related situation there is to experience. And for the first time since I can remember, Boeheim has publicly praised his players. He's a former champion coaching a championship-worthy roster. The Orange' chances are as good as anyone's.

Top Sleeper Coach: Frank Martin
I'm pretty sure Frank Martin could make a career our of freelance pep-talking. His Wildcats will be ready to go Thursday afternoon- You don't need a program to know that. If there's a team out there that can compensate questionable offense with toughness, intensity and pressure on the glass, it's Kansas State.
Breakout Player: Ian Miller, Florida St.
Miller is 27 for his last 55 (49%) from the floor after hitting a game-winner over Virginia in February. He's an explosive athlete off the dribble, and is really starting to look comfortable with the ball in his hands. If Florida State wants to advance, they'll need his scoring production off the bench. He only played 14 minutes/game as a freshman, but has become a key contributor off the bench in his sophomore year for Florida State. Miller has a ceiling that reaches the back-end of the lotto, and is currently #18 on our 2013 mock draft board.
Top Potential Individual Matchup: Jared Sullinger vs. Festus Ezeli
Sullinger is the more skilled bigman while Ezeli has the size and athleticism. Both bigmen anchor their team's interior play and both have been playing extremely well of late. With Syracuse losing their bigman Melo, Vanderbilt stands an excellent chance to reach the Elite Eight and face the Buckeyes.
Best Player with Limited NBA Potential: Jordan Taylor, Wisconsin
Taylor follows Alondo Tucker's footsteps as a great Wisconsin basketball player with limited NBA potential. The 6'1 guard hasn't shot the ball all that well as a senior, seeing his scoring average drop from 18 to 14 and his three-point percentage fall from 42% to 35%. Taylor lacks the quickness of the dribble required for an undersized ball-handler, and without the athleticism or strength to consistently finish in traffic, the NBA is an unlikely future destination.
Top Five Prospects
1. Jared Sullinger, Ohio State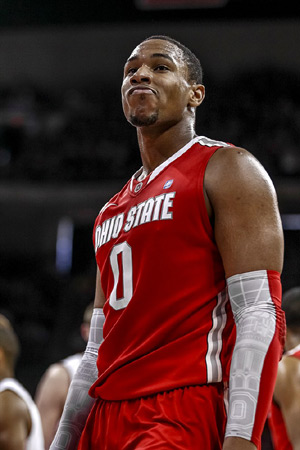 He's become the most efficient and productive under-the-rim big man in the country. Sullinger tightened up some of the baby fat he had going as a freshman, and now has a physical appearance that aces the eye test. His stock has only went down slightly, but primarily because of the emergence of others. From a developmental standpoint, his offensive game is more advanced, adding a new dimension of face-up basketball to his repertoire. He's almost tripled his three-point attempts from a year ago, converting at an impressive 39% clip (13-33). His overall feel for the game and refined skill-set in the post make him a surefire lottery pick with excellent value.
2. Dion Waiters, Syracuse
Waiters is a perfect example of the "good" kind of tweener. While he's not a point guard and lacks the ideal size for a 2-guard, Waiters combines the strength, explosiveness, scoring instincts and ball-handling skills to contribute on and off the ball. He's creative with the dribble and finds ways to elude defenders when attacking the rim. Assuming his promising jumper turns out to be a strength, Waiters should be an electric scoring playmaker off an NBA bench.
3. Jeffery Taylor, Vanderbilt
There comes a time for every successful prospect when eventually, it all starts to click. For Taylor, that time occurred during his senior year, when his shooting percentages sky-rocketed from every spot on the floor. He's an athlete with combo-forward size, and has become a legitimate perimeter threat and slasher attacking the rim. With the ability to guard three positions, Taylor can be an asset right away for a team looking for athleticism an versatility on the wing.
4. John Jenkins, Vanderbilt
If he had boy-band hair and a Duke jersey you'd mistake him for JJ Redick. He's lethal out to 26 feet on the perimeter, with as smooth a stroke as you'll see in the country. Because of his ability to shoot with little to no separation, Jenkins' lack of athleticism and quickness off the dribble won't diminish his value as a long-range threat. He'll be the top shooter in the draft pool, however must adjust to playing entirely off the ball as a floor-spacing role player.
5. Ian Miller, Florida St.
Miller is probably a year away but has been coming on of late and starting to raise eye brows. He's an athletic scorer who still needs to develop as a playmaker. He could make some serious noise during the tourney and help the Seminoles show that winning the ACC tourney was no fluke.
Follow Jonathan on Twitter @NBADraftnetWass