While the consensus is that the Midwest Region is the toughest and that the South has arguably the most NBA ready talent, the East Region has no shortage of intriguing matchups and story lines. As many as five teams have "Final Four talent" with a few others in position to make a Butler-esque Cinderella type run. The East Region features the Big 10, ACC and Big East regular season champs (Marquette is a co-winner with Louisville and Georgetown). With parity in college basketball being the highest it has been in recent years and with no clear cut favorite to be crowned Champion, the East is wide open and should make for some must see TV during the first weekend.
Why the No. 1 seed will make the Final Four:
Indiana was the "sexy" pick to win the National Championship for much of the season. The starting lineup features two NBA lottery picks in Cody Zeller and Victor Oladipo as well as two seniors and a top 25 freshman. They are one of the most consistent teams in the country. The Big 10 was arguably the best conference in the country top to bottom and Indiana won the regular season title outright. The Hoosiers led the conference in almost every offensive statistical category and were top five in the country in points per game, free throws made and three point percentage. They were held below 70 points just six times all season long and were the most efficient offensive team in the country according to KenPom. Jordan Hulls is one of the more underrated players in the country and doesn't get the credit he deserves but when his shot is on the Hoosiers are hard to beat. Offensively, they can hang with any team in the country. If they can limit the turnovers which plagued this team at times in Big Ten play and don't get away from their bread and butter, which is getting touches for Zeller in the post, allowing defenses to collapse and then kicking it out to their shooters, no team in this field can beat them. It took Tom Crean little while to right the ship but he has them sitting on the top line for the first time in years and has a team that plays smart, is talented, athletic and experienced which is all the ingredients needed for long runs in March.
Why the No. 1 seed will fall short:
As consistent and experienced as the Hoosiers are, they are still very beatable. Indiana lost six games throughout the course of the season to Butler, Wisconsin (twice), Illinois, Minnesota and Ohio State. While they have an extremely talented starting five, they aren't particularly deep and only seven players actually play significant minutes. They can beat you in a number of different ways but they struggle when you put pressure on their role players to perform. Zeller isn't all that strong and can get pushed around by stronger defenders in the post. Keeping him from getting comfortable on the block and keeping him off the free throw line will be huge for any upset minded team. The Hoosiers got a bad draw with potential matchups against NC State in the second round and a potential matchup with Syracuse in the Sweet 16. Both teams could prevent Indiana from going all the way as they both present matchup problems. The Wolfpack have a physical defender for Zeller in the post in Richard Howell. The two teams squared off last season in the ACC/Big Ten Challenge in a game that the Pack should have won but let a large lead evaporate late in the game. Indiana has faced tough competition all season long (#10 strength of schedule) but they haven't seen a zone defense like the one that Syracuse can throw at you. Teams struggle getting the ball inside against the 2-3 zone and 'Cuse has long, athletic defenders that can alter passes. The last thing you want to do is get into a fast paced game with the Hoosiers as they can beat you from anywhere on the floor and are very well coached. The 2-3 zone will help slow down Indiana in the half court, limit Zeller's touches in the post and will keep Oladipo from slashing to the basket. The Hoosiers struggle when playing team's that make defense a top priority and Syracuse is just that.
Best Non-N0. 1 seed: Syracuse
It is hard to believe that the Orange could end up as a #4 seed with the season they had. If it weren't for a three game slide in late February and early March, they would have been in line for a #1 seed. As it was, Syracuse finished the season 11-7 in the Big East, which isn't anything to scoff at, but it was only good enough for 5th place in the conference which is considerably lower than most had them finishing at the beginning of the season. Michael Carter-Williams was top three in the country in assists (7.7 per game), C.J. Fair is an athletic wing that can do a little of everything on the floor and Brandon Triche is a four year starter who has played in big time tournament games before. One of the biggest question marks for Jim Boeheim's squad was their frontcourt play but James Southerland has begun to heat up at the right time and was lights out from long range during their run in the Big East Tournament. He will be a huge part of what they do going forward with his ability to stretch the floor and make shots. Rakeem Christmas will have to continue to be a presence down low altering shots and anchoring that 2-3 zone. You can't help but thing that this team feel's a little slighted with their seeding and you can bet that they will take it out on any and every team they face.
Some people might think that Miami is the best non-#1 seed and while the 'Canes are talented and very well-coached, they don't have a single player who has ever played a minute in the NCAA Tournament. That inexperience along with the fact that they don't have a consistent post presence and rely on guard play more often than not, takes them out of the discussion.
Sweet 16 Sleeper: NC State
The 'Pack were the preseason pick to win the ACC but fell way short of expectations due to injuries, inconsistent play and a few unlucky bounces. They took down rivals Duke and North Carolina at home but lost road games to non-tournament teams like Wake Forest, Maryland and Virginia. State is one of the most talented teams in the country but lack consistency and have had chemistry issues from time to time. As a #8 seed, the Pack should have a chip on their shoulder based on their lofty expectations coming into the season. They are a better team than Temple and are one of the few teams in the bracket who can hang with Indiana offensively. If C.J. Leslie can become the player he was down the stretch of last season then NC State will be a tough out, even for the Hoosiers. As long as he plays under control and limits his turnovers then this team can be effective. They are athletic, they have shooters and they have one of the best floor generals in the country in Lorenzo Brown. If Head Coach Mark Gottfried can get this team to play on both ends of the floor, convert transition opportunities and get anyone not named Richard Howell to learn what the term "box out" means then this team could make a run all the way to the Final Four.
Final Four Sleeper: Marquette
The job that Buzz Williams has done at Marquette has been remarkable. He doesn't bring in top ten recruiting classes and his team doesn't get that much air time but year after year he reloads with quality players that fit his system and has the Golden Eagles in the tournament for the 8th straight season. Marquette finished the season tied for first place in the Big East and won 14 league games. This may not be Buzz Williams' most talented team but it is definitely his deepest and most complete. Davonte Gardner is a load down low and could average a double double if he could drop a little weight and work on his conditioning. Another player that has come into his own this season is Vander Blue. He leads the team in scoring after taking a backseat to guys like Jimmy Butler and Darius Johnson-Odom during his first two seasons. Blue along with Arizona State transfer Trent Lockett provide the Golden Eagles with two lethal scorers on the wing. Lockett has had to alter his game since he is no longer being counted on like he was at ASU but he can still score when he needs to and has become an above average defender. This team should have no problem getting past Davidson in the first round and will likely face Butler in the second. Butler is a good matchup and beat Marquette earlier in the season but it took a last second three from Rotnei Clarke to get it done. Miami and Indiana pose the biggest threat but with the length and athleticism that this team has on the wing with Blue, Lockett and Jamil Wilson, they have the ability to beat anyone in the field.
Top First Round Matchup: UNLV vs. California
The #5-#12 matchup always seems to provide the Tournament with the most upsets. Every year in recent memory, a #12 has upset a #5 in the first round. These are the games that people keep an eye on because they can make or break a bracket. UNLV has the most talented player in this game with Anthony Bennett but Cal has the more experienced play in Allen Crabbe. The committee rarely pairs two teams in the first round that played earlier in the season but this is one of those rare occasions. The Rebels took down the Bears in early December on the shoulders of Bennett who finished the game with 25 points and 13 rebounds. The game came down to the last shot as Cal suffered a heartbreaking loss after being up with 11 seconds remaining. But that game was a long time ago as UNLV has improved greatly with the addition of Khem Birch who had to sit out following his transfer from Pittsburgh. The Bears are soft on the interior and are a poor rebounding team which doesn't bode well playing against the aforementioned Bennett and Birch who are both solid on the glass. This is a tempting pick for an upset but UNLV is just too strong on the interior for Cal and will ultimately win in a close one.
(Top Potential) Dream Matchup: Butler vs. Indiana
Anyone think that the Hoosiers would love to get some revenge on their in-state rival? Butler and Indiana is becoming one of the better rivalries in college hoops with both teams competing on a National level these last few years. The two met earlier in the season with Butler coming out on top after Alex Barlow's heroics. If only these two teams were in the Midwest Region where the Elite 8 will be held in Indianapolis. I don't think either team would mind matching up in D.C. if they got the opportunity. Butler Head Coach Brad Stevens said after the game that he still thought Indiana was the team to beat in April. Well he might get his chance if the two teams can advance to the Regional Finals. The Hoosiers are the more talented team without question but Butler is no slouch and has proven they can play with the big boys with wins over Indiana, North Carolina and Marquette. All tournament teams that finished at or near the top of their respective league's.
Top Potential Player Matchup:
Michael Carter-Williams vs. Lorenzo Brown
Brandon Triche vs. Victor Oladipo got some consideration here as did Davonte Gardner vs. Reggie Johnson (please no weight jokes) but March seems to be more about point guard play than anything else. And a Syracuse vs. NC State matchup in the Sweet 16 would be a golden opportunity for both players to improve their draft stock competing against one another which is something they will be doing come May and June as they battle for draft positions. Both players have great size and length for their position but neither is a very good shooter. Both players can get into the lane and finish around the rim but neither shoots a high percentage from beyond the arc. The more you look at both players, their game are very similar. Good size, good length, excellent floor generals, out of control at times which leads to turnovers, good defenders, lethal in transition, lack elite athleticism and poor jump shooters. NBA scouts watch the Tournament to see what players do under the bright lights. You better believe that they will tune in if this matchup were to happen to see which player gets the better of the other. Brown has more to gain from this matchup as he is a fringe first rounder while Carter-Williams has secured a spot in the late lottery.
Top Coach: Jim Boeheim – Syracuse
914 career wins, all with the Orange, says it all. Boeheim is one of the greatest coaches in the history of the game and if it weren't for a guy down at Duke, he might go down as the greatest of all time. He has led Syracuse to 30 NCAA Tournament appearances, three Final Fours and a National Championship. He has 46 wins all-time in the tournament and at age 68 still hasn't lost his ability to manage games.
Sleeper Coach: Tad Boyle – Colorado
Here's a stat for you. In Tad Boyle's first three seasons with the Buffalos he has compiled a record of 67-34 which amounts to a .663 win percentage. That percentage is #1 all-time for Colorado basketball for coaches that have coached 12 or more games for the school. He replaced Jeff Bzdelik who compiled a .383 win percentage during his three years at the school. Boyle led the Buffs to the tournament a season ago and won their first round game. He faces a tough test in Illinois in the first round this season but if he can win that one, and possible take down Miami in the second round he will become the most successful coach in Colorado history.
Top 5 NBA Prospects:
1. Cody Zeller – Indiana
Zeller could have been a top ten pick in last year's draft but made a wise decision to come back to Indiana for his sophomore season. His return made the Hoosiers the preseason favorite to win it all and also gave Zeller a chance to refine his game, add more strength and show scouts that he isn't afraid to get dirty and play physical down in the low post. He hasn't disappointed thus far and has improved his scoring and rebounding averages from a season ago. He still shies away from contact at times but he has gotten better and has gotten to the free throw line an additional 1.3 times per game this season. He is definite top ten pick based on his offensive skill set and could sneak into the top five depending on who comes out.
2. Anthony Bennett – UNLV
Players never like when they are slapped with the dreaded "tweener" label which is exactly what Bennett is. He is listed at 6'7 but has an incredible wing span. His game translates to the power forward spot at the next level but his height could present issues defensively. But with the way the NBA game has developed over the last few years, the power forward spot has become somewhat of a hybrid position that allows small forwards to play there in these small ball lineups that we are currently seeing. What Bennett lacks in height, he makes up for in athleticism and physicality. He has great footwork in the post and can stretch the floor with an improving jump shot. He came into the season as a late first round talent but has developed his game so much during his freshman season that he is a likely lottery selection in this June's draft.
3. Victor Oladipo – Indiana
Outside of Mason Plumlee, few players have done more to improve their draft stock than Oladipo. He was on a few NBA team's radars early in the season but now he is being considered in the lottery. Oladipo has one of the best motors in the country and is known for his defensive intensity. He has good size for his position at 6'5 and is one of the better athletes in the country. His downside is a lack of a true offensive game. He relies on others to get him open looks and gets a lot of his points out in transition. Elite defenders are becoming a scarcity in today's NBA so a lock down perimeter defender will be a premium in this year's draft. If he can become a more reliable jump shooter and continue to rebound at a high level then will go on to have a very successful professional career.
4. Michael Carter-Williams – Syracuse
Carter-Williams would be a top five pick if he had a jump shot. He possesses great size (6'6) and length which allows him to see over defenses and make plays in transition but he shoots below 40% from the field and below 30% from three point range. He can use his size and driving ability against college defenders but in the NBA defenses will just play off of him and force him to beat them from beyond the arc which is something that he struggles mightily with currently. But there is no doubting his skill with the basketball in his hand as well as his ability to play passing lanes and use his length to bother smaller players. He averaged 7.7 assists per game on the season alone with 2.7 steals which ranked him #1 in the conference and top 10 in the country in both categories. His jump shot can improve with some work as his form isn't that bad but his is a bit turnover prone and can get out of control at times.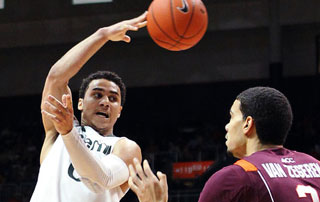 5. Shane Larkin – Miami
The son of Hall of Fame Major League Baseball Shortstop Barry Larkin, Shane has become one of the elite point guards in the nation this season. He has been the leader on a Miami team full of seniors making their first Tournament appearance since 2008. Larkin possesses many of the tools needed to be an effective point guard. He has good size, he plays under control, he gets teammates involved, he can shoot from distance and he limits turnovers. He is likely headed back to college for another season but he has shown enough this season to warrant a first round pick from most teams. He lacks elite athleticism but he is quick enough to defend most point guards and has a high basketball IQ. The Hurricanes' success begins and ends with the play of Larkin.
Others Under Consideration: C.J. Leslie – NC State, C.J. Fair – Syracuse, Lorenzo Brown – NC State, Allen Crabbe – California
Follow me on Twitter @CroweClayton