If the top left corner of your bracket remains mostly blank after twenty minutes of pondering, take solace. You are not alone. The Midwest region is loaded to the gills, boasting streaking teams, historic programs and hall-of-fame coaches. Situated in this region we have five teams in the top 16 of the AP rankings, seven in the RPI top 25 and three major conference champions (plus Memphis and Creighton). The home of the #1 overall seed resembles a lion's den more so than a charitable path to Atlanta. But alas, the show must go on. Additionally, while there might be a shortage of lottery-caliber individual talent after Marcus Smart, there is a solid core of 14 projected selections in our 2013 and 2014 mock drafts.
Why the Number 1 Seed Will Make the Final Four
Louisville is the hottest team in the country entering the big dance, winners of ten straight and 13 of 14. Of those 13 victories, only two have been decided by less than 12 points. The Cardinals boast a +15.7 scoring margin (fourth in the nation), frequently overwhelming their opposition with relentless pressure, speed and depth of talent. They rank second in the country in steals at 10.7 per game, and are not content with gaining possession; Rick Pitino's crew thrives in transition led by lightning quick, hyper-aggressive guards Peyton Siva and Russ Smith (both average 2+ steals). Attack mode is a given. The Louisville frontcourt is anchored by the oft-improving Gorgui Dieng, who rates among the top interior defenders and shot changers in the field of 68. He's a major reason why the Cards hold their opponents to 57.9 points per game on 38.8% shooting from the floor. Even if you do manage to break the pressure unscathed, the backline is well fortified and Dieng allows the "cheetah's" freedom to roam. To review: shot creator, shot maker, shot changer, nine-deep, size & power, and an all-time great coach. Not a bad recipe for success in March.
Why the Number 1 Seed Will Fall Short
It's understood that Louisville prospers by triggering chaos, and that their half-court offensive execution is not a work of art, but at times they would be well served to administer an element of control. For all the positives that come from their backcourt playing in fast-forward, ball control, shot selection and time management are not always prudent. Siva and Smith both shoot in low 40% territory and combine to average a robust 5.3 turnovers. The Cardinals weren't involved in many tight battles in Big East play, but when they did, the result was frequently an L (Syracuse, Villanova, Georgetown, and Notre Dame). Their style is conducive to running you off the court, not play-by-play decision making down the stretch. Despite the consistent long-range stroke of Luke Hancock (15 straight games with a three), Louisville ranked 208th nationally and ninth in the conference in three-point makes (5.8). This would be less of a concern if they didn't attempt 18 per game. Notwithstanding internal team deficiencies, the greatest hurdle preventing Louisville from a trip to Atlanta is a stuffed bracket: under seeded Colorado State or Missouri in the round of 32; Saint Louis, Oklahoma State or Oregon in the Sweet Sixteen; Duke or Michigan State in the Elite Eight.
Best Non-#1 Seed: #2 Duke
Comparing the 2013 version of the Blue Devils to last season's group that fell short in the round of 64 would be an injustice. Third team All-ACC point guard Quinn Cook played 11 minutes against Lehigh — the full-time orchestrator as a sophomore, Cook is the most efficient guard in the conference (5.2 AST: 2.4 TO). Ryan Kelly missed the Lehigh game with a sprained foot — the 6'11 floor spreader is back healthy and shooting 48% from three. Super-frosh Rasheed Sulaimon was playing high school ball in Texas — the 6'4 slasher provides Duke with an element of tenacious athleticism otherwise lacking among the regular rotation. Familiar faces remain in standouts Mason Plumlee and Seth Curry, both of whom have supremely elevated their offensive performance as seniors. As a team they shoot 47.9 from the field (15th) and 41.6% from three (4th). While efficiency is a point of strength, rebounding is not (-0.9). They lack interior depth and can be made to look soft against physically imposing frontlines. The big picture: their starting five is significantly more cohesive and dynamic than a year ago and they have been awarded a gift ride to the Sweet Sixteen.
Sweet 16 Sleeper: #12 Oregon
While I'm not thrilled that this has become a popular sentiment among the "talking heads", the esteem is warranted. The Ducks took down the Pac-12 crown despite minor contributions from point guard Dominic Artis who continues to struggle since returning from a foot injury. He'll have four days to rest up and should return with some spring in his legs come Thursday afternoon. The Ducks greatest strengths are athletes on the wing with Damyean Dotson and Carlos Emory and agile size on the baseline with Arsalan Kazemi and Tony Woods. Therefore, it's not surprising that Oregon ranks 24th in the country in rebound margin (+6) and are a terror on the offensive glass (12.2). EJ Singler is the best perimeter shooter on a team that lives in the paint. Matchups with Oklahoma State and potentially Saint Louis are difficult, but winnable behind a terrific game coach in Dana Altman. The Ducks are a short underdog (3.5) in the round of 64 against the Cowboys.
Final 4 Sleeper: #6 Memphis
The Tigers have been illegitimated as a result of conference affiliation and have been largely ignored by the national media. Arguing their schedule strength is an exercise in futility, but arguing their talent level player 1-8 is even more futile. Point guard Joe Jackson has matured leaps and bounds, shooting 52.7% from the floor and averages 4.8 assists. Matchup nightmare and tremendous athlete Adonis Thomas can beat you both inside and outside at 6'7 240. Memphis has balance with eight players averaging 6+ points per game, size and leapers (+5.1 rebound margin and fifth in the nation with 6.2 blocked shots) and they turn defense into offense with 9.2 steals per. The road will obviously be a tumultuous one, and they will be an underdog to make it out of the opening weekend versus Michigan State, but they have the pieces and potential to pull off a string of upsets. Freshmen Geron Johnson and Shaq Goodwin will be instrumental in the Tigers firing on all cylinders.
Top First-Round Matchup
#8 Colorado State versus #9 Missouri
An intriguing battle of half court structure vs. full court explosiveness, between two of the top three rebounding teams in the country. The Rams have four players averaging 5+ boards while the Tigers have seven players averaging 3+ boards. Minnesota transfer Colton Iverson shoots 60% from the field and has added the post-iso dimension to Colorado State's ball movement predicated offense. Point guard Dorian Green played only 18 minutes against UNLV after suffering an ankle injury, and the Rams will need his firm hand at the controls against Missouri's pressure. Phil Pressey is an electric ball handler with terrific vision (7.1 AST), but he's had a number of uncharacteristic mental gaffes this year that cost Mizzou games. He'll need to be "good Phil" for his team to advance. His backcourt mate Jabari Brown is also a wild card, capable of shooting the Tigers into and out of games.
Top Potential Matchup
#1 Louisville versus #4 Saint Louis
Louisville/Duke or Louisville/Michigan State would be old hat. Let's bring some A-10 flavor into the mix. While St. Louis plays quicker (66.5 possessions) than the tortoise stereotype they've developed, the clash in identities here is still a fascinating one. Both teams rank in the top-20 in scoring defense, but go about achieving that success via entirely different avenues. As mentioned earlier, Louisville's life jacket is creating easy points off turnovers; the Billikens have three ball handlers and turn the rock over just 11.3 times per game. Jim Crews' team is white hot winning 15 of 16, and has lost only three times with their primary ball handler Kwamain Mitchell in the lineup. The top post threat for St. Louis is 6'5 Dwayne Evans who will encounter rough waters finishing against Dieng and company. His activity level will need to save the day. The Billikens will bait Louisville into hoisting themselves to death from deep and straying from their girth and height advantage on the interior- that's their best shot to advance.
Top Potential Player Matchup
Marcus Smart versus Phil Pressey
Had Missouri not flown the coop to the SEC we would've been treated to this matchup twice in Big 12 play. Instead, basketball purists are forced to cross their fingers for this potential Sweet Sixteen duel. Both are exceptionally competitive with an innate drive to win. Smart will need his drive to stay in front of the blazing quick Pressey, and Pressey will need his drive to counteract a physical disadvantage to the tune of 5 inches and 50 pounds. In reality, Missouri will stick Pressey on Phil Forte when Travis Ford goes to his comfort lineup, and Smart will be playing well off Pressey daring him to shoot from the outside. How it all plays out remains to be seen, but one thing is for certain: without their respective "engines", neither team would be in the field of 68.
Top Coach
Rick Pitino, Louisville
Pitino detects the pulse of his team/players better than any coach on the planet. As a result, he has them playing at an effort level beyond measure. He's hunting his first National Championship since 1996, and having Mike Krzyzewski and Tom Crean in his region will only serve to motivate ideal preparation. His tournament resume at Louisville has been scattered, with three first-round exits, two Elite Eights and two Final Fours. Is a national title in the cards?
Sleeper Coach
Bryce Drew, Valparaiso
Drew knows a thing or two about the pressures of NCAA Tournament action and the framework for pulling off a stunner. Michigan State outclasses Valpo in quality of athletes, but they are not without weakness. Fellow Horizon League member Loyola (IL) held a two-point halftime lead in East Lansing before folding late in the second stanza. The 38-year old Drew has won 48 games in his first two seasons on the sidelines.
Top 5 NBA Prospects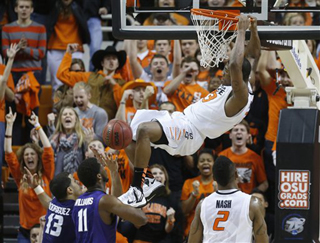 1. Marcus Smart, Oklahoma State
Powerful freshman has carried the Cowboys on his back. Has the mindset to take over when necessary, but flows naturally within the team concept. Creative in isolation, uses his 225 lb. frame in the post and moves well without the ball. Basketball IQ is off the charts and reads the game like a season veteran. Perimeter shooting stroke has developed into a weapon in short order. Somewhat limited athletically, but knows exactly how to mask his shortcomings.
2. Mason Plumlee, Duke
Plumlee burst onto the scene as a senior in Durham. He always possessed the agility and explosive athleticism to finish above the rim at 6'11; now he wants the ball and wants to dominate. His post repertoire and footwork are much improved. Has shown an enhanced willingness to face up and utilize his long strides and decent handle to exploit heavy footed bigs. Still comes up soft at times against physical opposition that attacks his chest.
3. Doug McDermott, Creighton
The coach's son is an extremely skilled offensive player and the nation's second leading scorer. At 6'8 225 he's a master in the post utilizing his body and angles to get clean looks below the rim (56% FG). He's connecting on a shade below 50% from three and picks the right times to put the ball on the deck. Lack of quickness and explosiveness are X's against him, but comparisons to Adam Morrison are unfounded.
4. Gary Harris, Michigan State
Harris is a dead-eye shooter (41% 3PT) who uses screens well and displays an effortless, quick release. He's intelligent and possesses a natural comfort level in the in-between game. Isolation skills are not advanced. Good looking frame, but history of shoulder problems. Despite being undersized at 6'4 has good length and impacts games defensively.
5. Gorgui Dieng, Louisville
Hard work has turned this once raw product into a seasoned contributor. Dieng has been a defensive menace since the moment he stepped on campus -7'6 wingspan was one thing he didn't need to be taught. Offensively he's developed leaps and bounds, showing soft hands, a serviceable mid-range jumper and underrated passing skills. Any offense would have been a bonus given his capacity to alter shots. He's built up his draft stock dramatically.
Follow on twitter for NCAA Tournament coverage @AdamGaneles