There was a deeply talented yet confused group of prospects on hand for Media Day in Midtown. Nobody seemed to have a clue as to where they would be going Thursday night. Which is awesome, because uncertainty makes for a better draft.
Quotes of Day:
Bradley Beal: "I was always a fan of Doug Christie".
Damian Lillard: "I heard them say it was the best workout since Kevin Durant. But they didn't draft Kevin Durant."
Austin Rivers: "I'm going to be the best looking guy there tomorrow night."
Tyler Zeller: "I don't ever play the basketball video games. They're realistic, but you can dunk the ball way too easily."
Interviews
Meyers Leonard
It's natural to pair Myers Leonard with Tyler Zeller. Two similar, yet very different centers.
"We're two different kind of players. He is more polished than me. I have some height on him, definitely some athleticism. I can shoot it and get up and down the court very well. He's a very nice kid, we're part of the same agency, basically been going around team to team working out together."
Leonard on what he's shown in workouts: "The ability to shoot the ball. Ability to defend. Teams love to see competing, and that I'm willing to get after it."
I couldn't help but ask Meyers if he thought he was underused by Bruce Webber as a sophomore, but the big man took the high road.
"I wouldn't say that. We obviously went through some tough times. Teams key in on me, and people think I'm open and I'm really not. Sometimes I might have been… Coach did draw up plays for me and tried to get me the ball… at the end of the day I had a great college experience."
He was underused.
Dion Waiters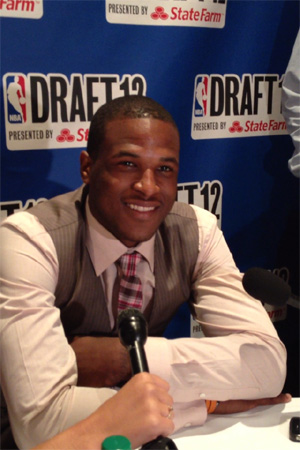 Waiters seemed cool and calm. Almost as if he's had a promise, and knows exactly where he's going. Just kidding. But not really.
Some have appointed him Dwyane Wade 2.0. Others say he's the only player outside Davis with superstar potential. Myself, I see him more as that sixth man role he owned so well as a sophomore.
However, Waiters never really accepted the job description of sixth man, and almost seems insulted by the thought of it being a long-term label.
"I'm striving to be a starter. I was only put in that role [6th man] because of the situation I was in. My first year I had to adapt to it as a freshman coming in. I really didn't know how to handle it. My second year coming in I really knew my role."
Waiters on his label:
"I could score the ball really well, but a lot of teams don't know I could play the point guard position. But I just want to go to a situation where they use me the most".
Waiters on other forms of employment prior to Thursday: "I've had chores growing up. $20 every Friday. Make sure I made my bed, locked the door." Waiters said he spent it on junk food… Keep eating those Skittles kids.
Tyler Zeller
"I've heard I can go anywhere from 5 to 19."
And that's probably true. Zeller has been grouped with Myers Leonard as the top centers after Andre Drummond. I asked Zeller what his sales pitch was in comparison to Meyers Leonard.
"My ability to spread the floor, I shoot the ball really well. And my ability to run the floor." Funny, that's basically the same thing Leonard said.
How often do you play with your brother?
"Once a year."
Toughest player he remembers guarding?
"Blake Griffin my freshman year. First time I guarded him he dunked the ball. After that I did alright. Phenomenal player, very very explosive."
Damian Lillard
In response to the Portland workout: "That workout did go extremely well. I made a lot of shots. I heard them say it was the best workout since Kevin Durant. But they didn't draft Kevin Durant. I don't put too much stock in it. I just try and focus on what I can control."
"In response to the Sacramento workout: " It was close to the same thing as Portland. We did a lot of stuff off the dribble, hit a lot of shots. They wanted to see my athleticism. I showed them everything they wanted to see. It went as good as it could have possibly gone."
I asked him if he thought of himself more as a scoring guard or distributor: "I think of myself more of a scoring guard. Not the way people label me as one. Naturally I look to make plays for other people. At Weber State my responsibility was to score points. I'm definitely a scorer, but if a play has to made for someone else, I"m going to make it."
Observations from Session 1
Meyers Leonard seemed like a man as opposed to a kid. And I'm not talking appearance-wise. He seemed poised, articulate, down to earth and relaxed. Interview process is important, not with me, but with team executives and management.
Thomas Robinson wouldn't answer my question when I asked him what he brought to the table that Anthony Davis didn't. Take that however which way you'd like.
Harrison Barnes was all smiles, Seemed extremely relaxed. Normally he seems uptight with the media.
Craig Sager's suit was grape purple.
Follow Jon on [email protected]