Josh Jackson 6'8 – Prolific Prep 2016
Jackson did it all against Huntington Prep; scoring, explosiveness, and passing to earn MVP, having the top performance at the Hoop Fest. He still has a tendency to coast at times but did everything to get the double overtime victory, scoring 34 points, pulling down 19 boards, and dishing out eight assists. He often shakes his defenders with his dribbling but still gets loose at times, resulting in (4) turnovers. He didn't provide the same scoring output against Advanced Prep International but looked to distribute, finding teammates Vance Jackson and Pierre Crockrell for open jump shots when they were on. Jackson finished with 13 points, seven rebounds, and six assists, giving Prolific Prep a 2-0 record for the weekend.
Terrance Ferguson 6'5 – Advanced Prep International 2016 (Alabama)
Ferguson was nonexistent in his first two games against Sunrise Christian Academy and Prolific Prep, only scoring two and six points respectfully. He showed his usual patience within the flow of the game, but is too talented to not assert himself. He still doesn't shift his defender much off the dribble and is a straight line driver. Ferguson did play great on ball defense against Josh Jackson and John Petty, forcing them to settle for jump shots and keeping them out of the paint. It took two games, but he finally got it going against J.O. Johnson, scoring a team high 21 points while shooting 5-9 from three.
Mark Vital 6'5 – Advanced Prep International 2016 (Baylor)
Vital earned MVP against Sunrise Christian Academy and had the play of the night throwing down a dunk on a defender in transition. He is a great rebounder and has great strength but he is undersized at 6'5 to play primarily in the paint. His perimeter skills are minimal and haven't showed much progress in the last year to believe that he will try to convert into a wing. While he excels against elite competition at this level, moving forward his game isn't as translatable. His two best games were against Sunrise Christian scoring 13 points and grabbing six rebounds, and J.O. Johnson scoring 15 points and grabbing nine rebounds. Vital can also improve his free throws, shooting 4-15 over the three games.
Trevon Duval 6'2 – Advanced Prep International 2017
After settling down and letting the game come to him, Duval became more assertive as the event progressed. Having watching API's core play multiple times last season without Duval, it's apparent the impact he brings to the team. He is great not only at finding teammates when they're open but finding them when and where they are most effective to score. He looks to find Vital where he can catch and finish without having to take multiple dribbles and not putting a player in a difficult position to finish the break. He passes out of traps and has some sneaky explosiveness. He stays low when he drives and is quick when changing directions and jumping into the passing lanes. His jump shot is good enough to necessitate being contested, but not truly a consistent weapon yet. He made a few from midrange but only shot 1-10 over three games from three. Duval averaged 12.6 ppg and while he sees the floor well, he still has room to limit the turnovers with an assist to turnover ratio of 3:5.
Billy Preston 6'10 – Advanced Prep International 2017
Preston averaged 12 points and six rebounds per game during Hoop Fest. He can improve when making decisions, knowing when to attack as a scorer and when to pass out. At times, he would duck his head and try to drive to the basket into a double team. While at other times, he would have smaller Lindy Waters on him alone in the post, choosing to pass out. His versatility allows him to score in a variety of ways. The transfer of center Nysier Brooks allows Preston to play away from the basket and face up, which appears to be a more comfortbale position for him.
Jayson Tatum 6'8 – Chaminade Prep 2016 (Duke)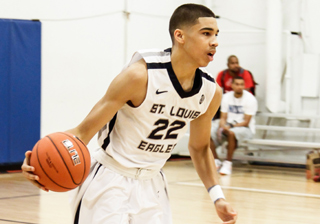 Tatum only played in one game at Hoop Fest matching up against Oak Hill Academy. After getting off to a slow start, in time of desperation, Tatum led his team to rally back; however it wasn't enough to get the win. Tatum can shoot from three and has a great midrange game, where he can use his length to shoot over defenders, and has an array of step backs and pivots. He is great at transitioning from his set shooting position, into a low driving position and vice versa. He displays good court vision too. He had the play of the game using a euro-step in transition and dunking over Braxton Key. Tatum finished with 25 points and 12 rebounds, shooting 3-7 from behind the arc.
Mario Kegler 6'7 – Oak Hill Academy 2016 (Mississippi State)
Kegler struggled against Chaminade, getting into early foul trouble and going into halftime with only two points. During Chaminade's comeback, even though he was forcing it a bit, he showed aggression on both sides when matched up against Tatum. Kegler finished with 12 points and four rebounds. He had a much better game against Athlete Institute, scoring 20 points. Thon Maker struggled with the matchup, and Kegler took advantage. At times pulling up in Maker's face from three, at other times taking him to the rim.
Braxton Key 6'7 – Oak Hill Academy 2016 (Alabama)
Key has shown some improvement on his jump shot over the past year, but really excels in getting to the basket. A lot of his points come from free throws, as he is great at drawing fouls, sometimes getting bailed out when he doesn't have an angle to score. Key had 18 points and seven rebounds against Chaminade, and 13 points and four rebounds against Athlete Institute.
Lindell Wigginton 6'2 – Oak Hill Academy 2017
Wigginton's role has increased since last year and he has had no problem stepping into it. His perimeter scoring is his biggest asset to the team. He creates a lot of space off of his step back and was huge when Kegler got into foul trouble. Wigginton finished with 17 against Chaminade and 16 points against Athlete Institute helping Oak Hill go 2-0 over the weekend.
Thon Maker 7'0 – Athlete Institute 2016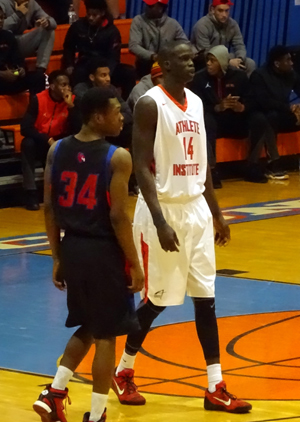 Maker finished with 24 points and 15 rebounds (9 offensively) in the upset loss to Chicago Curie. Maker showed more aggression driving to the basket than he has in the past, finishing with more dunks than previous times I have seen him but part of that was due to him being literally head and shoulders above the opposition. He still doesn't have much of a post game, but his touch around the basket has shown improvement, as he shot 8-13. He still brings the ball too low in traffic, letting smaller defenders knock it away. While he does block shots, he doesn't protect the basket consistently or keep players out of the paint, he also struggles to keep players in front of him when defending the perimeter. Given the size advantage Athlete Institute had over Curie, Curie continued to take it to the basket throughout the game. Maker finished with 17 points and 17 rebounds in the loss to Oak Hill. He only had three assists all weekend but displays great court vision and is never lost when he's on the floor. Despite what we have all seen on his mixtapes, he has no real go to move. He can demonstrate impressive ball handling ability but rarely uses it to beat his defender. His game simply consists of ducking his head and forcing himself to the basket, sometimes it results in free throws, other times it results in turnovers, which is evident looking at his numbers. 13 free throws in each game and averaged seven turnovers over both games. Thon is very talented and what he can do at his height can't be ignored but it doesn't always result in production on the court.
Matur Maker 6'10 – Athlete Institute 2017
Matur had a solid week, earning a double-double against Chicago Curie, with 15 points and ten rebounds. He also finished with ten points and six rebounds against Oak Hill. Similar to his brother, Thon, he draws a lot of fouls but also turns it over at a high rate. He shot ten free throws against Curie alone and had a total of nine turnovers in both games of Hoop Fest. He tends to settle for contested jumpers at times, but was more aggressive taking it to the rim than he has been in the past.
Devin Gage 6'2 – Chicago Curie 2016 (DePaul)
Standing at only 6'2 and not getting any national attention, Gage can play with anyone. He has great upper body strength and is an explosive athlete. He consistently got to the rim against the much bigger Athlete Institute and even though he was on the court against two players nearly a foot taller, he was not fazed. On one play Gage took Thon out to the perimeter and called for his team to clear out, resulting in a blow by crossover for an easy layup. A few plays later, he had Matur on the perimeter and nailed a contested three. Curie's toughness and physicality triumphed any size and national attention that Athlete Institute had to offer and Gage was their catalyst finishing with 28 points and drawing nine fouls in the game.
Pierre Crockrell 5'11 – Prolific Prep 2019
Crockrell only had five points and one assist against Huntington Prep but caught fire against API. The 5'11 freshman had 20 points and four assists earning MVP. He shot 6-for-6 from three showing no hesitation; never hit the rim on all six shots. His court vision and decision making are advanced despite his size and lack of experience. He has a great feel for when he can throw the flashy passes and when he needs to slow it down and keep it simple.
Miles Bridges 6'6 – Huntington Prep 2016 (Michigan State)
In my opinion, Bridges has made more improvement in the offseason than any player at Hoop Fest. When I watched him multiple times last season, and even this past summer, he didn't bring much outside of athleticism and aggression. He has become a threat from the perimeter, making seven threes over the two games. He's shooting with confidence, off of step backs, and some from NBA range. He also added an in & out crossover helping him get to the rim. Bridges really challenged Jackson, getting him into foul trouble with four, but it wasn't enough losing in double overtime. He finished with 27 points, 12 rebounds, and five turnovers losing to Prolific Prep. Bridges continued his excellent performance in beating Quality Education Academy with 34 points and ten rebounds, also drawing 11 fouls in the game.
Curtis Jones 6'4 – Huntington Prep 2016 (Indiana)
Jones was much more aggressive and confident than when I've seen from him in the past. He has improved as a ball handler and pulled up for his shot without hesitation. He used his dribble to get to the rim but only drives to the right, when the defense adjusted, he stayed on the perimeter. Jones finished with 21 points against Prolific Prep and 22 against Quality Education.
Onuralp Bitim 6'5 – Huntington Prep 2017
Bitim serves as a scorer and playmaker. He's adjusted to the US style pretty quickly. It doesn't matter who he is matched up against, he plays his game with confidence; he doesn't get rattled or intimidated. He's not the quickest player, but he's a solid defender and uses head fakes mid dribble and finds open teammates with his ability to pass out of the drive. Bitim finished with 11 points and four rebounds against Prolific Prep and nine points and nine rebounds (6 offensively) to beat Quality Education Academy.
Josh Langford 6'5 – Madison Academy 2016 (Michigan State)
Langford finished with 32 of his team's 62 points. He definitely has the ability to shoot but settles too much for contested deep two's. He made all nine of his free throws but only made one of his eight three-point attempts. He has good athleticism and a strong upper body but didn't physically dominate his opponents. In addition to his scoring, Langford finished with nine rebounds in the loss to Lexington Dunbar.
Taveion Hollingsworth – Lexington Dunbar 2017
Hollingsworth was huge in the upset over Madison Academy, scoring 33 points (25 in the first half). He scored in a variety of ways from everywhere on the floor. He's a good athlete and got to the free throw line, shooting 17 in the game. He can also shoot from deep making three from behind the line. The 6'3 under the radar guard currently holds one offer, from Eastern Kentucky.
John Hopkins 6'4 – J.O. Johnson 2016 (Samford)
Hopkins is another under the radar prospect and had a tremendous weekend at Hoop Fest. At 6'4, he's not much of an outside shooter but he's athletic and can get to the rim. Hopkins shot 26 for 33 in the two games combined, making all 11 attempts to score 28 points to beat Hopkinsville. His 35 point and ten rebound performance wasn't enough to beat API, but it was a chance for Hopkins to showcase his ability to excel against elite competition.
John Petty 6'6 – J.O. Johnson 2017
Petty can score and facilitate. His pull up jumper wasn't working for him at the rate he's used to but he still found ways to put points on the board. His ball handling needs some work, especially in the full court; he loses the ball when he goes too fast. He does see the floor well and found the open man under the basket many times. He gets good elevation when going for blocks or rebounds, but he doesn't move his feet very quickly when defending on the perimeter. Petty scored 17 points and grabbed 14 rebounds in the win over Hopkinsville, and scored 14 points and grabbed 15 rebounds in the loss to API.
DeShawn Corprew 6'5 – Quality Education Academy 2016
Corprew looked great at Hoop Fest. He can really score off the dribble, whether it's from three, an elevated midrange jump shot, or getting all the way to the rim. He has good strength and finishes well at the rim. Corprew scored 25 points in the loss to Huntington Prep, shooting 9 for 15. He finished with 31 points beating Victory Prep, shooting 12 for 18 from the field and 4 for 6 from three.
Jarred Vanderbilt 6'8 – Victory Prep 2017
Vanderbilt was one of the elite players at Hoop Fest, but his team really struggled to compete. His length, athleticism, and basketball IQ are rare for a player his age. His shooting has improved but still has a way to go. Vanderbilt scored 23 of his team's 38 points, losing to Sunrise Christian Academy and finishing with 20 points and 14 rebounds losing to Quality Education Academy. He has great court vision and is creative with his passes, but his teammates had trouble handling them, resulting in one assist and nine turnovers against Quality Education. Needing some work in the leadership department, you can see Vanderbilt's discouragement when things aren't going well, and the team's energy is sucked out of the game.