After starting down 7-0 early in the game, the West came out on top of this year's Jordan Brand Classic. Minimizing the turnovers and offensive rebounds were key, making up for their lack of field goal percentage over the East. With a front court of Mohamed Bamba and Deandre Ayton, we would have assumed they would register more than only two blocks as a team. It didn't matter too much as they came away with the 124-116 victory.
Lonnie Walker 6'4 192 SG – Miami
Despite not coming into the game until eight minutes left in the first half, Walker (along with Deandre Ayton) led the West in scoring with 19 points in 15 minutes to earn MVP. He made the most of every opportunity, attacking any gap or shooting with any sign of separation. He forced his impact on the game but it worked for him. He didn't have any other stats other than two steals. Walker was a fan favorite with his own cheering section that became contagious to the whole crowd.
Deandre Ayton 7'0 220 C – Arizona
Ayton ended with 19 points and eight rebounds. Seven of those boards came on offense and were his own missed shots. All his shots came from inside the paint and he looked focused all week long. He had a monster tip dunk in the first half and a few plays in a row towards the end of the game finishing with dunks reminding us how much of a physical specimen he is. He used his soft touch on an up and under layup then caught an alley oop off the backboard from Troy Brown a few moments later.
Kevin Knox 6'8 203 SF – Undecided
Knox finished with 12 points but didn't shoot too hot missing all four of his three pointers. He drew a foul on a few of his forced attempts but didn't get many shots within the flow. When he gets a chance to flash his run and jump athleticism, you realize how well he moves for his height, which he showed on an acrobatic layup in the second half. Knox had three rebounds and two steals to go along with his scoring.
PJ Washington 6'8 225 PF – Kentucky
Being teamed up with Deandre Ayton and Mohamed Bamba, Washington had the opportunity to play on the elbow and perimeter all week, showing solid skills which will benefit him moving forward as he lacks ideal height as a big man. He pulled up and knocked down a quick three to start the game and used his explosive ability to finish around the basket. He has solid court vision and passing ability for his size, finishing with four assists. Washington also finished with 11 points, three rebounds, and six steals.
Collin Sexton 6'3 175 SG – Alabama
Sexton scored 11 points in the game. He tried to do too much most the game but being aggressive is how he's made his name over the past year. He's a crowd favorite and pulled off an alley oop to himself bouncing the pass off the floor to finish with a reverse jam. He threw some flashy passes including one between the legs ahead to Trae Young for a layup. Sexton dished out two assists but committed five turnovers and surprisingly didn't grab a single rebound.
Troy Brown 6'7 215 SG – Oregon
Brown did a great job of letting the game come to him finishing with ten points on an efficient 3-4 shooting. He had the opportunity to show his all-around game with six rebounds and five assists as well. He didn't have any standout plays but posted a solid stat line to conclude an impressive month of all-star games.
Nick Richards 6'11 250 C – Kentucky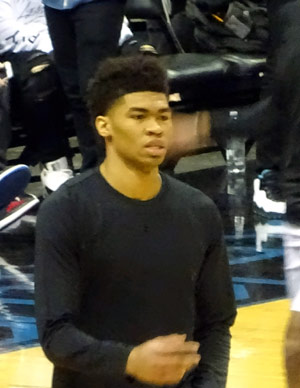 Richards got his game started by catching an oop he had to reach way back for. He displayed his above average athleticism throughout the game, running the floor and finishing. He ended with ten points while shooting 5-7 and grabbed three rebounds in the game.
Matt Coleman 6'1 174 PG – Texas
Coleman came out aggressive and confident. He shot very well, with a good balance of scoring and passing finishing with eight points and eight assists. He plays the game very fast and gets where he wants with his dribble. He also played well on defense to earn three steals.
Billy Preston 6'10 230 PF – Kansas
Preston had a quiet game. He hit a quick step back three to start off but only scored on simple finishes to round out his seven points. He didn't grab a rebound and only had one assist, not making too much of a presence in his 15 minutes of action.
Mohamed Bamba 6'11 210 C – Undecided
Bamba only scored six points on 3-9 shooting but led the West in rebounds with ten. He missed a lot within close but his length allows him to stay right there to tip it back up to earn five offensive rebounds. He tried one three-pointer early in the game but kept it simple staying around the basket. Bamba only blocked one shot but disrupts much of the opposing team's offense by simply being in the area.
Gary Trent 6'5 200 SG – Duke
Trent finished with six points on six shots, with four of his points coming from free throws. His lone field goal in the game came on an impressive up and under layup. Trent passed out three assists but struggled to find his rhythm as a scorer.
Trae Young 6'2 170 PG – Oklahoma
Young ended with five points. He got to show off his shooting range on one play connecting from NBA distance. His other two came on a fast break from Collin Sexton as mention earlier. Young didn't have a great week of practice and didn't get to show off his scoring ability in the game but posted two rebounds and three assists.