The East kept it close but couldn't get the win this year as they were overmatched by the talent on the West. They shot well as a team at 42.9% from three but their 29 turnovers were too much to overcome. Here's a breakdown of the East squad.
Brian Bowen 6'7 190 SF – Undecided
Bowen made nearly every shot he took scoring 26 points while shooting 10-13 from the floor and 6-7 from three. He had many catch and shoot opportunities he connected on throughout the game, sometimes from a standstill and other times on the move. His final three hit the rim then the backboard to drop in as the final seconds ticked off the clock. He had two rebounds and two blocks in his 20 minutes of play to earn MVP of the East.
Wendell Carter 6'9 254 PF/C – Duke
Carter made a few nice moves with his back to the basket but had a quiet game overall. He finished with eight points, four rebounds, and four turnovers. He has very good touch around the basket and half-court game but didn't get the fast break points some of the other big men benefitted from.
Trevon Duval 6'3 183 PG – Undecided
While shooting is Duval's biggest concern, it was nice seeing him make two of this three three-point attempts with confidence, including one off the opening tip. He made some nice lead passes with some flair to record four assists, including behind the back pass to Jalek Felton to close out the first half. Another one of Duval's concern's is decision making and turnovers, where he finished with four. He ended with eight points and had an explosive dunk as his only two-point field goal.
Tremont Waters 5'11 165 PG – Undecided
Waters ended with eight points. He didn't have any highlight plays, scoring some scoop layups and using his jump shot. He isn't a high-level athlete but as he showed in practice, he's a very willing defender, recording three steals in the game.
Jarred Vanderbilt 6'8 200 SF – Kentucky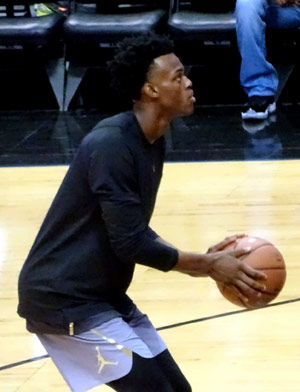 Vanderbilt did most of the ball handling when he was in the game. Although he passes the ball very well, he didn't record an assist in the game. He posted a solid 17 points and seven rebounds. He didn't make any jump shots, air balling his only three but found other ways to score, showing a running hook and slashing his way to the basket. Vanderbilt went down with an unfortunate ankle injury in the final minute of the game, he seemed to be fine but he's been in a boot for part of his senior year as well as the end of last summer.
Jaren Jackson Jr. 6'10 226 PF – Michigan State
Jackson didn't get off many clean shots going 3-9. He finished with seven points and knocked one down from three. He only had two rebounds and didn't do much to stand out in his 20 minutes.
Quade Green 6'1 170 PG – Kentucky
Not really known for his scoring, Green finished with six points and five rebounds. He separates himself with his court vision; seeing cutters and throwing no look passes to the active big men to earn ten assists. On the flipside to his passing, he did turn the ball over nine times, which is only three less than the West had as a team.
Brandon McCoy 6'11 244 C – Undecided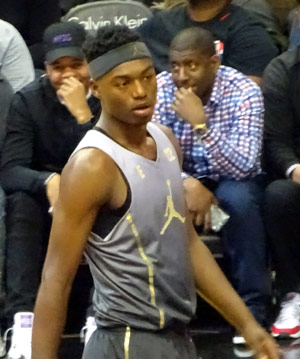 McCoy benefitted from being at the right place at the right time on many of his points and rebounds. He did swish a midrange shot then air balled one a few minutes later. He had a very good showing overall with 15 points, a game high 13 rebounds (six offensive), and three blocks. McCoy more than held his own facing a loaded frontline with Bamba and Ayton, and made a strong case for MVP.
Mitchell Robinson 6'11 215 C – Western Kentucky
Sometimes players can accumulate points throughout the game and you hardly noticed when they were on the floor, that wasn't the case with Robinson who scored 15 points shooting a perfect 7-7 in 17 minutes. 13 of those points came in the first half within minutes of each other. He's so long, athletic, and active as he likes to run the floor every play. He has a large radius around the basket where he can finish an oop or take a step or two and dunk it.
Jalek Felton 6'3 180 PG/SG – North Carolina
Felton didn't have a big game with only four points and three assists. Both of his baskets were highlights, catching a lob from Quade Green underneath the basket for a reverse layup on one play and finishing a two on one layup at the buzzer to finish the first half.
John Petty 6'5 185 SG/SF – Alabama
Petty's only two points came on a layup in the second half. He has a shaky handle which was apparent, and didn't get any baskets in rhythm. He shot 1-4 from the floor, also grabbing two rebounds and two assists.