The East pulled out the victory and scored 131 points in the process. With seven of the ten players scoring in double figures, here is a recap of the East Prospects.
De'Aaron Fox 6'3 170 PG – Kentucky
Fox earned MVP for the victorious East squad. He got to the rim, virtually at will, displaying his immense quickness and skill level. He did a nice job of scoring from everywhere on the floor using hop steps to get to the middle of the floor and pulling up for jump shots on the perimeter. His 23 points led all scorers and had five rebounds to go along with his scoring. His one steal of the game came from a clean rip from Cassius Winston as he brought the ball up the floor. Fox shared the Co-MVP award with future teammate, Malik Monk, who will play in the backcourt together next year, forming an ultra-athletic duo. He would finish the game with a mini windmill as the final seconds came off the clock.
Markelle Fultz 6'5 185 PG/SG – Washington
Fultz did it all as a scorer; he's very smooth getting to the rim and shot well from outside (shooting 3-7 from three). Although he had a game high five turnovers and only three assists, he distributed well in transition. Fultz has had a big year and has boosted his stock lately. He would finish with 19 points, four rebounds, and three assists.
Jayson Tatum 6'8 205 SG/SF – Duke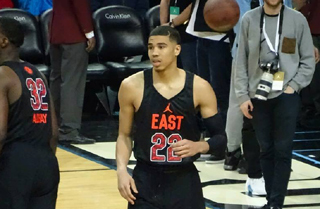 Tatum scored on a lot of easy baskets, although he's a very good half court scorer, most of his points came from uncontested dunks. Most of his rebounds happen to come right to him. He settled for a lot of contested midrange fade aways. He didn't do much to "wow" the crowd but had a solid outing. Tatum finished with 18 points and eight rebounds.
Bam Adebayo 6'10 245 PF – Kentucky
Surprisingly, Bam wasn't on the finishing end of any alley oops but did get his share of aggressive jams. He even threw down a windmill on a break from Alterique Gilbert. It's easy to look at his 7-8 shooting and assume it came from easy dunks but he shot well from midrange, as he showed in practice as well. Bam posted 15 points, five rebounds, three assists, and two steals. Four of his rebounds came on the offensive end where he led the team.
VJ King 6'6 195 SF – Louisville
King had a solid 15 points on 7-10 shooting. He made his only three point attempt and most of his points came from straight line drives taking minimal dribbles. He also finished with three rebounds, three assists, and a steal.
Bruce Brown 6'4 190 SG – Miami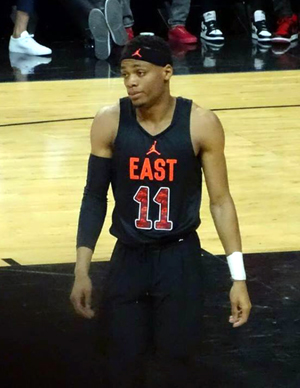 Brown displayed his midrange pullup in practice but took it to the basket with aggression almost every time he touched the ball. He had 15 points and shot six free throws making contact on most drives. He had one of the top plays of the game flushing a jam down the middle of the lane. Outside of his scoring he didn't provide much recording no assists, blocks, or steals and only grabbing two rebounds.
Udoka Azubuike 6'11 300 C – Kansas
Azubuike had ten points and six rebounds in 15 minutes of play. Four of his points came from free throws, a few of course came from dunking with defenders staying out of his way, but the play that stood out the most was his jump hook in the post. It looked smooth and he shot it with confidence. His one block of the game came against Amir Coffey, where Azubuike gave him a Mutombo finger wave.
Jonathan Isaac 6'10 205 SF/PF – Florida State
Isaac didn't get many clean catches and was a part of a lot of broken plays. We didn't get to see his perimeter game that boosted his stock over the past year other than him knocking down a pullup three off the dribble. He also didn't have a great shooting display from the free throw line, only making one of his four attempts. He also gave up two fouls in the post after giving up position. Isaac finished with eight points and six rebounds.
Tony Bradley 6'10 245 C – North Carolina
Bradley scored six points and grabbed a team high nine rebounds. He shot 3-5 from the field and one of his baskets came from a running hook while getting fouled. Only one of his rebounds came on the offensive end and the guards didn't emphasize feeding the post so his touches were limited. Bradley's only other stat was two assists.
Alterique Gilbert 5'11 180 PG – Connecticut
Gilbert's only two points came from a midrange fade away in the paint. He finished with two points, five assists, including a nice no look over the head pass to Adebayo for a windmill, and two steals in ten minutes of play before leaving the game from separating his shoulder.