The talented 2016 class took the floor for the Jordan Brand Classic. The West came up short but didn't back down from putting on a show. Here's a recap of the West. Tomorrow we'll take a look at the East.
Malik Monk 6'3 185 SG – Kentucky
Monk got it going early running the point. He pushed the ball and was a part of every possession; whether it was shooting, slashing, finishing an oop, or finding Miles Bridges running the baseline. Despite only shooting 2-10 from three, Monk earned MVP of the West finishing with 22 points, five rebounds, three assists, and three steals.
Shamorie Ponds 6'0 160 PG – St. John's
Ponds was active offensively, making the most of his playing time. He fearlessly drove the ball to the basket throughout the game, most of his points came from layups. He didn't have a great shooting night, scoring 17 points on 15 shots, but he did manage to get it done in 16 minutes of play. Ponds also finished with two assists and two steals.
Andrew Jones 6'4 175 SG – Texas
Jones looked much more aggressive as a scorer than he did in the McDonald's All American Game going scoreless in limited minutes. He was quick to take the first good look offensively and made good on most of them shooting 7-11. He made a beautiful floater in the first half that hit nothing but the bottom of the net. Jones finished his 16 minutes of play recording 15 points.
Cassius Winston 6'2 195 PG – Michigan State
Winston can get to the rim and score for himself but also loves to distribute. He achieved a game high of seven assists and didn't fall in love with the three, which is rare for a guard in an all-star game. It's common for players to try things they can't usually do in these type of games but Winston kept it simple, sticking to his game. He scored 13 points and grabbed four rebounds to go with his seven assists.
Miles Bridges 6'7 230 SF/PF – Michigan State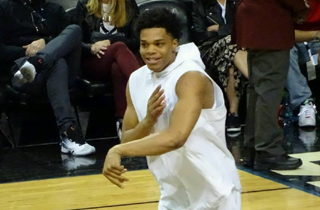 Bridges was one of the most exciting players in the game. He only made one of his threes, going 1-7 from downtown. He hasn't had a reputation as a shooter but made strides in that area in his senior year; he really struggled shooting the ball even in practice, some were off by a wide margin. Most of his points came on the finishing end of alley oops. He showed reliability scoring around the basket with his right hand, even in traffic. Bridges scored 17 points on 17 shots, he also tallied four rebounds and three assists.
Omari Spellman 6'9 285 PF/C – Villanova
Spellman had the lone double-double in the game posting 12 points and a game high 15 rebounds (two shy of Amare Stoudemire's record), which tripled the total of anyone else on the West. In a fast paced game that tends to go up and down, rarely feeding the post, most of his touches came from getting offensive rebounds (six). His top play came from an aggressive tip slam cleaning up one of Andrew Jones' missed layups. Spellman still has room to get into better shape but is very active and skilled for his size.
Wenyen Gabriel 6'9 195 PF – Kentucky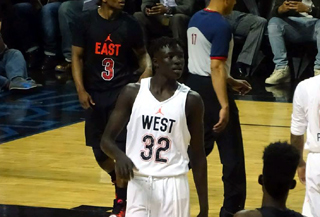 Gabriel only had four points in the game, making an and-one at the rim in the first half and staying with his own missed layup tipping it back in. He also recorded two assists, a block, and two steals.
Marques Bolden 6'11 250 C – Undecided
Bolden had an efficient eight points on 4-5 shooting. He was on the finishing end on most plays just catching and dunking. He did show a nice left handed jump hook in the post while using the glass. His combination of low post scoring and athleticism is rare for big man at such a young age. He also had five rebounds, two assists, and two blocks; including a volleyball spike on one of Alterique Gilbert's layups.
Amir Coffey 6'7 185 SG/SF – Minnesota
Coffey had a quiet game scoring seven points in 20 minutes. He wasn't very assertive and let the game come to him. He scored on a nice floater off the backboard and made one of the West's six three pointers. He also finished with two boards and two assists.
Frank Jackson 6'3 210 PG – Duke
Jackson earned his only two points off of a hop-step move kissing it off the glass. He missed a mini windmill attempt then his head on the floor later that play going for a rebound causing him to leave the game. Jackson finished with two points and two rebounds in five minutes.