The Away team closed a huge first half deficit to make it a close game by the end. Despite the loss, the Away team had some impressive performances.
Anthony Edwards 6'4 205 SG – Georgia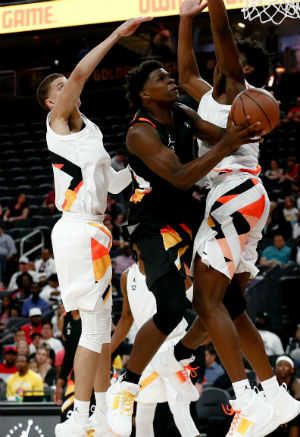 Edwards is a scorer by nature but needs some work as a shooter. He was very hit or miss during practice and missed all four of his threes in the game, including an airball on one attempt after nailing a midrange pullup a few possessions earlier. He put up some points displaying athleticism on some open floor dunks and a few up-and-unders with his left hand. He stayed aggressive and continued to attack on his way to score 21 points. He looked like the best athlete among the guard group by a wide margin and figures to be in the mix as one of the top picks for the 2020 draft.
Jahmius Ramsey 6'3 190 PG/SG – Texas Tech
Ramsey kept it simple, taking advantage of every opportunity to put points on the board. He didn't make any of his three three-pointers but shows good form from outside. Other than a midrange shot and a free throw, the rest of Ramsey's 15 points came from open floor layups/a dunk. He played hard and beat the defense up the floor in his 20 minutes but didn't have any big highlights.
Armando Bacot 6'10 240 C – North Carolina
Bacot did his work around the basket, using a blend of technique and throwing it down when appropriate. A few of his points came from cleaning up his teammates misses but he correlated well with the point guards, especially Cole Anthony, staying alert with good hands to finish off their dimes as a pick and roll finisher and slipping to the basket when appropriate. Bacot finished with 14 points while shooting 7-9, ten rebounds (four offensive), and three assists. He had a nice play on the defensive end blocking one of James Wiseman's baseline layups.
Cole Anthony 6'2 185 PG – North Carolina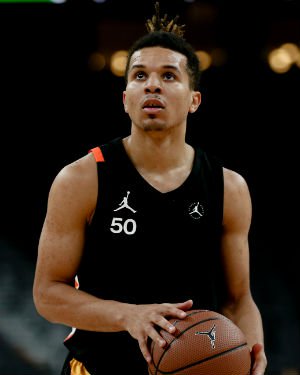 Anthony echoed his McDonald's performance to earn MVP for the Away Team. He's done a great job of improving his point guard play over the years, showing good court vision and nice pocket passing to setup big men. He had no trouble creating offense, splitting the defense on one play to free himself up and knock down the midrange jumper. He scored at the rim displaying hang time and crafty finishing, also perimeter scoring with deep range. Naturally a scorer, Anthony finished with 25 points while shooting 8-14 from the floor, 3-6 from three, and made all six of his free throws. He also grabbed six rebounds and finished with six assists to three turnovers. Anthony played the defensive end as well with four steals and had a nice chase down block on Samuell Williamson.
Alonzo Gaffney 6'8 190 SF/PF – Ohio State
Gaffney scored 12 points on seven shots. He has good size for someone who likes to play on the perimeter and shoots it well with good form. He hit two threes, with one on the move while coming off a curl. He had two uncontested dunks, demonstrating his athleticism at the rim. Gaffney has some tools and talent but he's still working on putting it all together.
Rocket Watts 6'2 175 PG – Michigan State
Watts is one of the best scorer's in the class but excelled passing the ball, with five assists to only one turnover, including a behind the back dime leading to an Armando Bacot dunk. As usual, Watts utilized his quickness beat the defense and got where he wanted with the ball. He finished with eight points and hit a pair of threes in the process. He had the hot hand in practice, going back and forth with Samuell Williamson, hitting step backs and getting into the paint with his dribble penetration.
Romeo Weems 6'6 225 SF – DePaul
Weems scored seven points. He hit a three pointer and tipped in missed shots on back to back plays to go 3-4. He has some solid physical tools and skills but didn't standout much in either practice or the game with three rebounds and a steal to round out his stats.
Patrick Williams 6'7 215 SF – Florida State
Williams had some aggressive drives that got him to the foul line to score all his seven points, but he didn't have much luck shooting the ball, missing all three of his outside shots and shot 0-5 overall. He's a high-level athlete and almost landed a nasty one-handed oop but he couldn't land it. Although Williams didn't standout, he has good potential as a two-way wing prospect.
CJ Walker 6'8 200 SF/PF – Oregon
Walker had a nice practice, flashing his faceup game and impressive athleticism. Not to mention, he plays hard each possession. His scoring in the game came from some easy dunks, one on a fast break and another from a Wendell Moore pass. He pulled off a nice eurostep that led to a foul and he shot 2-6 from the free throw line. Walker ended with six points, one rebound, and an assist for the Away Team.
Wendell Moore 6'5 210 SG/SF – Duke
Moore impressed as a distributor with a few bounce passes on the move to setup teammates for easy jams with four assists. He scored four points, penetrating and changing his speed for a scoop layup, then battling underneath on another play to put it in. Although Moore doesn't have a flashy game, he was the youngest player in the game and had a solid two days.
Trayce Jackson-Davis 6'9 230 PF – Indiana
Jackson-Davis grabbed five rebounds and displayed his athleticism on a pair of dunks to score four points. He hasn't done much to stand out in the All-American practices/games, but he's gifted with his size and ability to finish above the rim. Once he polishes his skills and expands his game, he'll be able to tap into his potential.
Boogie Ellis 6'1 170 PG – Duke
Ellis scored well in practice, getting to the rim and showing offensive instincts. However; he wasn't able to connect in the game, scoring his only two points on a left-handed layup he finished in traffic. He shot 1-6 with a quick trigger and 0-4 beyond the arc, along with two rebounds.