The Home Team beat the Away Team 132-125 in the Jordan Brand Classic's first year in Las Vegas. Here's a rundown of the Home Team prospect's performances.
James Wiseman 7'1 230 C – Memphis
Wiseman was the Home Team's MVP with 21 points on 9-12 shooting. He got it done in a variety of ways; a few dunks, converting offensive rebounds, and he hit a few shots in traffic while kissing it off the glass. He looked good in the practice as well, scoring in the post using fadeaways and jump hooks, showing consistency as a finisher. He had a nice pass when he read a double team on his drive out of the post to dump it off to Kahlil Whitney that led to a foul. His shot could use more arch as he front rimmed a few of his misses, including free throws. With Wiseman's combination of length, athleticism, and developing skillset, he projects to impact the next levels on both ends. He also grabbed six rebounds and blocked two shots in the victory.
Trendon Watford 6'8 210 PF – Undecided
Watford stuck to what he does best, which is filling up the scoring column. He scored 18 points while shooting 5-9 from the floor, 2-3 from three, and 6-7 from the foul line. His aggressive play led to numerous free throws and allowed him to finish in traffic on strong drives as he maneuvered through the defense when he found the gap. He had some nice passes on the move, including a left-handed pocket pass to Isaiah Stewart on a slip. Watford's impact was felt from start to finish, finishing with seven rebounds and two steals.
Isaiah Stewart 6'9 245 PF/C – Washington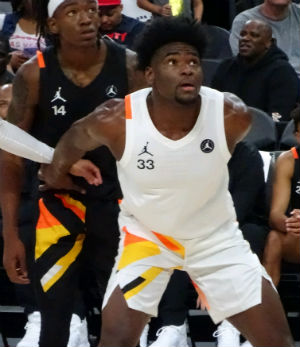 As usual, Stewart's effort didn't go unnoticed with 16 points and nine rebounds (four offensive). He made both of his three-point attempts and didn't show any hesitation to let it fly. In addition to his shooting, he scored well in the paint off tip ins and soft touch using the backboard. According to the box score, Stewart didn't record any blocks but had a chase down on the first play of the game and had an emphatic rejection later in the game which a foul was called.
Cassius Stanley 6'4 185 SG – Duke
Duke's newest addition had a good showing with 16 points. He made two of his five three-point attempts, including a step back with just a little bit of space a few steps behind the arc. He didn't show off the high-flying dunks he's known for but finished numerous strong layups when he attacked the paint. Stanley balanced out running the point and playing off the ball, showing some versatility at the guard position.
Keion Brooks 6'7 205 SF – Kentucky
Brooks played hard and made the most of his 14 minutes, running the floor to score on put backs, layups, and a nice tip dunk on one play. He had an impressive play when he caught an oop off the backboard from Tre Mann then ran the floor to get a chase down block on the other end. Brooks scored 15 points while showing a solid skillset but could use some work as a shooter. He airballed an open three (0-3 3PT) and missed pretty bad on a midrange fadeaway. With that said, Brooks is an intriguing talent and can prosper at the next level.
Tyrese Maxey 6'2 185 SG – Kentucky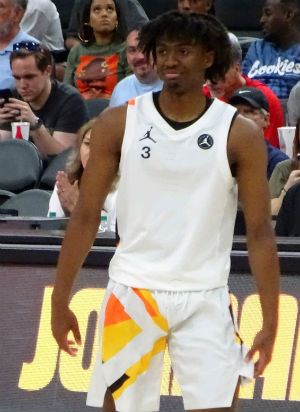 Similar to his McDonald's performance, Maxey made sure to get his shots off, going 3-13 from the floor and 1-6 from three to score 13 points. In practice, he made defenders pay for going under screens, using his quick release when given the space but couldn't knock most of them down in the game. He got into the paint a few times but where he really excels is using his floater, I don't think I've seen it done better by anyone else in the class. Maxey also grabbed five rebounds, passed out four assists to three turnovers, and came away with two steals.
Jaden McDaniels 6'10 190 SF/PF – Undecided
McDaniels shot well but I would like to see his shot selection improve as well as his approach as a scorer. Rather than getting to the rim, he settles and pulls up for his shot as the defense gets close. It worked for him in the game as he scored six of his points using it but it's too predictable at the next level and he's going to have to be stronger with the ball. He also scored on an easy dunk on a dump off from Keion Brooks to finish with eight points and nine rebounds.
Samuell Williamson 6'7 195 SF – Louisville
Williamson had an impressive practice, exchanging blows with Rocket Watts and utilizing his midrange game to fill it up. He has been on the rise lately, and showed here that he deserves that. However, he didn't have a great game with only eight points on 4-13 shooting. He played aggressive, scoring his first two baskets on tip ins/tip dunks and displayed his athleticism in the open floor on an uncontested jam. His only basket in the half court came on a baseline spin to finish with a layup.
Kahlil Whitney 6'6 200 SF – Kentucky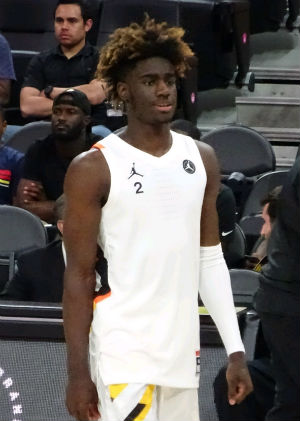 Whitney showed big strides on his drives, covering ground on eurosteps to get into the lane. He hit a nice midrange fadeaway and an and-one layup on his way to eight points, but he has a way to go to improve his half-court offense. There's no questioning his athleticism or talent but his offensive polish and ability to play off the ball can improve. He missed both of his threes and shot 2-5 from the foul line, hitting the backboard before the rim on one attempt.
DJ Jeffries 6'7 210 SF – Memphis
Jeffries scored seven points and grabbed all three of his rebounds on the offensive end. Although he didn't make them, he showed ability to create off a step back. He's a nice athlete and provides a scoring mentality. He knocked down a three after grabbing an offensive rebound and pulling it back out. Jeffries also scored on a layup from a Jaden McDaniels pass and a put back layup.
Tre Mann 6'3 185 PG – Florida
Mann's only two points came in transition where he contorted his body to put it off the glass. At one point in the game, he jumped a pass to take it in for a fast break layup, but it was tipped in by Samuell Williamson, so it wasn't rewarded for the two. He tried a few NBA range threes but didn't have any luck connecting.