The 14th annual Flyin' to the Hoop featured many top teams from Ohio and powers from across the US. Trent Arena was well represented by college coaches and fans ready to watch four days of competitive basketball. The players named to the All-Tournament Team were Seth Towns, Nick Ward, Alterique Gilbert, Josh Jackson, Trevon Duval, and Miles Bridges. Here's a breakdown of the top player's performances.
Josh Jackson 6'8 – Prolific Prep 2016
In Jackson's first game, he was completely unstoppable. He got to the rim and drew fouls at will. He didn't shoot it well from a jump shooting standpoint but he consistently beat the first line of defense on the perimeter, sometimes beating his man one on one, other times splitting two defenders. Once he got to the middle he would float the ball over the top of the help side big. He was very active defensively, going after rebounds and blocking/contesting multiple shots as a help side defender. He needs to get more help from shooters, Vance Jackson hesitated too much missing many open looks. Jackson would eventually foul out with 32 points and seven rebounds losing to La Lumiere 75-63. In Prolific's game against Huntington Prep, Jackson wasn't near as active. He broke his finger against La Lumiere and wasn't in attack mode. He got Ira Lee going, feeding him in the post and setting him up for alley oops.
Prolific and Huntington Prep played each other at Marshall County Hoop Fest; Prolific won in double overtime, and this matchup once again, didn't disappoint. With Prolific down 63-61 with ten seconds left, Huntington's Ivan Gandia, was fouled. He missed the first of a one and one free throw. Prolific's Abu Kigab came down with the rebound, bringing it up court, trying to find Jackson open on the wing until Gandia intercepted it, and Jackson quickly fouled him and was furious with the turnover. Gandia missed another one and one free throw, Prolific got the rebound and called timeout with 1.2 seconds left. Prolific's Vance Jackson makes a Grant Hill to Christian Laettner type one handed pass where it's tipped and fumbled, Josh Jackson catches and shoots as the buzzer goes off, connecting on the three ball to give Prolific a 64-63 win. Jackson finished with 15 points and nine rebounds.
Brian Bowen 6'7 – La Lumiere 2017
Bowen did a great job of scoring in his only game of the event. He has a smooth stroke and a quick release. He gets good elevation on his jump shot and likes to freeze the defense with a behind the back dribble before he shoots. Bowen played exceptionally well with Josh Jackson guarding him, he took advantage anytime Jackson was helping off of him, shooting with confidence. Bowen finished with 17 points and six rebounds in the win against Prolific Prep.
Tyger Campbell 6'0 – La Lumiere 2019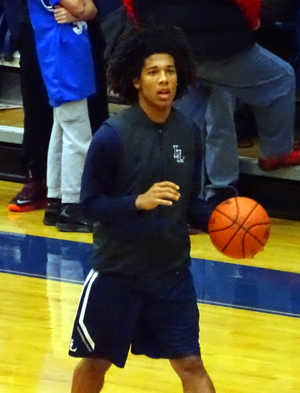 Campbell shows signs of being a big time leader on the court. Running the point for La Lumiere as a freshman; he even started last year as an eighth grader at Christ Presbyterian Academy. The pressure and length of Prolific Prep did bother him a bit, causing a few turnovers. Campbell does an excellent job of keeping his dribble going when defenders try to trap and he also gets where he wants on the floor. His kill zone is the middle, where he likes to dump off to a teammate or float it over the top of a defender. He looked to get physical in one on one situations with Prolific Prep's freshman guard, Pierre Cockrell. He is ahead of his age when it comes to thinking the game and will be making a lot of noise over the next few seasons. Campbell posted eight points, six rebounds, and seven assists.
Ira Lee 6'8 – Prolific Prep 2017
Lee is Prolific Prep's newest addition via Sierra Canyon. He brings hustle and athleticism to the team. He doesn't create for himself but he is a great finisher when plays are made for him. It's not uncommon for him to score in consecutive possessions when he gets it going. Defensively, he contests a lot of shots at the rim and is active on the boards. He still has a ways to go outside of his natural ability but he's productive when he's on the floor. Lee finished with 14 points and five rebounds in the win over Huntington Prep.
Seth Towns 6'7 – Northland 2016 (Harvard)
Towns easily stood out in his only game against Greenville. He can really shoot the ball, off the catch or dribble. He set it up with a jab step to see if the defender would bite, and then he would shoot. Moving forward he will need to be quicker, but at this level he is able to shoot over defenders with just a little bit of space. He is a solid athlete finishing with a dunk on multiple plays. He didn't force any plays, he patiently let the action come to him, making it look easy. He has a solid handle to create a pull up jumper. On a few plays, he posted up smaller defenders and hit a turnaround fade away. Defensively, he is a good on the ball, there were a few times he picked the ball handler in one on one situations leading to a fastbreak jam. Towns finished with 40 points and ten rebounds while sitting out the final three minutes to beat Greenville 87-63, while shooting 17-25 from the field and 5-8 from three.
Jarron Cumberland 6'4 – Wilmington 2016 (Cincinnati)
Cumberland, known for his knock down shooting, only hit one three in his game, but found other ways to score. He has great touch on his runners, driving off the perimeter and connecting with the bottom of the net on multiple plays. His strength allows him to finish well through contact, converting three and one plays. Cumberland helped Wilmington erase a 17 point deficit. During the comeback, Cumberland became frustrated with Walnut Ridge's physicality, resulting in two offensive fouls. It threw him off his game a bit, causing him to drive looking to draw fouls rather than trying to score, but Wilmington pulled out the 67-63 victory with Cumberland, finished with 24 points and six rebounds.
Miles Bridges 6'7 – Huntington Prep 2016 (Michigan State)
Bridges played well in the heartbreaking loss to Prolific Prep. He was his usual aggressive self, making threes from outside while also finishing with dunks and acrobatic layups around the rim. Bridges protected the rim and played strong defensively. He had one of the top plays of the game completing a windmill dunk off of an oop from Onuralp Bitim. He finished with 25 points, eleven rebounds, five assists, and three blocks against Prolific Prep. Garfield Heights wasn't intimidated by their opponent's national recognition and came out as the aggressor in Huntington's second game. Bridges delivered with 21 points in the win and was an absolute beast on the boards, getting rebounds in and out of his area with 17.
Curtis Jones 6'4 – Huntington Prep 2016 (Indiana)
Jones continues to impress. He has been on fire this season and attacking with aggression. He was no different in Dayton, scoring 19 points and passing four assists in the loss to Prolifc Prep. He also had the game high 24 points to beat Garfield Heights. He has made strides since last season; he can use his dribble to get his jump shot off, but still has room to improve at getting to the rim once he puts the ball down in the half court set.
Terrance Ferguson 6'7 – Advanced Prep International 2016 (Alabama)
In API's first game against IMG, Ferguson came out hot, knocking down threes, a few from NBA range. He was more aggressive than usual but wasn't forcing it. We all know him for his shooting ability and highlight dunks but Ferguson is also a great on ball defender. He stays active the whole time on defense and usually guards the other team's best perimeter player. Ferguson scored 17 points and grabbed six rebounds to beat IMG. In the second game against Pickerington Central, Ferguson finished with 11 points, all coming in the second half.
Trevon Duval 6'2 – Advanced Prep International 2017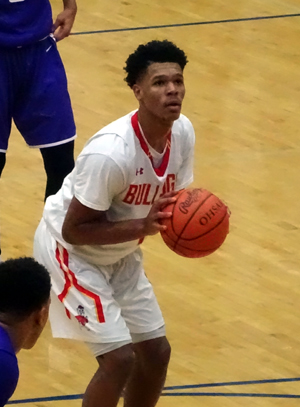 Duval had a great pair of games. He posted 16 points, four rebounds, and four assists to beat IMG 82-52. The second game wouldn't come as easy. Pickerington Central came out hot, API trailed by double digits until the third quarter. Duval went into attack mode, shifting gears from his pass first tendencies to a scorer's mentality. He got into the lane, exploding to the rim and willed API back into the game. API would pull out the win and Duval finished with 29 points shooting 10-14.
Billy Preston 6'10 – Advanced Prep International 2017
With Jonathan Isaac out with a foot injury, IMG didn't have anyone that could match up with Preston's size. They played physical with him causing him frustration. He fell in love with the three (1-5) a little too much but started adding some points when he played in the paint. He ended the game with 16 points and 14 rebounds. Preston is a top talent and can score inside and out at the high school level, but really doesn't excel at either at this point in his development, moving forward he will benefit on polishing his post/face up skills in the paint then expand from there. He tends to go through stretches where he plays with tunnel vision on the basket, forcing things and not considering the team's offense. API made their comeback while Preston was out of the game but he came back in and made some key free throws, finishing with 14 points and nine rebounds.
Nick Ward 6'8 – Gahanna Lincoln 2016 (Michigan State)
Ward played great in the win over Dayton Dunbar. He doesn't have great size for a center at 6'8 and has a thick build but gets pretty good lift and has mobility. He definitely plays within himself, not shooting jump shots or trying to test his perimeter skills in any way. He knows how to use his body in the paint and is nearly automatic from close, making 11 of 15 field goal attempts. When fighting for post position, he is constantly relocating to get the ball, not asking a teammate to throw it over the top or giving up on the play. Ward finished with 26 points, eight rebounds, and two blocks in Lincoln's only game of the event.
Eli Wright 6'4 – 22 Ft Academy 2016 (Mississippi State)
Wright was just too quick for Hilliard Bradley. He used his crossover to slash to the rim. He creates off the step back too but struggles to consistently make jump shots. His shooting form isn't bad he just needs more repetitions, going 0-5 from three. He finished with a variety of dunks and explodes up effortlessly. Wright scored 23 points in the win.
Alterique Gilbert 5'11 – Miller Grove 2016 (Connecticut)
Gilbert is more of an undersized scorer than a true point guard, but he sure can score. He came out hot with a couple of three pointers in the face of the defender, created with a dribbling jab step to fake the drive. He just has a natural ability to score; getting the rim, finishing with floaters or jump shots, it finds its way into the basket. All of his points come from him creating by himself, it isn't a team effort to set him up. He's lightning quick and explosive vertically. Defensively, Miller Grove was in a zone. Gilbert often faced one of the wings, and when he was matched up he played lock down on ball defense, ripping the ball handler on one play for a dunk. He has great timing when blocking shots; on one play he was riding a player's hip, when the player stopped and faked up, Gilbert stayed down. When the player jumped, he sent the shot away. Gilbert finished with 31 points, five rebounds, three blocks, and two steals to beat Centerville.
Ibi Watson 6'4 – Pickerington Central 2016 (Michigan)
Watson has a well-rounded game. He shot well from outside and got to the rim against a much more physically and athletically gifted API team. He played solid defense and is well above average as an athlete. He welcomed the challenge and gave great effort but it wasn't enough to get the upset win. Watson would finish with 26 points, six rebounds, and three steals in the loss.
Xavier Simpson 6'0 – Lima Senior 2016 (Michigan)
Simpson scored 22 points in the blowout win over Thurgood Marshall. He used his speed to get by defenders and strength to finish against the help. Most of his points come in the paint and free throws, he didn't make many jump shots. He would drive and kick to open perimeter shooters or cutters, making plays most of the time when he had the ball. He's got good hands for the ball on defense, knocking it out of the player's hands before they could attempt a layup. Simpson sat out the last few minutes when the game was comfortably put out of reach.