Just 29 of the 80 NCAA underclassmen early entries withdrew their names at the deadline meaning that there are more NCAA underclassmen (61) then draft picks (60) in this years draft. Since only around half of those underclassmen can expect to be taken, with seniors and International players taking up the other half of the draft, a lot of mistakes have been made.
While many of these players made decisions weeks ago, I'm going to be thorough and examine all of the entries.
With the huge push of players in this year's draft due to the impending labor dispute/lock out, the late first and second rounds are much more impacted than a standard draft year. Therefore it's hard to fault any of the withdrawals for deciding to return to school. There will be a better chance to get drafted and make money in the league in future seasons.
Breaking down which players made a bad decision entering is a difficult proposition because for some players, family financial situations is a higher priority than long term skill development. It is my belief that for the majority of players, aside from the absolute elite superstars, college is the best option for long term skill development. Without it, many players enter the league without the skills to compete and fail to reach their long term potential.
They are able to gain financial security with a first round salary and make $5-10 million over the course of their first 4 seasons, but then they fail to develop into the players they could have and struggle to make the money they would have in their prime earning seasons, their second and third contracts.
So when Daniel Orton and Eric Bledsoe decide to turn pro before they're really ready, analyzing whether they are making good decisions takes on a lot of variables.
Bledsoe had the stronger freshman season and appears to be the more ready of the two as he shined in the NCAA tournament. Orton put up just 3 points and 3 rebounds and is further away. But according to scouts, Orton is the much more surefire first rounder, and it's Bledsoe that actually may be further from having skills that translate to his natural NBA point guard position.
Of the withdrawals, two names stand out Jimmer Fredette and Arnett Moultrie.
Fredette's decision to pull out of the draft was essentially made for him as he suffered an injury in a Knicks workout. Fredette was in an interesting spot with a shot to grab a late first round pick due to the lack of point guards and his impressive season.
Moultrie pulled his name out and will transfer from UTEP. Without question he needed to get out of this overcrowded draft as he just didn't show enough skill development this season playing in the shadow of Derrick Caracter. He's got nice potential but is too far away to consider with a late first rounder.
Players Club
Locks… It's Time, Show Them the Money
Cole Aldrich 6-11 260 C Kansas Jr., Al-Farouq Aminu 6-8 218 SF Wake Forest So., James Anderson 6-6 195 SG Okla.St. Jr., , DeMarcus Cousins 6-11 280 PF/C Kentucky Fr., Ed Davis 6-9 225 PF North Carolina So., Derrick Favors 6-10 240 PF G'Tech Fr., Gordon Hayward 6-8 220 SF Butler So., Xavier Henry 6-6 220 SG Kansas Fr., Wesley Johnson 6-7 200 SF Syracuse Jr., Greg Monroe 6-10 234 PF G'town So., Patrick Patterson 6-8 232 PF Kentucky Jr., Evan Turner 6-6 205 PG/SG Ohio St. Jr., Ekpe Udoh 6-10 235 PF Baylor Jr., John Wall 6-4 182 PG Kentucky Fr.
These guys all stood less to gain by returning to school and appear ready-enough to take their games to the next level without seeing a significant drop off in their long term potential.
Davis is one guy whose game would benefitted by returning but with the ridiculous hype surrounding him (Top 10 pick) at this point, who can blame him for capitalizing on it? Hayward is another guy who might have benefited with another year in school, but his stock is too high not to jump.
Good Roll of the Dice
Players who stand a good chance to get in first round and made a solid decision
Paul George 6-7 190 SF Fresno St. So.
The man with two first names will look to find a spot in the first round. It should not be a problem for him. He was the last cut from the locks list and it will be a real surprise if he falls into the second round with his freakish athleticism and excellent touch from the perimeter.
Avery Bradley 6-2 180 SG Texas Fr.
Bradley would have benefited by retuning to Texas but he has a lot of fanfare among NBA teams and should find a spot in the 18-25 range. He's not a PG, but is dynamic enough to overcome his lack of size.
Luke Babbitt 6-8 220 SF/PF Nevada So.
Babbitt isn't a first round lock but a majority of teams see him as a first rounder. He's a tweener, but has the grit and gusto lacking from many prospects which should ensure a certain degree of success. If he lands with a team that can help cover up his defensive liabilities, he should be highly effective.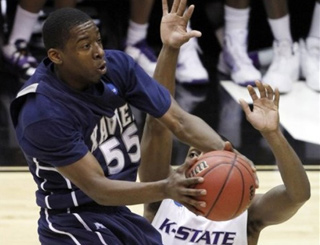 Jordan Crawford 6-4 195 SG Xavier So.
While we don't think he ends up in the first round. It's hard to imagine Crawford can increase his stock from where it is now after such an impressive season. The only thing you could fault him for is the fact that a future draft would have less overall talent to compete with.
Armon Johnson 6-3 190 PG Nevada Jr.
Similar to Bledsoe has position question marks, but Armon actually has the size and athleticism to play the 2 if he in fact can't develop into an NBA point guard. Playing at Nevada has made it a challenge to get the exposure he deserves, but enough scouts like him that he should find a spot in the first round.
Elliot Williams 6-4 180 SG Memphis So.
Williams is talented enough where he could potentially benefit by falling into the second round and being set up to make bigger money 2 years later on his second contract. He's a long, talented athlete with some legitimate offensive skills. He is jumping the gun to a degree and another season would have helped, but it's unlikely his decision will hurt him much in the long run.
Solomon Alabi 7-0 224 C Florida St. So.
There are a lot of skeptics that wonder if he has the natural feel for the game to improve significantly from where he's currently at as a player. He's a project, but due to his tremendous size, fluidity, shooting touch and most importantly HYPE, it's difficult to imagine him falling into the second round. Regardless, a number of teams do have him projected there.
Devin Ebanks 6-7 203 SF WV So.
Ebanks showed offensive potential despite struggling from the floor in the NCAA tourney. His clutch free throw shooting (26-28) and ability to defend and rebound gives him solid potential. He's a wild card and no lock for the first round. But proponents point to his injured thumb and the fact that he wasn't able to completely show his full capabilities with Da'Sean Butler and Kevin Jones having such prominent scoring roles.
Gani Lawal 6-9 233 PF G.Tech Jr.
With so many players at an equal level vying for late first round spots, Lawal is certainly rolling the dice. He locked himself into the draft when he decided to enter after having declared before. He stands a solid chance of getting into the late first.
Larry Sanders 6-10 220 PF VCU Jr.
Sanders lacks a great feel for the game and consistency but showed some real flashes of offensive ability in addition to his tremendous length and athleticism. Scouts seemed to have cooled on him some as he's seen as a mid-to-late first rounder now as opposed to a late lotto possibility. He's not a lock, but stands a great chance of being a first rounder. Why risk an injury or a bad season diminishing his stock?
Dominique Jones 6-4 190 SG South Florida Jr.
He's a fringe first rounder but for an playoff team looking for a ready to contribute combo guard with scoring ability, there are a lot worse options in the late first round than Jones.
Derrick Caracter 6-8 275 PF UTEP Jr.
DC was probably better at 16 years of age than he is now. He was that good. But he has finally put the work in and played a solid full season of college basketball. One more than he likely ever envisioned growing up. Scouts feel he stands an excellent chance of getting draft, but not in the first round. Give him credit for turning things around and giving himself a chance to have an NBA career. He's got the talent. Will he continue to put the work in and keep the weight down?
Selling Themselves Short
Players whose decisions were short sighted and will likely cost them in the long run
Daniel Orton 6-10 240 PF Kentucky Fr.
Eric Bledsoe 6-1 185 PG Kentucky Fr.
NBA Scouts feel Orton is a lock for the first round, and it wouldn't be out of the realm of possibility for him to sneak into the late lottery due to his tremendous size, length and perceived potential. Granted, he's as unproven as any player in the draft having essentially never proven himself on the college level and missed a full season in high school before that. Is he a big tease? Quite possibly.
Then again, the same could be said for Bledsoe, who despite his explosive dunks and solid outside shooting has not proven the ability run the point guard position in college. Jrue Holiday helps Bledsoe's cause having been taken in the first round last year after similarly never proving himself at the PG position, but Holiday was a more well rounder player, a better decision maker and a legit top 5 player in his high school class for a number of seasons. And scouts never had any character question marks with Holiday, the way some do with Bledsoe.
Then again, there's always the perspective that neither player would ever have become a star at the college level, that they're getting in at the right time and their games would have been exposed next season. In that scenario, making their move now with a lot of hype riding behind them is a smart one. In our opinion the pair are talented players that HAVE made mistakes in regards to their basketball careers that will keep them ever realizing their full potential due to leaving before they were ready. But as stated, the financial security variable cannot be overlooked, so that mistake is likely a long term upside/financial one.
Both players are high risk/reward picks. Both certainly would have benefited by staying and developing on the college level. Bledsoe isn't the lock that some may think with a number of other talented combo guards (Armon Johnson, Terrico White and Willie Warren) joining him in the draft.
Hassan Whiteside 7-0 235 C Marshall Fr.
Whiteside hasn't received glowing reports from his coaches or scouts in regards to work ethic and off court focus. He's a top 10 pick based on talent but could slide a ways due to so many red flags and question marks. Another year developing his body and game would have allowed him to be a legit top 5 pick and enter the league a more confident and ready . But word is he was more than ready to skip town and it's tough to turn down guaranteed money.
Lance Stephenson 6-5 210 SG Cincinnati Fr.
Stevenson will likely get into the first round due to his tremendous strength and isolation ability. But he's a kid that would greatly benefit in the long run with a second season rounding out his game. There are still a lot of holes to his game, but he has proven that he has matured and has the competitiveness and work ethic to shine.
Terrico White 6-5 190 PG/SG Mississippi So.
White was in a tough spot as he wasn't able to play his natural point guard position at Ole Miss. Chris Warren is in his class and due to being bigger and more capable of handling the off guard, White was forced off the ball. He's caught in a numbers game with a number of players with similar skill sets, but stands a good shot of grabbing a first round slot. He would have really had a chance to develop into something special with another year at Ole Miss, but the difficulties related to playing at the point, White decided the time was right to make the jump.
Ready for a Change of Scenery
Made sense to enter, even if things aren't ideal
Willie Warren 6-4 195 PG/SG Oklahoma So.
It would be easy to fault Warren's decision to enter the draft this year after such a disappointing season. But his real mistake was his attitude and disappointing play during the year. There were melt downs, injuries and fall outs as well as a post season driving with a suspended license arrest. There is still some intrigue in him and he could grab a late first round spot based on his upside. Returning to Oklahoma may not have been an option from either side due to the strained relationship between he and Coach Capel.
Craig Brackins 6-9 230 PF Iowa St. Jr.
Brackins is this year's poster child for striking while the iron is hot and not staying in school too long. Last year he was a near lock for the first round and now he's a near lock for the second round.
Charles Garcia 6-10 225 SF/PF Seattle Jr.
Garcia is pushing 22 and had a decent season. He still needs to become more fundamental and learn to play the team game but flashed enough potential to get looks in the second round. Without quality competition, another season at Seattle is probably pointless.
Elijah Millsap 6-6 220 SF UAB Jr.
Paul's little brother Elijah is an older junior who felt ready and didn't see much benefit in returning to UAB. He appears to be a European player and probably would have gone undrafted in either year.
Samardo Samuels 6-8 250 PF Louisville So.
Announced he would stay in the draft a few days before the deadline. Samuels has Europe written all over him. He's a slow 6-8 power forward who should absolutely dominate in Europe. Another year or two at Louisville could have benefited him, but then again Rick Pitino's system isn't exactly churning out quality NBA guys on a consistent basis.
What were they thinking?
Players who had no business entering this year
Tommy Mason-Griffin 5-11 200 PG Oklahoma Fr.
Made a bigger mistake than anyone that declared early this year. TMG had legitimate NBA potential despite being 5-10, but with just one season of college basketball, he has made ever making the NBA a huge challenge. Should be a stud in Europe for years nonetheless, assuming his decision making matures.
AJ Ogilvy 6-10 250 C Vanderbilt Jr.
Ogilvy may have his heart set on playing in Europe which would explain his decision to leave after such a disappointing season. Ogilvy may go undrafted although he appeared to be a guy with first round potential a few years ago. Vanderbilt will be solid next year and he would have had a real chance to resurrect his draft status.
Darrington Hobson 6-8 225 SF New Mexico Jr.
Hobson had a great season but doesn't have any first round buzz. In a weaker draft class, he could have used another strong season to propel himself into first round consideration. But a pro career waits for him somewhere, and apparently he's ready to make his move.
Tiny Gallon 6-9 285 PF Oklahoma Fr.
Gallon has some intrigue with his length and size and should get a lot of interest in the second round. He is still far too soft in the post and didn't show the necessary discipline in his freshman year and it will almost certainly diminish his career path.
Mac Koshwal 6-9 240 PF/C DePaul Jr.
Stands a chance of getting drafted, but his game is still not completely where it needs to be. Just when his game was beginning to show some signs of development he cut his career a year short. Another season at DePaul would have benefited him.
Sylvan Landesberg 6-6 195 SG Virginia So.
Was booted from the team after he was unable to maintain his eligibility in the classroom. Has some real polish to his offensive game for a younger guy and a game better suited to play in Europe.
Dee Bost 6-2 170 PG Mississippi St. Jr.
The biggest puzzler from the "staying in list" was Bost. Bost has next to no chance of getting drafted. And despite the fact that this is a weak PG draft, he's too raw and far away to bring anything to a team. The real shame is that Bost had a chance to develop into a NBA player in the next 2 seasons. Now he has an uphill battle to learn the PG position and make a go of things in lower level leagues.
Armon Bassett 6-2 180 PG/SG Ohio Jr.
Bassett has Europe written all over him. A scoring guard and a tough nosed competitor. He probably didn't have much to gain by returning, aside from as degree.
Courtney Fortson 5-11 180 PG Arkansas Jr.
If Patrick Beverly can get minutes for the best team in Greece: Olympiakos, why can't Fortson be a high level player overseas?
Jahmar Young 6-5 190 SG New Mexico St. Jr.
Young was already a borderline player to receive draft consideration. Just days after declaring his name for the draft he was arrested. Not exactly the way you want to end your college career.
Slippery Rock All Stars
Players whose 5 minutes of fame are 10 seconds from being up
John Sloan Huntingdon (AL)
Lazar Trifunovic Radford
CJ Webster San Jose State
Stevy Worah-Ozimo Slippery Rock
Withdrawals