By Aran Smith
Mass Exodus

The Early Entry deadline (May 12) has come and gone. The past week-and-a-half has been a whirlwind. Each day it seemed as if another 3-5 underclassmen would throw their name into the hopper. With everything spinning out of control, the pinball machine of the NBA draft is now flashing TILT.
On May 17th the NBA will release the official Early Entry list. Expect there to be well over 60 players on the list. Right now the early entry list we've complied has reached 47, 16 of which are international guys, and 6 high school players. With the huge number of underclassmen and international players declaring, the draft has suddenly become incredibly impacted. It has become next to impossible to sort out the end of the first round. But we'll give it a try. 😉
Who's in? Who's out? Ask 10 different NBA scouts, and you'll surely get 10 different answers. Right now, everything's gone haywire, and only one thing's certain, either a number of players will have to put their first round dreams on hold for a year. Or a number of players are going to have their hearts broken.
As you know, the difference between being a first rounder and a second rounder is monumental. For starters the first rounder gets a bigger salary (first rounders make between $640,000 and $3 million per year, whereas second rounders make 350,000). First-rounders also get a guaranteed (3-4 year) contract. Second-round contracts are not guaranteed, and half of the players usually don't end up making their respective teams.
Because a team has a long term financial commitment to a first-rounder, they are much more likely to put the time and energy into their investment. A high school player who slips out of the first round is unlikely to stick with the team that drafted them more than a season, and has a high chance to become a "hoops vagabond". Rashard Lewis is the exception to the rule.
The only positive side for second-rounders is a Gilbert Arenas scenario where a player completely dominates and hits a faster payday with an extensive multi-million dollar contract after just two seasons. It's safe to say not many high school players are going to pull this off.
With the "mass exodus" of underclassmen, the players hurt most are upperclassmen such as Brian Cook and Mario Austin. They're players who resisted temptation, followed the popular sentiment, and stayed in school instead of declaring early. They enter the league with more polish, but less intrigue about their "upside". Some are finding that honing their skills in college while underclassmen with more "upside" pass them up in the draft is a frustrating dilemma.
Only 3 seniors are locks to be first rounders, they are the two Kansas guys Hinrich and Collison and Reece Gaines. Even David West isn't a sure thing, although he's stands a good chance despite the mass exodus. It's possible that as few as 4 seniors could make the first round. Which surprisingly was the number of seniors in the first round of the 2001 draft.
West suffers from "tweeneritis". Is he a small forward? Some scouts think he can become one. Although besides showing some face up skills, his lateral quickness and defensive ability dictate that he is probably a PF in the NBA. His long arms and strength will likely allow him to become a decent PF in the future.
One player who may have made a big mistake is Rick Rickert. His mistake? Not declaring for the draft last year. Rickert's stock was higher after his freshman season and it likely would have landed him in the mid-late first round area. This year, he didn't show any development to his game or body and his stock has suffered. Rickert has just signed Bill Duffy to represent him ending any possibility of returning to college. He's currently working out in Florida with a company called IMG. It's possible he's a player like Brian Cook that is not able to retain his mobility with added bulk. Rickert may fall out of the first round unless he has impressive workouts.
Potential (Early) Withdrawals

The number of Early Entrants may be at an all time high. But expect the number of early-withdrawals to hit an all time high as well. 23 players overall withdrew (9 International) from the draft after declaring in 2002. 21 players withdrew in 2001, 10 of which were International guys.
For the International players, one determining factor is often the buyout clause in their contracts. Because NBA teams can only put up 350,000 of the buyout, the player is stuck with the rest of the cost. For some that means their entire first year contract. So the player is either forced to stay in Europe and honor the contract or work out a deal to decrease the amount. Some teams are willing to take a player and leave them in Europe for a year or two. But for a team with a lottery pick, they aren't going to want to wait long on such a high pick.
Here is a look at some of the International and American players that may decide to pull out of the draft:
Brazilian Anderson Varejão is almost a lock to pull out of the draft now because of his contract with Barcelona which will require a million dollar buyout. Also his stock has really bottomed. One contact who was in Bacelona for the European Final Four said NBA scouts in Barcelona were saying flat out he isn't even a first round pick right now. He's all raw potential, and his offensive game is far from being ready. We still like his future as a mid-first rounder because he is a wonderful prospect, but it will most likely have to be next year.
Pavel Podkolzin may decide to head back to Europe because of his extensive (10 year) contract with his Italian team, Varese. One contact in Italy claims that Pavel Podkolzin will likely pull his name out of the draft. Apparently it's his team, Metis Varese, that's pushing for him to go in the draft because they want the buyout money, but so far they have no guarantees for a first round pick.
Argentinian Carlos Delfino has 2 years left on his contract with Skipper and a 1 million buyout this year or a $800,000 buyout next year. Because of the large buyout, he will likely play at least one more year in Europe and possibly two. A team would have to take him for the future, and that might push him down a little. There are rumors that he is a lock to go in the first, and could go as high as 15, but he's more likely to go in the 22-29 area. Even if he is a certain first rounder, he may decide to wait until next year to improve his stock. A month ago, he suffered a severe ankle sprain, not torn ligaments or tendons as was previously reported. Because of the substantial buyout, he could be a player who is drafted by a team who wants him to continue to develop in Europe or he may wait a year to enter the draft.
Aleksandar Pavlovic may have been thinking a little too much about the NBA late in the season, and it may have hurt his performance. He struggled over the the last month but scouts are still high on him. He's a player many feel could really help his cause by waiting a year and showing more consistency.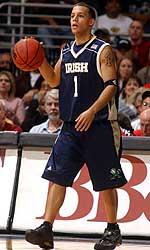 Kresimir Loncar is a player who will probably withdraw since he isn't a first round pick and has two years to try to improve his draft status. He might sneak into the second round, but as of now he's projected to pull his name out.
With Slavko Vranes some bought the "possible first round hype", however Vranes was never more than a stiff. He will likely have a career in Europe, but size alone cannot guarantee a first round pick or a career in the NBA. Look for Vranes to pull out of the draft or go undrafted.
Aleksandar Djuric a bit of an unknown plays for BC Kapfenberg in Austria and because of this got less recognition from scouts. He'll look to go to Chicago. If he can impress teams enough to get a guarantee in the first round, he'll stick around. Otherwise, he'll pull out and look for a higher profile European team to display his talents next year.
Zoran Planinic suffers a little because the association with big European PG's in the NBA. His counterparts did not carry their weight this year with Jaric and Welsch failing to live up to expectations. The feeling about Planinic is that he has good upside, but he far from contributing, and is very weak physically. Right now, he'll likely slip out of the first round, which will probably push him to withdraw from the draft.
A player with a very bright future is Slovenian point point guard Sasha Vujacic. He's a dynamic slasher, great heart and work ethic, a fierce competitor and has been working on his NBA three point shot since the season ended. Our Slovenian contact Uros Velkavrh loves this guy and he usually is tough on his countrymen. He plays for Udine Snadeiro of the Italian league. He will be in the states on May 26 to begin workouts, and will be showcased in Chicago. If he's not a first rounder this year, he's a definite first round prospect next year.
Two players who are borderline to be drafted at all are Blagota Sekulic and Misan Nikagbatse . Both players have nice potential but would have a great chance to improve their stock by waiting a year.
Very few people consider Charlie Villanueva a legitimate first round prospect. He has nice size and skills, but lacks the intensity and work ethic to make the high school to pros jump and be a first rounder. Anyone saying that he is a definite first rounder would seem to be giving him misinformation.
Some scouts feel Ndudi Ebi has a chance to get into the first round because of his immense potential. However teams may not be willing to invest a 4 year contract into a player that may not contribute anything by the time that contract runs up. That team runs the risk of having nothing to show for their first rounder should they decide to leave after the four year contract is up. Ebi is a raw specimen with nice upside but lacks a true position and is far from contributing anything.
Highschooler Travis Outlaw is projected as a mid first-rounder. He still may look to go to Mississippi St. But he is covering himslef in case he doesn't become eligable to play in the next few weeks.
Chris Thomas will likely hold personal workouts with teams. But he would be wise not to play in the Chicago pre-draft camp games or he could suffer the same fate as fellow Indiana PG native Jason Gardner. Gardner as you will recall had a horrible showing at the predraft camp two years ago and it affected his stock some. He was always a borderline pro because he's small and not a natural PG, but the performance really hurt his stock.
Thomas has an outside chance at the first round as teams do like his intelligence and point guard skills. But most think he's jumping the gun, and a bad performance in Chicago could be hard to recover from. Another school of thought is that his stock will never be higher, and he can be a high second rounder this year, where next year with a bad year he could fall all the way out of the draft. There is word that Thomas may already be considering withdrawing his name.
We previously reported that a source had informed us that Mo Williams may have burned his eligibility by quitting school, but we've gotten word that he has taken enough classes to remain eligible next season. The same source said it's unlikely he'll withdraw though. With the huge number of underclassmen declaring, Williams is uncertain as a first rounder. But along with Marcus Banks, he heads the second tier of points after the big five (Ford, Barbosa, Ridnour, Hinrich and Gaines).
The Early Entry withdrawal date is one week before the draft, June 19.
Marcus Done
One sad story involves Chris Marcus the center who was found by a coach at a local pet store. Marcus became one of the top center prospects in the country and a solid first round prospect but injury problems appear to have taken his career away before it even began. Marcus has been told in order to avoid the possibility of never being able to walk normally, he has to give up his professional aspirations. It now appears Marcus career is over. Story
A story like this has to make people think twice about criticizing kids for leaving early.
Can I get a Promise?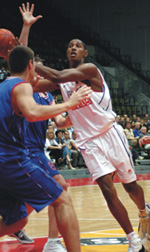 European players have the luxury to declare and withdraw as many times as they want, unlike American players who only have one chance to pull out. With the number of players playing the wait and see game, it has become next to impossible for teams to give a player a promise that they will be chosen at their selection.
French prospect Boris Diaw has already declared and withdrawn twice and could make it a third time if he decides he doesn't like his draft status. Although, this year it appears he's solidly positioned in the first. But it's early.
The only real benefit for a team to give a promise to an underclassmen declaring is if they know that the player will only stay in if they take him, and the team wants the player badly enough.
Promises are usually given to a player that a team is very high on and has a good idea that no other team knows about (or is as high on) and therefore the player wouldn't stay in the draft without one. Two examples of players given promises in recent years are Kedrick Brown who was given a promise in 2001 by Boston, and Hidayet Türkoglu in 2000 by the Kings.
The problem with a promise is it limits the team's options. Should a player the team really likes fall to their position, the team is faced with either burning the player and agent they made the promise to and going with the player they now want, or taking their promised player and missing out on the player that slipped to them.
An example of this was in 2001 when the Pistons made a promise to Vladimir Radmanovic. They did not anticipate Rodney White being there at their selection. The team was then forced to either burn the player and agent, or miss out on the player they didn't anticipate being there. Radmanovic went 3 spots later to Seattle.
International Backlash
Some International scouts are of the opinion that the NBA has become too enamored with European and International players. The feeling is that the success of International guys has created an overhype of players. There are a number of factors contributing to the "Euro Frenzy" which we will examine.
First off, because the games of European players are not easily accessible. An NBA scout has to go out of their way to see a game of a player overseas. And to cover all the European and International players, a scout must either:
A) Dedicate a few months to being on the road traveling throughout Europe.
B) Watch (often grainy) game tape of players.
C) Rely on the word of mouth of scouts and contacts overseas. Usually the GM's and scouts of teams must rely on some combination of these things. And because the games over in Europe often go right into the summer, certain players are never able to come over to get worked out by NBA teams.
Europeans have a luster to their games because often times the only games the scout or GM sees of them are the best ones in which the players does something positive. Because the player didn't have their every move scrutinized as NCAA players often do, the European players deficiencies aren't exposed the way the NCAA players are.
In the past, scouts were very skeptical about European players, there was an attitude that they had to "prove it" by producing, and then they would get consideration." Now with the success of Nowitzki, Peja, Gasol, and Parker etc., all of a sudden Europeans are given the same standard that American teens are. The problem with that is these players are even bigger mystery players than American high school guys, and often there is less upside as these players are usually more fully developed physically.
Raw Talent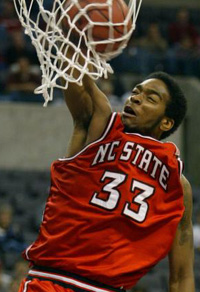 Josh Powell is one guy who may move into the late first round area. He'll have to show an improved jumpshot, but his athleticism is among the best of any of the forwards in this draft. He is a raw untapped specimen type, and some scouts feel he has the skills to develop into a very good SF in the league.
At NC State he played within a system, and because he wasn't the Wolf Pack's main focus his game and stats were limited. He wasn't allowed to create off the dribble ala Chris Bosh at Georgia Tech.
Powell has a ways to go before he's a definite first rounder. There are many skeptics. However his improvement is on such a steep curve that there is strong optimism about his chances of landing in the first, despite the large number of underclassmen and talent in the draft.
Over his final nine games Josh Powell averaged 15.7 points and 6.4 rebounds per game, while hitting 61.7 percent of his shots. On a team which averaged just over 70 points per game, Powell's 12.4 PPG as a sophomore is intriguing. Powell's field goal percentage for the season (57.1%) dictated more touches.
Powell would probably be considered an early second-rounder at this point, but we look for him to shock some teams in personal workouts and move ahead of Austin, Rickert and possibly even David West. If he doesn't get some assurance that he's a first rounder he can return to school as he hasn't singed an agent.
Due to his lack of exposure, (besides scouts) few are aware of his talent right now, but he's a player that will likely move up once the personal workouts begin and teams get a chance to see him.
Pronunciation 101
With the huge number of International players entering, we figured a little pronunciation guide was in order. Here are a few to give a shot at:
DAR-ko MILL-ih-chek
AN-der-son vah-RAY-ho
BOR-iss DEE-o
MY-kel PEET-russ
SOF-fik-klees skor-tih-NEE-tees
LE-an-DRIN-ho bar-BO-sa
ZAR-ko cha-bar-KAH-pah
Al-eck-SAN-dar PAHV-loh-vich
SLAHV-ko VRAH-nish
ZOR-an PLAH-nih-nik
CAR-lows del-FEE-noh