By Aran Smith
NBADraft.net recently spoke with agent Marc Fleisher who represents a number of European prospects, as well as American players. Fleisher has built an impressive track record bringing European players to the NBA. Because of this, his players normally get a long and extensive evaluation from NBA teams.
Fleisher's success stories bringing Europeans to the NBA include Vlade Divac, Arvydas Sabonis, Sarunas Marciulionis, Andrei Kirilenko, Tony Parker, Mehmet Okur, Nikoloz Tskitishvili, Gordon Giricek and Stanislav Medvedenko.
Fliesher informed us that 6 of his European clients have already mailed in their early-entry paperwork. Those players are Shortsianitis, Pachulia, Khryapa, Nikagbaste, Loncar and Sekulic. This brings the total number of Early-Entry candidates up to 30.
Here is a closer look at the six prospects:
Sofoklis Schortsianitis made enormous strides over the last year. One year ago he was just a great prospect capable of dominating his age group but lacked the experience and skills to play against professionals.
He has really come a long way in a short time. His numbers this year are completely mind numbing to European scouts.
Playing in the Greek League which is the 3rd or 4th best league in all of Europe, Sophocles averaged 11 points and 6 rebounds in 21.5 minutes, in 23 games.
He shot 58% from the field and surprisingly had more offensive rebounds than defensive, 3.3 to 3. He totaled five double doubles, with his best game a 20 point 11 rebound performance against Panionios.
Right now he has center skills but in a sense he is like Amare Stoudemire, he has never learned bad habits and he can quickly learn almost anything taught to him. His conditioning can improve some. Depending on how much trouble teams anticipate him having making the transition to the PF position, "Shorty" could land anywhere from the late lotto to mid first round area.
Zaur Pachulia should get a number of looks in the mid/late first round area. Pachulia struggled all season for playing time but came on late in the year after an injury to Ulker's starter. Pachulia has had a few monster games late and NBA scouts have taken notice.
Pachulia has played all along as a guy born in 1984 in terms of FIBA competitions, but most European scouts feel that he is older, possibly born in '82 or '83. Pachulia is either a big PF or a small C, he's got good size and strength and a nice understanding of the offensive post game. Some question his attitude, "He thinks he's Michael Jordan", some are put off by his cockiness, but in terms of basketball ability that isn't always a minus. He' ll probably come back to reality after getting dunked on a few times by Shaq.

Victor Khryapa got significant playing time for one of the top teams in Europe, CSKA Russia at just 21 years of age. This is especially impressive when you consider that Russian teams are usually reluctant to play youngsters. Khryapa also saw minutes in Indianapolis at the World Championships for Team Russia and showed solid athleticism and a developing understanding of the game.
Khryapa is a very good defender and shot blocker best suited for the SF position. He doesn't stand out in any area but does everything fairly well and will likely make a nice role player ala James Posey.
Kresimir Loncar has yet to see significant playing time and would probably be best to wait another year before attempting to get drafted. A year ago scouts were excited about this guy, but he has really dropped in the eyes of scouts. He's a player with decent skills and potential but lacks the competitive fire to be a legitimate NBA prospect.
Misan Nikagbatse is a streetballer type from Germany who has been one of the top prospects in his age group in Europe for some time. He plays for Sniadero Udine and is best described as a poor mans Dajuan Wagner. He played in the World Championships for Germany and "posterized" Yao Ming in a game against China. Misan isn't ready for the NBA, but a team with a second rounder could take a flyer on him that he can develop in the next couple of seasons and then look to bring him over.
Blagota Sekulic a player who grew over 4 inches in only a few months had a terrific summer playing against his age group but suffered from lack of playing time in the professional league this year. Sekulic would probably get drafted somewhere in the mid second round area if he stays in the draft. But the smart play seems to be giving next years draft a try after a year with more PT to display his talents.
Other Draft News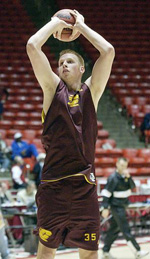 The past week saw four talented American underclassmen TJ Ford , Chris Kaman , Dwyane Wade , Marcus Moore all make their official announcements.

With centers becoming a dying breed Chris Kaman should begin to get looks at the 5th pick and likely wont be around by the 10 spot. Kaman has uncommon post skills and aggressiveness for a 7-footer. He has a chance to eventually be among the top 5 centers in the league. His fluidity and ability to get out on the break is another positive aspect to his game.
The neck injury that TJ Ford sustained during a post season pickup game put everything in perspective for him. A multi-million dollar contract isn't in the bag until it's in the bag, and for a 5-10 player it's probably a good idea to take the money and run. Very few under six foot players ever get drafted in the first round, much less the top of the lottery.
Ford has a gift, the ability to run a team like few others, but nothing is a given and a rough season next year could have cost him millions, not to mention the possibility of an injury. Ford made the only sensible choice he could make by entering the draft early.
Dwyane Wade has been superman for two seasons. He carried Marquette to unimaginable heights (the Final Four) during in his two seasons there. His game doesn't translate as well to the NBA game due to his height, and it will likely cost him some.
Although he is both a great passer and ball handler, he is even less of a point guard than Gilbert Arenas and would probably have a difficult transition to the position. Playing point in spots would work, but as a full time PG, seems too optimistic.
One thing he isn't is Joseph Forte. His athletic gifts are far superior to Forte, and although he doesn't have quite the explosiveness of last year's undersized SG, and 13th pick, Fred Jones, expect him to have a much better NBA career. Right now, his draft range is somewhere between 7 and 15 depending how he works out.
Moore is the only player not cemented in the first round. Teams like him because he has legit point guard skills at 6-6. His passing and ball handling are very good, however his shooting percentage at just 35% may scare off a few teams. With the number of International players in this draft, players such as Moore, and Brian Cook could get squeezed out of the first.
Brian Cook is a player who had a terrific senior season in the Big-Ten. He is projected by many as a top 20 pick, however with the number of International players declaring for the draft at an all time rate, someone has to fall. Cook can solidify a spot in the first round with solid workouts for teams.
The two big knocks on Cook are his toughness both mentally and physically, and his ability to fit a position. He is a a tweener with limited strength and lateral quickness. Can he guard 3's or 4's? The added weight seems to have severely limited his explosiveness.
Two sophomores who have recently declared are Josh Powell and Chris Thomas. Thomas is not given much of a chance at the first round because of his lack of size and not enough athleticism to make up for it. Like Mo Williams, Thomas has had an impressive first two seasons to his college career, however he has not been dominant and lacks the polished skills that NBA teams look for.
Mo Willaims has better size and strength, and has a little better chance of landing in the first round, but both players best bet would be developing their skills in college another season. Mo Williams may be forced into the draft as one inside source claims he quit school months ago, and doesn't have the option of returning to school.
Williams is a player that we really like, and forsee being an NBA point guard. But he really isn't ready, and could get squeezed out of the first round. Some have even suggested he could be this years Mo Taylor, however we like his skills and potential a lot better.
Powell isn't overpowering, but has good athleticism and a great work ethic. Because he's such a bubble pick, it seems like a natural that he would go back to NC State and improve. But if he can convince a team in the late first round area to give him a guarantee, he'll stay in.
One thing in Powell's favor, although his chances at the first round are suspect, is the notion that teams look for size at the end of the first round.