By Aran Smith
"Uberfreaks"
They're big, they're European, they're highly skilled and athletic, they're scoring machines, and they're all the rage in the NBA right now.
First came German sensation Dirk Nowitzki who initially shined in the Hoop Summit game before being drafted 9th in the 1998 NBA Draft. After a rough first year, Dirk has improved dramatically each year to become one of the games elite players. Nowitzki has proven in this years playoffs to be one of the most valuable and dominant offensive players in the league.
Next came Spanish sensation Pau Gasol, who was drafted 3rd in 2001 and went on to become the first European to win the Rookie of the Year award. Gasol combines a strong inside/outside game with a good basketball understanding, and a stretch body that is nearly impossible to stop close to the basket.
Last year Georgian youngster Nickoloz Tskitishvili showed amazing offensive abilities in workouts and became the was the 5th selection by the Denver Nuggets. Though "Skeeta" has struggled to live up to expectations, he was the youngest player in the league last year and still holds a lot of promise.
This years draft has two potential "uberfreaks". First and foremost is Darko Milicic. The Detroit Pistons new franchise talent and a player who could end up as one of the top 3-5 players in the league some day. His abilities are truly remarkable. Not to mention he comes from a growing basketball hotbed, the former Yugoslavian republic known as Serbia-Montenegro.
Ask any European scout about Yugos and they will tell you, they are all similarly hungry. "They are hungrier than the average player. They're mean. All of them!" So Darko is a player with immense talent and potential, but he also seems to have the perfect predisposition for success in the NBA. Milicic is not going to dominate instantly because of his age, but his talents will probably allow him to be competitive in a short period of time.
The Pistons landed the second pick in the draft on the same day they worked out the future star. It was the last time they would have any need to work him out unless they landed the pick. And the draft lottery dealt them a royal flush when the Memphis pick that had been traded to them for Otis Thorpe ended up being the second overall selection in the draft lottery.
Milicic solidifies the Pistons as not only an immediate threat in the East but one for years to come. Milicic has a great chance to be the greatest European player ever to play in the NBA.
Pistons General Manager Joe Dumars just won executive of the year and his job security just became even stronger with one stroke of lottery luck.
Maciej Lampe is projected to be a top 10 pick and could go as high as 5. He is even more raw than Milicic, and will have to be taken with patience in mind. But his upside is enormous. Lampe is a legit 7 footer with a huge frame and great offensive abilities. His athleticism might be a notch below Dirk's but his offense, versatility and competitiveness are right with Nowtzki's. The LEB playoffs have proven that Lampe really steps up in big games and has the necessary competitiveness to be successful.
Lampe joined a struggling team, and carried them to the playoffs and a first round upset series victory before being eliminated in the second round. His season statistics for Universidad Complutense were: 23 games, 19.1 pts, 53.0% 2PFG, 44.0% 3PFG, 80% FT, 7.8 reb, 0.6 bl, 1.1 as, 1.0 st, 2.0 to.
The "Polish Rifle" will soon arrive in Chicago to begin training with workout specialist Tim Grover in preparation for team workouts and the NBA draft. Grover is also working out Chris Kaman and Jerome Beasley among other NBA hopefuls. Grover if you recall worked wonders for Steven Hunter who skyrocketed from an early second rounder up to the 15th selection in the 2001 draft.
The floodgates are open and now it seems every year another "uberfreak" emerges. All five nearly 7-footers with versatility to play on the perimeter or the post and have the ability to take over games offensively. All have the requisite abilities to become crucial elements to their respective teams.
Who's Got Next?
First is Brazilian Tiago Splitter who has played several years in the LEB Spanish league for Bilbao. Splitter is a very good athlete with more of a lunch pail approach. Lacking the versatility of the others, he is more of a post player but has a developing range and perimeter skills and great athletic ability.
At just 17 and played for the Brazilian national team in the World Championships in Indianapolis in the summer of 2002. Splitter has benefited from a great deal of European experience which has rapidly developed his game into one of the top 18-year-old players on the planet.
Splitter has become a known commodity by being featured in NBADraft.net's International Future section for over a year and as one of the top 5 picks in the 2004 mock draft for nearly 6 months.
A Star is Born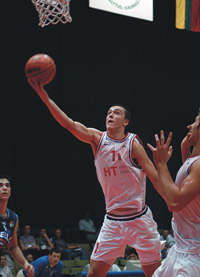 Another "uberfreak" has surfaced in Europe with unbelievable size, athleticism and skills.
He's a young Croatian named Damir Omerhodzic who some feel has the talent to be a high lottery pick next year. Some even go as far to say he is a better prospect than Maciej Lampe and Tiago Splitter.
Two weeks ago the European Final Four took place in Barcelona and along with it a tournament for the juniors. Omerhodzic blew away the competition as the top young player there and had scouts buzzing about his potential.
Some scouts were so amazed by his talents they feel he is an NBA player right now at 17. He is born in December of 1985 so he wouldn't be eligible for the current draft even if he had wanted to declare. But with the talent he showed in Barcelona he would be a lottery pick this year.
One knock against him is that some feel he has a bit of an attitude as he was seen yelling at teammates and showing defiance to coaches. Some feel it was more out of frustration with his teammates play as his junior Cibona team was being beaten.
He had a solid season as a 17 year old playing in the mens Croatian league averaging 16 points and 7 rebounds. His 3 FG% was around 30%, but many feel his shooting touch is his greatest attribute.
Omerhodzic already has good strength and basketball understanding but his frame doesn't appear that it will allow him to be a dominant force as a post player. But it's probably not much of a worry as some feel he has the skills to be a perimeter oriented PF.
Croatia has run though a long dry spell in producing a quality NBA player and Omerhodzic figures to be the top Croatian prospect since Toni Kukoc. Who knows, if he continues along the lines of his European counterparts, he could end up the greatest Croatian NBA player ever by the time his career ends. But first he'll have to concentrate on getting there.
Making a Point
Marcus Banks was a player that during the college season, teams were skeptical about because of his perceived wild, and potentially out of control style. They wondered if he had the discipline, and basketball IQ to run an NBA team. The growing sentiment seems to be that he does and he may be making a push to join the previously mentioned elite 5 PG's in this draft class.
It appears that with the Runnin' Rebels up-tempo helter skelter style, Banks play appeared more undisciplined than it actually was.
Banks is a blur on the court. He pushes the ball with the best of them and has a nasty crossover. He stepped up in clutch situations to win ball games for his team, and with a number of teams looking for point guards, has a chance to go in the mid first round area.
Banks could go as high as 15 to the Orlando Magic but due to a recent injury which has kept him from working out for teams, he is now projected in the 20-30 range.
Pavel Podkolzin is a player scouts are mentioning due to his size may end up as a lottery pick. He'll need to be able to cover the buyout with his current team Varese, which signed him to a 10 year deal. Some are speculating that he doesn't want to return to Varese because he will face the same situation next year struggling for playing time.
A couple players who are seen as late lotto picks right now after speaking to several teams are Mickael Pietrus, Kirk Hinrich, and Luke Ridnour.
There is a bit of a logjam of shooting guards at the end of the lottery. The Bulls are a team in need of a SG, but there is a good chance they will shop their pick as part of a deal for a veteran. From 7-13 there are 3 shooting guards who figure to go in that area: Jarvis Hayes, Mickael Pietrus, and Dwyane Wade. The problem is that very few of the teams from 7-13 need a SG, and the teams just outside the lottery (14-17) for that matter as well.
So unless teams draft a SG because they feel the talent is too good to pass up, or teams take SG's to trade them to another team, one of these 3 figures to slip and could slip all the way to 18 or 19 where New Orleans and Utah select.
Dwyane Wade seems like the likeliest of the three to slip but we think talent will end up dictating a selection in the lotto, or close to it.
Josh Powell has struggled in workouts and will likely have to wait a year if he wants to be a first round pick. His lack of developed skills and body have been exposed in workouts against older, stronger, and more polished opponents. He has very good potential, but teams are leaning more towards players that can come in and contribute with late first and second round picks.
Euro Final Four Recap
By Rodrigo Varona
Final Four:
This report focuses on NBA prospects , with 2 categories: (Draft prospects and the Over 22 players)
For more info on the scores go to: www.euroleague.net (boxscores, reports and quotes of all four games).
Barcelona:
They have 2 players who have entered the draft this year, one is Anderson Varejao a player I think was a tweener when everybody was in love with him and now I think he is a solid mid first round pick but his stock is slipping. He played poorly, especially on offense, looking lost. I still think he can develop nicely, but scouts appeared very disappointed with his performance. The other one is 7-3 Ramon Van Der Hare, I wont waste time, he's a big piece of meat.
(Over 22) They have some drafted players, like 7-3 Roberto Dueñas (so-so F4, great season, but his physical condition would be challenged by a 82 games season), 6-4 Juan Carlos Navarro (didn't play great, but showed poise at the end of both games, problem is his position, PG or SG?, complicated, Washington is looking for him to be PG), and Dejan Bodiroga (great as always, best European player, period). Other interesting players are Gregor Fucka (the best player in the semifinals, playing his best all season, a 7-1 skinny guy with great moves, his time for NBA has passed, Indiana was interested last summer but he signed 3 years here in Spain), Saras Jasikevicius, 6-3, a top 5 PG in Europe, was horrible, he's said to be losing his job this summer in favor of Milos Vujanic, a player I love, a winner, incredible shooter, and Rodrigo De La Fuente, probably the best defensive outside player in Europe right now at his position,  6-7 SG/SF, a coach's dream, he's solid as a rock on defense, steals, boards,… but can score if asked to, played in George Washington University for 3 years and last summer he was in USA for summer leagues, he's a hard worker, his great season has Benneton, Madrid, Barcelona, Valencia, fighting for him.
Benneton:
Skita's former team has 2 future draft prospects, one of them didn't play, Kresimir Loncar 7-0 center, and the other one, Manuchar Markoishvili, a 6-6 SG, is only 16 years old, but is already playing a dozen minutes per game with one of the best European teams, so you can say the kid is something special. He didn't play great, but the way he plays for his age is amazing. Stay tuned!!!
(Over 22) They have a couple of ex-NBA American players like Tyus Edney (the floor general, another great season) and Trajan Langdon (didn't play horrible, but not as great as during the season). The interesting players are Denis Marconato, a 27 years old 6-11 center that keeps improving each year, he's big and has a sweet stroke from 15-18 feet, maybe not enough athleticism. Massimo Bulleri, a 6-2 guard with Tony Parker's speed and scorer's heart, he was terrible for 38 minutes in the semifinals but came up big to score the final 7 points, including a big 3. The last one is Jorge Garbajosa, a 6-9 PF with great range, incredible % from FT line and the kind of player that makes eveything to win, a slower version of Robert Horry that knows how to get to the line (18/18 from FT line), in Robert Horry fashion, he had probably the worst shooting weekend of his career (2/16 from the field). In Mike D'Antoni's words, he would crack into any team's 8-man rotation in the NBA. In the Spanish national team he's Gasol's bodyguard, the one that does the dirty work.
Siena:
No draft prospects.
(Over 22) Just some interesting free agents such as ex-NBA players Cal Bodwer (barely plays, and when he does…) and Mirsad Turckan, the 6-9 SF/PF Turkish (MVP of the Euroleague again), who is probably the world's most irregular and crazy player, works as hard on the boards as you can imagine, runs the floor, can shoot the 3,… but then he puts up 0 points, 5 boards in the semifinals. The other interesting player is Mikadis Kakiouzis, a 6-9 Greek combo forward that reminds of a player like Radmanovic with more attitude and less talent, but still very good offensive player.
CSKA Moscow:
They have Boston's 2002 2nd round draft pick Darius Songalia, that has been one of the sensations of the Euroleague with his great offensive moves, he has one of the most talented foot moves I seen. The problem is his defense and rebounding, he's active on defense, but commits too many fouls, and his rebounding numbers are pretty low. Still, in a team as Boston, he would be the best offensive player in the low post with his talent. Another player to follow is draft prospect Sergey Monya, 6-7 SG/SF, he's only 19 but seems to have all the tools for success. Next year is critical in his progress. The one draft prospect that is gonna be a first rounder this year is Viktor Khryapa, the 6-9 SF doesn't seem to be as talented as Kirilenko, but he seems intelligent and a hard worker, just as AK-47, and the fact that he earned a starting position in the rotation of Dusan Ivkovic speaks for itself (he makes Pat Riley a friendly coach for young players). He does almost everything, as showed in semifinals with a couple of 3 pointers, 12 boards and incredible defense against Dejan Bodiroga. He only made 5 points in the other game (2/4 FG) but also 7 boards, 3 assists, a block, a steal and 0 TO's, along his usual work in the defensive player. He would be a great fit on a team like Utah or L.A.