The FIBA Under-16 European Championships concluded last week in Kyiv, Ukraine, and a number of intriguing talents have emerged for the next generation as NBA prospects.
The least-talented version of a Spanish national team in years won the U16 title, beating Serbia in an emotional and thrilling overtime game. In the bronze-medal game, Greece won in a blowout against Italy. Croatia, the most talented team, finished only sixth after a quarterfinal loss to the future European champions.
Top Prospects:

1. Sviatoslav Mykhailiuk (1997, 6-6, SG, Ukraine)
Say hello to the next young European phenom. Ukraine has never produced a high-level NBA wing player. That appears all set to change as the 16-year-old Mykhailiuk has emerged with as much potential as any European wing prospect ever. He has eclipsed Mario Hezonja, a potential lottery pick who had similar types of things written about him two years ago at age 16.
Mykhailiuk is both polished and athletic, while showing a lot of room for growth. He was not only the best player of the event, but also the most entertaining. He finished with eye popping stats: 25.4 points, 8.0 rebounds and 3.4 assists. He possesses ideal size and physical attributes for an NBA wing player, combined with incredible body control, quickness and athleticism for his age.
Physically, what impresses most about him is his incredible hand-eye coordination and explosiveness, with the ability to change direction on a dime with the ball on his hands. But it's his creativity that makes him very unique. Offensively he showed an impressive variety of moves starting from the dribble, with the ability to create his own shot basically in any situation and against any kind of defense: from pulling up for a shot after a crossover to attacking the basket in traffic.
His shot mechanics are fluid and quick, with range to the NBA 3-point line. He played almost 40 minutes per game, being consistently double and triple teamed every time he touched the ball, and he showed the ability to draw fouls quite effectively. He's also able to combine his physicality with effective footwork to post up smaller defenders. In transition with momentum, he's simply unstoppable.
Despite being the best player and scorer on his team, he showed off some great passing skills and instincts, as he consistently tried to get teammates involved during the game. In addition, he has a great attitude — he never got frustrated, despite playing with weaker teammates on a low-profile team.
On the defensive end, he uses his remarkable athletic abilities and long arms to work the passing lanes, with a knack for steals to start the break. Sometimes he takes difficult, off-balance shots, and he can get caught over-dribbling, but this could be due to the level of his teammates. He can occasionally struggle to keep up with some quicker, smaller guards.
He's already one of the best athletes in Europe, as he showed in a game when, after splitting the double team, he took a Eurostep on the big-man helping going left and dunked on him, while getting fouled, too. The Ukrainian basketball legend Oleksandr Volkov, who played in the NBA for the Atlanta Hawks, described Mykhailiuk as the best player in Ukraine history to come after him.
Video: Top 5 Players Highlights
2. Lovro Mazalin (1997, 6-8, SF, Croatia)
Mazalin was one of the standouts of the competition, despite not being included in the All-Tournament team. He's a crafty point forward with a strong basketball IQ and game comprehension. Even if he has average explosiveness and leaping abilities, he could definitely be considered a good athlete, thanks in large part to his solid frame.
He's a natural scorer, with a great variety of offensive abilities — attacking the basket, catch and shoot, mid-range jumper. He has a smooth shot and perfect mechanics. His fundamentals are excellent in basically all aspects of the game, as demonstrated by his all-around stats in Kiev: 18.6 points, 7.9 rebounds and 3.7 assists.
In addition to his scoring prowess, he has great passing instincts and court vision combined with a wise shot selection. His quick first step allows him to beat other forwards off the dribble; plus, he's really effective finishing off balance. On the defensive side, he has quick hands and instincts, but he tends to be foul prone.
3. Dragan Bender (1997, 6-10, PF, Croatia)
Standing 6-10, Bender has a great combination of height and mobility that makes him difficult to guard at this level. He's a bit skinny, but his structure is solid and he should put on weight (especially in the upper body) quite easily. He has amazing passing skills and instincts for his height/position — he plays as the offensive facilitator of his team, showing great court vision, along with an advanced understanding of spacing and angles. He's able to create off the dribble for himself and for his teammates, but his ball-handling skills need some refinement. Extra work in the gym should add some much-needed consistency and confidence to this skill.
Defensively, he shows excellent tenacity. His versatility allows him to guard backcourt players after the switch in pick-and-roll situations. He's a solid rebounder and a good shot-blocker, with good timing.
He needs to work on his shot mechanics, which are currently rather weak and inconsistent. He also needs to improve his post game in order to better exploit mismatches that his height could generate against other small forwards. He closed the competition with 9.8 points, 10.8 rebounds and 4.1 assists.

4. Georgios Papagiannis (1997, 7-0, C, Greece)
Papagiannis is a long and mobile big man with a huge body and strong hands. As a legit 7 footer, his structure is really solid, but he could work on his muscle tone and definition, while losing some baby fat. He lacks elite-level explosiveness and leaping ability, and he occasionally struggles against quicker opponents, due to his limited lateral speed. However, he has solid mobility, balance and body control for his size — he just need to work on his footwork.
He has good game comprehension and a sense of positioning, making him a steady rebounder. He can consistently knock down jumpers out to 16-17 feet, but he has to work on his post game, which lacks reliable moves. He has to learn how to use his body to protect the ball in the painted area. In fact, most of his offensive repertoire is based on his mid-range shooting ability and his offensive rebounding, where he scores a lot of put-backs.
On the defensive side, he intimidates opponents, thanks to his size and mobility. He was a perfect pillar in the 2-3 zone Greece used most of the time. Papagiannis is an intriguing prospect with upside, but he has a lot to work on, both physically and technically. He concluded the competition with 14.3 points and 10.4 rebounds.
Video: Top 10 Plays:
5. Milos Glisic (1998, 6-8, SF/PF, Serbia)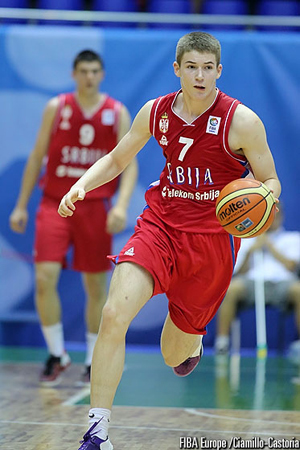 Glisic is the top 1998-born prospect in Europe without any doubt, and his performances during the U16 European Championships confirmed this. Standing 6-8, he has good height for his position, and he still has room to grow, since he's still in the development age. Even if he's skinny and a bit lanky, he has a solid structure on which he could build some muscles. From a physical standpoint, his main shortcoming is his lack of elite athleticism and leaping ability.
He's smooth and fluid running the floor. During this season, he improved upon his ball handling and first step, so his evolution into becoming a top-tier small forward is moving forward quite effectively. He has a great feel for the game and a sense of positioning, always putting himself in the right spot at the right moment. He can easily switch between the two forward spots. His shot is really consistent in catch-and-shoot situations, thanks to excellent shot mechanics based on a quick and smooth release.
He still needs to work on his ball-handling skills and footwork if he wants to play on the wing full time. These tools could allow him to be more effective in creating off the dribble, where he currently struggles the most. Even though he's a year younger than the rest, he finished with 14.0 points and 7.6 rebounds as the best scorer of his team.
6. Furkan Korkmaz (1997, 6-6, SG Turkey)
Korkmaz was the No. 2 scorer in the tournament behind Mykhaliuk, finishing with 25.3 points per game. Standing at 6-6, he has tremendous size for the shooting guard spot, which allows him to constantly shoot over shorter defenders. He's already a great shooter, with long range and versatility: he can shoot coming off screens or create off the dribble. When he attacks the painted area, he prefers to use his reliable floater. He lacks an elite first step to beat defenders in isolation situations and his body is still developing (he probably needs to bulk up in order to withstand contact at the rim). For these reasons, he's more effective when served in movement or in catch-and-shoot situations.
He does have a nice handle, though. Sometimes, he switches to point guard, but that position is not his strongest suit. He appeared a little lazy on defense, as well. Many times, he takes risks that don't pay off. He is a good rebounder for his position, as he closed with 5.4 per game in Kiev. Once he's fully developed, he could become a great shooter who knows how to take advantage of his size, but he definitely has to work on his shot selection.

7. Stephane Gombauld (1997, 6-7, SF/PF, France)
Gombauld is an intriguing prospect with a high ceiling who could evolve as a small forward if he works on his fundamentals. He showed some improvements in his ball-handling skills and mobility, and runs the floor in transition with great fluidity. He has long arms and a good body structure, but he's a bit undersized and he still lacks some muscular definition.
He plays with intensity under the boards, where he shows great instincts, especially as an offensive rebounder, providing many second opportunities for his team. He plays naturally, with a great feel for the game and sense of positioning. Technically, he's still raw, but he's developing some good post moves. He's able to use his body to protect the ball while shooting a hook shot. He was the best player on the French team, finishing with 16.0 points and 8.8 rebounds.
8. Luc Loubaki (1997, 6-2, SG, France)
Loubaki is a big guard with a grown-up's body from a muscular standpoint and remarkable athletic abilities. Plus, he has long arms with big, strong hands, making him probably the best 1997-born European prospect from a physical/athletic standpoint.
He has a "slasher" style of game, exploiting his explosive first step and good ball-handling skills to attack the basket. His shooting skills are still raw, as he often succeeds through sheer physical domination. It's quite clear that he will need to develop as a complete offensive player in his future.
He's really effective defensively, especially in one-on-one situations, showing quick hands and good attitude. He also knows when to step in and draw a charge. He was one of the event's best rebounders from the guard spot, giving the French backcourt a boost of athleticism and physical presence below the boards.
On raw potential alone, he could evolve into an NBA role player, thanks to his defensive and physical skills, but if he works on fundamentals, he could become even better. He closed the competition in Kiev with 9.9 points and 5.2 rebounds.
9. Vasileios Charalampopoulos (1997, 6-7, SF, Greece)
Charalampopoulos is a physical wing with great size and toughness for a small forward. He showed one of the highest basketball IQs of anyone in the tournament, with great game comprehension and poise. He excels going to his left, both to pass and to finish. Thanks to his big, strong body, he's able to guard people taller than him right now, but he could suffer more in the future. His mid-range game was one of the best of the competition, where he uses a great variety of fakes and dribbles to go with his effective use of pivot feet. He's currently an effective weapon against the zone, showing excellent cutting and playmaking ability.
On the defensive side, he struggles against smaller/quicker opponents. He has to work on his lateral speed and footwork. His main offensive shortcoming is his lack of a 3-point shot (19 percent in Kiev). Plus, he has to improve his ball handling, which is good but average. In addition, he lacks conditioning and he needs to lose some baby fat in order to be more effective. With his physical limitations and technical skills, he seems more tailored for a top European-level team than the NBA. He closed the competition with 11.2 points and 6.6 rebounds.
10. Stefan Peno (1997, 6-4, PG, Serbia)
Peno (9.3 points, 7.1 rebounds and 4.6 assists) was named MVP of the U16 European Championships after leading the Serbian team to a silver medal. Standing 6-4, he has tremendous size for a point guard, along with a solid body and good athletic ability, even if he is just an average leaper. He combines highlight-generating passing skills with unmatched creativity, which enables him to find teammates in difficult or unexpected situations. He's effective in pick-and-roll situations, thanks to his reliable jump shot off the dribble, especially from midrange. His ability to exploit screens allows him to get to the basket quite easily, often drawing contact.
On the other hand, his 3-point shot lacks consistency — a flaw that allows his opponents to have more defensive flexibility. His main shortcoming, however, is his poor decision making. Most of his assists come from his talent and instincts, but he lacks solid playmaking skills, which sometimes leads to turnovers. His shot selection needs further improvement, since he often tries difficult or out-of-rhythm shots with a hand in his face. Peno is definitely a prospect with good upside, but still struggles with game comprehension.
Honorable Mention
Andrea La Torre (1997, 6-7, SF, Italy)
La Torre is a big lefty guard — already well developed from the physical standpoint despite his young age. He has good ball-handling skills, with confidence under pressure. He's poised ,with the ability to contribute in all the aspects of the game, showing great attitude, basketball IQ and feel for the game. He's one of the top overall prospects of his class at the moment, but he lacks the necessary explosiveness and athleticism to be considered a can't-miss NBA prospect, He has limited upside, as he is already a mostly finished product. He closed the competition with 14.0 points, 7.1 rebounds and 3.0 assists.
Ante Zizic (1997, 6-10, C, Croatia)
Zizic was the best all-around big man of the competition after Papagiannis, and without any doubt, the best rebounder. He's not as as talented as Bender offensively, but he's polished and mobile. Everything seems to suggest he will grow even taller, making him an even more interesting player. He's effective in establishing position in the paint, but he needs to bulk up, since he tends to struggle when facing bigger, stronger defenders.
He has a good sense of position and a nonstop motor, which allows him to excel as a rebounder. If rebounding is said to be the skill most easily transferable to the next level, he should not have any problem to become a prime-level player, at least in Europe. Even if his offensive skills are still raw, he has soft hands, so there is a high likelihood he will be able to develop a consistent mid-range shot. Defensively, he's a high-IQ player who can help on weakside pick-and-roll coverage, and he has great timing for blocking shots. He closed the competition with 13.9 points and 12.8 rebounds.
Xabier Lopez Arostegui (1997, 6-6, SF, Spain)
Lopez Arostegui is an athletic, dynamic wing — a trademark of many top-level Spanish prospects. Despite his solid height/length for the wing, he needs to bulk up. He is still too skinny to compete at senior level. He possesses a nice handle and the ability to create off the dribble, which could allow him to become a full-time shooting guard.
For the time being, he's still an ongoing project. He could be a late bloomer, when he could develop better decision making and game comprehension. He's a gifted, creative scorer, but he often gets too sped up, leading to turnovers. He was, without any doubt, the most talented player of a blue-collar Spanish team that won the competition. He closed with 12.0 points, 5.0 rebounds and 3.3 assists.
Martynas Varnas (1997 6-3, SG/PG, Lithuania)
The key piece of Lithuania, Varnas spend most of his time at point guard with some minutes at shooting guard. He is an underrated athlete, very explosive and very talented offensively however he doesn't have the skills of a true point guard nor the quickness. Despite this he is a very good player in transition, can get to the rim and he's very smart offensively and defensively where he averages almost 3 steals per game. His body needs to develop but he had some impressive finishes in traffic with dunks on alley oops. Not a great shooter , though he made some 3s. He can also create for teammates as he showed with 3 assists per game. Appears to be 6'4 with a good chance of ending up 6'5, which would make the difference for him in playing in NBA or Europe.
Nik Slavica (1997 6-8, SF, Croatia)
It's very apparent that he is more mature than the competition. Despite that he is a very prolific scorer with a good hands from outside the 3 pt line. No doubt he will be a very good player, though some doubts he will do it across the Ocean. Very strong body, and a good athlete by Euro standard. He's a very solid player in every aspect of the game and right now he really takes advantage of that, other than the fact that he plays on the most talented and deepest team in the competition. But he is doing what basketball players are supposed to do, putting the ball in the hole. Doesn't have the athleticism of a 3 but he reminds Maciulis or a less athletic David Moss as a guy who can do a variety of things. Still one of the best talents of his generation, for now.
Renathan Ona Embo (1998, 6-1, PG/SG, France)
Embo is a good athlete, a younger player who made a decent impact. He's more consistent than his teammate Loubaki in scoring but he really doesn't impact the game in any other way, right now. Outside of that he's still younger than everybody so by next year he could really develop and enter the top 10 prospects.