NBA All Star Weekend hosted another Basketball Without Borders, providing a good group of international talent.
While some play for US high schools, there were plenty who played out of their comfort zone in unfamiliar territory. The camp was well attended by NBA executives getting a look at future potential draft picks.
Top Prospects
1. N'Faly Dante 7'0 220 C – Mali 2001
Dante is just a sophomore in high school and shows a great deal of upside. He drew comparisons to Joel Embiid at the event, and there are definitely similarities. He began playing the game in early 2014 and came to the US in early February of 2016. He is a kid with immense raw talent who shows the ability to face up and knock down shots with great form and touch. The mechanics on his shot are very good. He has a high motor and runs the floor extremely well. He has a enormous wingspan and even shows some natural shot blocking instincts. His offensive game is raw but he has tremendous tools and talent to work with. He has a very good foundation for a jump shot and wasn't hesitant to show it in the games. His low post offense has a ways to go, as well as passing out of the post, but he scored a fair share of baskets on the block. He has very good fluidity and athleticism at his size; once he had the ball in position, it was too late, finishing with numerous jams. Measuring a 7'5 wingspan at the Nike Elite 100 this summer, shot blocking is where Dante currently thrives, but he has the potential to become a monster on both ends. He also impressed in his interviews as the event came to a close. He could be seen as the best overall prospect on the high school level in a short amount of time. He's that good.
2. Sekou Doumbouya 6'9 210 SF/PF – France 2000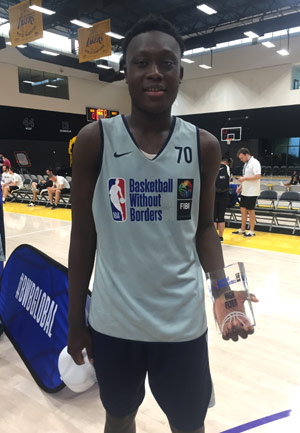 Doumbouya is an elite level athlete at 6'9 with a great deal of versatility. He's very explosive, proving to be the best athlete in the camp. He can break his man down on the perimeter and dunks with ease around the basket. He got loose with the ball at times but made impressive plays off the dribble as well. He was a handful in one on one drills, scoring in a variety of ways. In addition to his half-court game, he could immediately start the offense after grabbing defensive rebounds, showing an ability to lead the break and was tremendous as a transition finisher. He shot the ball well overall with good rotation and seemed comfortable shooting from the NBA three-point line. He's very versatile and could matchup with any other player in the camp. His second and third day wasn't as strong as his first. His feel for the game is questionable; when his team needed him to score, he took a backseat offensively, not utilizing mismatches and didn't seem to know when to score or pass. Even with his current flaws, his tools and talent are undeniable and would be a top five player if he was in the 2018 high school class. Even after three days, it was tough to get a great handle on him. One moment he's making elite level plays and looking like a future high lotto pick and at other times he looked disinterested and lacking focus. His shot shows good form, but too often he seemed to treat the event as though he was playing in an All Star game, making careless mistakes with turnovers and rushed shots. He took home the award for top "High Flyer" If his attention to detail and decision making, along with his upper body strength improve, he can become a factor at the highest level.
3. Charles Bassey 6'10 225 PF/C – Nigeria 2000
Bassey took home a well earned MVP of BWB award with a consistent and dominant weekend. He played hard each possession, fighting for post position, running the floor, and finishing each jam with aggression. He stepped out to shoot when given the space and had better results connecting in the games than he did in the drills. He grabbed a few rebounds and led the break, showing impressive vision and passing for his size. On one occasion dishing out a behind the back pass after taking a grab and go rebound the length of the floor. He started one of the games scoring the first handful of plays in a row, giving Aleksander Balcerowski more than he can handle, exploding to the rim to finish over the defense. While his post-game still needs some work, Bassey plays to his strengths and played well on both ends.
4. Luka Samanic 6'9 210 SF/PF – Croatia 2000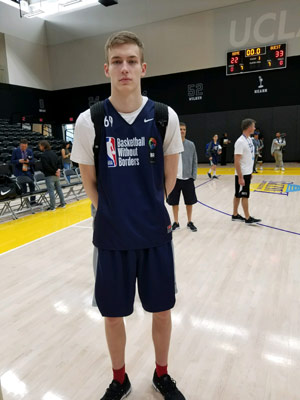 Samanic has good skills at his size. He shoots well and is an explosive athlete in the open floor but doesn't show it much in the half court. He improved as the event went on showing more confidence and a higher comfort level. He is a little stuck between forward positions and will need to get much stronger or become a better perimeter player. He does not respond well to contact right now, and will have a big adjustment to make to the American style of game defesnively. He favors going right when he drives but has versatile skills. He had trouble finishing around the rim and lacks intensity at times. He doesn't get many baskets within the flow of things, he tends to try to start it from scratch off the catch. He also loses the ball at an alarming rate, getting the ball stripped away on drives on a routine basis. Samanic shows potential and it's easy to see the intrigue with his natural versatility at his size but without great length or strength, his game is still a long ways from being NBA ready. On the bright side, his range and shooting ability has shown nice improvement over the past year and a half.
5. Killian Hayes 6'5 215 PG/SG – France 2001
Hayes is very creative and instinctive. He has the ball on a string when he dribbles, changing speeds and direction with the ball incredibly well. He loves to utilize the dribble drive to attack the middle and kick to the open man or cutter. His jump shot wasn't the most consistent but there's good potential there. He might have been the best on ball defender in the camp, giving the ball handler no room to breathe or turn. His production dropped off the second day, as his scoring wasn't working for him and he turned it over at a high rate. He sat out the final day due to tendinitis, later saying it's been bothering him lately since he's still growing and was likely why he didn't show much explosive ability.
Others
Biram Faye 6'8 216 C – Senegal 2000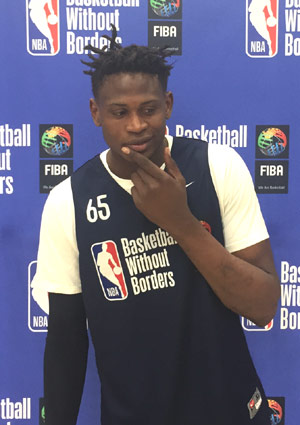 Faye has grown man strength and shows a sound outside jump shot. He's very mobile at his size and played well defensively, moving his feet on the perimeter and protecting the paint. He needs work in the post; not passing out of it as he has tunnel vision at times, putting himself in bad situations underneath to force up well contested and off-balance shots. Faye is a powerful athlete and more than held his own against some elite big men prospects. When it's all said and done, Faye can be an inside-out offensive threat as well as a strong defender and rebounder.
Paul Eboua 6'7 197 SF/PF – Cameroon 2000
Eboua's an explosive athlete with good length. He shot very well and finished plays above the rim that the defense can't contest. His ballhandling needs work, especially with his left hand, it would open up his perimeter opportunities because he has good potential as a slashing athletic wing rather than an undersized stretch four. He can also work on dribbling into his shot, as he's more effective off the catch. With all that said, he's shown much improvement since the 2016 Jordan Brand Classic International Game and was one of the best prospects in the camp.
Carlos Alocen 6'3 175 PG Spain 2000
A player who didn't shine in this event as he's got a game better suited to a team setting. Not a big scorer or a consistent shooter at this point, though his form is decent. Extremely unselfish point guard. Has sneaky athleticism and quickness. His passing, vision and creativity is really what makes him intriguing. Could be the next in a long line of Spanish point guards to make their way into the NBA a la Jose Calderon, Sergio Llull, etc.
Leandro Bolmaro 6'6 171 – SG/SF Argentina 2000
A bit of a sleeper out of Argentina, as he hasn't receieved some of the hype of others of his generation there. He's a hard nosed no-nonsense wing with a good feel for the game and solid size. Doesn't wow you with speed or explosiveness but possesses an athletic frame and good coordination. He is a crafty scorer and solid mid-range shooter. Argentina has had a bit of a drought since the golden generation with Ginobili that produced a gold medal. Understanding that Argentinian players often continue to develop well into their 20s, there's reason to be optimistic about his ability to continue improving.
Vit Krejci 6'6 167 SG – Czech Republic 2000
Krejci ran the point a lot for his team but played well off the ball as well. While he's not tremendously quick, he has good size and is crafty with the ball. He's made a lot of winning plays, seeming to know when to try to score and when to find the open man. He played with great confidence and shot well from behind the arc, showing a versatile skillset.
AJ Lawson 6'7 160 SG – Canada 2000
While very skinny, Lawson's a very good athlete and quick in the open floor. He shined on both ends of the floor. He did the best job when guarding Killian Hayes, really getting into him and not letting him dictate the pace. He was also the first player Hayes couldn't make uncomfortable as a ballhandler. He created off the dribble, getting to the rim and shot well from various spots on the floor. Lawson was a killer on the court, showing great aggression and confidence.
Josh Green 6'6 192 SG – Australia 2000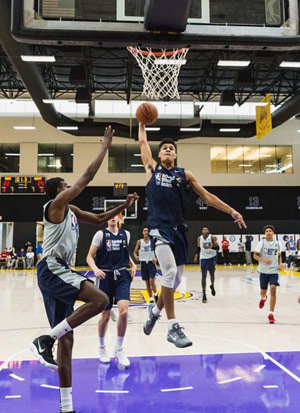 Green stood out among the other guards with his athleticism, especially as a one-foot leaper. During one of the games, he threw down a dunk as the game buzzer was going off in traffic to finish over the defense. He passed the ball well and played on and off the ball. He didn't shoot as many threes as times I had seen him in the past but connected on a few. He tends to be all threes or getting all the way to the rim, adding to his midrange arsenal will be important moving forward. He favors his right side when driving, when he plays against more size and talent at higher levels it will be more noticeable.
Joel Parra 6'7 209 PF – Spain 2000
Parra is a high-volume shooter and brings a scorer's mentality. Although he's not as athletic, he's very similar to Michigan commit Ignas Brazdeikis in terms of size and style of play. He scored inside and out, showing a variety to his offensive game and did a great job of taking what the defense gives him. He's just as effective scoring off the dribble as he is the catch. He consistently played hard and while he wasn't among the most talented prospects, he was very effective.
Tyrese Samuel 6'8 211 SF/PF – Canada 2000
Samuel has a versatile skillset, showing some ballhandling and ability to score inside and out. He's a very good athlete and wasn't afraid to play physical. He has a good body and showed some potential on the wing at 6'8 and long arms. He has value as a rebounder and defended multiple positions. While Samuel didn't blow scouts away as much as some of the other prospects, he was one of the more consistent performers over the three days.
Maxwell Lorca-Lloyd 6'9 211 PF – Chile 2000
Lorca-Lloyd is very effective within about 15 feet. He can put the ball on the floor and attacks with aggression, also providing good length and athleticism. He has an ugly and highly ineffective jump shot though, extending his arms over his head and pushing it to the basket, literally having trouble getting it to the basket on three-point shooting drills. He can drive out of the high post and was quicker than a lot of the other big men. If he can change his jump shot, Lorca-Lloyd can considerably increase his chances of a pro career in Europe.