The early-August adidas Nations is, bar none, one of the top annual scouting events each year. It delivered the goods once again, thanks to an extremely high level of competition.
How good was the level of talent? adidas Team Africa head coach Babacar Sy told me that 6-foot-8 forward Guershon Yabusele, who also played in the July U18 European Championships, marveled at how much stronger the level of talent and competition was at Nations.
It's possible that players such as Aaron Gordon and Motrezl Harrell (projected as potential top-10 picks by some) and even Jahlil Okafor to a lesser degree, were severely overrated following a similar event, the U19 World Championships in Prague. Level of competition always must be factored in.
With six games going on at once, it's impossible to catch everything. But with a five-man crew, we did our best to see as much action as we could. Here is a look at the top high school prospects from an NBA scouting perspective. Be sure to check back for our analysis of the top international prospects, as well as the top college players, in the coming days.
Potential top-five picks
Josh Jackson: 6-7, 200, G/F, Consortium College Prep (Southfield, MI), Class of 2016
When we did our annual Elite Talent on NBA Horizon: Top 10 High School Prospects in early July, we left Jackson off our list, due to not having seen him yet. If we revisited the list, he would be in the top three.
A rising high school sophomore, Jackson matched up with the Orlando Magic's Arron Afflalo on the third day and more than held his own, showing enough athleticism to give Afflalo problems, and then attacking him on the offensive end and shooting in his face. With elite-level run-jump athleticism to go with long limbs and big hands, Jackson has an ideal body for an NBA wing.
He also seems to have a great motor and basketball IQ. He can elevate above the rim to finish, and also dribble and attack like a guard. He's very smooth — we couldn't tell he was the youngest kid in the gym. He had a couple of very impressive dunks and shows a really positive attitude. Jackson should be a household name before long, as he's got as much talent and potential as any kid on the high school level today.
Stephen Zimmerman: 7-0, 225, C, Bishop Gorman (Las Vegas, NV), Class of 2015
In a word, special. Big Zimm is like a bigger, more talented version of Cody Zeller. He has an advanced skill set for a junior, with excellent footwork and a polished low-post game. His shot is very smooth and he played like the top big-man prospect (college players included) for most of the event.
He even got the better of Kaleb Tarczewski in their post matchups during drills, showing the ability to hit a variety of shots, including hooks and jumpers. He struggled in his head-to-head matches with Jahlil Okafor, due to the strength disparity, but with much better mobility and size, Zimmerman has greater long term potential.
For Zimmerman, it's all about hitting the weight room and developing his strength. At one point, Zimmerman took the ball coast to coast for an emphatic left-handed dunk, one of the most impressive plays of the entire event. His foot speed, quickness and agility are ridiculous for a 7-footer. He obviously needs to get stronger, but this is a kid with the mental toughness to be a top-three center in the NBA someday. One NBA scout went as far as to suggest he might be the top American-born Caucasian center prospect in the last 20 years.
Myles Turner: 6-11, 225, PF/C, Euless (Trinity Dallas, TX), Class of 2014
Turner struggled a bit. He wasn't much of a factor offensively at Nations, and it's apparent he's having some physical issues with his legs, which is clearly holding him back.
Turner possesses a tremendous basketball body and should easily get much stronger. As comparisons go, he reminded me of LaMarcus Aldridge at the LeBron James Skills Academy. He figures to be a similar player, both in style and impact, if he reaches his potential. His huge size-20 feet are like canoes — they slow him down some, but he should gain better dexterity and agility as he finishes growing and his body fills out completely.
Right now his biggest impact is as a rim protector, where he is a huge factor. However, his post moves are virtually nonexistent, as he scores mostly off of put-backs or easy flushes off of teammates' dimes. He converted a few dunks on Day 3, which raised some eyebrows among the NBA guys looking on. He shows a soft touch, but his scoring is limited by an inability to create shots.
Turner was moving extremely gingerly throughout the event and the word on him is that his hips are out of alignment right now due to his frequent growth spurts. If his legs don't become a nagging issue moving forward, this is a kid with the potential to pass by everyone and be the top pick in 2015. He's a bright kid who, according to adidas coaches, asked all the right questions and displayed the attitude and focus to improve and become a star at the NBA level, as long as his body holds up. At this point, Jahlil Okafor is clearly a better all-around player, but in terms of long-term potential, Turner has the advantage.
Jahlil Okafor: 6-10, 280, C, Whitney Young (Chicago, IL), Class of 2014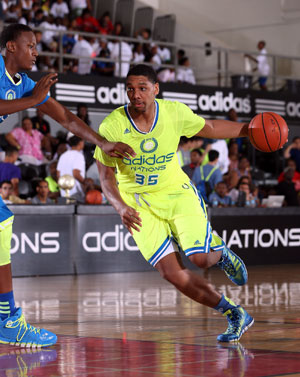 Okafor was best overall high school player in the event, and it wasn't really close. He has one of the most polished offensive post games that you will ever find at this level. Scouts were extremely impressed with the way Okafor has transformed his body over the past year. It points to a strong work ethic and dedication. He still needs to work on his conditioning for the next level, though, as there were times when he got winded.
He had several coast-to-coast plays where he had perfect control of the ball and his balance, finishing with dunks, assists or Euro-step layups. His upside is limited to a degree, due to a lack of explosive leaping ability. He is a little undersized for the center position, which makes him just an average defensive presence in the paint. Much like Kevin Love, his tree-trunk legs are both a positive and negative. They anchor him to the floor, making him an immovable object, but they also limit his foot speed. Regardless, scouts are sold on him as a high lottery pick after one season in college.
Future lottery-level talent
Kevon Looney: 6-8, 190, SF, Milwaukee Hamilton (Milwaukee, WI), Class of 2014
Looney shows a ton of long-term potential, with his long arms and tremendous fluidity and explosiveness. He remains a work in progress offensively, as he does his damage slashing to the basket. He is beginning to expand upon his offensive repertoire. His adidas team coach Ralph Sampson compared him to a young Scottie Pippen, which actually isn't a terrible comparison if his all-around game continues to progress. Looney has one-and-done lottery talent if his game continues to progress.
De'Ron Davis: 6-8, 240, PF, Overland High School (Denver, CO), Class of 2016
A rising sophomore from Colorado, Davis has a huge frame and shows a great deal of upside. Listed at 6-foot-8, he appears to be still growing and should end up a few inches taller. He is a good rebounder who shows very good agility, considering his size. While he wasn't overly productive, he was going up against guys a year or two older. That huge frame and nimble feet figures to keep him among the elite big men in his class.
Justise Winslow: 6-6, 200, SG/SF, St. John's School (Houston, TX), Class of 2014
Winslow is one of the elite wing athletes in the senior class, who still has a lot of skills to develop. He is an explosive athlete who will posterize opponents if he's not properly closed out upon.
He's very effective going to his dominant left hand, but going right is a major weakness. When he goes right, he always shoots his step-back jumper. He does hit it pretty consistently, but it can become too predictable. Winslow is more prospect than player at this point, and could develop into a lottery picks after a couple years in college.
Stanley Johnson: 6-7, 220, SF, Mater Dei (Fullerton, CA), Class of 2014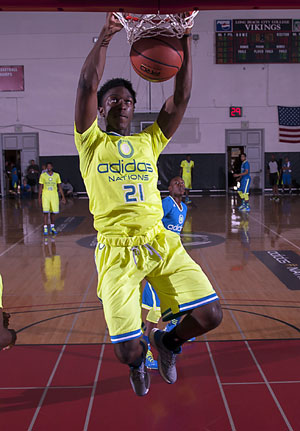 Johnson is as solid as any player we have seen on the high school level. Johnson has made an incredible transformation over the past year, going from an undersized 4 to a legitimate perimeter player with polished wing skills — a tribute to his work ethic and determination. Johnson has become a virtual lock to be a pro.
He lacks elite-level athleticism for the 3, so it's unlikely that he will be a NBA All-Star, but he has starter potential and the ability to be a lottery pick after some time in college. His intensity, focus and determination set him apart from his classmates. Stanley defends like few players his age, always on balance and with great footwork, toughness and strength. Offensively, he takes what the defense leaves him — he can shoot 3s, go hard to the basket, make transition plays. He may never be a star offensively, but he brings toughness and a team mentality that will make him an asset in the future.
Chase Jeter: 6-10, 210, PF, Bishop Gorman (Las Vegas, NV), Class of 2015
Best known for being Stephen Zimmerman's teammate, the 6-foot-10 Jeter is one of the most underrated prospects in the country. Jeter is all business. He has excellent size and agility to go along with his solid offensive skills and footwork. He needs to get stronger and tougher, but as a rising junior, he has plenty of time to bulk up.
A smart kid with very good run-jump ability, Jeter will greatly benefit with playing alongside and competing with Zimmerman every day in workouts and practices — as will Zimmerman. Trey Lyles has a lot more hype right now, but Jeter may actually be the better NBA prospect.
Possible first-round picks (if they put in the work)
Jaylen Brown: 6-6, 200, SG/SF, Wheeler (Marietta, GA), Class of 2015
Brown reminded me a of a poor man's Jason Richardson with his explosiveness off of two feet. He has excellent size and finishing ability. He also showed some flashes of being able to create shots off the dribble. Right now, he is a bit inconsistent. He'll show great flashes of talent, but disappear for long stretches. Brown enters an important junior year, where he can solidify himself among the top-20, showcase-game-level players in his class.
Tyler Dorsey: 6-2, 180, PG/SG, St. John Bosco (Pasadena, CA), Class of 2015
Dorsey is a quick scoring guard with a lot of talent. He is fearless going to the basket. Right now, he's still much more of a scorer than a distributor. At his size, he'll need to focus on developing better playmaking skills. Some feel he's moved in front of Malik Newman after such an impressive summer. Although he didn't stand out at Nations, he's a top-10 talent in the junior class. But for the NBA, he'll need to improve upon his PG abilities.
Derryck Thornton Jr: 6-0, 175, PG, Findlay Prep (Las Vegas, NV), Class of 2016
Thornton was one of the best PGs of the tournament, and he's only a sophomore. This is a very scrappy player who excels at pressuring his opponents and making plays in the open floor. He's super quick, but rarely out of control. He was a pest with his on-ball defending, gathering many steals when doubling the posts. He can go left or right equally well and create shots for himself and his teammates. He needs to get stronger in his upper body and improve his decision-making skills, but he certainly made an impression at the Camp. Heading to Findlay Prep, so this kid's future appears very bright. A potential top-10 kid in his class.
Daniel Hamilton: 6-7, 185, SG/SF, St. John Bosco (Los Angeles, CA), Class of 2014
The youngest member of the Hamilton family is still very skinny, but he plays tough. He gets rebounds and quickly transforms them into transition plays — most of the time for himself. He's a good defender, thanks to his long arms and athleticism, but he needs to improve his decision making. He can dribble it coast to coast, but too often, he ends up shooting against triple teams. He needs to develop his half court game and learn when to pass up bad shots. Unfortunately, he's a little bit of a ball hog right now.
Trey Lyles: 6-9, 255, PF, Indianapolis Tech (Indianapolis, IN), Class of 2014
Lyles is an absolute machine on the blocks with great strength, post moves and touch. He was basically unstoppable playing against mostly younger, inferior post players during the event. Lyles is a polished, skilled player who understands how to use his body well. He can shoot from mid range and go over either shoulder, using either hand around the rim.
But despite the fact that he was probably the second-best player in the tournament after Okafor, his potential appears limited. Unfortunately, Lyles' development seems to have plateaued. He's added considerable weight and appears slower and less explosive. He's beginning to appear more in the Sean May/Jordan Williams mold instead of the one-and-done lottery player that he's been built up to be. His lack of explosiveness and quickness will be a major obstacle as his career progresses. He's going to need to focus much more attention on diet and conditioning to maintain his standing on recruiting rankings.
Charles Matthews: 6-6, 205, SG, St. Rita (Chicago, IL), Class of 2015
Matthews is still somewhat raw offensively, but has good fundamentals and plays with good energy. He has good size for the wing position with a strong frame and explosive leaping ability. He is one to watch for in the future, as he appears to be tapping into his potential right now.
Malik Newman: 6-3, 175, SG, Callaway (Jackson, MS), Class of 2014
Newman has been one of the top prospects in his class for some time now. He possesses great speed/explosiveness and shows the ability to knock down big shots. His 3-point shot was on target early as he connected on 6-10 in the first two games, but then went ice cold, hitting just 1-6 before sustaining an injury that knocked him out of the final two games. He's in the mold of a smaller Tyreke Evans but with considerably better shooting ability. However, his upside will be limited by his lack of ideal size if he doesn't develop any point-guard skills.
Theo Pinson: 6-6, 180, SG, Wesleyan Christian (Greensboro, NC), Class of 2014
The North Carolina recruit has a lot of physical ability, with his elite run-jump athleticism. He seems to be improving in terms of decision making and offensive skills. Yet, something seems to be missing. His body is extremely slight and will need strength in order to utilize his leaping ability and finish off plays next season. Focus and consistency are areas he must improve upon in order to realize his vast potential.
Upside guys
Jaylen Johnson: 6-9, 206, PF, Yipsilanti Ann (Arbor, MI), Class of 2014
Johnson just turned 17, so he's a year younger than most of his classmates — classic late bloomer. Despite not getting any burn in the title game, Johnson showed steady progress as the event went on. He has a huge wingspan to go along with solid agility and athleticism. He has nice potential for the future, but lacks a great skill level at this point.
Daniel Giddens: 6-10, 220, PF, Wheeler (Marietta, GA), Class of 2015
Giddens didn't score much in the event, missing most of his shots, but he's an intriguing prospect nonetheless. Even when his shot isn't falling, he always has a presence in the game. He helps on defense and hits the boards hard, making plays around the rim on offense. He needs to improve as a mid-range shooter, but he runs the floor really well for a 6-foot-10 guy.
Chance Comanche: 6-11, 200, PF, View Park (Los Angeles, CA), Class of 2015
Comanche wins the award for best name. He also had some of the longest arms of anyone in the event. A wiry big man, Comanche made some impressive plays during the event, showing flashes of great athleticism and next-level ability. He needs to make a home in the weight room over the next few years, as he has the talent to be a pro someday if he stays focused and keeps developing.
College studs
D'Angelo Russell: 6-4, 175, SG, Montverde Academy (Louisville, KY), Class of 2014
Russell had a tremendous week at adidas Nations, showing clutch play and excellent shooting/scoring ability. Although his lack of height and strength limits his long term potential to some degree, he's going to be a big time college player.
The lefty 2-guard was one of the best shooters in camp. He has a quick release on his beautiful jumper and a very clean offensive game. He rarely gets out of control as he consistently got to the basket and drew fouls. Despite being a solid athlete a la Dexter Strickland, he's missing the elite-level explosiveness to be successful doing the same thing at the next level, let alone the NBA.
Reid Travis: 6-7, 240, PF, De La Salle (Minneapolis, MN), Class of 2014
At 6-foot-7 and without great explosiveness, Travis has his work cut out for him as an NBA prospect. This kid is sure to have a pro career somewhere, as he's a very talented kid. However, due to his lack of height, he may be better suited for a career in Europe. But he's one of those kids with the determination to make it and should be a star difference-maker at the college level.
Appears to have a wingspan in the neighborhood of 7-feet, giving him some length to compensate for his lack of height. He has huge arms/shoulders and absolutely destroys opposing post players at the high school level. Travis was a QB up until last year and quit football to focus on his basketball career.
Others
Carlton Bragg: 6-8, 210, PF, St. Joseph (Cleveland, OH), Class of 2015
High-energy forward with solid run-jump athleticism and good length. If he ends up an inch or two taller, he'll have a real chance to be an impact guy in the future.
Romelo Trimble: 6-2, 190, PG/SG, Bishop O'Connell (Arlington, VA), Class of 2014
Can shoot it, has a strong body. Good basketball IQ. Considered more of a 2-guard but has some PG ability.
Perry Dozier Jr: 6-4, 190, PG/SG, Spring Valley (Columbia, SC), Class of 2015
Combo guard can score and play some PG. Didn't stand out at Nations, but had a solid summer, even drawing some "poor-man's Penny Hardaway" comparisons, due to his ability to play the point at his size.
*Special thanks to Rick Pietro for contributing to this report.