adidas Nations took place in Houston, the home of the current face of their basketball line, James Harden. With talent displayed on both the USA and international teams, here's a rundown of the top prospects.
USA Red 2018
Zion Williamson 6'7 240 SF/PF – 2018
Williamson came out the first day and dropped 21 points without missing a shot. Throughout the camp he displayed his explosive ability that has made him famous. The concern "all he does is dunk" isn't necessarily true as many of his points came from his floater/jump hook, where he uses at difficult angles with precise touch and near perfect muscle memory. His ability to absorb contact in the air while still elevating, to get off a clean and accurate shot is rare. However, he absolutely does need to improve his perimeter game moving forward. He missed his only two three-point shots over the course of six games. Watching him warm up, his shot doesn't look bad and at this level he doesn't really need it but it won't be long before resorting to bully ball won't be nearly as effective. He thrives as a transition finisher but attacking a half court set defense isn't in his repertoire right now and needs to expand his half-court skill set. Against team Africa, he struggled as they wisely packed the defense in and swarmed him, and he had no answer to their length and athleticism. He seeks out contact underneath and gets to the line often, he shot 8.5 free throws per game. Williamson earned MVP with 28 points and ten rebounds in the championship game. He averaged 22.5 points, 7.2 rebounds, and countless highlights while shooting 64.5%. Williamson's a rare breed, with his thick build and ability to pop off the ground so quickly, there aren't many athletes at any level with his explosion. Conditioning is an area he must continue to focus on. Williamson claims his knee still isn't 100% from his injury this summer.
Jordan Brown 6'10 195 C – 2018
Brown was solid putting up 12 points and 5.4 rebounds. He's a finesse big man with touch on his floater and some ability to score around the basket. He didn't show any jump shooting and was poor at the free throw line at 60%. He has good coordination and mobility combined with solid athleticism. His body still has a ways to go in it's development and he appears to be a naturally skinny player. He was solid but didn't stand out over the course of the week with his best game coming in the championship with 12 points and nine rebounds.
Romeo Langford 6'5 195 SG – 2018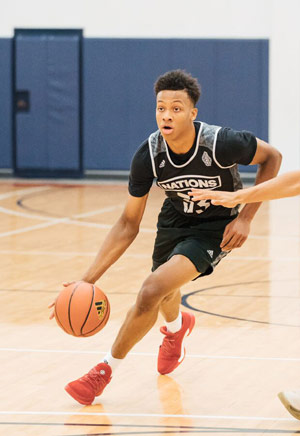 Langford struggled to get it going with only four points in his first game on 1-6 shooting. There were a few times he was noticeably fouled but didn't get the call and it seemed to affect him. He picked it up a bit but didn't have a standout camp. While unselfish, he scores well in isolation and had to adjust to being on the court with four other players who are used to being the focus of their offense. He has a good step back and footwork on the perimeter with shooting range out to the NBA three. He's a good athlete and shows no emotion on the floor. He ended up averaging 11.6 points per game but didn't contribute much in other areas outside of scoring. Like a number of kids now, he had his own documentary crew following his every move, and the question of where his mind was has to be raised as he played well below expectations. I've seen Langford multiple times throughout the high school season, as well as he shoots in games, he always seems to struggle as a free throw shooter and shot 69.2% at Nations.
Javonte Smart 6'4 200 PG – 2018 (LSU)
Smart was a consistent scorer and shot better than the times I had seen him in the past, going 43.5% from three. He did a solid job of moving the ball but can improve his point guard skills. His ability to play both on and off the ball was valuable on a team with this collection of talent, scoring when needed and letting it come to him. He plays well off the dribble and changes speed. Smart averaged 10.5 points, three rebounds, and 3.2 assists per game.
Quentin Grimes 6'4 185 PG/SG – 2018
Grimes was a spark off the bench and had the hot hand in the championship game, shooting 4-of-6 from three to finish with 14 points. He got to the basket and was streaky from outside. He can take his man off the dribble and create offense for himself. He did a solid job passing the ball with 3.4 assists to 1.4 turnovers per game. His confidence is apparent when he gets into games and catches his rhythm quickly. He displays his athleticism when given the opportunity and finished with a few jams. Grimes scored a solid 9.8 points per game.
Immanuel Quickley 6'3 180 PG – 2018
Quickley ran the point for USA Red 2018, getting his surrounding talent involved and doing an excellent job of taking care of the ball with a total of 28 assists to only three turnovers. He was very good on the defensive end with two steals per game, showing awareness and putting good pressure on the ball. He's a solid shooter but has room to improve, and needs to improve some in his scoring ability. He put it together in the championship game against Asia Pacific with 15 points, six rebounds, eight assists, and four steals. Quickley ended with an average of 9.5 points, 4.8 rebounds, and 4.7 assists per game.
EJ Montgomery 6'9 215 PF – 2018 (Auburn)
Montgomery played solid in his first two games, then cooled off for the next three. His first game consisted of 15 points and six rebounds. He benefitted from being at the right place at the right time on some of his points. He did show some swift footwork for his size to get to the basket to finish with soft touch. He didn't go out to the three-point line and settle for many threes like he's done in the past. He finished with 12 points and seven rebounds in his second game but in his final three games he would score only four (2-12 shooting), three, and six points respectively. Montgomery averaged eight points and 6.2 rebounds per game.
Moses Brown 7'1 225 C – 2018
Brown had a rough camp, only averaging 6.8 points, four rebounds, and 1.2 blocks per game. Other than his 16 point and 11 rebound on 6-9 shooting game, he didn't have any other great games. Some of his forgettable ones include; four points and one rebound in 17 minutes, and going scoreless with one rebound in 11 minutes. He can score around the basket but his skillset is very raw at this point. When I saw Brown at the UAA Finals, he tried to do it all but with this roster, he was able to play his true center position but just struggled to stand out.

Team Asia Pacific
Matur Maker 6'10 200 PF – 2018
Maker had a great week to lead the event in scoring and placed in the top three in blocked shots. It's been awhile since I've seen him play with a true point guard, allowing him to play off the ball and get easier baskets in close. He showed good court vision making the right pass anytime someone was left open under the basket. As usual, he was very active and outhustled the opposing teams. Maker benefitted from having experience and maturity on his side, especially against the 2019/2020 USA teams. He was able to score inside and out, with unshakable confidence, leading Asia Pacific to the championship game. His 31 points were not enough to beat the loaded USA Red 2018 but he was able to showcase his ability. A load of his points come from free throws, as he draws numerous fouls. The least number of free throws he shot in a game was eight and averaged 14 per game. Maker's camp averages were 26 points, seven rebounds, two assists, 1.8 blocks, 1.8 steals, and 2.5 turnovers per game while shooting 50% from the floor.
Kody Stattmann 6'5 180 SG
Stattmann lit it up from outside, showing proper shooting mechanics and no wasted motion. 66 of his total 87 points came from three-pointers. He moved well off the ball and used his quick release when the ball came his way. He didn't show much athleticism or a tight handle with the ball but has good size on the perimeter and knows his role as a shooter. Stattmann posted 14.5 points and 4.2 rebounds per game while shooting 43.1% from three.
Samson Froling 6'11 210 PF
Frolling kept it simple around the basket, using good touch and establishing position on every play. He scored using either hand and used glass when appropriate. Improving his ability to stretch the floor would benefit him as he only made one of seven threes. Although he didn't have any standout games, he was solid throughout the camp with 11.2 points and 4.3 rebounds on 54.7% shooting.
Makur Maker 6'10 190 PF/C – 2020
I've seen Maker play several times over the season but the best I've seen him play was his breakout game against USA Red 2019/2020, where he posted 23 points and 12 rebounds on 8-11 shooting. He didn't shoot too many threes, making his only attempt. He kept it simple around the basket. He fizzled out after that performance scoring only two points in each of the next three games. He settles for outside shots a bit too much shooting 2-11 but was a reliable free throw shooter at 81.3%. Maker ended with an average of 8.2 points and 5.5 rebounds.
Team Latin America
Yago Dos Santos 5'8 190 PG
Dos Santos was poised and very under control. A consistent, knock down shooter at 46.6% from three while nearly attempting ten per game. Surprisingly, he didn't excel as a free throw shooter, at only 57.9%. He played intense full court defense throughout games, causing a few eight-second calls and led Nations in steals with 2.2 per game. In addition to his high-volume shooting, he distributed the ball very well and led the camp with 5.8 assists per game. He utilized his crossover almost at will and sold it while moving at a high speed, getting to the rim despite his lack of size. Dos Santos finished in the top five in scoring with 21.3 points per game, leading team Latin America to finish third place.
Michael Uchendu 6'9 240 C
Uchendu was a big and physical presence in the paint. He has a grown man's body and was good around the basket. He showed a solid midrange shooting stroke and good lift athletically. He's a bit emotional and expressive with teammates and referees. He used a ball fake under the basket to get the defense in the air and drew numerous fouls, getting less experienced players in foul trouble, shooting almost seven free throws per game. He's also foul prone himself, recording over four per game. Uchendu had solid technique in the half court, using pivots and reading his defender well. He shot 64.1% from the floor, using a jump hook within close. He was a strong anchor and protected the paint as a shot blocker. Uchendu averaged 18 points and led the camp in rebounds with ten per game. His best game was against USA Red 2019/2020 to start off the event, posting 20 points and 16 rebounds on 8-11 shooting.
Gabriel Galvanini 6'7 200 PF
Galvanini was a consistent double-double threat, consistently scoring and crashing the boards. He has the ball in his hands a lot and likes to let it fly, and got hot in the consolation game making two of his three three-point attempts and 7-12 from the floor. He finished with 25 points and 11 rebounds, while performing in key moments showing good aggression and confidence. He liked to post up smaller perimeter players and scored with either hand. Galvanini averaged 14.8 points and 9.2 rebounds over the course of the camp.
USA Blue 2019/2020
Charles Bassey 6'10 230 PF/C – 2019
Bassey played well on both ends and had a consistent showing at Nations. His footwork is raw but he's very good around the basket and knows how to use the glass at different angles. He's a willing screener, coachable, and does the things you want a big man to do. He ran the floor and got back on defense on a consistent basis. In the first matchup against Team Latin America, he got frustrated guarding the bigger Michael Uchendu and picked up some quick unnecessary fouls that he needs to learn from. Bassey and USA Blue 2019/2020 finished in fourth place. He averaged 15.2 points, 7.2 rebounds, and led the event in blocks with 1.8 per game, while shooting 72.3% from the floor.
Oscar Tshiebwe 6'9 230 PF/C – 2019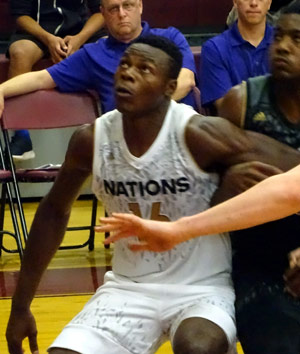 Tshiebwe was complimentary playing alongside Charles Bassey. He brought great energy, along with strength and excellent lift around the basket. His activity is effective on both ends. His best game was against Team Canada with 16 points and 13 rebounds. He gets off the ground quickly and dunked over the top of defenders on a few occasions throughout the camp. With a big wingspan and solid shooting mechanics, Tshiebwe's got great potential and has much room to increase his stock. He shot 60% while scoring 9.8 points and 6.8 rebounds per game. He's an underrated prospect nationally.
Ashton Hagans 6'3 185 PG – 2019
While Hagans makes some nice passes, he doesn't move the ball to get the offense going. He tends to look for opportunities to record assists and will dribble the ball for the first ten seconds of a possession until someone makes a cut, letting the ball stick to him too often. His shooting isn't good but he still lets it fly, sometimes pulling up with a defender in his face. His shooting percentages were underwhelming: 33.3% FG%, 11.8% 3P%, and 66.7% FT%. He does play good on ball defense but gambles and reaches too much. He finished the consolation game going scoreless but had seven assists. His camp averages were 8.7 points, 2.8 rebounds, 3.3 assists, and 3.3 turnovers per game.
Alonzo Gaffney 6'9 200 PF – 2019
Gaffney didn't get much playing time or load up the box score but looks like an interesting prospect down the road. He only scored a total of nine points and grabbed seven rebounds but his size and length with ability to play on the wing makes him intriguing. Although he only shot 2-10 from three, his shot looks good and he has range beyond the three-point line. He seems to be more of a thinker than reactor right now, but the well-coordinated and athletic forward's game can catch up to his tools.
Kyree Walker 6'5 205 SG – 2020 (Arizona State)
Walker had an up and down week; scoring three points in the first game, 25 in the first round of the tournament, then shooting 1-9 to score two points in the consolation game. He handled the ball well in the half court with his minimal dribble moves to beat his man but can improve bringing up the ball under pressure. His handle gets loose when he gets going quick. He's an impressive leaper and connected on alley oops. His shot is very hit and miss right now but he can catch rhythm at times. He has to stay focused on defense. After getting hit on a few screens, he tries to sell the contact rather than fight through and stay with his man. Walker averaged 9.7 points and 2.5 assists per game.
Greg Brown 6'8 180 SF/PF – 2020
Brown's shooting and overall perimeter skills need improvement but he's a top-level run/jump athlete, with multiple impressive above the rim finishes. He wasn't very productive at only 7.5 points per game but when he scored, it usually brought a "wow" factor. Brown's young and still growing, once he figures some things out and the game comes easier for him, his game is sure to blossom.
USA Blue 2018
Reggie Perry 6'9 225 PF – 2018 (Mississippi State)
Perry posted a solid 17.2 points and ten rebounds per game. In the game I saw against USA Red 2018, he came off the bench, pouring in 17 points and nine rebounds (five offensive). He made his impact with his physicality, while he's not the prospect Moses Brown and Jordan Brown are, he's much stronger and more aggressive. He's gets good lift around the rim and his shooting isn't consistent right now but it's solid from midrange.
Jules Bernard 6'7 185 SG – 2018
Bernard led all scorers with 23 points against the loaded USA Red 2018 team. His jump shooting needs to improve, but he plays with great confidence and will take what the defense gives him. He tends to shoot the ball in a different way each time, but he will step into his next shot and pull the trigger no matter the result of the previous one. He only made three from deep over five games. He got to the rim on occasions and pulled out a dunk that caught everyone by surprise when the lead was cutting close against Blue 2018. Bernard finished with a solid 14 points per game.
USA Red 2019/2020
Cole Anthony 6'1 175 PG – 2019
Anthony lit it up from outside, shooting 46.2% and attempting right over five per game. Unfortunately, his team lacked experience and they didn't make it too far but their talent was undeniable. Cole led the team in scoring and placed right outside the top five for the camp with 18.2 points per game. He, along with Jalen Lecque provided a high flying back court. He recorded 3.2 assists per game but didn't get to display his developing playmaking skills for others and took on more scoring playing alongside younger big men.
Armando Bacot 6'9 225 PF – 2019
Bacot is an effective offensive player from midrange and within. He battles underneath to score and goes to his jump hook when he gets position. His shooting isn't there yet, as he only shot 51.9% from free throw and doesn't shoot many threes. He has the mobility to be an inside/outside presence but his jump shot is lacking right now. Bacot averaged 11.4 points and 6.4 rebounds per game.
Jalen Lecque 6'4 180 PG/SG – 2019
The biggest stock riser of the summer continues to impress. He's able to split the defense and get to the rim at will. He takes it hard to the basket no matter how big the help defense is. His jump shooting is a work in progress and his biggest weakness right now, only shooting 2-8 from three and a horrendous 52.2% free throw shooter. His lead guard skills have a way to go too but Lecque's turned some heads at Nations as he's still unknown to some. His ability to lull defenders to sleep and then explode past them and get to the rim gives him a lot of intrigue. His standout game came against Latin America with 20 points and four rebounds.
Vernon Carey 6'9 255 PF – 2019
No doubt, Carey's talented but needs to utilize his tools and talent better. He can be the ultimate mismatch but he's too content with letting the game come to him and tries to play on the perimeter too much. He didn't commit to defense or get in a stance, which allowed Matur Maker to beat him at will. Carey only played in two games with an average of 5.5 points and 2.5 rebounds per game.
Jaden Springer 6'4 170 SG – 2020
Springer was the youngest player at Nations being 14 years old. He didn't make any three-pointers but scored well from midrange and played intense perimeter defense. There was a small stretch where he was matched up against 6'10 Matur Maker and did an excellent job of staying in front of him. Other than the four-point game against Team Africa, Springer had a consistent showing with 13.4 points and 3.8 rebounds per game. He's an advanced player for his age and displayed it at every opportunity.
Isaiah Todd 6'10 190 PF – 2020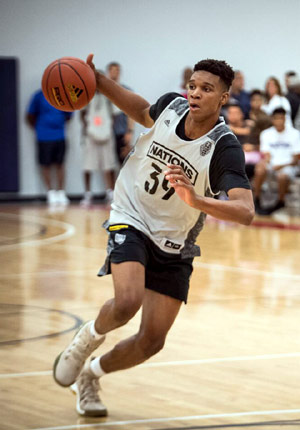 Todd can be a big-time player when it's all said and done but those days aren't here yet. At 6'10 and ability to move like a wing but still only 15 years old. His shot is developing and he has other aspects to improve as he lacks the experience being surrounded by such high-profile players. He still needs to understand where he needs to be without the ball in his hands, spacing, when to shoot without forcing, and defensive positioning. One game he went scoreless with five fouls in 11 minutes. Over the camp he averaged 3.6 points and 2.8 rebounds per game.
Team Canada
Ignas Brazdeikis 6'7 225 SF – 2018
Brazdeikis has a knack for putting the ball in the hole, which is why he was sixth in scoring over the Nike EYBL with 22.4 points per game and third at adidas Nations with 22.2 per game. He can get hot from outside or he can get to the rim against any defender. He plays with great confidence and aggression, staying in attack mode the whole 40 minutes. Not only is Brazdeikis a high-volume shooter but he shoots a high percentage at 51.9% and 39.1% from three. Other than his 0-7 three-point game against Team Africa, he had a consistent week, also averaging 5.8 rebounds and three assists per game.
Jaelin Llewellyn 6'3 165 PG – 2018 (Princeton)
Llewellyn made some noise when he erupted for 43 points against USA Blue 2018. He only missed four shots, shooting 13-17 from the floor and 6-8 from three. He plays well off the dribble and was too quick for most defenders to keep in front. He showed he can score on all three levels and passes the ball well, although playing alongside Nembhard, he was able to play off the ball more. He used pivots in the paint and got creative with his finishing moves. Llewellyn finished the week averaging 22 points, 4.3 rebounds, and 2.8 assists per game while shooting 51.8% from the floor and 63.6% from beyond the arc.
Noah Kirkwood 6'7 220 SG – 2018
Kirkwood was solid with 12.6 points per game. He's a sold athlete, with good size for a guard at 6'7, and can shoot from outside. He's strong, embraces contact on drives, and finishes at different angles when attacking the basket. He had a consistent performance over the camp and shot 59%.
Luguentz Dort 6'5 220 SG – 2018
Dort saw limited action, only playing in two games. I was able to catch Canada's matchup against USA Blue 2019/2020. He still resorts to bully ball, which is effective at this stage but honing his perimeter skills will give him value as he progresses in his career. His shooting hasn't improved, in the game against USA Blue 2019/2020, he air balled two free throws and hit the backboard first on another. With his strength, physical play, and explosive athleticism, he's able to defend multiple positions. Sometimes he's matched up against a point guard, other times matched up with a big man, defending Charles Bassey for a stretch. Dort averaged 11 points over his two games.
Andrew Nembhard 6'3 185 PG – 2018
Nembhard's full contributions don't show up in the box scores but he knows his role as a leader and facilitator. After sitting out all summer, he's making his way back into action. He rarely shoots as he only scores when needed but watching him warm up, it appears he has taken out the hitch as it looks much smoother. He shot 4-10 from deep overall. He only averaged 6.4 points, 2.8 rebounds, and 3.6 assists per game but he constantly communicates and sets the pace for the game. Nembhard recently reclassed to 2018 and should be one of the top point guards of the class.
Team Africa
Nathan Mensah 6'9 215 C – 2018
Team Africa lost all five of their games and unfortunately, only had one loss by single digits. Mensah flashed his talent, averaging 13.2 points and 7.4 rebounds per game. He's improved over the past two years, developing his offensive game. He's quick to offensive rebounds and tipped in a few of his own missed shots. He was reliable from the free throw line at 81.8%. The game I saw against Team Canada, he scored ten points and grabbed five rebounds in seven minutes.