By Rick Fois
Top International Prospects
We took the 3 1/2 hour trek away from Treviso through Slovenia to Drazen Petrovic Arena in Zagreb, Croatia (one of the true temples of basketball in Europe) to watch Dario Saric against Jusuf Nurkic after the first day of Eurocamp in the A-1 Liga final with Cibona against Cedevita. We've included these players in the report.
Dario Saric, 6'10, PF/SF (Croatia) 1994, Cibona Zagreb
Saric is by far the best player on his team, what's more he is the heart and soul of Cibona. He puts everything that he has on the floor, diving for loose balls, fighting for rebounds, and wrestling for position in the post. You have to admire his heart, competitiveness and desire to win. Few players have the mental toughness and skill to change a team culture like he did in his few months at Cibona. He is clearly a 4 in the NBA because he is not quick enough to guard the 3 at the highest level but he has an incredible feel for the game, can pass the ball and knows where his teammates are at all times. My favorite part of his game is when he gets a defensive rebound and immediately pushes the ball in transition. He can play one on one from the post or facing up outside the 3pt line. His favorite offensive move is the Bodiroga-move where, while dribbling, he takes the ball from one side of his body with the opposing hand while changing direction at the same time. I don't believe he is a consistent shooter, he can make some but he is very streaky and the extended NBA 3pt line will not help him, many people will double off of him. He needs a team where he can play as a PF with enough freedom offensively to use his passing skills. He has some Boris Diaw IQ, he has some Gallinari, particularly for the athleticism and upper body strength (not the shooting). The problem I have with him and my questions are as follows. He really scores a lot of points just by taking advantage of smaller defenders and then just using his incredible body to keep the defender in jail and finishing with great control. But in reality he lacks explosiveness and doesn't have a quick first step, especially for the NBA. At the end of the game, Cibona's coach put him as a 5 in a small lineup (he was the only one rebounding anyway) to take advantage of him against the heavier and bigger Nurkic. Surprisingly enough, he wasn't able to get by him, because when he would try to muscle him. he would bounce off of his bigger body, something that will happen all the time in the NBA, even against SFs. I give him several exceptions, like the fact that he could have been tired (long season) after he fought almost by himself for 34 minutes and the fact that he was missing shots allowing Nurkic to play a little off of him. But this fact raises at least some questions about Saric's ability to beat any 4 in the NBA from off the dribble. While I think he can easily guard many of them, because he never gives up at any time. Overall a unique talent (started out as a PG) with a great mentality. I think a lot it will depend on what team he lands with. He needs a team that understands match ups, where he can have freedom to do certain things, like pushing the ball in transition, but also a team that likes high IQ players with a great winning mentality. In that contest he could be a great piece to build a winning team, not around him but with an impact from him, a little like the first Turkoglu in Sacramento and San Antonio.
Jusuf Nurkic, 6'11, C (Bosnia & Herzgovina) 1994, Cedevita Zagreb
The second big reason to make the effort to Zagreb was to see Nurkic. I was very excited to finally see him live in a big game. I have to say he didn't disappoint, he is very good and lot like Minnesota's Nikola Pekovic. He has a great big body, and can really use it. He is very tough to move in the post and takes deep position on the block. One GM was worried about his lateral speed and how well he could show on Pick and Rolls, he responded well on that locking down Saric in the final 5 minutes. He is not Asik good in P&R defense but definitely can move better than expected. Either Saric is a really slow one on one player or Nurkic has some quickness in those feet. I think Nurkic's mobility is underrated in this aspect, he actually has good footwork and he is quick to finish off the ground on drop offs. On the negative side, Nurkic lives below the rim. He is not a rim protector by any means, and his best defense is to push off the opposing center out of the paint, but he will struggle against strong, taller offensive players. I don't think he knows how to use his body yet like Pekovic to grab rebounds, but his size will help him in boxing opponents out. Offensively, Nurkic is a very good screener and a good post player. He definitely knows how to get deep position inside but becomes a one trick pony once there, as he lacks enough post moves to be a threat, particularly against more athletic bigs. His only move is one or two dribbles to the middle, push off with the off arm and use that space to shoot the ball. He lacks athleticism, can't jump over a phone book, something that will make his life harder, but he has great length and with some work I believe he can become more explosive player. There are also many questions about the mental aspect. I personally like his confident attitude, but sometimes he crosses the line instigating fans and opponents. His energy is a little bit similar to Joakim Noah, with a style that can be described as "drunken passion". Is he a guy that can handle a first round contract at 19 years old? A legitimate question, and some scouts mentioned not being comfortable with giving him a guaranteed contract and would feel more comfortable selecting him in the 2nd round. I think if he handles moving to the NBA in a mature way he is a double double guy for many years with starting center potential, if not we he will have a much lower ceiling.
Vasilje Micic, 6'5 PG, (Serbia) 1994, Mega Vizura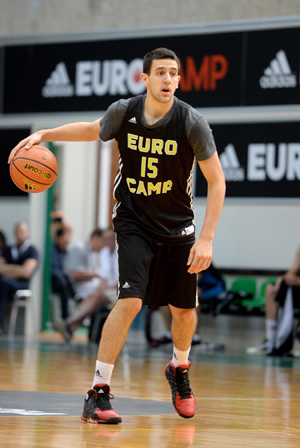 I have a soft spot for this kid since last year's Eurocamp when coming back from an injury he impressed all the NBA Scouts with spectacular but at the same time very solid passes. The eyes of the GMs this year were all on him and he knew it. The first day he struggled , trying to please too many eyes and ultimately disappointing himself. He played much better in the following days, showing off his superior skill level and reading of the game with great passes at the right time and making open shots. The baseline left handed pass (he is right handed) he did the first day on for a 3pts was probably the highlight of his camp. A lot has been said about him, but his understanding of the game and ability to see things ahead of time is absolutely off the charts. In a way, this type of environment almost isn't fair for a player like him, because he needs teammates who are on the same page with him to show his best. One of the red flags with him was with his shot and despite the form not being exactly great and the release being a little slow, he made open shots and a couple of nice pull-ups during the weekend. Perhaps the most impressive thing about him is how much preparation and attention to detail he put into the game. He spends hours to prepare for all his opponents to know all their moves because he knows his lack of athleticism must be overcome somehow. He has the mind of a 40 year old in the body of a 20 year old, very mature, very focused. My big fear for him is that he would get too frustrated with his teammates, losing focus when they are not able to keep up with him mentally. Like Lithuanian great Sarunas Jasikevicius, he is always speaking and telling people what they have to do and where to go and similarly he gets really frustrated when his teammates do things the wrong way. Micic started struggle on day 1 after he made a great back door bounce pass that his big couldn't catch. After that he was frustrated, showed fatigue and couldn't recover, making one mistake after another. I love his floor general attitude and he is right a lot of times, but in the NBA at least initially he will have to accept playing with teammates with a lower IQ to be successful and gain control. The other issues are his quickness and stamina, I don't think he necessarily can't guard anybody (I mean who can guard Westbrook) but he needs a team where he can hide defensively a little bit, and offensively play at his rhythm, fast or slow depending on how he feels. I believe he can be a successful player in the NBA but he needs to play at higher level in Europe before going, and needs really to be in great shape and land in the right team to really show his quality. If he gets taken to be a second point guard that plays 5 minutes with a bunch of athletes that run up and down without a real system, he probably will fall flat on his face.
Dragan Bender 6'11', PF (Croatia) 1997 Maccabi Tel-Aviv
Bender was one of the most anticipated players in the camp, being much younger then the rest at 17 years of age, and probably second for intrigue after Micic. Being the youngest kid in Treviso there was the risk he could get a little overwhelmed by the physicality of more experienced bigs. After struggling some the first day where he was trying way too hard to showcase his skills, (I don't know why every 7'0 nowadays tries to show that they can dibble and shoot like Kevin Durant) ending up with two airballs from 3 pt. He had much better games on Sunday and Monday, leaving a positive impression on the NBA scouts. As a 7 footer there aren't a lot players than can move like him, he can run the floor and can naturally bend his knees which allows him to pick up smaller defenders switching on screens and being terrific on P&R situations. He has great instinct for rebounding on offense and defensively where he is quick in transferring the rebound in transition. He reminds a little of Ante Tomic physically but right now he doesn't have nearly the post moves that Ante does. He can play Center or PF depending on how he develops and can make shots from 3 point range while in rhythm when his feet are set. Also has no problem putting the ball on the floor and attacking the basket in swing situations. He has a great feel for the game as well, he understands spacing and ball movement, my feeling with him is that he plays much better with good players where he doesn't have to be the star but can do his game waiting that the game will come to him. Very nice guy on and off the court, it would be a positive to start seeing more aggressiveness from him, though he is showing good signs. He certainly needs to start working on his body development; filling out his huge frame is a priority, like it is to become a more explosive player to take full advantage of his skills and crazy wingspan. He also needs to stop trying to be a SF and embrace the post position with skills that make him unique. He just signed with the Euroleague champions Maccabi Tel Aviv in Israel where he will have the chance to develop and grow up in one of the best franchises in Europe. In two years with a more defined game and body he will have a chance to develop into a nice NBA prospect.
Ojars Silins 6'8'', SF/PF (Latvia) 1993 Reggio Emilia
He was arguably the 2nd best player at Eurocamp and he might have locked down a second round pick with his performances during the 3 days. The young Latvian who plays in Reggio Emilia seems to have completed his transformation into a solid SF. He was relatively unknown to many NBA scouts for a guy who plays steady minutes with very good numbers in one of the best Italian teams in the first division. That and the low level in general of the camp helped him stand out even more. He was a stretch 4 for Latvia during the last U20 Championships in Riga and here he showed how solid his game has become. I barely recall any mistakes or turnovers that he made. He plays under control, with a strong understanding of what his role and position are and hit all the wide-open 3s that he got. He's still unable to create his own shot, but he really does a good job of getting open. He is also really good in attacking long close outs and using his strong body to protect himself for pull ups. He is not a bad finisher at the European level but he will probably struggle to finish at the rim in the NBA. However there is an opportunity for him to be helpful offensively because he can help space the floor and also handle contact. He also could be a tactical weapon as a stretch 4. His major flaw is his lack of quickness, if he had better feet he could be a SF kind of player but he will struggle against NBA SFs. I think he definitely impressed a lot of scouts, as many teams interviewed him. He's not an NBA player right now, but along with Dangubic he's one of the few players who used this camp to impress, giving himself a real chance of getting drafted.
Mouhammadou Jaiteh 6'10, C (France) 1994 Nanterre
There was actually some hope in Jaiteh after the first day when he dominate against Team USA, who was devoid of big guys and rim protectors. He certainly looks in much better shape and can be a really good player at the European level. He has a great body, undersized center but good enough hands to play in the league. His upside however is really limited, and mainly because he just isn't athletic enough. He takes him over an hour to load up and explode to the basket on drop offs. he doesn't have any post moves either and was killed by the other bigs in taking position inside. With his athletic deficiencies, he need to become a much more skilled player. Even defensively he will struggle on any P&R situation , he is not quick enough to contain quick PGs and definitely is not a rim protector. Somebody could end up taking him late in the second round over the next two years, but it's difficult to see him contributing in the NBA.
Cristiano Felicio 6'9, PF/C (Brazil) 1992 Flamengo
Felicio was kind of the surprise of the Camp; the Brazilian was an anvil to move in the block. Ask Thon Maker and Jaiteh about him. He is not super skilled and doesn't have any great post moves, but occupies a lot of space and is very quick off the ground to finish around the rim. He could be a dark horse of the draft, as scouts certainly took notice of him. He made a couple of 3s showing impressive touch, though he needs a lot of time and space to get his shot up. You feel his screens and though it's questionable whether he will ever be in shape to play more than 4 consecutive NBA minutes, he can certainly be used in special situation to screen and maybe open him up for a shot. Felicio can use his body very well and does his work early pushing his opponent outside of their comfort zone defensively. If he was a little taller he would be a no brainer, but at 6'9, maybe 6'10, centers may shoot over him to easily to be an NBA player, but he has a chance to be drafted.
Nemanja Dangubic 6'7'', SG (Serbia) 1993, Mega Vizura
The MVP of the 2014 Eurocamp. For the 2 and a half days in which he dressed, he played out of his mind. We already knew about his athletic abilities, excellent by European standards, but when he shoots like he did in Treviso he is really a pleasure to watch. I personally think he will be a 2nd round pick. He doesn't have experience at a high level in Europe, something he really needs, but he has upside and this year played very well when Micic was out, switching over to play PG for Mega Vizura. He is very good going to the basket and finishing at the rim, though his best game was vs. the much younger players of Team USA. He needs to work a lot on his jumper because he will definitely need to add that to his game to be successful, but has shown a lot of progress from last year's Eurocamp and I believe that playing at a higher level will make him a much better player in reading situations limiting his TO. He is another player that doesn't show great confidence in creating his own shot but being 6'7 and very athletic he can certainly be very good in transition, a solid defender and use his ability of moving without the ball to impact games.
Honorable Mention
Timothe Luwawu 6'6'', SF/SG (France) 1995 Antibes – The best prospect for the France U-20 team this year. The last day he showed all his abilities making 3 point shots and using his underrated athleticism for a spectacular missed dunk on a baseline drive. He has a huge wingspan and a lot of potential, but like many French players, he needs to be more solid and consistent…and hit the weight room.
Yannis Morin 6'10'', PF (France) 1993 Cholet – Athletic and long enough, should do more during games. He needs to work on his strength a lot but he has underrated skills and feeling for the game. Started very well, but did not finish as strong over the last couple days.
Marcus Eriksson 6'7'', SG (Sweden) 1993 Barcelona – A great shooter and he did play really well but I don't think his game translates at all to the NBA. He is a great European shooter, needs his feet set and space. He cannot shoot quickly enough off screens, and his footwork isn't great. He is quick defensively but very skinny, and weak physically and struggles to finish because he plays under the rim. Eriksson has decided to pull his name out of the draft.
Lucas Mariano 6'10'', PF/C (Brazil) 1993 Franca – He was much better than last year. He can shoot it and feels confident in that part of the game. Does have the size to play in the NBA but lacks basketball IQ and quickness to play at that level. Nevertheless somebody could like him as a tactical player, Matt Bonner style.

adidas Eurocamp: Top USA Prospects
Eurocamp Alphabetized Roster
Awudu Abass 1993 PF 196 cm – 6'5" ITA Cantù
Victor Arteaga 1992 C 212cm – 7'0" SPA Murcia
Dragan Bender 1997 SF 205 cm – 6'9" CRO Maccabi
Eleftherios Bochoridis 1994 SG 193 cm – 6'4" GRE Aris
Berkay Candan 1993 SF 205 cm – 6'9" TUR Fenerbahce Ulker
Nemanja Dangubic 1993 SF 204 cm – 6'9" SRB Mega Vizura
Amedeo Della Valle 1993 SG 192 cm – 6'4" ITA Ohio State/Reggio Emilia
Moussa Diagne 1994 C 210cm – 6'11" SEN Fuenlabrada
Safak Edge 1992 PG 188cm – 6'2" TUR Banvit
Marcus Erikkson 1993 SG 200 cm – 6'7" SWE Regal Barcelona
Moustapha Fall 1992 C 218cm – 7'2" FRA Poitiers
Cristiano Felicio 1992 PF/C 206 cm – 6'9" BRA Flamengo
Jaime Fernandez 1993 PG/SG 186 cm – 6'1" SPA Estudiantes Madrid
Rafael Freire 1992 PG 188 cm – 6'2" BRA Obradorio
Viktor Gaddefors 1992 SF 201cm – 6'7" SWE Virtus Bologna
Rokas Giedraitis 1992 SF 198 cm – 6'6" LTU BC Siauliai
Niels Giffey 1991 SF 201cm – 6'7" GER Connecticut
Marius Grigonis 1994 SF 198 cm – 6'6" LTU Zalgiris Kaunas
Ilja Gromovs 1994 C 207 cm – 6'10" LAT Jurmala
Ludvig Hakanson 1996 PG 190cm – 6'3" SWE Regal Barcelona
Hugo Invernizzi 1993 SF 198 cm – 6'6" FRA Le Havre
Dmitry Kulagin 1992 SG 197 cm – 6'6" RUS Triumph
Mikhail Kulagin 1994 SG 188 cm – 6'2" RUS Triumph
Louis Labeyrie 1992 PF/C 209cm – 6'10" FRA Paris Levallois
Lucas Mariano 1993 PF/C 207 cm – 6'10" BRA Franca
Paolo Marinelli 1995 PG 191 cm – 6'3" CRO Olimpija Lubljana
Daniel Mayr 1995 C 217 cm – 7'2" GER Jena
Vasilije Micic 1994 PG 196 cm – 6'5" SRB Mega Vizura
Yannis Morin 1993 PF/C 207 cm – 6'10" FRA Cholet
Boubacar Moungoro 1994 SG 196 cm – 6'5" Mali Fuenlabrada
Phillip Neumann 1992 C 210cm – 6'11" GER Artland Dragons
Zoran Nikolic 1996 C 208 cm – 6'10" MNT Joventut Badalona
Ioannis Papapetrou 1994 SF 203cm – 6'8" GRE Olympiakos Piraeus
Klemen Prepelic 1992 PG/SG 191 cm – 6'3" SLO Banvit
Artem Pustovyi 1992 C 216 cm – 7'1" UKR Khimik
Orlando Sanchez 1988 SF 206cm – 6'9" DR St. John's
Ojars Silins 1993 SF/PF 200 cm – 6'7" LAT Reggio Emilia
Ovie Soko 1991 PF 203cm – 6'8" ENG Duquesne
Strahinja Stojacic 1992 SG 197cm – 6'7" SER Mega Vizura
Emir Sulejmanovic 1995 C 204 cm – 6'9" BIH Regal Barcelona
Guillem Vives 1993 PG 192 cm – 6'4" SPA Joventut Badalona
Johannes Voigtmann 1992 C 210cm – 6'11" GER Frankfurt Skyliners
Adin Vrabac 1994 SG 203cm – 6'8" BHI Spars
p>