Over the years, we've all come to expect a certain standard of competition, talent and excitement from the Atlantic Coast Conference. The 2011-2012 season will be no different. Though North Carolina and Duke are on another level compared to their in-conference counterparts, everybody else is pretty much evenly matched and as we all know, upsets are immanent. Intense rivalries, high-level prospects and legendary coaches make up the most intriguing conference in the nation.
North Carolina Tar Heels
2010-2011 Record: 29-8 (14-2)
Postseason Finish: Lost in Elite Eight
The North Carolina Tar Heels will return all five of their starters from a year ago). That's Kendall Marshall, Dexter Strickland, Harrison Barnes, John Henson and Tyler Zeller; a group of freakishly talented players that have already established a strong chemistry with each other. This really doesn't bode well for any other team in the conference, and as of now, North Carolina is the team to beat.
Kendall Marshall was only a freshman last year, but was inserted into the starting line-up mid-way through the season and evolved into one of the best play-makers in the nation. His scoring ability is limited (to say the least), but his awareness and raw passing ability is nothing short of incredible. His backcourt mate is Dexter Strickland, who is a defender primarily, but also uses his athleticism to score points around the basket. Harrison Barnes will somewhat surprisingly be the starting small forward for the Tar Heels. That's not surprising because he isn't talented enough to be a starter on what could be the best team in the nation, rather it's surprising because he could have been a top-3 pick in the NBA draft. His decision to stay in school has had a profound effect on the Tar Heels' chances of winning a championship this year. The 6'8" forward rebounded from a rocky start in the season, to average an impressive 15.7 points per game. Barnes also established himself as a legitimate closer, making huge shots whenever his team needed him to. John Henson will man the power forward position this season. The string-bean of a player lacks much muscle, but is very athletic and has a massive wingspan that appears to be somewhere in the neighborhood of 7'5". His combination of length and athleticism helps him rebound (10.1 RPG) and block shots (3.2 BPG) at a high rate. Rounding out the starting five will be 7'0" Tyler Zeller, a mobile center with a soft shooting touch. Zeller led the team in points last year (15.7 PPG) and should continue to show improvement in his upcoming senior season.
The Tar Heels have arguably the best starting line-up in the country, but the talent doesn't stop there. Leslie McDonald and incoming freshman PJ Hairston will provide shooting off the bench at the backcourt positions. Reggie Bullock is another option off the bench at either wing position, provided he's healthy. But the real prize off the bench is star-recruit James McAdoo. On most other teams, he's a starter and one of the top scoring options on offense. It's almost a shame to see him regulated to a bench role on the Tar Heels, but I'm sure Roy Williams isn't complaining. It's possible we'll see McAdoo play the same kind of reserve-role that Marvin Williams played on UNC's 2004-2005 championship team. The talent and versatility is certainly there.
Right now the Tar Heels are the clear favorites to win the ACC, though it certainly won't be an easy road. I think it will really come down to how the bench players perform, particularly down the stretch of important games. Dexter Strickland and John Henson are good players, but might not be the best options to have on the floor during crunch-time. Teams will also be keying in on Barnes, so I'd bet there'll be a few opportunities for Bullock or Hairston to play the hero. Regardless of how it happens, UNC will be expected to win it all. Anything else would be a disappointment,
Key Departures: Justin Knox, Larry Drew II
Notable Newcomers: James McAdoo, PJ Hairston
Top Returning Players: Harrison Barnes, Kendall Marshall, Tyler Zeller, John Henson, Dexter Strickland, Reggie Bullock, Leslie McDonald
Duke Blue Devils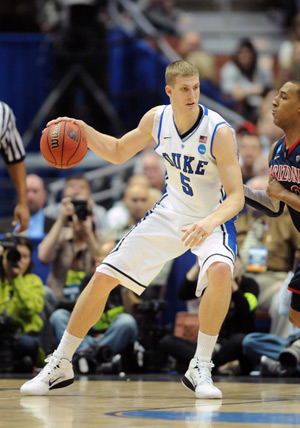 2010-2011 Record: 32-5 (13-3)
Postseason Finish: Lost in Sweet Sixteen
A year removed from a championship run, the Duke Blue Devils disappointed in the 2011 postseason with a sudden deflation in the Sweet Sixteen against Derrick Williams and the Arizona Wildcats. Many fans pointed fingers at Kyrie Irving, claiming he upset the team chemistry and was unable to mesh well with ACC player of the year Nolan Smith. The star guards have both departed for basketball purgatory (the NBA) along with accomplished forward Kyle Singler.
Losing three of the best players in the ACC would be devastating to most teams, but then again, most teams don't have Mike Krzyzewski as their recruiter. Along with returning potential breakout stars in Andre Dawkins, Ryan Kelly, Seth Curry and Mason Plumlee; Duke has a stud recruiting class that includes Austin Rivers, Quinn Cook, Michael Gbinije, Alex Murphy and Marshall Plumlee. These names alone are enough to justify ranking Duke as a top-10 team in the nation — maybe even top-5. Throw in even more depth with established role-players and one of the top coaches in the nation and you have a team that could be in the mix for another championship.
Seth Curry made strides last season, averaging 9.0 points a game and shooting 43.5% from behind the arc. He'll probably be the starting point guard for Coach K, and though he isn't as gifted of a playmaker as Irving, his playing style is less-likely to clash with his teammates (and the Cameron Crazies). Andre Dawkins should also see a spike in production. He's been primarily a shooter in his career thus far, but he's proficient in many facets of scoring and highly efficient in every area (48.1% FG, 42.7% 3PT, 79.1% FT). Austin Rivers should be a dynamic scorer from day one, and will likely join Curry and Dawkins in the starting lineup. It's no secret that Rivers thrives with the ball in his hands, and having unselfish teammates that excel off-the-ball like Curry and Dawkins will really open things up for him. 6'11" forward Ryan Kelly is an excellent shooter that complements 6'10" Mason Plumlee and his athleticism around the basket. There aren't many teams that can boast size and skill down-low like Duke can. They're deep in the post too, with senior Miles Plumlee and freshman Marshall Plumlee playing relief minutes.
Duke is one of the top teams in the nation, let alone the ACC. The question is, are they the best? Size, athleticism, shooting, depth, and defense; they wouldn't have to travel far to find another team with the same kind of qualities…
Key Departures: Nolan Smith, Kyrie Irving, Kyle Singler
Notable Newcomers: Austin Rivers, Quinn Cook, Marshall Plumlee, Alex Murphy, Michael Gbinije
Top Returning Players: Andre Dawkins, Seth Curry, Mason Plumlee, Miles Plumlee, Ryan Kelly, Josh Hairston
class="subheader">Florida State Seminoles
2010-2011 Record: 23-11 (11-5)
Postseason Finish: Lost in Sweet Sixteen
The Florida State Seminoles are coming off their third straight postseason birth. The trio of tournament appearances equals the number of postseasons the Seminoles have seen in the previous 17 years, and most of the credit for that lies with 2009 ACC coach of the year, Leonard Hamilton. Under Hamilton's defensive tutelage, the Seminoles held opponents to the worst field-goal percentage in the country for the second straight year. They also are one of the best rebounding teams in the country, and they collect a gaudy number of blocks and steals. The collective defensive ability of the team is outstanding and that kind of mentality cannot be achieved without a good coach at the top.
The Seminoles are losing their two top players from a year ago in Chris Singleton and Derwin Kitchen. The duo provided size, defense, leadership, experience and were the two leading scorers on the team. This is a big loss as now there is some uncertainty at the point guard position and a lack of established scorers on the roster. Senior point guard Luke Loucks didn't overwhelm anybody with his stats last season (2.9 PPG, 2.2 APG) but he's an option to fill the void Kitchen left behind. Like Kitchen, Loucks is a big point guard that can set his teammates up and play good defense. His main competition at the position will be Arkansas transfer, Jeff Peterson. Peterson is a better scorer and shooter than Loucks, but isn't the same defender, and stands only 6'0", which isn't the kind of size Hamilton likes at the lead guard position. Scoring wise, the team will have to depend on junior Michael Snaer and sophomores Okaro White and Ian Miller for a good deal of their offense production. Miller is an intriguing talent who could be primed for a break out season. There's also established shooter, Deividas Dulkys and the trio of bigs in Bernard James, Xavier Gibson and Jon Kreft that can all provide some points in a specific role.
Florida State has the same strengths and weaknesses that have brought them success over the last three years. Because of that, it wouldn't be wise to not rate them as one of the better teams in the ACC. Just how good they can be will ultimately depend on the production they get from their younger players and their overall team chemistry.
Key Departures: Chris Singleton, Derwin Kitchen
Notable Newcomers: Antwan Space, Terry Whisnant, Jeff Peterson, Kiel Turpin
Top Returning Players: [Player: Michael Snaer, Ian Miller, Okaro White, Bernard James, Xavier Gibson, Deividas Dulkys, Luke Loucks, Jon Kreft, Terrance Shannon
Miami Hurricanes
2010-2011 Record: 21-15 (6-10)
Postseason Finish: Lost in NIT Quarterfinals
Miami finished the season with their fourth 19+ win season in a row, and turned a few heads when they almost beat North Carolina in the quarterfinals of the ACC tournament. Sure, a miss is as good as a mile, but it's noteworthy nonetheless. Despite struggling during conference play, the Hurricanes were very competitive throughout last season and will look to build on that enough for a NCAA tournament bid.
Miami will feature largely the same roster of a year ago. The dynamic backcourt duo of Malcolm Grant and Durand Scott will continue to torment opposing teams. Grant (6'1") will be one of the best shooters in the ACC next season. He averaged an impressive 2.6 made threes a game on 42.3% shooting. Scott (6'3") excels at handling the ball and getting to the free-throw line (4.6 FTA per game). The two are complemented with Reggie Johnson, a 300-pound center with an impressive back-to-the-basket game. Some were predicting a Jordan Williams-type of season for Johnson, but he recently underwent knee surgery and isn't expected to return until at least January. Also injured is 6'9" 258 lbs center Julian Gamble, who might miss the entire season with a torn ACL. Filling the void of the missing bigs will be Kenny Kadji, a 6'11" transfer from Florida. Kadji is not nearly as polished as Johnson or even Gamble, but he'll make a positive impact on the defensive end of the floor with his size alone.
While Miami has the sheer talent to be a great team, there are a few variables that will drastically affect their chances on Selection Sunday. The first will be how Reggie Johnson recovers. There aren't many teams that can adequately defend a player like that. The other variable is senior forward DeQuan Jones. Many people are expecting a break-out season from Jones — who is wildly considered the most athletic player in the conference — but he's shown little improvement in his first three years at Miami (has never averaged more than 5.7 PPG). If he can put a good season together, it will take a lot of pressure off of Grant and Scott and lead to better overall team efficiency. If Johnson and Jones can produce this season (that's a pretty big if) then I like Miami to finish in the upper-half of the ACC standings and possibly on the tournament bubble.
Key Departures: Adrian Thomas
Notable Newcomers: [Players: Bishop Daniels], Kenny Kadji, Trey McKinney-Jones
Top Returning Players: Malcolm Grant, Durand Scott, Reggie Johnson, Garius Adams, DeQuan Jones, Julian Gamble, Rion Brown
Virginia Cavaliers
2010-2011 Record: 16-15 (7-9)
Postseason Finish: None
Losing double-double machine Mike Scott early last season couldn't have felt good for Virginia fans. After all, players that can average 15.9 points and 10.2 rebounds a game aren't exactly common these days. But this may work out in Scott's favor, as he was red-shirted and will begin the 2010-2011 campaign with a promising Virginia squad.
With Scott, the strength of this Virginia team lies in its frontcourt. Seven-footer Assane Sene is the likely starter at the center position. The big senior will protect the rim, rebound within his area and score around the basket. The combined size of Scott and Sene will certainly be intimidating in itself, but add redshirt freshman James Johnson off the bench, and you have talent and depth in the post that will hold its own in the conference. Of course, this isn't to say that the Cavaliers are weak elsewhere. Jontel Evans is a promising point guard that averaged a solid 3.5 assists last season. He'll have a pair of shooters in super-senior Sammy Zeglinski (1.9 3PM on 38.7% shooting) and sophomore Joe Harris (2.1 3PM on 41.7% shooting) as his running mates on the wings. Behind those two are ESPN top-100 recruits (6'5") Malcolm Brogdon and (6'7") Paul Jesperson.
If everyone can stay healthy, there is a lot of promise on this roster. Virginia has a nice combination of youth and experience, as well as the necessary talent to compete in the ACC. The team is deep, with great size and a wealth of shooters. That might just be enough for NCAA tournament consideration at the end of the season.
Key Departures: Mustapha Farrakhan, Will Sherrill
Notable Newcomers: Malcolm Brogdon, Paul Jesperson
Top Returning Players: Mike Scott, Assane Sene, Joe Harris, [Players: KT Harrell], Sammy Zeglinski, Jontel Evans, James Johnson
Virginia Tech Hokies
2010-2011 Record: 22-12 (9-7)
Postseason Finish: Lost in NIT Second Round
The word "tragedy" seems to accurately describe the last three or four seasons for the Hokies. Selection Sunday has been extremely cruel to Seth Greenburg recently, constantly snubbing them from the NCAA tournament, despite having a quality team in a powerhouse conference every season. Seniors Malcolm Delaney and Jeff Allen graduated with an 87-50 record and no taste of the big dance.
Virginia Tech lost their two best players, but it isn't all bad news. Dorenzo Hudson and JT Thompson both managed to red-shirt and will return to the team this season. Erick Green had a great year (11.6 PPG, 2.7 APG) filling in for the injured Hudson, and will get to team-up with him now to form an intimidating backcourt. Victor Davila will make a return to the frontcourt, giving the Hokies a talented defender, rebounder and low-post scorer.
The returning players are nice, but any edge this season will come from the impressive freshmen class. Dorian Finney-Smith has big-time potential at either forward position. If Thompson retains his super-sub status from the 2009-2010 season, Smith could be a starter right off the bat. Shooting guard Robert Brown could be an explosive scorer coming off the bench, and the 6'8" CJ Barksdale might be the starting center by default. Without Jeff Allen, the Hokies lack size in the post, so the freshmen are going to have to come up big for Greenburg if Virginia Tech is aiming for another 20-win season.
Key Departures: Malcolm Delaney, Jeff Allen, Terrell Bell, Manny Atkins
Notable Newcomers: Dorian Finney-Smith, Robert Brown, CJ Barksdale, Marquis Rankin
Top Returning Players: JT Thompson, Erick Green, Victor Davila, Dorenzo Hudson
Clemson Tigers
2010-2011 Record: 22-12 (9-7)
Postseason Finish: Lost in NCAA Second Round
It didn't take long for Brad Brownell to make a positive impression on the ACC. The first-year head coach led the Clemson Tigers to a 9-7 record in conference play and a fourth consecutive NCAA tournament birth. Seniors Demontez Stitt and Jerai Grant led the overachieving team on both ends of the court to finish their collegiate careers on a positive note. While the duo's departure will be missed this upcoming season, there remains a talented and experienced team that has the chance to win another 20 games or so.
Stitt will be replaced as the primary ball-handler by the 5'9" Andre Young, who is also the top returning scorer on the team (11.1 PPG). Young provides a strong perimeter shooting threat, averaging 2.4 three-pointers made on an impressive 39.6%. Joining him in the backcourt will be versatile two-guard Tanner Smith, who can do a bit of everything, but is at his best in transition opportunities. Jerai Grant will be hard to replace (especially on the defensive end of the court) but Devin Booker and Milton Jennings are two active bigs that should see spikes in production next season.
Joining the returning players will be a solid freshmen class that includes forwards KJ McDaniels and Bernard Sullivan. These two players will likely play consistent minutes and could very well be the X-factors the team needs to compete in a very tough conference. The Tigers will be a well-coached, defensive-minded, highly-athletic team. That alone should place them in the middle of the conference standings. Whether they can climb into another NCAA tournament birth or not depends on what contributions their younger players can make.
Key Departures: Jerai Grant, Demontez Stitt
Notable Newcomers: Bernard Sullivan, KJ McDaniels, Daniel Sapp, Devin Coleman
Top Returning Players: Andre Young, Devin Booker, Tanner Smith, Milton Jennings
Georgia Tech Yellow Jackets
2010-2011 Record: 13-18 (5-11)
Postseason Finish: None
It wasn't a pretty season for the Yellow Jackets. Their play on the court failed to match the talent they had on paper. Iman Shumpert put up remarkable numbers that didn't seem to translate to wins. Fans became frustrated with the players, the coach and the program as a whole.
If you're familiar with the term "addition by subtraction" then feel free to use it when discussing Georgia Tech's upcoming season. The two most familiar Yellow Jacket names were Iman Shumpert and Paul Hewitt, and both the faux point guard and the freakishly overpaid head coach will not be with the team next season. As far as the finger-pointing critics of the team are concerned, this is very good news. It's also good for recently hired coach Brian Gregory, who saw a lot of success with the Dayton Flyers, including an NIT championship in 2010. He'll look to utilize the talented and deep roster better than Hewitt could. Shumpert was talented too, but he wasn't a pure point guard that could make his teammates better. Mfon Udofia projects to handle the position better, and could be poised for a breakout season. His backcourt mate, Glen Rice Jr, is also primed for a big year. He's a much better shooter than his stats last season indicated (only a 30.2% shooter in 2010-2011, down from 46.7% in 2009-2010) and is potentially the go-to scorer this year. Shot-blocking big-man Daniel Miller appears to have the center position locked up and returning wing Jason Morris won't be a stranger to minutes either. Incoming freshman Julian Royal is skilled enough to compete for a starting spot out of training camp and Arkansas State transfer Brandon Reed averaged more than 15 points a game in his freshman season, adding to the depth and scoring options for Gregory.
The retooling of the team was costly (Hewitt was bought out for $7.2 million), but absolutely necessary. What's left is a team with potential and a promising coach. I don't consider the Yellow Jackets much of a threat as of now, but if Udofia can handle the point guard position and one of their bigs becomes a good scoring threat, they might just sneak up on some teams.
Key Departures: Iman Shumpert, Maurice Miller, Brian Oliver
Notable Newcomers: Julian Royal, Brandon Reed
Top Returning Players: Glen Rice Jr, Mfon Udofia, Daniel Miller, Jason Morris, Kammeon Holsey, Nate Hicks
Maryland Terrapins
2010-2011 Record: 19-14 (7-9)
Postseason Finish: None
Despite an offense that ran through one of the best big men in the country in Jordan Williams and plenty of experience surrounding him, the Terrapins lost every ranked opponent they played over the course of the season and ended up falling into the mediocre area of the ACC standings. The season was capped with a failing to make the postseason for the first time in nineteen years and the announced retirement of legendary head coach Gary Williams — and unlike Hewitt's situation, this isn't generally considered progress.
Enter Mark Turgeon, who will have his work cut out for him as Gary's replacement. The aforementioned Jordan Williams decided to leave for the NBA, which used to be this league where all the best players were– but anyway, he's gone and now there aren't a lot of sure-things in the post. Turgeon could opt to start Berend Weijs at center, who is long at 6'10" but only managed five minutes a game last season. The next tallest player on the roster is redshirt freshman Ashton Pankey. He provides activity and athleticism, but like Weijs, he lacks experience.
If none of the bigs break out, Maryland would be best suited going with a smaller lineup. Terrell Stoglin (listed at 6'1") is an explosive scorer from the point guard position. He averaged 11.4 points per game last season as a freshman, and this year you can expect a significant jump in that particular statistic. Joining him will be a pair of talented returning guards in Pe'Shon Howard (6'3") and Sean Mosley (6'4"), and an exciting freshman wing in Nick Fraust (6'6"). The talent is in this group of players, but they'll need help in the post if they want to win in conference play.
Key Departures: Jordan Williams, Dino Gregory, Adrian Bowie, Cliff Tucker
Notable Newcomers: Nick Fraust
Top Returning Players: Terrell Stoglin, [Players: Sean Mosley], Pe'Shon Howard, Mychal Parker, James Padgett
North Carolina State Wolfpack
2010-2011 Record: 15-16 (5-11)
Postseason Finish: None
Sidney Lowe wasn't a horrible coach, but he also didn't seem to do the Wolfpack a whole lot of favors. During his five year tenure with the team, he only managed an ACC record of 25-75 and never finished higher than 9th in the conference standings. Lowe was replaced by the 47-year-old Mark Gottfried, who thought it would be a good idea to celebrate by skydiving into Carter Finley Stadium during halftime of a NC State football game (this was eventually cancelled). Skydive or no, a change was needed and we'll see if Gottfried can make a positive difference.
However, change always seems to lead to more change. Shortly after the firing of Lowe, the Wolfpack lost their point guard of the future, Ryan Harrow. Harrow was supposedly frustrated with a Wolfpack fan-base that was a bit more critical than he preferred. Gottfried now has the problem of coaching a team with no real point guard on the roster. Lorenzo Brown led the team in assists last year (3.7 APG) and figures to slide into a point guard role this season, though how comfortable he'll be as the primary ball-handler remains to be seen. CJ Leslie is the top-returning scorer (11.0 PPG) and rebounder (7.2 RPG) from a year ago and has break-out potential if he stops trying to be the perimeter player he is not.
I don't expect a strong season from the Wolfpack. There is simply too much disorganization on the roster. There's a new coach, no real point guard and a lack of established scorers playing in a tough conference. Mark Gottfried has his work cut out for him.
Key Departures: Tracy Smith, Ryan Harrow, Javier Gonzalez
Notable Newcomers: Tyler Harris, Alex Johnson
Top Returning Players: CJ Leslie, Scott Wood, Lorenzo Brown, Richard Howell, CJ Williams, DeShawn Painter
Boston College Eagles
2010-2011 Record: 21-13 (9-7)
Postseason Finish: Lost in NIT Second Round
The Eagles lost a blistering eight seniors from a year ago. As if that wasn't a big enough blow, they also lost their top scorer in Reggie Jackson to the NBA. Obviously, there's a lot of uncertainty about how a freshmen-heavy roster like this will follow a fairly successful season. In 2010-2011, Boston College had the experience and firepower to achieve a plus .500 record in the ACC, but failed to beat any of the top four ACC teams (0-6 record against North Carolina, Duke, Florida State and Clemson) and therefore just missed the NCAA tournament. The Eagles were a top seed in the NIT, but lost in the second round to Northwestern. All things considered, it was a solid year for a team that in the preseason was expected by most to finish near the bottom of the standings without any playoff consideration at all.
Like last season, the outlook for the Eagles isn't very positive. Unlike last season, however, there is a minimal level of experience on the team's roster. The only two returning upperclassmen on the roster combined to average a whopping 2.9 points per game last season. Outside of them, the only other two players with ACC experience are sophomores Danny Rubin and Gabe Moton. Along with those two, transfers Matt Humphrey (from Oregon) and Deirunas Visockas (LaFayette) figure to factor into the rotation. There are the only six players on the team who are not freshmen. They'll mix into a staggering nine noobs who will make up the majority of BC's starting lineup and playing rotation.
There are plenty of reasons to be excited if you're an Eagles fan. Success this season shouldn't be one of them. I'll stop short of comparing them to the disaster that was the Wake Forest 2010-2011 season, but am quite confident they'll finish in the bottom two or three. Regardless, there will be plenty of inter-roster competition as all the young players fight for minutes and starting spots, which figures to pay off in another season or two.
Key Departures: Reggie Jackson, Joe Trapani, Corey Raji, Biko Paris, John Cahill, Josh Southern
Notable Newcomers: Ryan Anderson, Kyle Caudill, Jordan Daniels, Lonnie Jackson, Dennis Clifford, Eddie Odio, Matt Humphrey, Deirunas Visockas
Top Returning Players: Danny Rubin, Gabe Moton
Wake Forest Demon Deacons
2010-2011 Record: 8-24 (1-15)
Postseason Finish: None
Ouch. The Demon Deacons were the worst team in the ACC last season and somehow have appeared to regress from that. They ended up losing Melvin Tabb (dismissed after theft charges), Ari Stewart (decided to transfer to USC), explosive scorer JT Terrell (after he was charged with driving under the influence) and one of the top shooters in the nation in Gary Clark (graduated). Even Ty Walker has been suspended and is not eligible to play until December 10th.
On a more positive spin, these were all players with either academic or behavioral issues, and even with their collective talent, the Deacons weren't winning games. Coach Jeff Bzdelik seems rather committed to discipline, which if nothing else, is a moral accomplishment for the program. Good for you guys.
There's also Travis McKie, who as only a freshman was the top scorer and rebounder on his team (13.0 PPG, 7.7 RPG). He's a hard-nosed player with great overall athleticism and a knack for finishing around the rim and in transition. Guard CJ Harris is also returning (10.3 PPG), along with 7'0" center Ty Walker (2.5 BPG). There aren't any highly-regarded recruits coming in, so any morsel of success this season will lie with these three players, along with the possible development of sophomore center Carson Desrosiers.
Key Departures: Gary Clark, JT Terrell, Melvin Tabb, Ari Stewart
Notable Newcomers: N/A
Top Returning Players: CJ Harris, Travis McKie, Ty Walker, Carson Desrosiers, Nikita Mescheriakov, Tony Chennault
Top ACC Prospects:
1. Harrison Barnes, G/F, North Carolina – Barnes is already complete player at the wing position and has the potential to get a lot better. Last season he showed off his offensive repertoire, looking comfortable in spot-up situations but also showing the ability to create his own shot on the perimeter. Barnes is a pure (albeit inconsistent) shooter, and is at his best when the game is on the line. He connected on multiple game-winners and was the catalyst in several comeback victories for the Tar Heels. He's a willing defender/rebounder and has a very high basketball IQ. Apparently, Barnes has committed this last summer to improving his ball-handling, which will do wonders for his draft-stock. In all likelihood, Barnes is a top-3 pick, with the potential to go first overall.
2. James McAdoo, F, North Carolina – McAdoo is a gifted combo-forward that can play well inside or out. He stands 6'8.5" with a long wingspan and good enough strength to guard post players, with the foot-speed and athleticism to stay in from of players on the perimeter. Offensively he has a strong understanding of scoring on the block with a soft tough out to 15-18 feet. McAdoo is also a strong rebounder, particularly on the offensive glass, where he often creates more possessions for his team. He'll be regulated to a reserve-role this year, but his kind of talent can't be hidden. McAdoo is along the lines of a Derrick Williams, only with even more upside. The intangibles and basketball IQ that McAdoo possesses make him a possible top-5 pick whenever he comes out.
3. Austin Rivers, G, Duke – Austin Rivers dominated high school competition with his ridiculous ball-handling and shooting abilities. Though he's not the best athlete, Rivers can get past anybody using a series of deceptive hesitation moves and devastating crossovers. If the defender opts to play back on Rivers to keep him out of the lane, he's got range out to 25 feet or so. Despite his vast skill-set, he's not a true point guard. He'll have to prove that he can make his teammates better (the way Stephen Curry did) before he gets serious consideration as a top-5 pick.
4. John Henson, F, North Carolina – Henson is one of those "hate him or love him" prospects. He has a ton of appeal because of his remarkable length, athleticism and overall mobility. His instincts as a shot-blocker/rebounder are very strong, and his basketball IQ is above-average. On the other hand, Henson is about as skinny as they come. He's managed to put on a little weight during past summers, but it doesn't appear to stay on over the course of a full season. His offensive ability is sketchy to say the least, and his free-throw shooting is atrocious (though this did improve over the course of last season). If he comes out this year, I'd be willing to bet that at least one team in the lottery falls in love with his potential enough to draft the kid.
5. Kendall Marshall, G, North Carolina – There isn't much question about who is going to lead the ACC in assists this season. Kendall Marshall has a remarkable ability to set his teammates up for easy opportunities. His passing ability is off-the-charts, always threading needles or effortlessly throwing beautiful outlet passes to create fast-break opportunities that a normal person wouldn't even notice. What Marshall lacks is scoring ability, finishing the season with as many points (230) as assists (230). This isn't necessarily a bad thing for the Tar Heels, but he'll need to put some points on the board to warrant lottery consideration when he declares.