With a record 34-point loss by last year's World Team, this year's group comes in with their eyes on redemption against another strong USA squad. There are an unprecedented five Canadian players this year, who have been part of the early standouts in practice. This roster also features a number of potential eligible draftees, whose size and length at their position really stands out. The unfortunate injury of Australian Angus Glover led to the last minute addition of Canadian player, Luguentz Dort. It has been a competitive few days of practice with a number of players standing out at different times. Here is a breakdown of what the players have done and what to possibly expect from them tonight and moving forward.
RJ Barrett Canada 2000 (6-6.5 (height in shoes), 193, 6-10 wingspan, 8-6.5 standing reach)
Sitting out the initial Sunday practice after a three game in three-day national runner-up at Dick's National high school tournament with Montverde, Barrett immediately stood out once he took the floor with this team. His strength was noticeable, as he was able to overpower the older wings even at 16. His lefty jumper is not overly consistent, and his release is a tad low (and unorthodox), though he was still able to hit a few three-pointers in scrimmages.
What he does best at this point is get to the basket and more specifically, the foul line. He is difficult to keep out of the paint, with the handle and ability to get there often. With an alpha-dog mentality, RJ proved to be far and away the best prospect on the World team, not to mention one of the more consistent performers when they went head-to-head. He might have tried a bit too hard to show his vision at times and might not have been aggressive enough, if anything. Ultimately, he does possess great confidence and ability, with a very bright future ahead of him.
Shai Gilgeous-Alexander 1998 (6'6, 175, 6-10.5 wingspan, 8-6 standing reach)
In terms of leadership and communication, Gilgeous-Alexander really decided to take the reins. He was a primary ball handler for whatever team he was on in scrimmages and while his decision making could use some work, he was able to make some reads that set up his teammates in scoring position. Shai's footwork on his shot could at times lead to his being off balance, but he shot quite well in drills and should be at least be a threat off of the catch. With good size for a two-guard, he displays some ability at the point and was engaged on defense, even though he was not very aggressive looking for his shot. He showed a lot of potential with his size and ball skills that should be on display early at Kentucky.
Isaiah Hartenstein 1998 (7-1.25, 250, 7-2.25 wingspan, 9-1 standing reach)
As a large power forward, Hartenstein's passing and rebounding were on display in scrimmages, as he reads the floor pretty well. He was the strongest player on the floor and still showed a finesse aspect to his game. While he is a bit heavy footed, he still finishes at the rim with power when given a head of steam. His shot is still somewhat of a concern, as the thumb of his guide hand puts a sideways spin on the ball, which leads to inconsistency. One might have expected Hartenstein to be a bit more assertive, as he was clearly ahead of the other big men skill wise. It seemed like his draft stock was probably not overly affected, though there were reasons for apprehension about how he translates as an athlete and in terms of being able to stretch the floor.
Nick Richards 1997 (6-11.75, 239, 7-3.75 wingspan, 9-0.5 standing reach)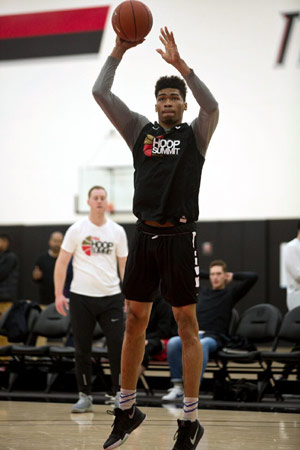 No one consistently put his imprint on the scrimmages more than the center commit for Kentucky, who also measured with the highest standing vertical at 30". Richards can finish lobs, got in on some cuts and showed some ability as a rim protector. He seems to be a bit slow at reacting when he gets the ball and has trouble reading the floor, but he really had his way against these other big men. He has a strong frame and showed a nice touch on his short-mid range shot. His footwork and skill level are still a bit behind the eight ball at this point in time, though he has some great physical and athletic tools to work with once he gets to campus.
Lindell Wigginton 1998 (6-2.25, 186, 6-3.5 wingspan, 8-1 standing reach)
Toughness and burst were on display for Wigginton, who had some shining moments in the scrimmages. He had some finishes at the hoop, at one point getting one off of an impressive offensive rebound. Still much more of a scorer than a true facilitator, he was the most consistent guard in terms of scoring when the team went head-to-head. Iowa State lost their long-term point guard and Wigginton expects to step in to replace him from day one. With what he showed here, he will bring a level of intensity, effort on defense and a workable jump shot. He is still a smaller guard and ultimately may be at his best off of the ball, though he showed lead guard ability that should be crucial for this team during the Hoop Summit game.
Borisa Simanic 1998 (6-11.75, 203, 7-0.5 wingspan, 9-0.5 standing reach)
Simanic showed great agility and athleticism for his size, plus showed ability to shoot off the catch and on the move. He gets off the floor pretty well, was able to score some off of cuts to the hoop and was the most consistent shooter in drill work. He had one of the nicer plays at World practice with a beautiful one-hand alley-oop in transition from Lindell Wigginton. Once he was defended, he had a difficult time, as he was not reliable in scrimmages and would at times drift. While he should be able to add weight, his lack of strength at this point was also evident. If he can figure out how to work off of the ball and get in the correct mindset when the game is on, his shooting seems to be a translatable skill. It does seem that he was not incredibly comfortable and questions regarding how he fits into a team are apparent.
Nickeil Alexander-Walker 1998 (6-5.5 (height in shoes), 191, 6-9 wingspan, 8-5 standing reach)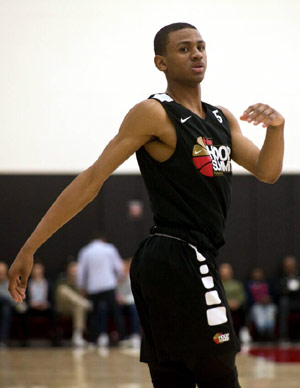 Putting on some positive weight since the last time we saw him at Nations, Alexander-Walker has a smooth shot and is about as close to ambidextrous as one will see a prospect at this stage. The ability to finish with either hand and use his agility to finish in tight spaces was both on display. He was one of the most consistent contributors during scrimmages and while his shot was not falling at his normal rate, he has a really smooth release and should be a killer from the corners for Virginia Tech. While he is not an explosive athlete, he has good change of speed and footwork, playing under control and can definitely be described as smooth. He is confident in his ability and showed a strong work ethic, both of which should help him make a quick adjustment to the college game.
Felipe dos Anjos 1998 (7-3, 251, 7-4.75 wingspan, 9-6.5 standing reach)
He is an absolute giant of a human being and seems to have some touch around the rim, with some ability to move pretty well for his size. Those close to him in Spain have noted his improvement in his shooting and overall ability to read the game. Even so, his reaction time is slow and he has difficulty moving laterally. He does not get much lift off the floor, so was not a huge threat on lobs and his lack of side-to-side movement also led to issues with his rim protection. His size and effort were notable, but he is still very raw and the speed of the game still seems like it overwhelms him.
Kostja Mushidi 1998 (6-5, 226, 7-0.5 wingspan, 8-7.5 standing reach)
His length does stand out, and he has a very strong frame as well. He was able to use these things particularly on defense, as he had some decent lateral quickness and did display effort. His shot was quite inconsistent, and while he did make a few threes in scrimmage, his professional shooting percentage (30.9% with Mega Leks) still leaves a lot of apprehension about his ability as a "3-and-D" wing. To exacerbate his lack of long-range acumen, he was not the most aware off of the ball and had trouble getting places with the ball in his hands. His physical tools were there and he seemed engaged in the process of improving his game, but it should be pointed out that he needs a lot of work and it is still an uncertainty what he brings to the table as a wing. If he works on his ball skills in tight areas and tightening up his body, there could be something to him down the road.
Ikey Obiagu 1998 (7-1.25, 241, 7-5.25 wingspan, 9-4.5 standing reach)
The future big man for Florida State is a defensive presence, as he blocked shots at a very high rate and was someone you had to account for around the basket. Besides shot blocking and rebounding, however, he really struggles, particularly on offense. His shot release was high, but it was slow and very much inconsistent. His reaction time in terms of catching the ball in the post was also troubling, as he seemed to go through the process and waste valuable seconds that had the defense catch up with him. He may be able to finish lobs and the occasional put back, but he seems to be way behind in terms of becoming a competent low-post scorer. The rim protection and rebounding are both calling cards of FSU big men, and Ikey was a really good kid who should work hard to improve.
Tadas Sedekerskis 1998 (6-9.75, 211, 6-9 wingspan, 8-10 standing reach)
Sedekerskis had a few flashes, as he made the occasional cut, even with one sequence where he put the ball behind his back and finished at the rim. He has some ball skills, his shot does not look bad and he can make a few simple reads. However, he really seemed to struggle with his court sense, had a tough time on defense and his lack of athleticism was apparent. He does not seem to have the lateral quickness to defend the wing and it not long or strong enough to play up a position. He has had some success at youth levels and can do a bit of everything, but nothing at a particularly high level. It was not the best week for him here and he will really need to work on his explosiveness for a chance to play at the highest level.
Follow Michael on Twitter @NBADraftMikeyV. For any comments or questions feel free to e-mail him at [email protected]