Stock Up
Zach Collins 6-11 250 C Gonzaga Fr.
Collins really opened some eyes showing why a lot of scouts have him pegged as a lottery pick for this year's draft. His play in place of injured Przemek Karnowski, who got poked in the eye, was outstanding. Against South Carolina, Collins had arguably his best game of the season, showing that he has a lot of room left to develop. He went for 14 points, 13 boards, and 6 blocks, dominating the South Carolina front line. His confidence seems to be growing with every game and he certainly did not seem phased by the magnitude of the stage. In the final against North Carolina, the Zags really could have used their stud freshman on the floor more but the refs were calling the game especially close and Collins was the victim of some questionable calls. Despite getting into foul trouble and playing just 14 minutes, Collins flashed his excellent post footwork and scoring ability as well as his top notch shot blocking ability. He finished the game with 9 points, 7 boards and 3 blocks and left people wondering what could have been had he stayed out of early foul trouble. The freshman bigman who came into the season without much hype is considered likely to enter the draft and a probable late lottery pick for the 2017 draft.
Jordan Bell 6-8 225 PF Oregon Sr.
Despite not coming up with a key rebound in the final minutes, Bell was Oregon's rock in the middle bringing amazing energy and passion on every play. He was visibly emotional after the loss, blaming himself for not being able to come up with the rebound, and feeling responsible for the loss. But the truth is this team wasn't even supposed to get to the Final Four without one of their top players, Chris Boucher. And without Bell, they wouldn't have gotten nearly as far. The junior beast on the paint went for 13 points and 16 rebounds in likely his final game, against North Carolina. He is a likely early second rounder, with an outside shot to crack the late first round.
Justin Jackson 6-8 210 SF North Carolina Jr.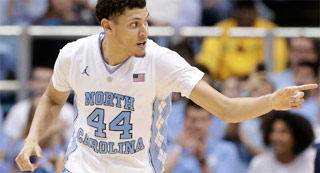 Jackson had a solid NCAA tourney, helping UNC to their "redemption title" in Arizona. He is a very good college 3 point shooter, and proved that once again with 22 points hitting 4-9 from deep against Oregon on Saturday. He really struggled from the floor however in the title game, connecting on just 6-19 overall and a miserable 0-9 from 3. Those statistics would have stung a lot worse had North Carolina lost the final, but considering his play against Oregon and in the rest of the tournament, he is in the "Stock Up" category, though just barely. He still has a lot of work to do to convince scouts that he's a legitimate first round worthy prospect, but his shot showed a lot of improvement this year, and he showed the ability to play fairly well on the biggest stage in six games of the tournament, totaling 118 points in six games, going 15-45 (33%) from 3, and 41-94 (43.6%) from the floor.
Kennedy Meeks 6-9 250 C North Carolina Sr.
Meeks was a man on a mission in Glendale over Final Four weekend, proving to be North Carolina's most valuable post player. He led all scorers with 25 points on 11-13 FG, including a team high 8 rebounds against Oregon on Saturday. He played a near perfect game, exploiting Oregon's front court with his bulk, length and high skill level. Against Gonzaga he went for just 7 and 10 but came up big when it mattered most. He had one of the most memorable plays of the tournament, getting the key block on Williams-Goss in the final seconds to seal title game. While Meeks is seen as a likely European or D-League player, due to his lack of quickness, he's certainly created a lot more interest after his terrific tournament. He may lack speed and explosiveness, but his body control, rebounding and strength, not to mention scoring ability give him intrigue as an undersized center.
Stock Down
Nigel William Goss 6-3 190 PG Gonzaga Jr.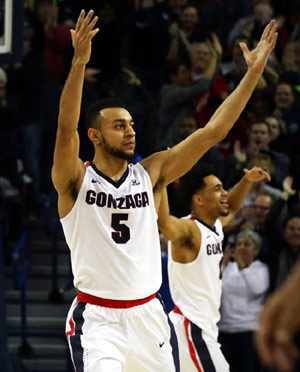 Williams-Goss had a tremendous tournament, and his overall stock is on the rise after being the catalyst of Gonzaga's first team to ever reach the title game. The fact that no one ever seems to win the first time they make the Final Four was apparently too big an obstacle to overcome. Whether there is a script that refs subconsciously end up following, or if a team making it's first appearance is overwhelmed by just being there, Gonzaga fell victim just like many others before them. Williams-Goss suffered a turned ankle at an inopportune time and seemed to lose a little of his explosiveness, which cost him in the game's final moments. He was Gonzaga's clear leader and got them there, so it's hard to be too critical of him if he passed up some open teammates late in the game for shots of his own. He unfortunately didn't make them and his emotion after the game showed just how much he expected to win and was devastated by the loss. Both he and Coach Few made comments to the effect that getting that far and playing as well as they did gives them more credibility with the powers that be as a legit title candidate on the same stage in the future. Despite Williams-Goss's 9 boards and 6 assists to 2 turnovers, his 5-17 shooting in the title game has his stock slightly on the decline following the Final Four.
Tony Bradley 6-10 250 C/PF North Carolina Fr.
For a guy looking to possibly leave as a one-and-done and sneak into the late first round, the Final Four and tournament as a whole was not a positive. He amassed 34 total points in the tourney, however he struggled with just 2 and 5 points in the Final Four games, shooting a combined 3-10. In 10 and 18 minutes respectively he did have solid rebounding numbers with 6 and 7, but with a limited skill set and lacking stand out athleticism, it's likely that he would end up in the early second round as opposed to the late first if he were to remain in this year's draft, having entered his name two days ago.
Dillon Brooks 6-6 SF Oregon Jr.
Brooks has been the Duck's leader and emotional spark plug for much of the past two seasons. He plays with a swagger and never seems to lack for confidence. In fact, his belief in his abilities can border on over-confidence at times. Though this season he had some ferocious dunks over defenders and won games with his late game fearlessness. In their loss to North Carolina., Brooks struggled on both ends of the floor. His over-aggressiveness got him in foul trouble and he eventually fouled out late. He also couldn't get on track offensively, forcing some questionable shots and finishing with limited points on 2-11 shooting. His draft stock is hovering in the mid-2nd round to undrafted if he were to enter this year's draft.
Prezmek Karnowski 7-1 300 C Gonzaga Sr.
Karnowski had a tremendous career and solid NCAA tournament. He's an inspirational story with how he overcame a back ailment that could have left him paralyzed or worse to return to the court and be an important member of a team that reached the title game. His play in the final unfortunately was not what he would have hoped for as he struggled against North Carolina shooting 1-for-8, but he did chip in 9 points and 9 boards. It's worth noting that before getting poked in the eye, Karnowski was having a dominant game against South Carolina, as he finished with 13 points on 6-12 shooting in 25 minutes.