2014 McDonald's All American Game Boxscore
In what was a low scoring, yet exciting battle for a McDonald's All Star game, the West led by MVP Jahlil Okafor prevailed over the East 105 -102. The future Duke Blue Devil scored 17 points and his teammate SMU signee Emmanuel Mudiay added 15 points. The East was led by UNC commit and Co – MVP Justin Jackson's 23 points. Here is a brief paragraph on each prospect after a great week of basketball in Chicago.

EAST
Cliff Alexander 6-9 240 PF Kansas
Despite battling a wrist contusion, Alexander showed that he is the most explosive post player in the class. If he catches the ball in the post, odds are he is finishing with a powerful dunk. Unlike Okafor, Alexander has no problem finishing over length and when he is aggressive, he is truly unguardable. An often overlooked part of Alexander's game is he is a very good passer, especially out of the high post. Alexander reminds of a smaller Amare with his relentless style of attacking the basket. If he continues at his current rate, he'll end up a one and done top 5 pick.
James Blackmon Jr. 6-5 190 SG – Indiana
Blackmon shot the ball well from the outside. He's definitely not shy about shooting finishing with 13 pts on 5-11 shooting. He could eventually develop into a point guard but must improve his ball handling and ability to facilitate for others. Will likely help provide some of the the scoring punch that the Hoosiers lacked this year.
Justin Jackson 6-7 185 SF North Carolina
After a rough week of practice, Jackson shined as the game's high scorer with a very efficient 23 points on 11-14 fg, as previously mentioned winning co-MVP honors. Plays hard, getting quite a few deflections and is a good on ball defender. Offensively must become a more consistent shooter and improve his ball handling. Also must get stronger and look to add 15-20 lbs to his frame. He reminds of Shane Battier with his lanky frame and cerebral, crafty game.
Tyus Jones 6-1 185 PG Duke
Outstanding floor leader who makes his teammates better. Lacks great upside due to size and athleticism but will likely be the true point guard Duke has been missing since Kyrie Irving. Outside shooting was inconsistent during the week. Will have trouble defending bigger guards. Good leader whose main goal is to make teammates better. His game high 10 assists are a testament to his vision and play making ability.
Kevon Looney 6-8 200 SF -UCLA
Huge upside, though likely needs a lot of time to realize it. Wingspan and athleticism give him a great deal of intrigue. Must get stronger and more assertive. Feel for the game must improve. Played some point guard for high school team and it shows in his decision making and court vision. Surprising passing ability. Needs to improve outside shot and also must get stronger as he was pushed around all week by other post players. Finished with just 6 pts but pulled down a total of 11 boards.
Theo Pinson 6-6 180 SF North Carolina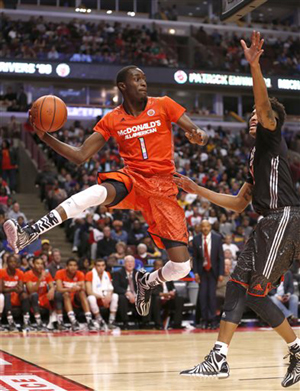 Energetic player who teammates loves to play with. Had one monster dunk but struggled with just 3 points on 1-5 shooting. Must do a better job at finishing at the rim. Inconsistent shooter. Needs to add a great deal of strength and become more well rounded. Has the length and motor to become lock down defender.
D'Angelo Russell 6-5 190 SG Ohio St
He has a smooth stroke and when he gets hot his range can be unlimited, most impressive is his ability to shoot off the bounce and create his own shot. More than just a set shooter, Russell has a variety of moves to create space often times getting defenders on their heels and popping a trey. A good athlete with nice potential.
Karl Towns 7-0 230 PF/C Kentucky
Legit 7-footer with perimeter skills. Not the strongest athlete so will be important he finds the correct playing weight. High skill level. Huge wingspan. Can consistently knock down college 3 point shot. Has good footwork and fundamentals. Needs to improve lateral quickness. Needs to develop go to post move. Showed the willingness to bang with Okafor and Travis. Upside limited due to lack of athleticism/strength and foot speed.
Romelo Trimble 6-2 175 PG/SG – Maryland
Not a true point guard, more of a scorer than distributor. Strong frame allows him to finish with contact. Struggled to defend quicker guards. After being overmatched on day one of practice, he competed and held his own the rest of the week.
Myles Turner 6-11 240 PF/C – Undecided
Tremendous shot blocker who does a good job of keeping his blocked shots in play. Huge wingspan. Length allows him to alter almost every shot. Runs the floor well. Raw offensively. Needs to improve both post up and face up game. Floats out to the perimeter too much on offense. Legs appear stiff, so it's hard to know whether he's still going through growing pains or if he will never be the most fluid of athletes. Did not play with much of a motor this week. Very impressive individual. Sounds more like a college graduate than a soon to be college freshman.
Isiah Whitehead 6-4 195 SG Seton Hall
Tough New York City guard. Good ball handler. Strong body, allows him to finish with contact. Does a good job of overpowering opponents. Needs to improve outside shooting. Not overly athletic. Huge pickup for Seton Hall. Should start from day one and have a solid college career.
Justice Winslow – 6-6 215 SF Duke
Best on ball defender that was here this week. Shows willingness to take a charge. Big time hustler. Thinks every 50/50 ball should be his. Not a scorer, gets most points off hustle plays. Uses strong frame to get to the line quite a bit. Size makes him a tweener. How much can "new" Duke system (Coach K post USA gold) develop an athletic but raw wing? Winslow should provide a nice litmus test as a highly athletic, raw wing in need of skill development.
WEST
Grayson Allen 6-4 185 SG Duke
Solid athlete. Actually won slam dunk competition ("props" on that). Outstanding shooter. Needs to work on shooting off the dribble. On ball defense must improve. Struggled guarding quicker players. Should receive a lot of open looks from future teammate Tyus Jones over the next few years. Appears to be a good get for Duke as a likely 4 year player.
Joel Berry II 6-0 185 PG North Carolina
Struggled mightily when defending Ulis and Mudiay in practice. Lacks elite speed and quickness. Streaky shooter. Solid decision maker and ball handler. Will benefit greatly by playing behind Marcus Page for a year at UNC.
Devin Booker 6-5 185 SG Kentucky
Arguably best shooter in the class. Utilizes both shot fake and jab step. Underrated athlete. High basketball I.Q. Excellent ability to shoot off the dribble or coming of the screen. Good size but could use about 20 more pounds. Needs to compete more on defensive side of the ball.
Stanley Johnson G/F 6-7 220 Arizona
Johnson is a very good defender who has the ability to guard every position except center. His great help side defense and rotations are a testament to how well he was coached at powerhouse Mater Dei HS. Offensively Johnson can play either wing position but does his best playing on the wing in a point forward role, facilitating the offense. He is a very unselfish player and with an improved outside shot Johnson could be a one and done first rounder in 2015.
Trey Lyles PF 6-9 241 Kentucky
Lyles doesn't wow you with his athleticism or explosiveness but he always seems to get the job done. Whether it's using the glass to knock down a jump shot or finishing with either hand on a jump hook, Lyles finds a way to score. Also a very good passer, Lyles unselfish play will fit in well with what should be another loaded Kentucky team. Lyles has also transformed is body into a lean 241 pounds and it shows in both his ability to run the floor and his improved lateral quickness on the defensive side of the ball.
Emmanuel Mudiay 6-5 190 PG Southern Methodist University
Great size for a point guard. Had arguably the most impressive performance in the game with 15 pts, despite shooting just 6-of-15. Had six assists to no turnovers. Explosive first step. Outstanding court vision. Midrange game improving. Still fades away too much on jump shot. Has the size and quickness to be great defender but must buy into playing defense on every possession. Sometimes tries too hard to make the big play. Should make a big splash at SMU, and be a potential "culture changer".
Jahlil Okafor 6-11 290 C Duke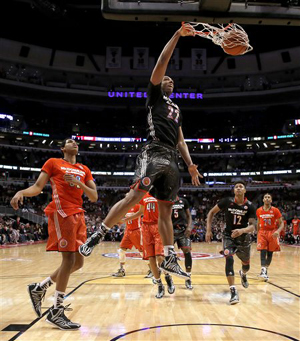 Huge hands and great footwork. has drawn comparisons to Tim Duncan, and while not the athlete, he's got a remarkable skill set and level of maturity for an 18 year old. Very good playing with back to the basket. Improving passer. Lacks verticality. May have trouble finishing over length. Face up game could use work. Outstanding rebounder. Not an elite shot blocker but alters a ton of shots. Struggles to guard pick and roll situations. Will be most talented big man next college basketball season.
Kelly Oubre 6-7 190 SG/SF Kansas
Freakiest athlete in the class. But at this point his feel for the game and skill set are miles behind his athleticism. Shot 3-13 in the game showing his lack of polish. Must improve shooting and ball handling in order to play guard. Should definitely approach college as if he will be there for multiple seasons. Uses athleticism to attack offensive glass for put backs. Shows a good motor, plays hard all the time. Has the potential to become an elite defender. High upside, but still more prospect than player.
Reid Travis 6-8 240 PF Stanford
Travis is a blue collar player who makes up for his lack of athleticism with pure strength and hard work. He is a relentless rebounder whose style of play brings to mind a young Charles Oakley. Right now he gets most of his baskets on put backs and strong drop step moves, but the form on his jump shot is solid and there is no reason to believe his offensive game won't progress under the coaching of Johnny Dawkins at Stanford. Not an "NBA athlete" but has the type of intangibles to outwork everyone and make it despite some physical limitations (size/athleticism).
Tyler Ulis 5-9 150 PG Kentucky
Life is not easy for a 5'9 point guard playing against the best shot blockers in the country, Ulis however defies logic and uses his quickness to cope. While very fast, Ulis is also crafty with his use of the hesitation dribble and jab steps before blowing past bigger defenders. The kid just does not make mistakes and is quick to pull the ball out and run the offense rather than forcing the big play. What's even more amazing is how rarely the diminutive Ulis gets his shot blocked as he often gets players in the air with an effective shot fake before blowing past them.
Rashad Vaughn 6-6 200 SG UNLV
Vaughn is a scorer who is never shy about shooting the basketball. Shot selection remains questionable. One of the top 3 point shooters in the class. Had 14 pts on 5-11 fg. Solid but not an elite athlete. Must be willing to shot fake and get to the rim instead of settling for outside shots. Defensive intensity needs to improve. Had a very solid week of practices.
Thomas Welsh 7-0 230 C UCLA
Struggled mightily against more talented bigs this week. Did not back down but was physically over matched. Strong fundamentals. Keeps ball high, grabs rebounds with 2 hands and always looking to make outlet passes. Did not show much range shooting the basketball. A definite project for UCLA but size and skill set gives him a chance.