With just over 20 days before the NBA draft and the adidas Eurocamp less than a week away, it's a good time to analyze the top international prospects. Here is a list of the top 10 players with an analysis of their season and draft stocks.
1. Lucas Nogueira (1992, C, 7'0", Brazil, Estudiantes Madrid)
After his remarkable performance during the 2010 FIBA Americas U18 championship and his participation at the 2011 Nike Hoop Summit for the World team, Nogueira made a name for himself among NBA scouts and insiders, becoming a potential lottery pick. But during the 2011 adidas Eurocamp in Treviso his flaws were exposed with an immediate drop of his stock and the withdrawal of his name from the 2011 NBA draft. After two complete seasons, his game is showing intriguing development: this season he was added to ACB Estudiantes active roster, becoming part of the rotation (5 points and 4 rebounds in 14 minutes of average this season), with some big flashes including a 21 point game late in the year. He has worked on his frame, bulking up in order to better withstand contact, and his feel for the game has improved significantly. His game is still based on instinct, and he still lacks a reliable post game. But with his significant improvements and his huge ceiling, he can legitimately be considered the top international prospect, and the one with the most potential. His stats of the last month are 10.4 points 4.8 rebounds in almost 20 minutes on the court, signaling his ascent among this year's prospects. He could be selected by a team that will decide to leave him in Europe to wait for his complete evolution, probably at the end of the lottery or in the mid-late first round.
2. Dennis Schroeder (1993, PG, 6'2", Germany, Ny Phantoms Braunschweig)
Scroeder had his breakout season this year when he switched from being an anonymous German young player to a legitimate lottery pick. Last season he was playing less than 10 minutes per game, averaging 2.3 points and 0.7 assists, and also at U20 European championships his performances were not very impressive (6.1 points 2.0 assist). His 2012/2013 were 12.0 points and 3.5 assists, displaying a remarkable improvement. He was the international star of the 2013 Hoop Summit where he impressed numerous GMs and scouts. As we've noted, he benefited from a tremendous week of practices followed by an excellent game in which he outperformed the opposition, finishing with 18 points, 6 assists and just 3 turnovers. His game appears more suitable for the NBA as opposed to Europe due to his potential to break down opponents with his speed, which compensates for his shortcomings as a game distributor. He will need to develop his shooting range and work on his strength, hopefully without losing speed. He appears to have a promise from a late lottery or mid first round team, according to our sources it's likely the Boston Celtics, but there's also a good chance he will be gone before they pick.
3. Dario Saric (1994, SF/PF, 6'10", Croatia, Cibona Zagreb)
Saric signed a 4 year contract with Bilbao this summer but there was a conflict between the Spanish team and KK Zagreb about the amount of his buyout. FIBA Basketball Arbitral Tribunal ruled 550 thousand euro as the final amount, but original contract includes 1 million euro and Bilbao would like to pay less than 250 thousand. Due to this fact, Saric was forced to stay sidelined while practicing with the Croatian team KK Split for the first half of the season. In late November he signed a four year deal with Cibona Zagreb, playing as a starter in ABA league games and in Croatian National League. His season in ABA league wasn't astonishing, playing for a team which finished in the bottom of the league averaging 7.7 points, 6.2 rebounds and 2.1 assists. He's currently playing in the Croatian National championship, with his digits increasing also due to the lower level of competition: 15.1 points 8.3 rebounds 2.5 assists in 21.4 minutes on the court.
At the senior level he's able to play both wing positions, with amazing ball handling and passing skills for his size and a complete offensive skill set, a great post game with a good variety of moves and an effective use of pivot feet. His main flaw at the pro level is a lack of elite athleticism and poor footwork, that could limit his effectiveness, forcing him to play near the rim against bigger, quicker and stronger forwards. Even if he has 3 point range he needs to work on his shot by adding fluidity to his mechanics and confidence, and this will probably the key to his success overseas, where he'll be destined to play the PF position. He probably still needs to be tested at the maximum European level before going overseas, for this reason he could be selected from a team willing to wait for him at least a couple of seasons.
4. Giannis Adetokoubo (1994, SF, 6'9", Greece, Filathlitikos)
His name was unknown even to most scouts before the beginning of this season. Son of Nigerian immigrants, he was enrolled with his older brother (20 years old) Athanasios by Filiathlitikos Academy, an ambitious club in Greek second division of the Athens area. Adetokoubo is a versitile wing forward with a 7'3" wingspan and huge hands, standing 6'9", he has amazing mobility and body control for a guy his height and he's still growing. He's able to change directions off the dribble and with the ball in his hands with incredible smoothness and quickness, getting to the rim while maintaining excellent balance. His athleticism and wingspan allows him to cover 4 positions on the floor, showing great versatility. The overall impression is of a raw prospect from a basketball comprehension standpoint, whose is based on instincts, talent, physical gifts and natural feel for the game. For this reason he needs to be tested at a higher level of competition than Greek second division, since his level of experience is definitely low, where he averaged 8 points and 5 rebounds per game. In December he signed a 4 year contract with the Spanish team Zaragoza, where he will most likely play next season. He is projected in the late lottery to late first round.
He officially gained full Greek citizenship on May 9, 2013, with the official legal spelling of his name being "Giannis Antetokounmpo".
5. Livio Jean-Charles (1993, SF/PF, 6'7", France, Asvel Villeurbanne)
Livio Jean Charles is the prototype of the modern athletic big wings with great mobility. He has great size for his position and a huge wingspan, with a rather skinny but solid frame. His name become familiar among NBA scouts since his first appearance with France youth national teams, but become hot starting with the last adidas Eurocamp. After his youth path with INSEP, he's now under contract with the French PROA team ASVEL Villeurbanne, where he averaged 3.4 points and 2.7 rebounds this season. He's already able to compete at pro level on the defensive side, where he's able to put pressure, often jumping the passing lanes, and with the ability to guard 3 different positions. He's also a great rebounder with good instincts. For NBA standards he's a tweener since he has the size to play inside but his style is more of a wing player instead of a PF banging in the paint, in fact he also lacks the upper body muscular development to play in the post against NBA big men. Furthermore he needs to add range and consistency to his shot. He had a breakout performance during the last Nike Hoop Summit, where he led all players in scoring (27) and rebounding (13). He could be selected at the beginning of the second round. It would not surprise us to see him surpass Saric in the longrun as he may translate better to the NBA game having better fluidity and speed to compete with NBA athletes.
6. Rudy Gobert (1992, C, 7'1", France, Cholet)
Some have Gobert ranked first among this year's crop, which shows the great range of opinion among this year's International prospects. During the 2012 adidas Eurocamp his performances on the defensive side elevated his status as a potential top 10 pick, and definitely as the top Euro prospect in 2013 NBA draft. Anyhow during this French ProA season with Cholet he had 9 points and 6 rebounds of average, showing no consistent progress compared with the previous season. During the NBA combine he showed some awkwardness in his movement appearing to be very much a plodder rather than a runner, and this could affect his effectiveness at the pro level, even if his combination of height and mobility makes him difficult to match up with for slower big men. His offensive movements are rather raw, he needs to add confidence to his game, sometimes he seems too mechanical and not fluid. He's really fast running the floor, and when he gains momentum he's difficult to stop, thanks to his speed and coordination, but he still lacks a reliable post move. His draft stock is dropping, but it's unl;ikely that he would slip out of the first round.
7. Sergey Karasev (1993, SG/
SF, 6'7", Russia, BC Triumph)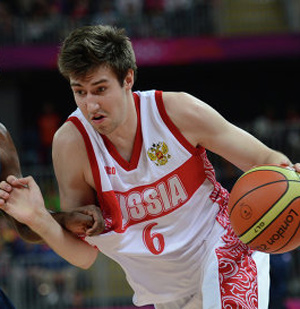 Karasev had a breakout season this year with BC Triumph, being selected for the World Team for Nike Hoop Summit, and shined during the week of practices. He averaged 16.3 points in the VTB United League and 16.1 in Eurocup during the 2012-13, plus he was part of the Russian Men's Basketball Team that won the Bronze Medal at the 2012 Olympics. He's really mature with a great basketball IQ for his position and has a variety of offensive moves. Standing 6'7" he has solid height for the position, with a soft touch and remarkable toughness. He's still underdeveloped for the physical rigors of the NBA where he can be limited by superior length and athleticism of opponents. His speed, especially lateral is less than ideal for a SG, which could make him struggle in the defensive side. Needs quite a bit of time in the weight room before being considered as a rotation option at the NBA level. The news that he will stay in Russia until the NBA draft has folks speculating that he has a first round promise.
8. Mohammadou Jaiteh (1994, C, 6'11", France, Boulogne-sur-Mer)
Jaiteh's stock has significantly risen during his PROB season, where he finished with 16 points, 10 rebounds and was named the MVP of the league. He has some astonishing performances, for example a game against Fos-sur-mer when he had 31 points and 17 boards, but there are still some doubts about the level of competition he faced. In fact he closed the Hoop Summit with 7 points and 9 rebounds in 15 minutes on the court. Standing 6'11", he has a solid frame, that makes his body NBA ready, plus he has huge hands and long arms, with solid agility for his body and height, but he's not a great leaper. He's a rather raw prospect from the technical standpoint, but he's showing a humble personality and a great will to improve.
He's still projected as a second round pick but he needs to be tested at a higher level of competition.
9. Nemanja Nedovic (1991, PG, 6'4", Serbia, Lietuvos Rytas)
Nedovic has amazing athletic abilities, probably the best in Europe at his position, combined with a solid physical structure for the role. This year he played constantly in Euroleague with Lietuvos Rytas averaging 10 points and 2 assists in 23 minutes on the court, after some solid performances at the 2012 adidas Eurocamp. In the open court he is tremendously effective with the ability to finish above the rim in basically every transition. In the half court game he has the ability to beat his defender off the dribble with a quick first step and crossovers, getting to the rim often and drawing contacts. Even if his shots lacks consistency, he has a good mechanics and technical basis in this fundamental, showing good progress since last season (from 27% to 34%), but there's still a lot of work to do with his jump shot. He still needs to develop his playmaking skills, where he shows some glimpses in P&R situations but he has to add more consistency, he's not a point guard but rather a combo at the moment. Nedovic could be an intriguing pick at the end of the second round, where a team could invest in him developing over the next few years.
10. Alex Abrines (1993, SG, 6'6", Spain, FC Regal Barcelona)
"Alejandro" Abrines grew up with Unicaja Malaga and last year he scored 31 points in an ACB game at the age of 18, guiding the Spanish U20 national team at the bronze medal at the last European Championship in Slovenia. This summer he signed a contract with FC Regal Barcelona, where he played throughout the course of this season. His utilization by coach Pasqual was far away from being consistant with several games in which he played only a few minutes both in ACB and in Euroleague. His final digits are of 3 points and 1 rebounds in ACB and 5 points and 1 rebound in Euroleague, playing an average of 11 minutes per game. He is probably the purest shooter among European NBA prospects, with his fluid mechanics, quick release, and the huge range. His frame and his style remind some people of Rudy Fernandez, with whom shares the birth city, Palma de Mallorca. His wingspan and height are good, and his athleticism is underrated, basically because he doesn't attack the basket very often. If he actually stays in the draft, he could be picked at the end of the second round as a stash pick.