According to Wikipedia, "The German autobahns (Autobahn, plural Autobahnen) form the nationally coordinated motorway system in Germany and have no general speed limit. The network has a total length of about 12,845 kilometers (7,982 mi) in 2012". Both long and fast the Autobahns describe point guard Dennis Schroder to a T.
Prior to the Nike Hoops Summit in April, few people outside of Germany knew just who Dennis Schroder was. Since the Summit, Schroeder has been one of the quickest rising and hottest names out there with regards to this June's NBA Draft. After impressing scouts with his 18 point performance against some of the best high school players in the country including Kentucky bound Andrew Harrison and Kasey Hill, he has quickly become a household name among draft insiders and has been climbing draft boards in recent weeks.
Some at the Hoops Summit argued that Schroder outperformed his American counterparts because of his experience playing overseas. But the truth is that Dennis hasn't even been playing basketball his entire life. His first love was skateboarding and it wasn't until he was 12 years old that his once youth coach and current assistant on his German National team saw him skateboarding in a park next to a basketball court and invited him over to play pick up.
While skateboarding and basketball don't go hand in hand, Schroder himself has said that his skating helped aid him in his transition to basketball. "I use to skateboard which forced me to make quick and creative decisions. I believe that that helped me pick-up the game of basketball. At the same time I was never afraid of challenges. I truly believe that hard work pays off and I like to work hard." Dennis had no problem picking up the game with his youth team and began playing for the New Yorker Phantoms as the age of 17. His first season was a frustrating one as he played sporadically while averaging less than three points and one assist per game. It wasn't until his second season with the Phantoms that he started to flourish. He increased his numbers from a season prior to 12 points and over 3 assists per game. It was his performance at the 2012 FIBA European Under-20 Championships and for the Phantoms that got him an invite to the World Team at the Hoops Summit.
Schroder didn't disappoint during his time in Portland. He finished the game with 18 points and 6 assists but it was his limited turnovers (3) and ability to both lead the team against the U.S. lineup while also keeping his teammates involved that turned the most heads. Schroeder himself had great things to say about his time at the Summit. "It was a great experience. It was my first time in the U.S. so everything was new to me. At the same time I could measure myself with the top prospects in the U.S. I truly enjoyed my experience I did not want to miss it. The whole idea and set-up is super professional and highly structured.", Schroder told us. The coaches were very forthcoming in their assessments of Dennis saying that they loved how quickly he caught on to new offensive and defensive sets and philosophies that they were throwing at him.
After returning home from the Summit, Schroder still had to compete for his team in Germany but it was reported that he refused to go in and play during his final game with his German team, possibly because of the rumored promise from a first round team. But that rumor was refuted by Dennis himself explaining that, "My coach told me before the game that he wanted to let the younger players and the guys that have not played much this season play. That wasn't a problem but then two minutes before the end he asked me to go in, normally I wouldn't have a problem with because I love to play and it doesn't matter if I play in the first minute or in the last. But this particular situation I asked him to not put me in because I had sitting on the bench for close to two hours. By that time, my body and muscles were completely cold and I did not want to risk an injury so close to the combine in Chicago and my workouts."
Schroder called it "my dream" to play in the NBA and he believes that he is one of the top point guards in this season's draft. He didn't compete at the combine but measured in at just over 6'2 in shoes with a 6'7+ wingspan which is very good size for the point guard position. He has an insanely quick first step and is relentless when he attacks the basket. He can get whatever shot he wants whenever he wants it based on his speed but he has to develop more consistency. He has an improving jump shot but must improve on that aspect of his game to keep defenses in the NBA honest. He will also need to continue to work on his decision making and ability to control the tempo of the game while limiting his turnovers which were a problem at times during his time in Germany. He has become one of the breakout prospects this season and isn't taking it for granted. "I am working out twice a day. With two hours of individual basketball practice in the morning and in the afternoon an intense athletic and strength training workout. At the same time I am playing with and against top players like Victor Oladipo and Erick Green"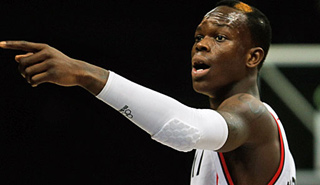 It is hard to believe that a mere seven years after picking up the game for the first time, Schroder is on the verge of being taken in the first round of the NBA Draft. When asked what it would mean to be drafted Dennis made a mention of a promise he made to his late Father saying, "I believe that answer is very similar to a lot of players. It would be a dream come true, a blessing and an honor. But at the same time sharing an unbelievable bond with my father. I promised him that I would become the best player I can be before he passed away."
With that promise to his Father in the back of his mind throughout this process, Dennis has shown the type of player and person that he is. He is devoted to working hard and improving every aspect of his game. He has all of the tools necessary to become a successful point guard in the NBA. He doesn't necessarily model his game after any particular player but says that he "respects" all players that have made it in the league but that he loves to watch Chris Paul and Rajon Rondo control the game and set up their teammates while making everyone else on the court better. With his Father watching down on him throughout the entire process, Dennis finds himself in the fast lane to hearing name called on draft night and showing the world the type of player he is on the court.
Follow me on Twitter @CCroweNBADraft