1. Shabazz Muhammad 6-6 220 SG/SF UCLA Fr.
What makes Shabazz so unique in terms of young NBA prospects is his physical balance and complimentary skill-set. He meshes explosive strength with disruptive length, and thunderous power with finesse. Muhammad has a two-guard scoring mindset, a slashing small forward body and a power forward's aggressiveness in the paint. With scoring skills and instincts capable of producing half-court points, and the mobility and hops to produce off the ball, Muhammad offers a complete offensive package and number one overall upside.
As a college basketball nation of one, let's all pray for this kid's eligibility, which still remains in question.
2. Otto Porter 6-8 200 SF Georgetown So.
Awkwardly skinny, shaky handle and ugly looking jumper, Porter is evidence that the eye-test is not a reliable form of evaluation. He shot 61% on two-point attempts, seemingly hitting every midrange jumper that was kicked his way. He averaged 7 rebounds in 29 minutes, using his motor, length and nose to track down loose balls on the glass. He's more of an off-the-ball player who can slash in the half court, drift to open space for a jumper and run in transition. With a great feel for the rim down low, an accurate midrange stroke and solid defensive instincts, Porter presents a versatile package to offer an NBA team.
As Porter's game and body continue to develop, scouts will view him as a potential top 10 pick in a weak year for talent.
3. Alex Poythress 6-8 225 SF Kentucky Fr.
Whether for the better or worse, Poythress is a combo-forward with size and athleticism. His ability to face up out to the three-point line and put it on the floor increases his upside as a perimeter scoring option. He sports rhythm as a spot up shooter and the explosiveness to catch and finish at the rim. If he can hover around that 35% three-point shooting mark, Poythress will be a multidimensional threat and a difficult defensive assignment.
He turned heads at the McDonald's All-American game, and should fit right into Calipari's system as a replacement for Terrence Jones.
4. Adonis Thomas 6-6 240 SF Memphis So.
An absolutely terrorizing athlete, few can slow down Thomas when he's given space to explode off the ground and launch his body at the rim. He's also shown some nice touch down low on his one-handed push shots, using a pivot step to separate from his defender. His spot-up jumper also appears to be improving (40% from 3), and his basketball IQ remains relatively high. Thomas has a reputation for being a high-character guy, and packs the upside worthy of lottery consideration.
Reports surfaced that he has blown up to 252 lbs over the summer. A concern for certain as he would be much better served in the 230 range with better speed and fluidity.
5. Doug McDermott 6-7 225 SF Creighton Jr.
McDermott averaged 23 a game last year scoring from practically every spot on the floor. From the high post he can attack the rim going left or right, and has a number of counter moves on the interior. But it's his shooting stroke that has the most NBA appeal, when you consider his lack of size and athleticism as an under-the-rim forward. He shot a blistering 48% from downtown, but only on 3.2 attempts per game. He'll need to show he can excel behind the arch on a more full-time basis in order to satisfy coaches looking for another Kyle Korver.
6. CJ Fair 6-8 232 SF/PF Syracuse Jr.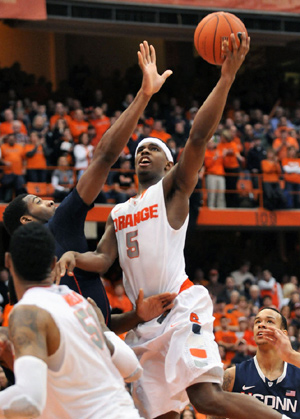 Despite lacking a true position, Fair got burn as a freshman because of his nose for the ball and feel for the rim. Realizing he needed to diversify his offensive package, he came back as a sophomore with a newly added baseline jumper while increasing his range on the perimeter. Facing up from the midrange, he can put the ball on the floor, sweep through the lane and finish using touch. Fair has terrific basketball instincts to go along with length, size and a consistent motor. I'm expecting first round attention by year's end.
7. CJ Leslie 6-8 220 SF/PF NC State Jr.
Leslie's bounce and interior instincts allow him to make plays off the ball at the rim, but his perimeter game still needs polish. Offensively, he's probably more of a 4, but guys with similar games like Hakim Warrick seem to struggle with physical interior play at the NBA level. Leslie has loads of athleticism which at almost 6'9 gives him upside, but he'll need to improve his face up game to maximize his potential services.
8. Robert Covington 6-9 235 SF Tennessee St. Sr.
Covington was a standout at this year's adidas Nations, after improving his upper body and continuing to shoot lights out. He knocked in threes at a 45% clip in back to back years– whether he's playing Morehead State or Kentucky, the size of the rim doesn't change. He's got the potential to be an NBA stretch-3, and should be set up for a monster senior year in the OVC.
9. Kyle Anderson 6-9 230 SF UCLA Fr.
Slo-mo's throwback style is like a breath of fresh air in a game that's evolved into power athletes and breakdown speed-guards. The quintessential point-forward, Anderson has the size of a three and the vision and orchestrating qualities of a point. Where he lacks in quickness and explosiveness, he makes up for with timing- knowing when to dish, pull-up and attack. Despite Larry Drew being tagged as UCLA's starting quarterback, Anderson will fit nicely into a system that can allow him to facilitate from the wing.
10. Andre Roberson 6-7 210 SF Colorado Jr.
Roberson's game is predicated on off-ball production and activity. He brings in an incredible 11 rebounds in 30 minutes, which can be attributed to his athleticism, timing and anticipation. There's a lot of Shawn Marion in Roberson– two rebounding small forwards who score off slashing, tip dunks, alley oops and fast breaks, as opposed to creating offense on their own. On the flip side, so does Matt Barnes, who despite enjoying a long career, never packed much upside. He only took 50 threes last year, but nailed 19 of them (38%). Becoming more of a threat with the ball in his hands could shoot him up the draft boards.
Honorable Mention: Justin Anderson 6-5 225 SF Virginia Fr., Anthony Bennett 6-8 240 SF/PF UNLV Fr., Laurence Bowers 6-8 190 SF Missouri Sr., Branden Dawson 6-6 220 SF Michigan St. So., Daniel Diez 6-8 204 SF Spain 1993, Carrick Felix 6-6 195 SF Arizona St. Sr., Eric Ferguson 6-8 204 SF/PF Georgia Southern Jr., Amric Fields 6-9 210 SF TCU Jr., Elias Harris 6-8 230 PF Gonzaga Sr., Solomon Hill 6-6 235 SF Arizona Sr., Rodney Hood 6-7 210 SF Duke So., Danuel House 6-7 200 SF Houston Fr.Milton Jennings 6-9 200 SF Clemson Sr., Oleksandr Lypovyy 6-8 192 SF Ukraine 1991, Amath Mbaye 6-8 210 SF Oklahoma Jr., Travis McKie 6-6 190 SF Wake Forest Jr., LeBryan Nash 6-7 212 SF Oklahoma St. So., Kevin Parrom 6-6 200 SF Arizona Sr., Glenn Robinson 6-7 200 SF Michigan Fr., LaQuinton Ross 6-8 215 SF Ohio St. So., Victor Rudd 6-8 200 SF South Florida Sr., James Southerland 6-7 220 SF/PF Syracuse Sr., DeShaun Thomas 6-7 221 SF Ohio State Jr., Christian Watford 6-8 210 SF Indiana Sr., Rodney Williams 6-7 210 SF Minnesota Sr.