1. Ryan Harrow 6-0 175 PG Kentucky So.
After being forced to sit out after transferring from North Carolina State, Harrow will suit up as Kentucky's starting quarterback in 2012.
Harrow's intrigue as a prospect stems directly from his breakdown ability, combining a quick first step, tight handle and sickening athleticism. Defending Harrow off the bounce is nothing short of riding a coaster a Six Flags. At high speeds, Harrow changes directions on the dime keeping guards off-balance and help-defense a routine necessity.
Despite missing a year of game-action, he reportedly outplayed Marquis Teague consistently as a practice player. His clear challenge moving forward will revolve around his mindset, transitioning from more of a scoring guard to a distributor.
In a year where the top point guard title is up for grabs, Harrow is our number one seed to start the season.
2. Lorenzo Brown 6-4 190 PG NC State Jr.
Brown has the size of a 2 with the handle and court vision of a point guard. Consistently operating with his head up and swiveling, Brown has the ball-handling skills to navigate through a defense, attack the rim himself or set up a teammate.
He finished 2nd in the ACC in assists last year behind Kendall Marshall, and with four returning starters from last year's Sweet 16 team, chemistry and comfort will help aid his progression. With NC State a potential favorite in the ACC, Brown could get late lotto looks based on his ability to run a team.
3. CJ McCollum 6-3 185 PG/SG Lehigh Sr.
Arguably the most prolific offensive talent of the bunch, McCollum alone makes Lehigh an attractive ticket.
His 30 point, 6 assist, 6 rebound game over Duke in last year's NCAA tournament answered any questions about his ability to produce against high level competition. Generally speaking, McCollum is the complete package—he can score, dish and rebound. But like most ball-dominant guards, he needs to focus on becoming a more trusted facilitator and orchestrator.
He's got the talent, size and brains for the first round, and the upside for the lottery. The spotlight on McCollum will gradually intensify as the season gets underway.
4. Ian Miller 6-3 190 PG Florida St. Jr.
Playing behind a veteran tandem of guards, Miller hasn't received consistent minutes in his first two years at Florida State. That will change in 2012-2013.
Possessing arguably the highest ceiling of anyone on the list, Miller's stock could sky-rocket given his role expands and he's granted more creative freedom. He's got size and explosiveness to go along with big-time athleticism, which allows him to play both on and off the ball. Highly confident, Miller's quick release, natural stroke and deep range make him a lethal threat out to 25 feet.
Though he still needs to prove capable of running an offense, we could be talking lottery once his potential fully materializes. His game might be better suited for NBA play, anyway.
5. Trey Burke 6-0 180 PG Michigan So.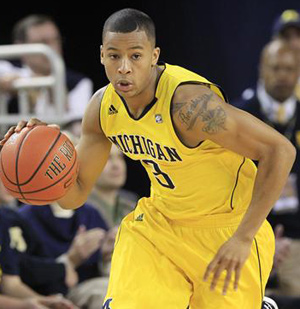 Michigan's fiery leader made quite the impression as a freshman, scoring 14.8 points a game while finishing second in the conference in assists. His undersized frame can be negated by his scrappy play and 6'5 wingspan. Burke is quick off the bounce, where he changes speeds keeping defenders on their heels.
While his quickness and dribble allow him to get to the rim, he's limited to a difficult shot selection out on the perimeter. His role at the next level likely projects as a spark off the bench, though coaches will love his leadership and competitive qualities. Burke should get plenty of opportunities to illustrate these qualities on the big stage for Michigan as a sophomore.
6. Myck Kabongo 6-1 180 PG Texas So.
A highly touted high school recruit, Kabongo struggled to adjust to the pace, or lack thereof, at the college level.
However, he's one of the few point guards with a natural feel for the position, and has the skills and feel to grow as a facilitator. With a high basketball IQ and the unselfishness suited for half court basketball (7 shot attempts, 5 assists per game), Kabongo has the skill-set to run the point at the next level.
He should look more comfortable in a rebound year commanding Texas' offense.
7. Keith Appling 6-2 180 PG/SG Michigan St. Jr.
Appling is an underrated combo-guard with breakout written all over him.
Playing on and off the ball throughout his first two seasons, this is the year where his comfort level should be at an all-time high. Appling has quick feet and a crafty handle, and while his first instinct might be to score, the ability to beat his man off the dribble is a valued quality.
Assuming he keeps Michigan State on the side of relevancy, Appling could get first round looks as his junior year progresses.
8. Deonte Burton 34149 6-2 190 PG Nevada Jr.
An explosive combo-guard with a diverse offensive arsenal, Burton can score it in a variety of different ways. In two years at Nevada, Burton has hit a number of clutch shots down the stretch, displaying confidence and ice that run through his veins.
Though more of a scorer than natural playmaker, his rising three-point percentage has increased his threat as a ball-dominant guard. Like most undersized combo- guards, becoming more efficient will be a top priority.
9. Isaiah Canaan 6-1 205 PG/SG Murray St. Sr.
Sometimes you have to overlook deficiencies and focus on the positives. Canaan's one of those kids who possesses the "it" factor, embracing the leadership role as his team's lead guard.
Physically he's a tank. Though just 6'0, a strong foundation and bowling ball physique allow him to absorb contact and bounce right off it. The fact that he's shot over 40% in all three years make him a duel threat when screened on the perimeter.
Murray State's heavy pick and roll offense should help prepare him for life at the next level. Though he may not be your prototypical pure point guard, Canaan has earned the trust of teammates as the Racers' primary ball-handler.
10. Jerian Grant 6-5 195 PG/SG Notre Dame So.
Jerian passes the eye test as a lengthy 6'5 athlete with basketball genes (Son of Harvey Grant, Nephew of Horace) His physical tools add to his versatility, where he's capable of playing and defending both guard positions. He averaged 5 assists and less than 2 turnovers a game, and should look to expand his offensive arsenal in his second year commanding Mike Brey's offense.
Honorable Mention: Ryan Boatright 6-0 160 PG Connecticut So., Jahii Carson 5-11 170 PG Arizona St. Fr., Michael Carter-Williams 6-5 175 PG/SG Syracuse So., Aaron Craft 6-2 195 PG Ohio St. Jr., Tim Frazier 6-1 180 PG Penn St. Sr., Abdul Gaddy 6-3 180 PG Washington Sr., Erick Green 6-4 195 PG Virginia Tech Sr., Andre Hollins 6-1 195 PG Minnesota So., Pierre Jackson 5-10 170 PG Baylor Sr., Carl Jones 5-11 160 PG St. Joes Sr., Ray McCallum 6-1 190 PG Detroit Jr., Phil Pressey 5-11 170 PG Missouri So., Peyton Siva 5-11 170 PG Louisville Sr., Markel Starks 6-1 190 PG Georgetown Jr., Juwan Staten 6-0 180 PG West Virginia So., Darius Theus 6-3 180 PG VCU Sr., Josiah Turner 6-4 190 PG Europe 1993, Kendall Williams 6-3 180 PG/SG New Mexico Jr., Mfon Udofia 6-2 190 PG Georgia Tech Sr., Nate Wolters 6-4 190 PG North Dakota Sr.
Follow Jon on Twitter @NBADraftnetWass