A consensus top five player in his class and still just a junior at New Hampton Prep, Noah Vonleh isn't wasting any time making a name for himself. He recently led his team to a Championship at the Adidas Nations Tournament while also collecting Co-MVP honors with his teammate Emmanuel Mudiay. Scouts regard him as one of the most versatile players in the country. Having already received offers from schools like Kansas, North Carolina, Ohio State and Syracuse, Noah is just beginning to scratch the surface of his basketball talents. We recently got a chance to talk with Noah about his experience at the tournament, what he has been working on with his game and his recruitment process.
Q: In August you got a chance to compete at the Adidas Nations tournament. Talk a little about your experience there and how it felt to win the tournament championship while also bringing home the Most Valuable Player Award.
A: It was a great experience. I got to play with a lot of the other top players in the country. There were guys there from the class of 2013, 2014 and 2015. It was a good opportunity for us to come together and I got a chance to get close to everybody. It was nice to go out there and compete for a championship. We got to learn a lot of new things, so it was really good. Emmanuel Mudiay and I won Co-MVP because we both played really well throughout the tournament so that was good as well.
Q: You were able to play against some of the top High School talent in the country. What was it like to go up against guys like that on a regular basis?
A: It was a good opportunity. It was really tough at times because a lot of us had just gotten back from AAU tournaments so we were all really tired. We just tried to fight through it, play to the best of our abilities and go out there and make things happen.
Q: You hit what ended up being the game winning 3 pointer with just seconds left on the clock. Are you the type of player that wants to have the ball in your hands with the game on the line?
A: Always. Most of the time my AAU Coach, Vin Pastore, has the ball in my hands so I'm pretty used to it. On that play though, Emmanuel had the ball and coach called the play for him to drive to the middle to score but it wasn't there. My guy sagged in on him a little and he kicked it out to me and I hit the shot.
Q: One of the biggest things about your game that stands out is your versatility. With your unique size and skill set, you have the ability to play multiple positions on the court. What position do you feel most comfortable playing?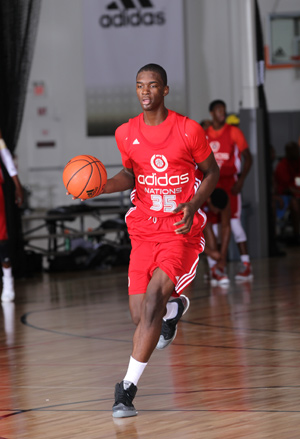 A: A lot of people like to call me a combo forward but I like to say I'm more of a point forward. I can get the ball of the rim, start the fast break, get my teammates open, get them easy buckets and score when I need to.
Q: What would you say is the biggest weakness in your game currently and what are some of the things you are doing to get better?
A: I need to develop a mid-range game if I am going to become a wing player. I also need to start running in transition a little more but I really just need to work on my jump shot a lot more. That's one of the things that I've been working on the most.
Q: What would you consider to be the strongest part of your game?
A: I would have to say that my versatility is the strongest part of my game. I think that being able to rebound and handle the ball at with my size is a plus. On offense I can create for my teammates. I can take smaller guys inside and I can pull bigger guys outside.
Q: Talk a little about the recruiting process so far and some of your experiences with different coaches and schools.
A: The recruiting process has been pretty crazy. A lot of schools have been in contact with me but I haven't really been paying too much attention to all of that. I'm just focused on getting better and listening to everything that my coaches have to say.
Q: What are some of the things that you are looking for with different programs as you start trimming down your list of potential schools?
A: I like to look back at some of the guys who played the same position as me. I like to see how they fit into the program and the system and also how the coaches prepared them for the next level. I also look at academics because my Mom wants me to do really well in school and I want to do well in school as well.
Q: Are there any schools you are favoring at this point?
A: No, there aren't any schools that I'm favoring at this point.
Q: We know that you are a great basketball player, but tell us some things that you like to do in your free time besides playing basketball.
A: I just like being a normal teenager. I like to play video games, especially NBA 2K12. I like to go to the mall and hang out with my friends and family.
Q: What player in college or in the NBA, if any, resembles your game the most?
A: I like Kevin Durant a lot. He is a great scorer and I want to keep working to become a great scorer also. He and I are close to the same height. He is 6'10 or 6'11, he can handle the ball, he can shoot really well and he can go inside and out. He is a very versatile player just like me.