A common sentiment among the throngs of NBA and international league representatives gathered in Portsmouth's Churchland High gym Wednesday evening was the desire to identify potential low maintenance prospects who can address specific needs faced by their clubs. Half of this year's 64 participants took the court on the tournament's opening evening in a doubleheader that featured five lesser known CPOYs and a number of under appreciated bigs. Vying to make lasting impressions in the minds of professional basketball's brain trust, this year's P.I.T. crop sought to earn stamps of approval like famous alums John Stockton, Scottie Pippen, and Dennis Rodman. Both games saw a gradual shift from sloppy, frenetic play in the opening exchanges to a more free-flowing tempo that allowed players to operate in the half-court much like they would in a regular game. Let's take a closer look at a handful of guys who stood out.
In the evening's opening game, won by Portsmouth Sports Club, local favorite Kyle O'Quinn (Norfolk State) proved that his 26 and 14 performance vs. Mizzou in the first round of the NCAAs was no fluke by notching an impressive double-double. Going 8-13 from the field, the Jamaica, NY native (generously listed at 6'10") displayed leadership from the opening tip by constantly talking on the backline at the defensive end. If a ballscreen was being set, his guards knew where it was coming from and how he was planning on negotiating it. If a teammate was lost in conversion (transition 'D'), the big fella was pointing, picking up smaller players when necessary in order to stop the ball, and switching back when the opportunity presented itself. Showed a polished spin move toward the baseline in the early going and no hesitation in putting up his 10' hook shot. Also faced up nicely from the mid-post on the right side with a reverse pivot/rip through into a 12' jumper (miss). Cerebral player in secondary as a trailer – can catch it on the move and do something with it. Willing passer out of the high post (beautiful high-low feed to Iona's Michael Glover after a seal for an easy dunk). On the PNR, O'Quinn spaced out well in making opposing bigs make a decision on who they had to guard. Flashed an up-and-under counter move in the second half which got Gilchrist airborne and earned him two FTs. SOLID outing on 8-13 shooting and looking forward to seeing him matchup vs. deceptively long Eli Holman (Detroit Mercy) tomorrow.
The best overall performance of the night came from 6'7" G Kevin Murphy (Tennessee Tech), who lit it up from the floor (11-14) on his way to 27 points. The volume scorer from the OVC who scored 50 in a game this past year drilled both threes he attempted and corralled 6 boards (2 off.). Murphy looked good operating in the half-court sets (mostly floppy) and made it evident to those in attendance that he's well versed in getting open. Perhaps most impressively, his motor seems to never stop and he's moving constantly off the ball – setting up cuts, running through after post entries or just basket cutting when there was a lull in the action. Converted a beautiful catch and shoot jumper from the right wing after curling off a baseline pin down and beating the trailing defender to the spot. His slight frame (listed at 185 lbs.) is cause for concern. Caught the ball at its highest point many times on rebounds – effort was there. Question may become who he can guard at the next level. If he works as hard on the defensive end as he does off the ball on 'O', he can guard the 2 spot. Would LOVE to see him matched up with Chase Stanback in tomorrow's matchup.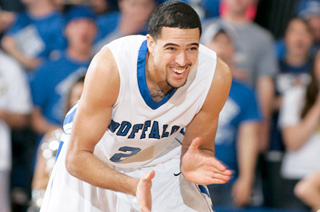 The guy I'm most intrigued about thus far is 6'10" Mitchell Watt (Buffalo). Going 5-11 from the field and finishing with a pedestrian 11 points (1-3 from deep), Watt buttered his bread on the defensive end tonight with 7 blocks. The stretch 4 is smooth in a number of areas. On the PNR, showed the ability to roll HARD, not just roll. Also, popped and drilled his lone three when given too much space by the defender. Lefty with a deliberate release – has a seductive shot-fake that gets guys in the air. Effort guy w/ outstanding timing when he gets off the floor (blocks and 'O' boards). Not a great athlete but not a below the rim type guy either. Listed at 225, the MAC Player of the Year may have to show his lower body strength in keeping defensive positioning down low before an NBA team will ink him. Would like to see him prove he can consistently stick 15'-20' footers (32.4% from 3 this year). One to keep an eye on the rest of the tourney.
In the evening's nightcap, in which Cherry Bekart & Holland prevailed over K&D Rounds Landscaping 85-73, 6'8" Chace Stanbeck (UNLV) stood out immediately. His final numbers won't wow you (11 points, 2 boards, 1 block), but I'd be shocked if this kid doesn't at least have a cup of coffee in the league sooner than later. Going 5-10 from the field, he simply would not be sped up and played a consistent, effective pace all night. Hit a catch and shoot three on a kickout in the early going. Drove hard to a kill spot from the FT line extended off two dribbles and rose up over his defender and buried a jumper. Not a lot of wasted motion/energy with this guy. Could be more vocal/demonstrative – especially in a setting like this. Went 1-5 from deep tonight but mechanics/shot selection both check out. Shot over 45% from distance during the season. Want to see him matchup with Kevin Murphy tomorrow. Has the size to guard 2s/3s at the next level – could be a huge mismatch for opposing 2s with his length/range.
6'1" Zack Rosen (Penn) is the absolute epitome of a coach on the floor. The Ivy League Player of the Year dominated Jordan Taylor in the first half of their matchup tonight – causing him to go 0-6 from the floor and turn the ball over three times. Aside from his swarming defensive presence, Rosen found guys in transition with user-friendly passes either off the bounce or of the lob variety. His understanding of the nuances of the game cannot be understated – and coupled with his competitiveness may lead to a spot on an NBA roster. Lefty showed a step-back jumper from 17'. Shot is a tad flat from deep. Great facilitator in the half-court and not afraid to head-hunt screens. Could be a huge thorn in the side vs. opposing PGs in the league in doses. Questions will be his ballhandling/shooting. Can he play at 2 speeds since he's not an outstanding athlete?
6'5" Rakim Sanders (Fairfield) is a guy you'll have trouble attaching a concrete position to for his entire career, I suppose. He may be good enough that a team takes a flyer on him and lets him figure it out on his own. Electrically active on both ends and built like a tank, Sanders is a classic undersized PF trying to play on the perimeter. In fact, in times of need this year – Fairfield looked best when Sanders was bullying his way through people on the blocks. The former ACC ROY did show the ability to put it on the deck after a shot fake and knock down an 19-footer. Also passed out of double-team in the post and found an open shooter on a diagonal line. A guy who will need to focus on strict shot selection at the next level (6-13 tonight with only one 3PA), Sanders' NBA prospects rest on his ability (or lack thereof) to guard multiple positions. He got hung up on a couple screens chasing shooters around in tonight's action and it remains to be seen if he can stay with an elite shooting guard at the next level. His active hands (8 rebounds) may offset his sometimes bad decision-making (3 TOs) if he garners enough minutes. Must know who he is – a defender and a rebounder.
*Most Impressive Performances: Kevin Murphy/Zack Rosen
*Top NBA Prospects: Chace Stanbeck/Mitchell Watt
Check back for more tomorrow!