Jeffery Taylor is a wing for the Vanderbilt Commodores, and one of the top seniors available for this year's draft. He averaged over 16 points and close to 6 rebounds while helping lead his team to the 2012 NCAA Tournament for the third straight year before falling to Wisconsin in the round of 32. Jeffery showed improvement in his game in all four years at Vandy and is currently projected as a first round draft pick. We recently caught up with Taylor to get his thoughts on the progression of his game, his senior year at Vanderbilt, what it was like to play against Kentucky and what he is doing in preparation for the draft.
NBADraft.net: Talk about the evolution of your game from your freshman year until now. How much did staying all 4 years help you improve?
Jeffery Taylor: It definitely helped my maturity level. I think coming in my freshman and sophomore years, I definitely wouldn't have been ready mentally or physically to compete in the NBA. It was definitely a good decision to come back and really work on my game. I've become a better ball handler; I've improved my jump shot a lot. I only made 10 3's my first two years and this year so I wanted to improved my shooting percentage. Those are the two main things I feel like I've improved a lot. I've always been a slasher and a guy that can finish at the rim.
NBADraft.net: You stayed in college for 4 years. In an era where it is common for players to stay one or two years, there is this perception that 4 year players somehow don't have as much NBA potential. What would you say to people like that?
Jeffery Taylor: I don't think that is the right way to think about it. You get four years to enjoy the college experience and that was very much a part of my decision. You commit to a school; you commit to give them four years. I'm a very loyal person and I wanted to take Vandy from the state that it was and really put them in the spotlight. I think we've done that in our four years here. I'm a committed person. When I came to school here I had the mindset that I was going to be here four years and to improve every year and I think I've been successful with that.
NBADraft.net: You are known as a defensive stopper and have been an All-SEC defender the past 2 seasons. What is it that sets you apart from other players on the defensive side of the ball?
Jeffery Taylor: I take a great deal of pride in not letting my man score. I think that is the most important thing. You have to take pride in not letting your man score and everything else takes care of itself. It isn't all about athletic ability. I feel like defense is all about your mentality and how you approach the game.
NBADraft.net: How does it feel when you shut down the other team's best player?
Jeffery Taylor: It feels really good. It is definitely something that has always been important to me. I take it personal if a guy scores on me. Definitely being a stopper and people being able to rely on me on the defensive end is definitely the type of player I want to be. It is the kind of player I've always been.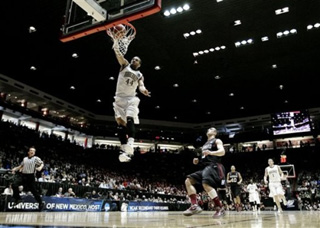 NBADraft.net: Who is the toughest player you've ever had to guard in your 4 years at Vandy?
Jeffery Taylor: John Wall, Eric Bledsoe…Jodie Meeks was one of the hardest players to guard. I would probably say John Wall because of his speed and quickness.
NBADraft.net: Talk about your jump shot, as a freshman and sophomore you didn't have a lot of confidence in it, but as a junior and senior you became much more consistent and this year were one of the SEC's leaders in 3 point percentage. How much of that is work in the gym and how much is confidence?
Jeffery Taylor: I got tired of people saying that I couldn't shoot. I'm a pretty stubborn person and when I make my mind up that I am going to do something then I go out and do it. I just made my mind up that I was going to stay in the gym and keep working on it. There was never a problem with my mechanics; I've always had good mechanics. It was just a matter of confidence and being willing to shoot it. If you are in the gym and see the ball go in enough, that is a confidence builder right there. You get a shot that you have made 10,000 times before; you automatically believe it is going in. I just made up my mind that I was going to stay in the gym until it felt like every shot was going to go in.
NBADraft.net: Talk about winning the SEC championship and beating Kentucky. What made them so tough to play against?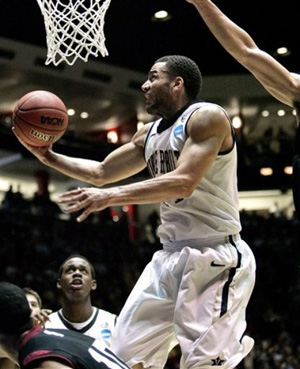 Jeffery Taylor: They created a lot of matchup problems for everybody that they played with their big front line, a lot of athletic players, and guards that can shoot the ball and penetrate. They just create a lot of matchup problems for people. But I think that we matched up really well against them every time we played them. We always played them down to the wire. The first two times we played them, it got away from us in the last 3 or 4 minutes so during the SEC Championship game we came in thinking that we had just as much of a chance to win that game as they did. We played really well. We made shots at the end of the game and they missed some shots that they normally make. It had been 61 years since we had won the SEC Championship so I was really happy for the school. And for the seniors, it was a really good way to end it.
NBADraft.net: Is Kentucky the best team you've played against?
Jeffery Taylor: Well they are the National Champions so they are definitely one of the great teams. It would be tough to say who would win between this years' team and the 2009-2010 team that had Patrick Patterson, DeMarcus Cousins, John Wall and Eric Bledsoe and all of those guys.
NBADraft.net: Can you talk about your workout routine now getting ready for the draft?
Jeffery Taylor: I'm just trying to work out every day. I'm just trying to stay on a strict regimen of workouts.
NBADraft.net: What player in the NBA, if any, do you feel most resembles your game?
Jeffery Taylor: I feel like if I continue to grow and develop that I could be similar to a Richard Jefferson type of player. A guy who is really athletic, good at getting to the rim and finishing, can shoot the three and play defense. I've really never thought about that but off the top of my head that would a good player that I could strive to be like.
NBADraft.net: If I'm an NBA GM, tell me why I should draft you.
Jeffery Taylor: I think I'm a high quality person. I think that I have a lot to offer a team in terms of athleticism and work ethic. I have a willingness to play defense night in and night out and I want to work hard and improve my game each and every day.