By Jonathan Wasserman
Live from the WaMu Theater in New York City, I have to say its been an interesting draft. Sitting up on the balcony level, fellow NBADraft.net contributor Adam Ganeles and I were able to have a birds eye view of the event, and see the general reactions of each pick from the diverse Garden crowd, as well as the parties surrounding the green room participants.
The event began as expected, with John Wall and Evan Turner going 1 and 2, followed by Derrick Favors to New Jersey, Wesley Johnson to Minnesota, and DeMarcus Cousins to Sacramento- all pretty much expected. All good picks, hard to say any of these teams did the wrong thing. Favors adds athleticism to match the fundamentally sound Brook Lopez in the Nets front court, Wesley joins his former Cuse teammate Jonny Flynn to give Minnesota a much needed shot maker on the wing, and Cousins gives the Kings some toughness inside with rebounding, defense, and an inside/outside offensive game.
First Big Reach
Ekpe Udoh at 6 seemed like a reach, but he was their guy, so they went with him. A guy like Monroe who is more of a true center, who can pass out of the post and create opportunities seemed like maybe a better fit for a team in need of a steady and productive big man. It's not that Udoh can't be a valuable player in this league, I just don't think the production you would get from him would make that much of an impact on the Warriors, even if he reaches his ceiling. In other words, there's not enough upside here to make Golden State any more relevant than they already are. If anything, it finally make Anthony Randolph a bit more expendable, who actually has decent trade value for a skinny guy who can't stay on the court.
First Surprise
Gordon Hayward going 9 was the first real surprise of the draft. For many the top 8 picks were mocked out ahead of time, but many people expected utah to select either Ed Davis or Luke Babbitt. Even a day after the draft scouts mentioned Hayward as a surprise pick and one they felt would ultimately be second guessed with players such as Babbitt, Aldridge and Patterson still on the board.
Quick Thoughts and Observations
Detroit goes with Greg Monroe over Ed Davis, while Aminu should fit in nicely with the shadily improving Clippers roster. Utah was choosing between the two white guys, picking Gordon Hayward with the 9th pick, while Luke Babbitt fell to the mid first round after being involved in a deal to Portland. I can't say I was surprised by Utah's selection, but deep down I'm just having a difficult time picturing him bang with the big boys at the next level. I'll need to be thoroughly convinced that his poor shooting percentage from downtown last year was a fluke, before I can say he has a chance to be an impact player in the NBA. Regardless, having Deron Williams and Jerry Sloan on your side can't be a bad thing in terms of growth as a player.
Surprise #2
Now the Pacers pick. After changing their minds too many times and failed trade proposals, the Pacers went with the guy with the biggest upside over drafting the biggest needs (point guard, big man). I always liked Paul George, but on almost every team except Indiana. George isn't going to be Granger's stunt double- they drafted him 10th overall with the idea of playing him big minutes next year. Having Granger playing in the spot where George should be learning and getting comfortable with, could stunt George's growth. It should be interesting to see both guys on the court at the same time. With the latter addition of Lance Stephenson, it looks like Larry Bird scrapped the safe approach and was looking for as many offensive weapons as possible on a team that has one too many slingshots and beebee guns.
The "Can't Decide If I Like This Pick" Pick
The Clippers made an interesting play acquiring Eric Bledsoe, followed by a late second round pick of Willie Warren. They now have Baron Davis, Eric Gordon, Bledsoe and Warren as their backcourt, assuming UFA Steve Blake signs elsewhere. Four guards, none of them pure pass first point guards. Those who know me know that I am not a fan of shoot first point guards, so I just can't get myself to love the Bledsoe pick despite liking Bledsoe as a player. On the flipside, Baron is becoming fragile, and has seen his production fall off the past few years. I just cant decide if I like this pick.
More Observations…
Some other interesting lottery observations included Memphis taking Xavier Henry, Toronto going with Ed Davis, and Atlanta trading around to get Jordan Crawford. Coincidence that Henry plays a similar position to Rudy Gay? Coincidence that Davis plays the same position as Chris Bosh? What about Crawford and Joe Johnson? Coincidence? I think not…
Favorite Mid First Round Pick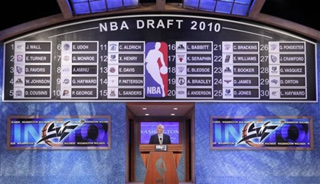 One pick that I loved was the Milwaukee Bucks selecting Larry Sanders at 15. When his name was called, I think more people in the Garden thought the Bucks just drafted a balding, overweight white guy in his mid 40s. However Larry is truly athletic for his position, and should be a great fit for this team. His brightest asset revolves around his ability to beat 9 guys down the floor and finish on the break, and with Brandon Jennings running alongside of him, the Bucks should look to push the tempo a little bit more next season. He also has the tools to becoming an excellent weakside shotblocker being the leaper and athlete that he is, and with Andrew Bogut already in the middle, Scott Skiles just added a big-time energy boost in the front court. Sanders has a raw offensive game, but it's the other qualities he brings to the table that contributed to a 15th overall selection.
The Knicks
As most people ripped them apart for their head scratching, jaw-dropping, traditional booooo-provoking draft selections, I actually didn't mind them. There was a lot of speculation that Lance Stephenson would be one of the picks, but that didn't happen. In my eyes, Stephenson would not be a good fit for the Knicks. When looking to bring in superstar free agents, I couldn't think of a worse player to surround them with- A ball dominant, one on one, low percentage shooting guard. I've actually been supportive of Andy Rautins prior to the draft after hearing about some excellent workouts and watching him grow as a player at Syracuse. He's a good decision maker, and the best shooter in the draft, good qualities to have as a role player surrounding double teamed stars the Knicks hope to add in free agecy. Yes he has his flaws, and his ceiling is low, but high IQ, 6'5 dead-on shooters are hard to come by.
The Landry Fields pick, well, wasn't something I or anyone else expected. However, it's not like they passed on Brandon Jennings again. It was the 39th pick. Other possibilities included Mikhail Torrance, Jerome Jordan (who they acquired after buying the 44th pick from Milwaukee anyway), Gani Lawal, Tiny Gallon, Ryan Richards, Devin Ebanks and Willie Warren. Nobody on that list is a no-brainer. Knicks beat writer Alan Hahn reported earlier that the Suns were very high on Fields, and if that's the guy the Knicks wanted, why not take grab him when they can. I agree with Donnie Walsh in that there was nobody in the late first round worth using 3 million dollars on, which would have hurt their cap room in a summer where every dollar is key. Overall, the big screw up wasn't management in 2010, it was management in 2004
Biggest Slip
Hassan Whiteside wins this award, being that he has been a projected lottery pick to mid first rounder all year. He fits the definition of project, but with a high ceiling at hard-to-find-talent position. He received questionable marks on his interviews, being labeled as immature, and project centers probably have the highest rate of bust potential, which could have been the main reason he slipped into the 2nd round. Solomon Alabi gets a close second as he fell from a projected late first to early second all the way to to 50th.
Best Second Round Pick
The Lakers grabbed a slipping Devin Ebanks at the 43rd pick, a perfect destination for a guy with the defensive tools to guard multiple positions, and an offensive game that needs work, but has potential. He can ease his way into the rotation, which is usually the best idea for a guy who needs to further develop his offensive repertoire. Playing against guys like Kobe and Artest in practice will really be beneficial for the former West Virginia graduate.
Best Moment
If you were at the draft, most would agree the most memorable moment was when the 28th pick was announced. Prior to walking into the building, Adam and I ran into Greivis Vasquez's high school coach. He told us he was waiting on GV, who was driving straight from Maryland after Washington had made a promise to him at 30, although they didn't think he would last that long. In other words, Vasquez had a first round guarantee, and was one of the few players not invited to the green room that was present at the draft. When Davis Stern announced his name as the Memphis Grizzlies 28th overall selection, Vasquez got the loudest ovation since the lottery picks were selected over an hour before. As he walked on stage and gave Stern a big hug, you couldn't help but want to get involved in a group hug. The kid has shown as much heart as anyone in the past few years, and will have a lot of people rooting for him at the next level.
Other Notes
I thought Portland had another productive night in acquiring Luke Babbitt, but I was more impressed when they stole Armon Johnson in the second round. Johnson isn't much of an outside threat, but he was one of the few point guards in the draft, and could be an excellent backup to an aging Andre Miller, as Jerryd Bayless is more of a combo guard. Too bad GM Kevin Prichard won't be around to see all of his excellent picks develop. The Blazers unceremoniously told him this would be his last evening of employment, but please go out and get us some good picks! He did.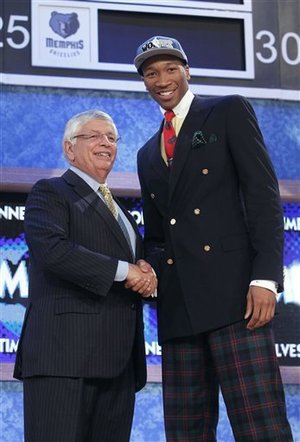 Detroit took Terrico White, a combo guard who will be forced to learn how to handle the ball at the point. The Pistons already have Rodney Stuckey, who isn't the greatest playmaker for others. White is a ridiculous athlete, but with Stuckey, Ben Gordon, Rip Hamilton, and Will Bynum, I'm not sure what role he plays.
LeBron once again stole the spotlight, as teams made last second moves to free up as much room as possible. Both Chicago and Miami were able to do so, allowing each team to add 2 max contract players to their respective rosters'. Miami currently has 3 players under contract for next season.
Fashion Police!!!
Wesley Johnson won the style award, or at least the loudest fashion statement. He came out with a navy blue blazer matched with some hideous plaid green and red slacks. Wow! I guess you gotta give him some credit for having the guts to wear them. Apparently they were a loaner from his grandfather who used to rock those at Studio 54.