Scott Harvey of Schenectady, New York won this year's 2KSports Draft Day Challenge. He scored 119 points, getting 13 first round picks exactly right!
Here is his winning Mock Draft: http://www.nbadraft.net/nba_mock_drafts/40268/2010
What do you do for a living?
I'm a full time student at Siena College in upstate New York, we have a GREAT college basketball program. During the summer I'm an Intern for a financial services company. I work for a private wealth management department that does fixed income trading, but my dream job has always been and will be to work in the personnel department of an NBA team, preferably the Knicks.
You mentioned your team is the Knicks. How long have you been a Knicks fan?
As long as I can remember! One of the major reasons I began liking the Knicks was because the first time I saw John Starks play he was immediately my favorite athlete, gotta love his hustle, and of course because I'm from NY.
What did you think of their 2 second rounders?
Not what I would have done, to put it nicely, but hey if that's who Donnie and D'antoni thought were the best players for the Knicks situation I'll reserve judgement until I see them in the summer league and can get a better read on their game. I'm pretty familiar with Rautins and I can see him as a nice fit in NY. I don't really know Landry Fields but I thought it was kind of a dubious pick. I was really rooting for the Knicks to take Hobson, I think he will be a steal. I hope the trade for Jerome Jordan rumor is real, I think that will help the Knicks save some face.

What hobbies/interests do you have?
Basketball. If I'm not working or at school, I'm most likely playing basketball or watching it. Music is also a huge interest of mine. It's a major part of my day to day life and always has been.
Do you play video games? Do you have a favorite game?
I do play video games and my favorite is the NBA 2K series. I play it like it's my job and have for the last several years. I'll take on anyone in the NBADraft.net community!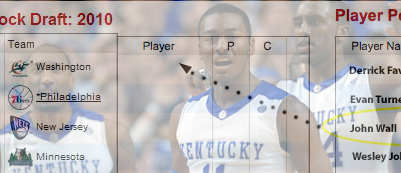 What was your strategy in winning the Draft Day Challenge?
I did a ton of research! I focused mainly on the needs of the teams picking and then kind of plucked in best available for those positions or a player I thought would really fit into their system well. Also looking into the General Managers past drafting habits was extremely helpful. The key was trying to stay up to date with the crazy amount of information and rumors that come out leading up to the draft. Every ten minutes a team is sending a smoke screen or reportedly moving a pick. You just have to try to stay logical and simple because most times the obvious pick is the right one.
Scott, you have a prize pack of 2KSports games as well as a brand new PS3 on the way, congratulations!