The home team of Greece won the 2015 U18 European Championships held in Volos from July 23rd to August 3rd. The winning team clinched the gold medal after a close game in the final against a loaded Turkish team, which counted on top talents Korkmaz and Yurtseven. Lithuania claimed the bronze medal over surprising Bosnia Herzegovina. Talented teams France and Germany lost in quarterfinal games, with underachieving results. The moral of this competition is that the average level of the 1998 generation in Europe is higher than the 1997 (of course with some exceptions). Here is the list of the top talents seen in this competition:
Frank Ntilikina ('98, 6-4, PG, France, Strasbourg)
Ntilikina along with Hartenstein are the cream of the crop for NBA prospects in the '98 class in Europe and already among the top 10 overall. Standing 6-foot-4 with huge (near 7-foot) wingspan, his athleticism and explosiveness alone give him a solid physical basis to compete in the NBA. He's a true, pass first point guard, and despite his physical potential, he's also efficient in the half court game, showing the ability to utilize his quickness to involve teammates in offensive situations. When he chooses to score, he's quite effective with the floater, also showing a solid jumper from mid-range. He has to polish his all around game, but the decision making will definitely improve as he matures, and with his athletic potential there's a high likelihood he'll become one of the top players in Europe of his generation. He closed the competition averaging 8.6 pts, 3.1 rb and 4.4 as.
Isaiah Hartenstein ('98, 6-10, SF/PF, Germany, Artland Dragons)
Hartenstein confirmed to be, along with Ntilikina, the top prospects of the competition, despite being one year younger. With his 6-foot-10 frame, explosiveness, he also has amazing size and physical skills by NBA standards, where he could be a legit swingman in the coming years. He reminds of a more athletic Danilo Gallinari, with a need to improve his shot and consistency. He has great instincts as an offensive rebounder, usually in the proper spot for the put back or the dunk. He's quite effective in creating from off the dribble, showing a nice handle, mobility and balance for a kid his age and size. The biggest point of concern is the shot, a key sticky point in his future at maximum level, 56% at the free throw line is not acceptable, and he shot just (26,3%) from 3 during the competition, as he closed with 11.6 pts and 8.7 rb.
Furkan Korkmaz ('97, 6-7, SG, Turkey, Efes Pielsen)
After a solid performance during the FIBAU19 world cup, Korkmaz was the leader of a talented U18 team, that made the gold medal game before losing to the home team. Korkmaz was Turkey's top scoring leader at 16 points per game, to which he added just under 5 rebounds and 3 assists per game. His size and scoring instincts, with the ability to finish in multiple ways make him the best Turkish wing prospect since Ilyasova from an NBA perspective. And it will be interesting to follow his development and progresses, especially his shot consistency and the mid-range game, over the next year. If he plays solid in the up coming Euroleague season, he figures to be a hot name for the 2016 first round.
Jonathan Jeanne ('97, C, France, Le Mans)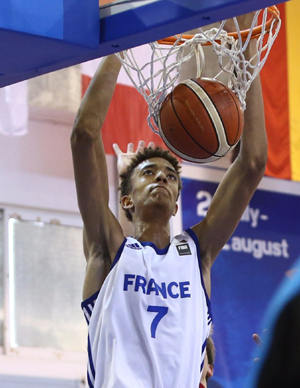 Jeanne looked amazing at times in Volos. He possesses great fluidity and length and has a very good feel for defense and rim protection. He has nice soft hands which help with his touch, though he might have small hands prone to fumbling the ball on in bound passes and on rebounds. He was easily faster than any bigman in the competition. A smart passer with good ability to get out of double teams. He needs to put on weight but less than you would think. This kid is a few years away from being ready and may be better suited to join the NBA in 2017, but his upside may prove too tantalizing for teams in the upcoming 2016 draft.
Omer Yurtseven ('98, 6-10, C, Turkey, Fenerbahce)
Yurtseven was quite efficient during the competition, even being one year under age. Standing at 6-foot-10, he has good size, if not elite for top European level and NBA, compensated by a really solid body structure and good athletic skills. In fact he can be considered rather developed from a muscular standpoint and he's quite explosive and mobile as well. He has good instincts as a rebounder, with soft hands and a reliable hook shot and jumper, but he definitely needs to work on his post-game, adding confidence to the use of pivot feet, fakes, and moves. His potential is promising, and in a couple of years he should be able to be a factor at the Euroleague level. He finished the competition averaging 9.8 pts and 8.7 rb, acting as Turkey's primary option in the paint.
Edin Atic ('97, 6-7, SF, Bosnia and Herzegovina, Spars Sarajevo)
After a solid Eurocamp, Atic confirmed his quality as a scorer, leading a surprising Bosnian team to the medal zone. A crafty swingman, he excels in the transition game, with his high energy and intensity, he's really effective at drawing contact while attacking the rim, and he's also able to effectively set up teammates when the defense collapses on him. Thanks to his solid athletic skills, and big hands, he's also a reliable rebounder. He's mostly a volume scorer, needing lots of shots to be effective, in addition his outside shot is still a point of concern (only 25% from 3 points over the competition). If he's able to work on this shortcomings, his NBA outlook will definitely increase. He finished the competition with an impressive 16 pts 7.6 rb and 3.8 assists, on average.
Vasileios Charalampopoulos ('97, 6-9, PF, Greece, Panathinaikos)
Charalampopoulos was named MVP of the competition, thanks to his all around performances through all the competition, playing the leading role for the winning team. His game style reminds of another talent that grew up in Greece, Bulgarian Alexandar Vezenkov, showing similar skills. His fundamentals are solid in basically all aspects of the game, with shooting range, passing skills and good ball handling for his size. He's poised and excels in clutch situations, without any fear of taking responsibilities. This maturity and technical-tactical development compensate for his lack of athleticism and explosiveness, making him a possible (second round) NBA prospect. He closed the competition with 16.6 pts, 8.1 rb, 5.2 and had a standout triple double in the quarterfinal game against France.
Ivica Zubac ('97, 7-0, C, Croatia, CIbona Zagreb)
Zubac was the only big talent left of the highly touted '97 generation in Volos, with a Croatian team suffering with the absence of Bender (sponsor issue), Mazalin (injury) and Zizic (injury). Consequently, after a great U19 tournament, Zubac confirmed his status as an NBA prospect, acting as the primary offensive option with Bruno Skokna, a crafty PG with amazing scoring instincts. He confirmed his mobility and quickness playing effective in P&R situations, acting as a real intimidator on the defensive side. Definitely a player to track over the next couple years. He closed the competition in Volos with 15.8 pts and 12.9 rb.

Georgios Papagiannis ('97, 7-2, C, Greece, Panathinaikos)
Papagiannis was coming off a solid U19 world cup, where he struggled a bit facing higher level of physicality. In this competition, with a lower athletic level and facing players his age or younger, the Greek tower was more effective and consistent. He exploited his mobility in P&R situations, finishing with effectiveness when assisted after the cut, often with a powerful dunk. In addition, he confirmed his solid rebounding skills and his potential as a rim protector, using his size and sense of position. His development will be built on the improvement of his post-game, currently rather basic and struggling when forced to face physical opponents. Playing for Djordjevic in Panathinaikos is a good starting point. He closed the competition with 12.0 pts and 10.3 rb.
Lauri Markkanen ('97, 6-11, PF, Finland)
Markkanen confirmed to be a top player of his generation, and a top recruit for NCAA closing as the top scorer of the competition with 18.2 pts per game. As a 6-11 PF he's the natural heir of Finnish basketball legend Hanno Mottola, showing the same ability beyond the three point line, basically in spot situations (41%). His ability to open the floor and to run in transition make him a terrific player considering the evolution of the game, where his skills and style could lead him to the highest European levels and potentially the NBA. He has to work on his body, since he's still quite skinny and not extremely athletic and on his post game, but his mobility and offensive versatility make him quite an intriguing prospect. Utah, North Carolina and Arizona are recruiting him.
Richard Freudenberg ('98, 6-8, SG, Germany, Bayern)
The German talent from Bayern struggled a little during the competition, due to the higher physical level faced (one year younger) and to his early stage of muscular development. Standing 6-foot-8, he has terrific size for the wing, with long arms, combined with remarkable ball handling skills. On the other hand he's still too skinny and his shot lacks consistency (less than 30% from three point during the competition). It will be interesting to see him next year again in this event, facing players his age and younger. He closed the competition averaging 5 pts and 2.8 rb on average.
Tadas Sederkesis ('98, 6-7, SF, Lithuania, Caja Laboral)
The Lithuanian talent who grew up in Spain shined in Volos, leading a rather talented team to the bronze medal. With his 6-foot-7 athletic body he has good size for the role, showing the potential to evolve as a SF on a stable basis, thanks to his mobility, ball handling and offensive versatility. He's an all around talent, able to conclude in multiple ways in the offensive side, showing a complete repertoire: floaters, turnaround jumpers, and drives are already part of his skill set, with the ability to use his size in the paint. In addition he's also a solid passer, with good court vision. The biggest concern is the shot consistency, especially from three points (27.8% in Volos), even if he has shown a good mechanics. He closed the competition with 12.6 pts, 7.0 rb and 2.3 as.
Borisa Simanic ('98, 6-9, PF, Serbia, Red Star Belgrade)
Simanic is definitely the best prospect of a rather disappointing Serbian team, which lost against Turkey in a close game in the quarterfinals. He's still in the development stage, but his structure is already quite solid, combined with excellent mobility and coordination. He has all the necessary skills of a modern PF, including three point range (10 for 28 from three point in Volos). In addition he's a solid passer from the post position, but he can be a better rebounder, a fundamental that he needs to improve upon is his positioning. He has been improving at a steady phase over the last couple years, and the future scenario for him could be quite intriguing. He finished with 9.0 pts and 4.4 rb.
Luc Loubaki ('97, 6-3, SG, France, CFBB)
Luc is a game changing defensive player. At 6'3, Luc's on the shorter side for a wing but has a huge wingspan and is an excellent athlete. He consistantly had hands in the passing lanes leading France's offense at times with his steals on defense. Though he is left handed, he more effectively goes to his right for layups and passes. On the fast break he can finish strong with either one or two handed flushes. In Volos, he was able to shoot 54% from inside the circle due to his athleticism and style of play. Luc at the next level is a 3 and D type of player as he just simply does not handle the rock very well and needs to shoot it from outside with more consistency. But he is a player to monitor as he has shown some improvement since the Fiba U17s last year in Dubai in both categories.
Verners Kohs ('97, 6'9, SF, Latvia, CAI Zaragoza)
Verners made a name for himself in Volos. Not overwhelmingly athletic or strong, he was the top shooter of the tournament. His shot is fluid and he possesses a quick release. He shot 45.6% from behind the arc on 57 shots. In fact, over 60% of all of his shots were behind the 3 point line. He is not just a spot up shooter as he can create space in pick and roll situations and hit the three. In fast break situations he can create angles and effectively utilize the Euro step or create fouls to get to the charity stripe. He needs to continue to develop a mid range game to his repertoire. There was some thought that he might play NCAA, but he parlayed his play to a pro contract with CAI Zaragoza thanks to his strong performance in this tournament.
Stephane Gombauld ('97, 6'8, PF, France, ASVEL)
Stephane was once considered a top 5 prospect in class. Unfortunately as players have grown stronger and / or taller, his impact has decreased. He still is adept at scoring around the post with his long wingspan and his willingness to create contact and finish with either hand, but needs to add more to his game His shot tends to be flat and lacks consistent wrist action. Stephane possesses good potential in becoming an undersized 4 as he is a good rebounder, a good athlete, has a long wingspan and likes to mix it up in the post. In this tournament however, he did not show any improvement in his handles or mid range game since last year's U17 in Dubai.
Kostja Mushidi ('98, 6'5, SG, Germany, Sig Strasbourg)
Kostja is a small guard who demonstrated the ability to create for himself. This German guard is a son of a Russian father and Belgium mother who will be playing in France next season under the tutelage of French national team coach Vincent Collet. Kostja, at 6"5, possesses good dribbling skills with both hands and a solid crossover. Aside from the crossover when he is on the move he effectively uses spin moves to create space or lay up opportunities. He is a good shooter who started hot from three for the first half of the tournament and faded some towards the end. In this tournament he was effective scorer, showing the ability to shoot the three, pump faking the three and hitting the mid range shot or going to the hole. As a 1998 born scoring 11.6ppg, Kostja showed a very interesting skill set in Greece.
Martynas Varnas ('97, 6'5, SG, Lithuania, Zalgiris Kaunas)
Martynas led Lithuania to a third place finish in Greece and was selected on the All Tournament Team. He is an explosive athlete with good jumping ability. He is at his best on the fast break for a strong finish or behind the arc from three. He does not possess great handles or a great mid range game but has shown signs of play making skills, averaging 4.8 assists for the tournament. He also was one of the leaders at drawing fouls and was eigth in the tournament in free throw shooting percentage. He needs to improve upon shot selection as he shot a greater 3 point percentage than field goal percentage (37.2 % from three and only 34.9% from two). Adding strength to his frame would probably incrementally increase his shooting percentage, but he needs to do so without losing his explosiveness.
Darel Poirier ('97, 6'9, PF, France, CFBB)
Darel could have easily been overlooked in this tournament as he was the backup for highly rated Jeanne and Gombauld but when in action he did create some intrigue. He is a strong, athletic big man who is strongest around the basket. He needs to continue to work on his spin as it does not always seem to come second nature to him and on his pick and roll or pick and pop actions. But in his limited playing time, he shot a good percentage from the free throw line and showed strength and athleticism and enjoyed posting up opponents.