As a high school junior, 6'8 small forward Jarred Vanderbilt, won't be eligible for the NBA Draft until 2018, but he is one of the most talented prospects in the nation regardless of class. The versatile forward shows tremendous potential and figures to become a household name in the coming years. NBADraft.net had the opportunity to talk with Vanderbilt at the Nike Global Challenge, where he had a great showing earning a spot on the USA All-Tournament Team.
NBADraft.net: How has Chicago been so far?
Jarred Vanderbilt: It's been great. Great experience, playing with different guys. Well, I've been playing with the same guys all summer, but it's a great event.
NBADraft.net: How does it feel to represent the US?
Jarred Vanderbilt: It feels good. I represent with the U16, so to come back to play with USA on my chest it's always a great experience.
NBADraft.net: For somebody how hasn't seen you play before, how would you describe your game to them?
Jarred Vanderbilt: Just an all-around player: motor, rebounder, defender, and just a playmaker. Whether that's scoring for me or getting my teammates open so they can score.
NBADraft.net: Is there a player you base your game off of?
Jarred Vanderbilt: They say Lamar Odom or kind of like some LeBron features the way I impact all the game.
NBADraft.net: Who has been the most difficult player to play against?
Jarred Vanderbilt: Throughout my high school career, some great players that I have played, I would say Josh Jackson and Jayson Tatum. I would probably say those guys.
NBADraft.net: At what age did you realize basketball was something you wanted to pursue?
Jarred Vanderbilt: Around sixth or seventh grade. After I started to realize I was good at it, I was starting to make an impact and I was starting to get looked at by scouts so that's when I realized I got a shot with this thing, that's what I want to do.
NBADraft.net: How is your recruiting coming along?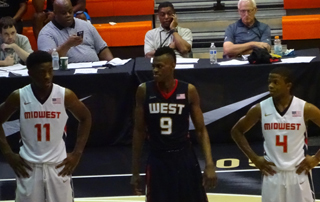 Jarred Vanderbilt: It's coming along great. I've been hearing a lot from a lot of schools lately. I haven't narrowed anything down yet or have a list but I'm still listening and open to all options.
NBADraft.net: You are only half way done with your high school career, what else do you want to accomplish over the next two years?
Jarred Vanderbilt: I want to win a state title with my team, win Peach Jam definitely. I didn't get to play in this Peach Jam but I want to win Peach Jam and win U17 next year at least.
NBADraft.net: Where do you see yourself in five years?
Jarred Vanderbilt: In the league, I see myself being the marquee guy, being a lottery pick, and just a star of a team. An All Star, that's where I see myself, an All Star.