By Davide Bertoluzzi and Lornezo Neri
From June 30 to July 10th the FIBA U19 world championship took place in Riga, Latvia with the Lithuania team, carried by the tremendous talent of Jonas Valanciunas, clinching the title. This competition has shown that European basketball is alive and is still producing talented NBA prospects.
Here is a look at the top performers:
Jonas Valanciunas, 1992, C, 6'11"/210 cm, Lithuania
Drafted 5th in this year's draft by Toronto. Valanciunas confirmed the expectations related to his lottery pick status, dominating his peers in this FIBA U19 world championship. Even his most publicized opponent, Polish big man Karnowski, had his mobility, athleticism and intimidation neutralized. He still has to work on the use of the pivot foot, but he is really a rising star, ready for NBA.

Vytenis Cizauskas, 1992, PG, 6'2"/189 cm, Lithuania
Cizauskas could become a player similar to Jasikevicius, with his combination of height, physical power and basketball IQ. During this championship he showed the ability to play P&R (lethal in combination with Valanciunas) and amazing passing skills. He is also a good 3 point shooter and he has a reliable jump shot. His athletic shortcomings and his lack of lateral mobility could derail his NBA chances, but he is a top European prospect regardless.
Edgaras Ulanovas, 1992, SG, 6'6"/197 cm, Lithuania
One of the secret gems of this Lithuania world championship team. Even if he is not as highly decorated as the other two bright talents, his contribution to the title was instrumental. Ulanovas is an average shooter, but he can attack the basket effectively thanks to his quick first step and the ability to read different offensive situations. He's a bit skinny but he could become a top player in Europe in his role.

Premislaw Karnowski, 1993, C, 7'1"/215 cm, Poland
Even though he was destroyed by Valanciunas, Karnowski has shown that he's still one of the top prospects in his role. He's big, he has soft hands and he has a complete offensive game, with the ability to use his pivot foot and exploit his size. He's a below average athlete and he could have problems with conditioning, but we will see him in a top European team very soon.
Michal Michalak, 1993, PG, 6'6"/197 cm, Poland
In my opinon he is the Polish player with best chance to become an NBA player. Michalak is tall for the role, he is a good 3 point shooter and he has a solid frame that allows him to attack the basket, and absorb contact. He also has good passing skills, and he is a good rebounder. I think he'll find a spot with a top European team in the near future.
Mateusz Ponitka, 1993, SG, 6'5"/195 cm, Poland
Ponitka played with the World team in the last Hoop Summit, showing his toughness and competitive attitude. He has good size for the position and is a solid shooter, especially off the crossover behind the 3 point line. He is a below average passer and lacks lateral quickness to defend NBA guards. He's basically a scorer, but he should improve.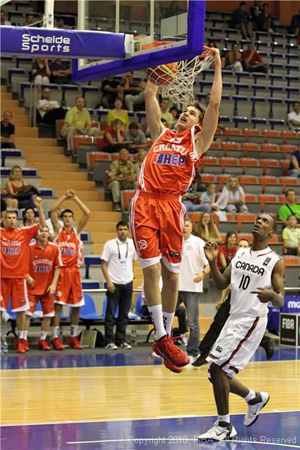 Mario Hezonja, 1995, SG, 6'5"/195 cm, Croatia
Like Aran Smith wrote in his adidas Eurocamp write up, Hezonja can handle the ball, shoot from distance, plays with great intensity and is extremely athletic, he could really be "the best 2-guard prospect to come out of Europe since Drazen Petrovic." Anyway, in this tournament he has shown some shortcomings related to his young age: sometimes he tends to take bad shots and to isolate himself from the structured team game, probably also because he has not been not integrated properly with his teammates. We'll see more of him in the U18 and U16 European championships.

Dario Saric, 1994, SF/PF, 6'9"/207 cm, Croatia
Saric played very well throughout the championship, and during the quarterfinal game against Argentina he was unstoppable. He has the mobility of a SG in the body of a PF, that makes him a continuous threat. He has excellent use of the pivot foot and he can score with an effective jump shot, including 3 point range. At this level Saric can basically play all 5 positions. He is also a good passer and has a great vision. There are some concerns about his athleticism and foot speed, but his versatility keeps him on the top of the European prospects board.
Boris Barac, 1992, PF, 6'9"/206 cm , Croatia
He is the younger brother of Stanko, and one of the most interesting prospects of a talented but not well organized Croatian national team. Barac has excellent fundamentals and he is also a good shooter from 3 point range, combined with a great use of pivot foot. He's tough and competitive but he is not an elite athlete and this could limit his likelihood to become an NBA player.
Davis Bertans, 1992, PF, 6'10"/208 cm, Latvia
Bertans performances in this world championship were pretty disappointing, especially if compared with the expectations that followed his selection in the 2011 NBA Draft. Bertans has shown his inability to create his own shot from the crossover and to attack the basket effectively, despite his size and his long arms. He has a smooth release and fast feet, that make him an interesting shooter, but there's still a lot of work to do in order to make him an NBA player.
Kaspars Vecvagars, 1993, PG, 6'4"/192 cm, Latvia
Vecvargas is one of the best young point guards in the European scenario with his size and passing ability. He is a poor shooter and he should improve in reading offensive situations, which is the main reason for all his turnovers. Vecvagars is also a good rebounder for the role and attacks the basket effectively. This year he should have more chances to play in Euroleague basketball with Zalgiris Kaunas.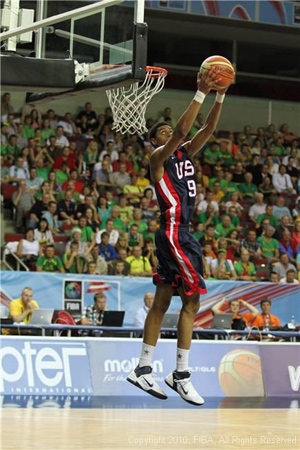 Jeremy Lamb, 1992, SG, 6'5"/194 cm, USA
When we last saw him he proved to be a great wingman, able to play alongside a go-to-guy like Kemba Walker. But after this World Championship, Lamb has proven that he's ready to become the next big UConn star. In a few months he has made a great step forward in offensive terms, showing leadership, clutch play and adding a strong mid-range game. He's primed for a breakout sophomore season and possible top 10 pick in 2012.
Joe Jackson, 1992, PG, 6'0"/182 cm, USA
The PG of Memphis Tigers played very well in the first part of the event showing great passing skills (4,1 assist per game) and offensive instincts, but then completely lost his confidence and efficiency, showing a lack of playmaking and vision in his half court, forcing turnovers, ISOs and P&R that have just sent the team out of rhythm. Great talent, but must settle down.
Patric Young, 1992, PF, 6'9"/206 cm, USA
If Lamb had to play the role of Batman, Young was definitely the one who played the part of Robin. Much more athletic than most of the other players in the World Championship, the Gators forward used his physical prowess to give an interior dimension to Team USA, which was more talented on the perimeter. He lacks from the technical standpoint, but he did a great job in defense, rebounding and hustle plays. He also had a nice game against Valanciunas.
Aleksander Cvetkovic, 1993, PG, 6'3"/190 cm, Serbia
The best point guard of the event has drawn much attention. Very similar to his fellow ex-Blazers Sasha Djordjevic, Cvetkovic has shown great leadership qualities combined with top-level offensive skills and a good ball pressure on the defensive side. He's not a great athlete but he's equipped with a quick first step and good capacity to read the defense. He suffers playing against physical opponents, but he can still work on his body.
Bogdan Bogdanovic, 1992, SG/SF, 6'6"/197 cm, Serbia
Despite an injury that did not allow him to play the first game and also affected his overall performance in the tournament, Bogdanovic was still able to leave his mark with big games against Argentina and Lithuania. He's a complete offensive player with good defensive intensity, he's difficult to stop when he finds confidence in his game. On the other hand, is a little selfish and his shooting skills are inconsistent.
Marcos Delia, 1992, PF/C, 6'9"/206 cm, Argentina
He's a center with polished old-school moves including back to the basket and great footwork. Delia has a very soft touch around the basket that also uses for moving the defense from the post. Despite being skinny, his presence is felt on rebounds, while showing a lot of effort defensively and at the conclusion near the rim. His game reminds of a skinny, 6'9 version of Fabricio Oberto, but he needs to play in a league like the European one.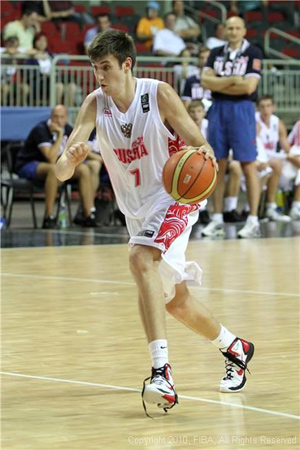 Sergey Karasev, 1993, SF, 6'7"/200 cm, Russia
Son of Vasily, guard of the Russian team that won the silver medal in 1998 World Championship, Sergey is a SF with a good technical background combined with nerve and unpredictability that makes him indecipherable for the opposing defenders. He is competitive and stubborn, he has size and shooting skills for his role, but at times is carried away too much, straying from any team environment. But at 18 is not easy to handle such character.
Dmity Kulagin, 1992, SG, 6'5"/195 cm, Russia
The slayer of Team USA is a very versatile offensive player, dangerous with the dribble, able to attack the basket with and without the ball, thanks to an accurate shot with amazing range and fast release. But the real strength of this guy is his adaptability to teamwork, because he's unselfish and knows how to play in certain moments of the game. His defense is pretty weak and he lacks athleticism, but he has a high-level basketball IQ and has excellent instincts (12 rebounds vs USA).
Anthony Drmic, 1992, SF, 6'5"/195 cm, Australia
Signed by Boise State for the next NCAA season, Drmic has played very well in the first part of the competition, leading Australia to the first place in Group F, but later he was unable to step up in the most important moments. Drmic is a versatile player with many weapons, but he doesn't have the personality to control the game and this is his biggest limitation. He can in many ways, but he has to improve the use of his left hand.
Hugh Greenwood, 1992, PG, 6'3"/190 cm, Australia
Greenwood was one of the best point guards of all the competition, with his combination of size, basketball IQ and leadership. He's a good shooter and an above average rebounder for his role, but he still has to improve as a passer and his vision. He'll play with New Mexico next year, under the guidance of Steve Alford. Another good reason to follow the MWC.
Sim Bhullar, 1992, C, 7'4"/224 cm, Canada
A tall 7'4" with this agility and those hands, but after the match against Korea (24 points and 14 rebounds) the intrigue in him subsided. Against Croatia and Lithuania, however, he was limited against the greater mobility of the opponents, neutralizing him in those games. The guy remains interesting for its combination of size, fundamentals and intimidation. But he must work on conditioning and lateral speed to ensure a good pro career.
Lucas Nogueira, 1992, C, 7'0"/213 cm, Brazil
As with the Eurocamp in Treviso, we expected a greater impact from the center of Brazil, who was projected to be a first round pick a year ago. Instead Nogueira disappointed once again with sloppy, uninspired performances for a player once considered a first-rate prospect. Great activity on rebounds (8.8 per game) but more due to his height than its real capabilities. Nogueira needs to gain experience and toughness in a major way in order to have an opportunity to one day land in the NBA
Raul Neto, 1992, PG, 6'1"/182 cm, Brazil
He also participated at the Eurocamp in Treviso, and like Nogueira, he failed to impress. But in this World Championship, Raul Neto has been able to turn things around with a series of good matches, where he showed leadership, court vision and playmaking. His decision-making is still questionable and that causes lots of turnovers, but it's an aspect on which he could work in coming years. The acquisition of an Italian passport will be important for his future, as many European clubs may be interested on him right now.