By Rick Fois
With the draft rapidly approaching, it's time to analyze the top international prospects. With any international player, there is an air of mystery surrounding how well his game will translate to the NBA. Here is a look at the strengths and weaknesses of the top-10 overseas prospects.
1. Dante Exum, 6'6 PG/SG Australia 1995
Positives: Exum possesses rare quickness and change-of-pace ability for a player his size. He was terrific in the U-19 World Championships, leading Australia to the semifinals. His athleticism and speed should be even more effective in the NBA with wider spacing, more transition and quicker plays. His first step and ability to read the floor are his strongest attributes. He can pass and shoot the ball pretty well, although both skills must be be re-evaluated at the NBA level. He has tremendous length for the point-guard spot and he's been training with noted NBA strength/conditioning guru Tim Grover. He's so long, in fact, that he could effectively play both guard spots.
Negatives: Unfamiliarity. Teams have not had the luxury of being able to pick apart his game like many of the other prospects. Everyone appears willing to assume he's a true point guard and will be able to transition to the NBA without any problems. All we really know about Exum is what he showed in the Fiba U-19 Championships, the Hoop Summit, his Australian school finals, and his appearances at adidas Nations over the past few years. He played well in those games, but never really squared off against a high level of competition. The game that really increased his stock in Prague came against the worst Spanish U-19 team in decades. He was defended by a slow, chubby PG for most of that game. He played only 11 minutes against Team USA, but he found a way to commit four turnovers and was outplayed by Marcus Smart. Can he play against opponents that get into his body and push him around? His jump shot is still a bit of a question mark — the trajectory is flat and he has yet to prove himself as a reliable shooter. Will he be able to fully utilize his incredible first step if he struggles to finish at the rim? They aren't the same player, but this has hindered Austin Rivers' ability to adapt to the NBA.
2. Dario Saric, 6'10 PF Croatia 1994
Positives: There are very few players in this draft who compete as hard as he does. He has experienced success at every level, and he always rises to become the leader of his teams. He hates to lose. He will dive on the floor, take elbows to the face, and fight for every inch on the block. His versatility, passing, and ball-handling ability reminds some of Boris Diaw, with his toughness reminding others of a younger Luis Scola. He loves to push the ball in transition — sometimes finishing himself, sometimes finding the open man. Playing as a 4, he can create many mismatches against slower power forwards that will struggle to chase him on the perimeter. As a small forward, he can post up his smaller defenders. Saric's supporters believe he'll succeed in the NBA because of his intangibles and his willingness to do whatever it takes to win.
Negatives: Saric cannot guard any NBA-level small forward — he is just not laterally quick enough. He has to play the 4, but are we sure he can guard opposing 4s? He is a very good rebounder, but it's one thing to guard European stretch 4s, but quite another to contain Pau Gasol or Zach Randolph. His first step isn't quick enough to blow by NBA defenders. In Europe, he uses his body strength to keep the defenders behind him. He will have problems doing that in the NBA. He can make shots, but it's unlikely that he'll ever shoot better than 35 percent from beind the NBA 3-point line. He is a player that needs the ball in his hands to be effective for his team. He will find a way to be helpful no matter what, but in order to reach his full potential, he needs a team that will give him the freedom to run wild — not too many NBA teams seem open to that.
3. Jusuf Nurkic, 6'11 C Bosnia & Herzgovina 1994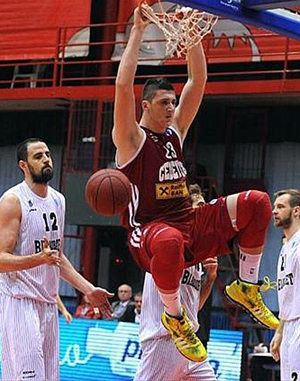 Positives: It is unusual to find a 7-footer this nimble and with such a great feel for the game. Nurkic has a Nikola Pekovic kind of body and possesses everything necessary to become a double-double machine in a couple years. He has good lateral speed to show on the pick and roll. He is a strong post defender, where he is a nightmare to move around. On offense, he will live off of drop-offs and his teammates' creations, but he's quick off the ground and can finish with both hands.
Negatives: His enormous legs make him look like he belongs in a sumo ring. He doesn't have Pekovic's savvy or his ability to use his body at this point. His lack of athleticism is a problem — opponents will likely shoot over the top of him. He is not much of a rim protector, which will make him a liability in weak. Offensively he may struggle to finish because he doesn't finish above the rim. Scouts are concerned about his maturity, as he lost control of his emotions in a number of games with Cedevita. He's a bit of a loose cannon — opposing players often try to get under his skin so he'll commit a crazy play and get penalized. Will a guarunteed multimillion-dollar first-round deal derail his focus?
4. Bojan Bogdanovic, 6'6 SG Serbia 1992
Positives: Bogdanovic has good size and scoring ability. He can spot up beyond the 3-point line or create off the dribble. He has a good feel for the game and strong enough athleticism to use his body. There are very few young players who have accomplished what he did this year in Europe. Bogdanovic would be perfect in a well-oiled system with a lot of international players who share the ball and play team basketball, such as the Spurs.
Negatives: He is a streaky outside shooter and struggles with his accuracy coming off screens. He might not have the leg strength to finish in transition or at the rim in the NBA night after night. Early on, he could struggle to gain a coach's trust in his defensive ability, which could cut into his playing time and his ability to show what he is capable of offensively.
5. Vasilje Micic, 6'6 PG Serbia 1992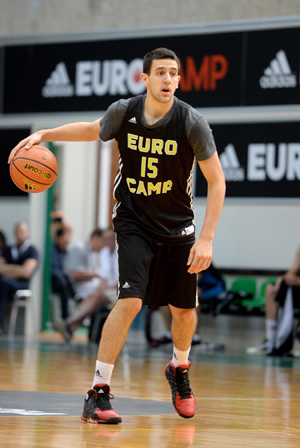 Positives: No European prospect passes the ball like him. Few people read the game and deliver passes with the perfect timing like him in any league. He is one step ahead of everybody and he seems to know where every player should be. He is a top-notch ball handler and the ideal floor general. He perpares maniacally for every game and every player he will face. He has shown to be a better shooter than he was a couple years ago. His basketball IQ is outstanding and he run the pick and roll like few others. Like every great point guard, he makes every player around him better.
Negatives: He lacks the athleticism and quickness to guard NBA point guards. He struggles with his stamina, running out of energy far too easily (especially in fast-paced games). Despite his improvements in this area, he is still a spotty shooter — many teams still play under the screen and dare him to shoot. Much like Sarunas Jasikevicius and other great European point guards, he gets frustrated playing with low IQ basketball players. Unless he learns how to communicate his thoughts without alienating his teammates, he will struggle to be accepted as a leader in the NBA.
6. Clint Capela, 6'11 C/PF Switzerland 1994
Positives: Many people fell in love Capela after seeing his improvements/productivity this season. His size, length, and athleticism are absolutely freakish. The Swiss National can run the floor very well for a player his size. He has strong rebounding instincts and possesses as much upside as any of the big men in this year's draft. If he learns a couple of post moves and improves his court awareness, he could become a great finisher and rim protector. He posted some big performances playing for his French team this past season.
Negatives: Can you turn a great athlete into a basketball player? He was invisible playing in front of scouts at the 2013 Eurocamp. He also struggled in front of scouts at the Hoop Summit in Portland this past April. We've been waiting nearly two years for his game to come around, and he hasn't lived up to his potential yet. His feel for the game is still lacking and he has yet to develop a reliable post move. He does not appear to play hard at all times, and his dedication to the game has been questioned.
7. Alessandro Gentile, 6'6 SF Italy 1992
Positives: Along with Bogdanovic, he has been one of the best players in Europe of this age group. He played very well at the European Championship and in Euroleague. Few kids ever had the impact that he had this year for a very good team at the highest level. He has incredible strength in his upper body and great feel for scoring. When he is hot, he's virtually impossible to guard. He's developed a very reliable step-back move and he possesses a natural ability to put the ball on the floor on close-outs. Similar to Marco Belinelli, he plays with great self-confidence.
Negatives: He is not a quality shooter, thanks to his subpar mechanics. It is a real question whether he can create his own shot in the NBA. If not, can he make more than 35 percent of his 3-point attempts in the league? If the answer is no, he will struggle to succeed in a league where you need to be great at multiple things to be successful. His attitude and questionable basketball IQ are concerns, as well. He likely has the talent, but has yet to show a real desire to do the things necessary to play in the NBA. He started out well, but melted down in the Italian League finals against Siena. He also has been defiant with NBA scouts who have shown interest in him, so a team will have to count on him to mature.
8. Damien Inglis, 6'9 SF/PF France 1995
Positives: On talent alone, he would likely be in the top five on this list — strong, athletic, smooth. Inglis possesses the perfect body for an NBA wing with an enormous wingspan. He could even slide over to the 4 in small-ball lineups. He can shoot, attack the rim, handle, and pass the ball. If he lands in the right situation with some coaches willing to push him, he could really take off. Inglis stayed in the draft at the last minute, leading to speculation that he has a promise somewhere in the mid to early second round.
Negatives: Instead of going to a team where he could have played this year, he barely saw the floor. His attitude came under scrutiny from scouts at the Hoop Summit in Portland. He has first-round talent, but questionable mental focus and bad body language when things aren't going his way. He is not aggressive and often disappears from the games. His mental toughness and passion for the game are real concerns. He is also currently dealing with an injury.
9. Walter Tavares, 7'2 C Spain 1992
Positives: Tavares is an enormous player (7-2 with a condor-esque wingspan) who can run the floor. He can block shots despite not being the most explosive athlete. He moves really well and positions himself nicely on the offensive/defensive glass. Offensively, he can finish when he's put in the right position. His size and touch make him very intriguing.
Negatives: At this stage, his movements are stiff and he lacks great balance. It's uncertain whether he will ever have the quickness to react to plays in the NBA. Though he is very long, players often overpower him. Offensively, he still has a long way to go. Playing against NBA centers is a though job, and right now, his skill level is just too raw. He struggles to move his feet against the pick and roll, and his toughness has been questioned. Even though he's intriguing, he may be too much of a project.

10. Artem Klimenko, 7'0 C Russia 1994
Positives: Klimenko has size, decent agility, and some developing post moves. He has the length to be a rim protector if he continues to develop. He's just 20 years of age and could be a perfect player to stash for a couple years to see what he can turn into.
Negatives: Russian players have not had a great track record over the past few years. For every Andrei Kirilenko, Timofy Mozgov and Alexey Shved, there have been just as many prospects who didn't make it.
Honorable Mention
Ojars Silins, 6'9 SF/PF Latvia 1993
Positives: Silins can shoot the ball very well. He proved that at a high level in Europe this year. He had a tremendous Eurocamp, showing off his strength and hiding his weaknesses. There are never enough "3-and-D" players and he could be exactly that. He is very good at reading long close-outs for jumpers and moving the ball.
Negatives: He could struggle in the NBA defensively, particularly if he's on a bad team. He needs a team with an excellent defensive scheme to show off his IQ and ability to read passes off the ball. He will struggle to finish at the rim, as well.
Nemanja Dangubic, 6'7 SG Serbia 1993
Positives: He played well at Eurocamp — winning the MVP — and improved significantly from last year. He is a great athlete by European standards and he knows how to finish in the paint. He has good basketball IQ, which he proved in Treviso (but also playing for Mega Vizura as a PG when Micic was injured). There are not many athletic European players who understand the game like Dangubic and can guard NBA wings.
Negatives: He can't shoot. You must be a hell of a defender to play the wing in the NBA without being able to knock down shots. Unless you think you can fix Dangubic shot (the form is actually not that bad), he won't have any impact on offense outside of his transition game.
Axel Toupane, 6'6 SG France 1992
Here is another standout from this year's adidas Eurocamp. Toupane lacks great physicality but shows solid focus and a well-rounded set of skills. He can shoot and he has the speed and athleticism to defend and get by opponents off the dribble.
Ondrej Balvin 7'1 C Czech Republic 1992
Balvin plays for the same team as draft defector Kristaps Porzingis. He impressed teams at the 2013 adidas Eurocamp, but had a tough season.
Leo Westermann 6'5 PG France 1992
High-level point guard with good experience at the senior level. Has a shot to be drafted due to his size and compsure. Missed the season due to injury and lacks length.
Cristiano Felicio 6'10 C Brazil 1992
Impressed a lot of scouts with his play at the 2014 adidas Eurocamp. Sturdy bigman with good mobility and solid touch. Is he really 22? What kind of upside does he have? Experience in Brazil but never at a high level.