With Thursday's NBA Draft rapidly approaching, the Cleveland Cavaliers find themselves evaluating three viable options for the No. 1 overall pick. The stakes are impossibly high, and the margin for error is razor thin. Which door should the Cavs choose to open?
After winning the draft lottery for the 17th consecutive season (note: figure may be exaggerated), the Cavs were widely expected to select Kansas center Joel Embiid first overall. Prospects with his combination of size (a legit 7-footer with a 7-5.75 wingspan), agility, skills, and upside (turned 20 years old on March 16) don't come along very often. In a league where having a skilled, two-way center is at such a premium, Embiid separated himself from this loaded 2014 draft class with a jaw-dropping series of workouts, putting to rest any questions that his lingering back problems put in scouts' minds during the NCAA tournament.
And then Embiid broke his foot.
When news of Embiid's foot injury started to circulate earlier this week, it sent the NBA draft world into chaos. Two screws were inserted into Embiid's navicular bone — a serious injury that hurt the careers of Zydrunas Ilgauskas, Yao Ming, and Bill Walton (but had no long-term impact on Michael Jordan).
Time will tell whether this injury derails Embiid's promising career, but it unquestionably impacts his draft stock. This foot injury opens up the possibility for three wildly divergent outcomes at the top of this year's draft.
Door No. 1: The Cavs take Embiid anyway.
This option seems unlikely, as impetuous owner Dan Gilbert has his sights set on returning to the postseason as soon as possible. He seems to have little interest in using his top overall pick on a prospect that needs at least four months to heal and may not impact the win column much at all this season. The ghosts of Greg Oden and Sam Bowie loom large over this pick, as no team wants to be saddled with an injury-prone center while passing on two top-shelf wings with All-Star potential.
But if the Cavs believe Embiid's injury issues are freak occurrences instead of chronic conditions, it may make the most long-term sense to select him first, regardless of what happens this season. Cleveland does not have a good track record when it comes to attracting top-tier free agents (quite the opposite), so its best chance of landing a top-10 player is through the draft. If the Cavs believe Embiid is a transformative talent, they need to take him. Teams have control of their draft picks for up to seven or eight seasons, so it might be best to take the long view with a prospect of Embiid's caliber, particularly if he fulfills his immense potential.
Door No. 2: The Cavs select Embiid's Kansas running mate, Andrew Wiggins.
This is a sensible option, yet it's one I don't believe the Cavs are fully committed to. Andrew Wiggins was widely considered this draft's top overall prospect for much of the year, with the shameless tanking tactic many NBA franchises employed this season commonly referred to as "Riggin' for Wiggins."
Other than Embiid, no player has a higher ceiling than Wiggins. He is a top-0.0001-percent athlete, with the kind of measurables that make him an ideal wing in today's NBA. He simply glides up and down the court, and will likely thrive in the professional game much more than he did in Bill Self's buttoned-down Kansas sets. Wiggins is the type of player much more suited for the 24-second shot clock and transition basketball than the slower college game.
He projects as an All-NBA type of defensive force, with the lateral quickness and wingspan to wreak havoc on passing lanes and close out on spot-up shooters. He is already an above-average rebounder for his position and, much like LeBron James and John Wall, excels at weakside and chase-down blocks. There is such a premium for two-way players on the wing, and Wiggins will likely develop into a Paul George-esque defensive menace.
His offensive game is a bit of a work in progress, as he still goes to his right nearly every time and dribbles the ball too high. Much like George when he first came into the league, Wiggins will be a turnover machine if he attempts to split screens off the dribble. He's a solid (but inconsistent) shooter, but has nice form and range to the 3-point line. This part of his game is much less polished, but at just 19 years of age, it will more than likely come around.
However, Wiggins is a bit of a quiet player — not the most vocal, take-charge leader. The Cavs have spent the last handful of years playing under a dark cloud of bickering, dysfunction, and overall malaise. Some players are rumored to hate each other's guts, and I'm not sure any member of the Cavs cracked a smile once last season. New head coach David Blatt will hopefully turn some of this around, but it's not the ideal situation to drop Wiggins into. He's not the draft's most ready-to-play prospect. That guy is coming up next.
Door No. 3: The Cavs take Jabari Parker.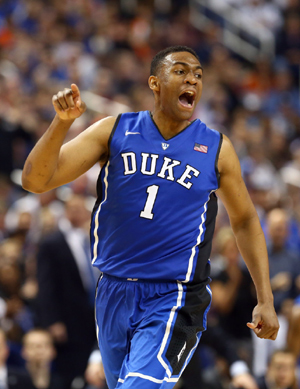 This feels like a safe, sensible fit for both sides. If Gilbert and the Cavs want to make a playoff push this season, Jabari Parker is the player most equipped to help make that happen.
If he stays healthy, Parker will likely win the Rookie of the Year award. He possesses one of the most polished, NBA-ready sets of offensive skills we've seen in years. Parker can do it all — shoot, pass, handle, set up teammates, get to the line, get out in transition, beat guys off the dribble, dunk in traffic. He is a high-IQ player with top-shelf versatility and court awareness. He seems to make the right decision far more often than not, even at this young age (19).
There should be no reason why Parker doesn't develop into a 20-ppg scorer at the next level. It seems inconceivable that he would end up being and out-and-out bust. Out of everyone in this draft, Parker has the highest floor. His worst-case (healthy) scenario still feels pretty solid. He would take so much pressure off of last year's No. 1 overall pick, Anthony Bennett, and allow him to transition into a much more suitable bench role while Bennett figures out his game.
In addition, he is a mentally tough, levelheaded kid who won't let the weird Cavs dysfunction get to him. If anything, he might help fellow Duke alum Kyrie Irving rediscover his love of playing basketball, which seemed to come and go during a miserable 2013-14 campaign.
So if he's such a marvelous prospect, why wouldn't Cleveland just take him and be done with it?
For starters, he is a below-average defensive player — and that's putting it kindly. During Duke games this past season, coach Mike Krzyzewski often slotted Parker at the center spot in zone defenses so he wouldn't get exploited on the wing. He spent much of last season about 15 pounds over his ideal playing weight, as he was still recovering from his own foot issue he suffered back in high school. He's a very good athlete, but lacks the lateral quickness you'd like to see in a small forward. His size to play small-ball four is intriguing, but he'd have trouble handling the bigger power forwards in the league. Unlike Wiggins, Parker's impact will likely be felt mainly on the offensive side of the court.
When Parker and Wiggins squared off on Nov. 13, Parker lit up the Jayhawks for 19 first-half points, but when Self realized he should probably have Wiggins checking Parker, Wiggins completely locked him up. It's ridiculous to base your draft pick on one college game, but it's indicative of the athletic differences between these two prospects.
Also, recent reports suggested that Parker had a subpar workout in Cleveland. According to ESPN, Parker came in heavy, disinterested, and sluggish. Apparently, it was not his finest hour. It's never easy when you're the Cleveland Cavaliers — even when we're talking about the most polished, NBA-ready, win-now prospect available.
Then again, the Cavs could trade the pick or go completely off the board like they did when they took Bennett No. 1 overall last year. It's not out of the realm of possibility to see them take someone like Dante Exum, even though he would be yet another member of an over-crowded backcourt with Irving and Dion Waiters. You can't rule anything out when discussing the Cavs.