Deandre Ayton 7'0 – Hillcrest Academy 2017
The man child scored around the rim when he played in the paint but he settled for the three a bit too much against Victory Prep. Ayton settled down and went in the paint more against API. There is no questioning his ability to score from the perimeter, but he struggled to connect at times and cannot be stopped around the basket. He doesn't get a lot of clean looks or many one on one opportunities in the paint but is nearly automatic around the rim. He had a play where he threw it off the backboard to himself for a dunk in the half court. He protected the paint on defense and knows when to leave his feet when going for blocks. He grabbed nearly every rebound that came within reach but Victory Prep didn't have anyone that could match Ayton's height and strength advantage. Ayton earned MVP against Victory Prep and finished with 23 points.
Thon Maker 7'1 – Athlete Institute 2016
Maker didn't shoot as well as the last few times I've seen him, but he scored well in the paint. His touch on his jump hook was on point, putting it right in the goal and using the glass when appropriate. He still gets bumped off balance at times but continues to get to the free throw line at a high rate. He blocked shots as a help defender and did a great job not fouling when players tried to drive into him. He had two blocks in the final few seconds of regulation to send the game into overtime against Quality Education Academy, finishing with 25 points in the loss. His excellent play continued against API. Athlete Institute was down big at halftime, they would cut into the lead but didn't have enough time for a comeback win. Maker finished with 25 points, 16 rebounds, and three blocks. He played with great tenacity all weekend and has been an intense competitor, it is unfortunate for his team to end the event with three losses. The game has slowed down for him; his passing/court vision has shown great improvement and so has his ability to read and react.
Josh Jackson 6'8 – Prolific Prep 2016
Prolific Prep got off to a slow start against API starting out the game down 0-14. Prolific would eventually get it going but API defended Jackson pretty well. He was face guarded by Terrance Ferguson and Mark Vital at different times throughout the game. He didn't shoot well but did a great job passing the ball and cleaned up missed shots around the rim. He has great defensive instincts, knowing when to jump for blocks and when to stay on his feet, rejecting a few of Vital's shots. Jackson would eventually get two technicals and be ejected. API would go on to extend the lead to a 111-82 blowout. In the second matchup against Virginia Episcopal, Jackson was active on both ends. He slashed with aggression and looked to run the floor after forcing turnovers. The midseason transfer of Ira Lee has been beneficial for Jackson; always having an active and athletic big who attacks the paint every play, and is always alert for the pass.
Trevon Duval 6'2 – Advanced Prep International 2017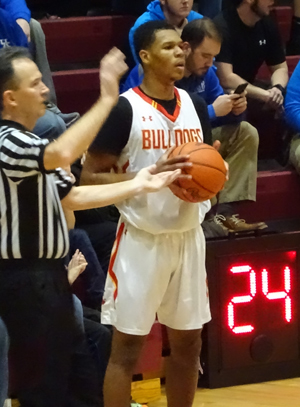 Duval shot the ball well and set the pace. His handle and change of speed with the ball in tight spaces can't be matched at this level. He is quick and explosive but never in a hurry. Duval scored 23 points and passed out eight assists in the win against Prolific Prep. API tried to claw back to erase a deficit against Hillcrest. In time of desperation, Duval showed how he can turn it on as a scorer and got to the rim at will. Even with DeAndre Ayton fouling out, they couldn't take back the lead. Duval would come out the final minute with an ankle injury.
Billy Preston 6'10 – Advanced Prep International 2017
Preston scored well in isolation without forcing it. He limited his settlement for the three and scored well in the post. Prolific Prep struggled to contest his shots down low as he was able to put it out of their reach. Preston finished with 24 points and 15 rebounds in the win. His game against Athlete Institute may have been the best I have seen from him. He let the game come to him; shooting and making threes in the flow of the game also attacking without over dribbling. He is able to produce more by doing less at times and found a good balance of that in the win over Athlete Institute earning MVP with 22 points.
Miles Bridges 6'7 – Huntington Prep 2016 (Michigan State)
Bridges attacked and played aggressive as usual leading Huntington to two victories over the weekend. On one play, he slammed the ball so hard on a missed dunk, the ball came off the rim hitting a light on the ceiling of the gym, knocking off the protective cover. He didn't shoot much from outside but slashed and kicked to the open shooter when the defense would collapse on him. He blocked a lot of shots around the rim, his quick elevation allows him to swat shots from the bigs. His athleticism and body control allows him to get whatever he wants around the rim at this level. Bridges led Huntington to go 2-0, including 26 points in the win against Sunrise Christian Academy.
Sacha Killeya-Jones 6'10 – Virginia Episcopal 2016 (Kentucky)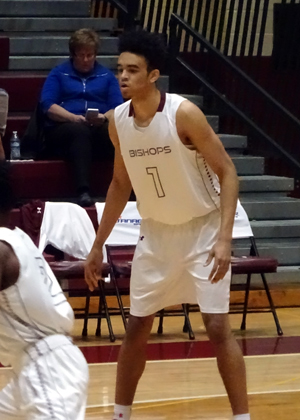 The skilled and athletic big man only played in one game of the event. He showed nice moves in the low post, his face up game, and ability pass out of the post. He displayed his confidence in his scoring arsenal, pulling off the one foot Dirk fade away twice but missed on both attempts. He has the ability to score in isolation but Prolific Prep played excellent help defense; after a pump fake getting the defender in the air, either Josh Jackson, Abu Kigab, or Ira Lee would play the counter move. His jump shot wasn't falling for him but still managed to finish with 19 points, 17 rebounds, and three assists in the loss to Prolific Prep.
Jarred Vanderbilt 6'8 – Victory Prep 2017
Vanderbilt played the game we know him for, doing everything on both ends. He didn't settle for jump shots, he slashed to the basket at a high rate. He continues to impress with his instincts and passing. Victory came away with two losses, putting up a fight against Hillcrest but not enough to secure the win and losing by 40 to Huntington.
DeShawn Corprew 6'5 – Quality Education Academy 2016
Corprew continues to show why he is the most underrated player in the nation. He scored 40 points to beat Athlete Institute in overtime. He scored from deep and took it to the rim against every defender. He displayed his half court handle and transition skills; changing directions and scoring when defenders aren't quick to stop the ball after rebounds. He rebounded well and played solid defensively. He made defenders pay for guarding him too tight, he also made them regret sagging off. Corprew has consistently thrived against the best teams in the nation.