Rising
Shabazz Napier, PG Connecticut
Prior to the big dance the Huskies were priced at 100-1 to cut down the nets. Entering the Sweet Sixteen they were still 30-1. Napier had no interest in public opinion or expected outcomes, however, leading UConn to its (and his) second National Title in four years. The senior averaged 21 points, 4.5 assists and 5.5 rebounds during the tournament, flipping the shot making switch at will. He scored 40 second half points in the first two rounds – 19 vs. St. Josephs and 21 vs. Villanova – carrying his team into the second weekend and opening the door for an extended run. Napier displayed his maturity and savvy in the National Semi-final against Florida, attempting only six shots and choosing to take what the defense provided (6 assists). A threat in all phases off the pick and roll, there's no reason he can't find success at the next level where the two-man game is king. Napier is a fearless competitor in the truest sense of the term, consistently raising his level in the tensest of moments. He's a late clock situation wizard. Through his play in the tournament, Napier has gone from a bubble first rounder to a potential lottery pick.
DeAndre Daniels, SF Connecticut
Both Daniels and Ryan Boatright played inspired ball in the crunch, but the sinewy 6'9 junior (7'0+ wingspan) was a matchup nightmare throughout. Daniels posted 16 points, 7 rebounds, 1.7 three-point makes (10 total) and 1.3 blocks per game. Keep in mind – this is the same player who scored in single-digits seven times during AAC play and hit 5 three-pointers in his final ten conference games. He was far more aggressive off the dribble, using his quickness and athletic advantage to get to the rack against opposing power forwards. He finished with ferocity on multiple occasions. A clear cut SF in the NBA, his effectiveness of catch and shoot (not just pick and pop) was a huge boost to his standing. Daniels is currently #29 on our 2014 big board.
James Young, SG Kentucky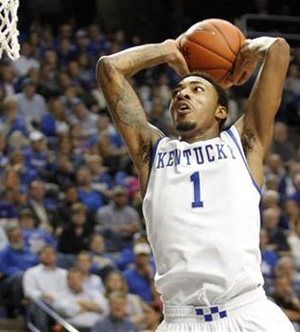 Young struggled in the round of 64 versus Kansas State, but he played a super-efficient brand of basketball for the vast majority of six games. He hit huge shots in the final minutes against Wichita State, and he was UK's strongest link in slow first halves against Michigan, Wisconsin and Connecticut. The most important takeaway from his tournament performance – he didn't settle. While he did make 9 three's in the tournament, his pull-up mid-range jumper driving left was automatic, and his power dunk over Amida Brimah was eye opening. Young hadn't shown that type of aggression all season. But then again, he's just a kid, still learning his role in team basketball. The smooth southpaw possesses prolific scoring potential and has risen up into top 10 conversation.
Aaron Harrison, SG Kentucky
The older Harrison twin by one minute, Aaron became a cult figure during the waning rounds of the dance. His late game heroics were remarkable: lead changing three vs. Louisville, 25-footer in a tie game vs. Michigan, and 23-foot contested lead changing three vs. Wisconsin. But… just how much his clutch aptitude will enhance his draft stock is difficult to quantify. There's no doubt he can stroke the ball (13 PPG for tournament), but his limited ball-in-hand quickness and lack of court clarity prevent him from creating his own shot. And while his 6'6 220 frame allows him to bully less physically gifted opposition, he clearly lacks explosiveness. Strength is his greatest ally around the rim. For large portions of games he's not fully engaged offensively, and he can be exploited on the defensive end with stiff side to side movements. Nevertheless, it takes a special player (and shot maker) to connect on three consecutive massively clutch shots.
Nik Stauskas SG, Michigan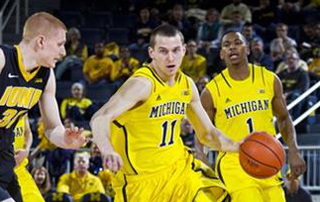 After mustering only two field goal attempts in the 2013 National Title game, Stauskas vowed to make amends in his return trip to March Madness. He succeeded, at least from the prespective of bolstering his draft range. Stauskas played an excellent tournament, showing off the full array of skills. He functioned as the primary playmaker vs. Texas, dishing out 8 assists against zero turnovers. He scored 14 points against the long, athletic Josh Richardson who was a stopper throughout SEC play for Tennessee. And last but not least, he scored 24 points and got to the free throw stripe 11 times in 39 minutes versus Kentucky. Most of his field goal attempts still come from distance, but Stauskas has augmented his off the dribble assertiveness and can take advantage of that extra "respect step" he's earned. Despite his athleticism, he won't be a frequent finisher among the trees. Taking the ball to the basket has paid dividends – Stauskas has learned how to sell contact and push the envelope.
Jarnell Stokes, PF Tennessee
Stokes was a beast on the interior all season, but sadly it took until late March for him to emerge into the spotlight… silly media. Regardless, he was arguably the tournament's most dominant force: 18 points, 13 rebounds, 56% FG and 26 FT makes (31 attempts) in four games. Only 6'8, Stokes uses post position and body positioning to own the paint. His low center of gravity allows him to keep defenders pinned, and he wards off shot blockers by keeping them on his hip. A wide body with brute force, Stokes is tough to get around. He's improved mightily as a passer, but will still struggle to diagnose double teams and find the open man. If you're looking for a shot blocker or a dazzling finisher, look elsewhere. Stokes dominates below the rim.
Cleanthony Early, SF Wichita State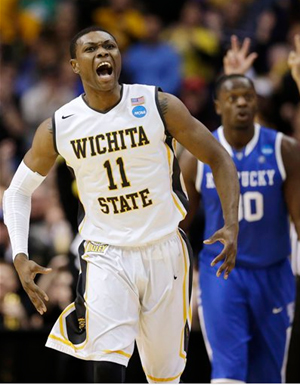 On the afternoon of March 23rd it (again) became increasingly apparent that Early steps up to his level of competition; that is if last year's tournament run wasn't sufficient evidence. He scored 31 points in a classic battle against Kentucky, making 12/17 shots and 4/6 treys. With long, easy strides at 6'8, Early excels in transition – his dunk over Willie Cauley Stein provided a glimpse into his athletic gifts. He's dangerous as a slasher without the ball and has practical post skills. Consistency behind the arc is his ticket to a safe landing in the first round. Unfortunately, his ball handling limitations hinder off the bounce effectiveness, a requisite for wings in the league.
Frank Kaminsky, C Wisconsin
Much like Stokes above, Kaminsky earned himself a hefty paycheck in this tournament, along with much deserved national notoriety. He decimated the Baylor zone scoring 19 points and dishing out 3 assists, and also blocked 6 shots against a tall and athletic front. Kaminsky single-handedly contributed to Sean Miller's hair loss in the Elite 8 to the tune of 28/11 and a trio of trifectas. Whether it was taking Kaleb Tarczewski out to the three-point line (or off the bounce) or outsizing Aaron Gordon in the post, he constantly forced Miller to adjust his gameplan. He was a 6'3 guard as a freshman in high school, so his ball handling and range shooting are legit attributes. His skill level is off the charts for a 7-footer. Kentucky used predominantly a smaller lineup to force him to win on the interior – he could not, scoring 8 points on seven shots with zero trey attempts.
Falling
Rodney Hood, SG Duke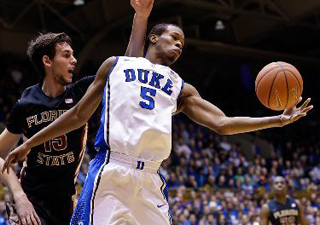 Entering the round of 64 off a 13/35 (37%) shooting effort during the ACC Tournament, Hood did not show up against Mercer. He shot 2/10 from the floor – 0/5 inside the arc – and was outplayed by 5th year senior Jakob Gollon. He committed two costly turnovers in the last four minutes before fouling out. There's no questioning his talent, but between the ears is a different story. His last college game was frighteningly timid.
Keith Appling, PG Michigan State
Granted he was taking the court nursing a wrist injury, but Appling was the invisible man for a four-pack of games. He scored 10 total points, attempting 12 shots and 3 free throws. Hurt or not, the Spartans needed Appling to find some way to impact the proceedings. Rough way to step out for the senior, and he's currently off the draft radar.
Russ Smith, PG Louisville
While the reckless style of Smith is often endearing to media types, the fact is he looked like a fish out of water during the first two rounds. He made 6/19 field goal versus Manhattan and Saint Louis, posting an assist to turnover ratio of 10:13. Smith bought himself 16 points at the free throw line by running up the backs of defenders and responding with theatrics, but otherwise his impact was mostly detrimental. He played more of his brand of ball vs. Kentucky – 23 points on 8/13 two-pointers – yet still tossed in six missed three-pointers and six missed free throws.