The World Team was defeated after winning the past 2 seasons, but had a number of highly intriguing prospects nonetheless. After speaking with a number of NBA scouts, here are thoughts on each of them after watching them in numerous practices, plus the game and quotes on some of the top prospects from World Team coach Roy Rana.
Emmanuel Mudiay PG Congo
Mudiay built on a tremendous week of practices with a strong game. His quickness in the open floor and dynamic play making ability reminds scouts of a point guard in the mold of John Wall and Derrick Rose. For Coach Cal, he appears to be the one that got away. He absolutely toyed with the USA guards, outclassing them athletically. His feel for the game is very good and his vision and passing ability tremendous. He also is a focused and competitive individual with NBA superstar potential. He's a blur in the open floor and makes finishing plays while at break neck speed look routine. Mudiay's obvious weakness is outside shooting, as he needs to add range and consistency and not fade away on his shot so much. He hit 1-of-5 from 3 punctuating the obvious weakness in his repertoire. Mudiay has moved to the top pick in the 2015 mock draft.
World Team Coach Roy Rana: "This kid is absolutely special… He makes plays in paint nobody else can…. Learning the position, finisher in traffic, he makes plays in tight spaces, unique… Has areas he needs to improve on like shot selection, shooting, but has natural abilities you cant teach".
Jamal Murray PG/SG Canada
Murray was the World Team's second leading scorer with 10 pts showing. The Canadian impressed all week with his heady decision making and solid all around play. He's not a superstar, but he seems to understand how to play to his strengths and be a positive influence on his team. He's a combo with decent handle and passing and also shows some scoring ability. He impressed last year at the Jordan Classic, and once again had a strong performance. He will be a junior in high school next year and appears to be a legitimate top 15-20 player in his class.
Coach Roy Rana "He's a shot maker, maybe best player on the team in terms of making shots… A true competitor, every time on floor regardless of practice or game brings the same energy… Can play multiple positions… Has great size for a combo guard… Incredibly mature and coachable… Has a great motor and high level skill set… I couldn't take him off the floor, he does not make mistakes… A George Hill kind of guy, potential PG but also play off the ball."
Sviatoslav Mykhailiuk SG Ukraine
Though he struggled mightily in the game, coming off the bench and missing all three of his 3 point attempts, his week of practices left a lasting impression on the large scouting contingent present. Make no mistake, "Svy" has an extremely bright future. He's an absolute natural and it's easy to see the Manu comparisons that we described when we first watched him during the summer at U16 in Kiev. He shows vision and passing ability like a point guard, and has a shooting form that could ultimately make him one of the NBA's top 3 point shooters. Obviously he's very young having not turned 17 yet and will need to prove himself when the bright lights are shining as well as against a higher level of competition over time, but this is a special talent if he can continue to develop. One top GM beamed while watching him practice on Thursday, "Can we lower the age limit?"
Coach Roy Rana: "We call him "Sveta"… He may have gotten a little stage fright or star struck in the game. He got to the event late and that seemed to affect him a little. Such a young talent. A future NBAer. Very intriguing. He showed a swagger in practice. and really impressed the scouts. I've had some real talented Europeans, Fournier, Saric, etc. Might be the best long term prospect out of Europe that we have seen in this game."
Karl Towns PF/C Dominican Republic
Towns has a massive frame with a 9 foot 5 standing reach. He's got tremendous touch and shooting ability for a 7-footer. Despite lacking a great deal of lift from a stand still, he seems like a natural to become a shot blocker in some fashion. He could even potentially block some shots flat footed, at least on the college level. He's highly skilled and if he has a clear path to the basket he shows solid leaping ability. Where he really struggles is when he faces contact. Despite being close to 250 lbs, his leg strength needs to improve considerably. He's a smart kid who obviously has been coached very well and his ability to knock down outside shots gives him a great deal of intrigue. He needs to get stronger and a lot tougher to be able to fully utilize his skill set and become a force.
Coach Roy Rana: "Smart kid. Has really improved since last year… His body has gotten better… He plays hard… There were moments in practice were he played phenomenal.. He will be a great post because he can shoot it, has a chance to be a great low post guy who can step outside and knock down shots. The new breed of big man."
Trey Lyles PF Canada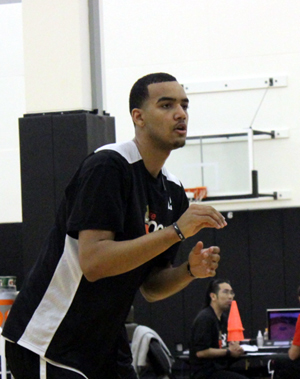 Lyles is a smooth bigman with great length and a burly frame. He plays a very composed game, almost too much so at times. He's a solid athlete but not a quick, explosive leaper, however he does have terrific length and a very strong frame. His mid range shot is a developing weapon. He also shows the ability to finish plays around the rim with solid body control and touch. It would be nice to see him be more aggressive around the rim and use his strong frame and massive 7'3 wingspan to his advantage to dominate smaller and less athletic opponents.
Coach Roy Rana: "I love Trey Lyles. You know what you're going to get out of him every time… He's a hybrid 4… Scores inside, and can also take you outside and knockdown shots… Can guard multiple positions… A very good post player… Physically tough, maturing, I see him being very good in the NBA for long time."
Clint Capela PF/C Switzerland
Capela was built by some as a potential lottery pick, but his performance in practices and the game leave him most likely on the outside of the first round. Granted a number of teas like San Antonio like to look for European draft and stash players. But it's hard to imagine a team guaranteeing money to player with such a temperamental motor. Capela's combination of frame and athletic ability should have made him a shoe in for a first rounder, but his passion and feel for the game are huge question marks. His fundamentals are severely lacking, as the form on his shot is basically broken. The ball seems to slip from his fingers to palm before he releases. He did hit some mid range shots in the scrimmages, but it's unlikely he will find much success (with his current form) when the game speeds up and the level of competition increases. Also his basic fundamentals, recognizing double teams, boxing out, and spacing are all a long ways from polished. His excellent season playing in the French league gives him a shot to be taken in the late first round, however his struggles in Portland in front of so many scouts could drop him into the early second round area.
Coach Roy Rana: "Maybe the most athletic International kid the Hoop Summit has ever had, Biyombo included… Going to be a great player in the league… He blocks shots, changes shots… Physically not where he will be… Has good hands and feet… His jumpshot is not sound, but it goes in … He didn't break out, but still very intriguing, and it's difficult to evaluate kids in a different, unfamiliar country… Has lots of room for growth in physical, maturity aspect… A pick and roll guy, so he didnt have tons of opportunities… Was pretty good in scrimmages, a chemistry guy".
Brandone Francis SG Dominican Republic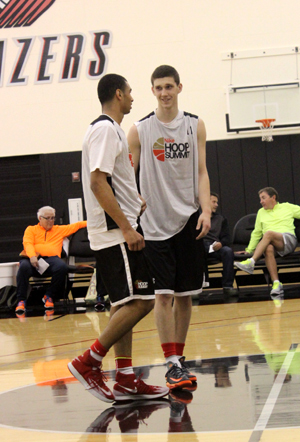 The first thing that stands out about Francis is that he looks exactly like the Hip Hop artist Drake. Francis held his own in practices and was a positive contributor in limited minutes for the World team. He lacks elite size or athleticism and will need to work at his game to make the NBA. He's most likely a four year guy and will need to improve his overall skill set and become a knock down shooter to enhance his prospects.
Damien Inglis SF France
Inglis is an enigma. He appears to have a can't miss combination of length, physicality and guard skills. Yet, his focus and attitude drew a lot of concerns from scouts. It's hard to know if he truly buys into the team game. Often times he could be spotted shooting the ball while Coach Rana was speaking, or sitting away from his teammates while everyone was huddling. On the positive side, he's got guard skills and the length of a power forward. He also has excellent strength to finish after contact and make plays around the basket. At times he will wow with his ability to pass and handle the ball and he even showed solid ability to knock down shots in the practices. He had an opportunity to really elevate his chances of being drafted with a strong performance in the game. This is a kid with first round talent, but it's unclear if he will ever get drafted due to questionable focus and determination.
James Birsen SF Turkey
Birsen was once described by Nike Director George Raveling as the best 16 year old on the planet. He has grown some and filled out since then, but his skill level and athleticism have not progressed and he has fallen a long ways as a prospect. He reminds some of a taller, less talented Alesandro Gentile with his body and movements. He gets very little lift when he jumps, and first step is extremely slow. If he can really improve his shooting, he could have a chance to be drafted in a few years when he becomes eligible. But he still has a long ways to go.
Nikola Jokic PF/C Serbia
The Serbian big showed a well developed offensive skill set and willingness to play physical. He's got a huge wingspan and really impressed with his shooting ability early in the week. Unfortunately his physical limitations, namely lack of quickness and foot speed severely limit his chances to make it in the NBA. He is a solid mid-level European prospect due to his size and shooting ability.
Gao Shang SF China
Gao showed a positive attitude all week and displayed the ability to get to the rim and finish as well as knock down outside shots. He struggled with the physicality of teammates in practices and didn't get much run in the game. Not one of the best Chinese players to come over, but certainly not the worst.