Rising
Buddy Hield 6-4 205 SG Oklahoma Sr. — Hield has proven that he's just as clutch in the post season as the regular season with two standout tournament performances. The two seeded Sooners are heading to Anaheim where they will face a Texas A&M team that came back from the dead, down 12 points with 44 seconds remaining. The tourney's most thrilling comeback in quite some time. Hield put up a cool 27 and 32 in his opening weekend games against CSUB and TCU. He has hit 9-of-20 from 3 (45%) and 19-of-34 overall, including 6 boards per game. The Aggies will provide a stiff test for Hield as they have some NBA level athletes that they can put on him, including standout wing Danuel House. Hield's character and work ethic have carried him all season as he's gone from a projected mid first rounder to a potential top 5 pick for this year's draft. He's now rated as our 3rd overall prospect.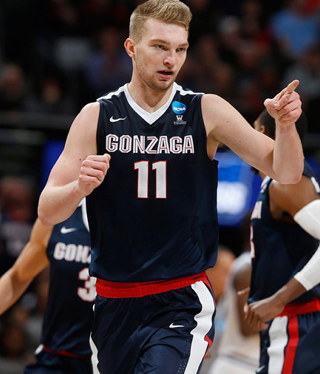 Domantas Sabonis 6-11 240 PF/C Gonzaga So. — Gonzaga may have stumbled through the regular season, but making the Sweet 16 has erased all of their season's struggles. And they may not be finished as they look like a legitimate contender to reach Houston, despite being an 11 seed. In their conference tourney and through the Sweet Sixteen of the NCAA Tournament, Domantas Sabonis has been the Zag's emotional leader, providing toughness and energy for his team both with his play and in his support of teammates. To put it simply, he has been the best overall bigman in the tournament. While it's easy to confuse him for being a late first rounder, due to his lack of elite athleticism, it's his heart and determination that will make him a standout at the next level. His propensity to seek out physical contact along with his vastly underrated outside shooting give him a number of similarities to Kevin Love. Gonzaga Coach Mark Few at halftime of the Utah game said, "I've never coached a guy tougher than him." Sabonis went for 21 and 16 in their opening round game against Seton Hall. He then dropped 19 and 10 on Utah in their 23 point win over #3 seed Utah, dominating projected lottery pick Jakob Poeltl, and holding him to 5 points and 4 rebounds. Poeltl apparently ran out of energy in the 2nd round match up and hit the wall.
Brice Johnson 6-9 230 PF North Carolina Sr. — North Carolina's superstar has played the part with two excellent performances, through the first two rounds. He went for 18 and 7 against Florida Gulf Coast on 7-11 shooting and had 8 blocks. Against Providence he put up 21 and 10 on 7-9 shooting and a perfect 7-7 from the free throw line. Johnson is lean but his speed and athleticism allows him to make plays against stronger opponents. He's been UNC's brightest star, having had a breakout season and will look to carry UNC back to the Final Four in Houston. His ability to face up and knock down shots out to 12-15 feet consistently combined with his elite run jump athleticism give him a shot to be a lottery pick in a weak draft class.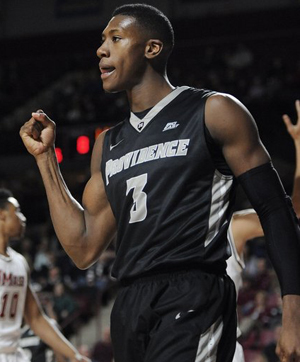 Kris Dunn 6-4 220 PG Providence — Dunn's biggest weakness, his outside shooting was on point in the tourney as he hit 7-of-10 overall from 3 in the Friars two tourney games. With timely shots, he kept Providence in the game when it appeared USC was pulling away in the closing minutes of the opening round. He then went for a game high 29 points against number one seed North Carolina, going 10 for 16 from the floor and 3-5 from three. He struggled some with turnovers with six, to seven assists in the two games, but his overall play was strong. Dunn has since made his intentions clear for this year's NBA draft and is projected in the 3-8 range.
Taurean Prince 6-7 220 SF Baylor Sr. — Baylor got bounced out of the tourney in the first round by Yale, but it was by no fault of Prince. He did everything in his power to keep them in the game, making plays at the rim and knocking down a number of clutch shots down the stretch. In the end, Yale's precision and efficiency was too much for the team to overcome. Prince went for 28 points, was 12-24 overall and hit 4-7 from three, including a very clutch step back in the closing minutes to keep the Bears in the game. He also sparked a rally with a spectacular follow up jam with the game winding down. While Prince had an inconsistent season, seeing his 3 point shot dip in efficiency as a senior, he's known for being a strong athlete with solid shooting ability. He struggled in Baylor's loss to Kansas in the Big 12 tourney going for just 9 points on 3-11 shooting and missed all 6 of his three point attempts. But a big tourney performance, in which he showed a lot of fight, even a willingness to take on his behemoth teammate Rico Gathers as the two had a disagreement turn physical. Prince figures to be in the mix for one of the last five to ten spots in the first round, depending on how many underclassmen ultimately keep their name in the draft.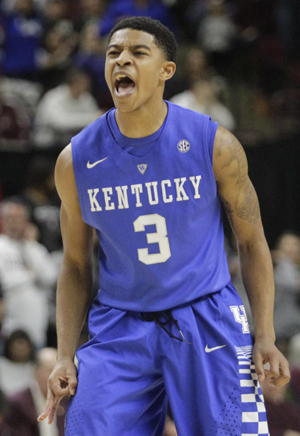 Tyler Ulis 5-9 160 PG Kentucky So. — Ulis showed in the tourney what he's proven all season, that while he may be the smallest player on the court, he's got the biggest heart. He carried Kentucky when they were struggling late against Indiana and has some wondering whether he could challenge for a spot in the first round. While his freshmen teammates, Jamal Murray and Skal Labissiere, got most of the the draft hype this year, Ulis was the team's steady leader. 5-foot-9 point guards generally have an extremely difficult time convincing NBA teams that they can make it in the league, but with today's hand check rules, speed is of the essence. Ulis doesn't have the shooting ability or alpha dog mentality of a guy like Boston Celtic's All Star Isaiah Thomas, however he does possess some of the same leadership and certainly the speed. He's 25 pounds lighter than Thomas, and figures to be more of a change of pace back up point guard a la Earl Boykins, with more skill and less speed. Ulis probably ends up an early second rounder when all is said and done, but don't bet against him finding a way to beat the odds and make it in the league, despite his small stature.
Sviatoslav Mykhailiuk Kansas 6-8 195 SG Kansas So. — "Svi" has struggled to live up to expectations in his two seasons at Kansas, but by all accounts has remained extremely positive in spite of the adversity. In Kansas' opening round blowout win against Austin Peay, he got his breakout game on a big stage, making great use of his 24 minutes, to the tune of a team leading 23 points, hitting 4-5 from 3. Granted the level of competition and the fact that much of his production came in "garbage" minutes, he raised some eyebrows nonetheless. He even had an impressive block at the rim on a dunk attempt. This is a kid that at 17 years of age had numerous teams raving about him after his week of practices in Portland at the Hoop Summit. While it's unlikely he leaves this year, this could be a view to things to come next year and provide Svi some confidence heading into next season.
Ron Baker Fred VanVleet Wichita State — The two headed monster that is the Wichita State backcourt had an excellent showing in the tourney, knocking off two teams that many projected in the top 25 before the season, in Vanderbilt and Arizona. After beating the Wildcats, Van Vleet drew praise from Arizona coach Sean Miller, "I told Fred after the game, please don't let anybody tell you you're not going to play in the NBA. We lived through that last year with TJ McConnell. VanVleet will play in the NBA and he'll be there for a long, long time". The analytics results point in VanVleet's favor as well. While his lack of size, speed and athleticism don't jump out at you, his efficiency and ability to run the pick and roll and handle the half court offense bode well for him. Despite not shooting well in the tourney, 15-40 FG overall and below 50% in all three games, Wichita State won two games and VanVleet averaged 14 per game. Baker also struggled to knock down shots from the perimeter (5-18 from 3), but he showed the ability to contribute to the team even when his shot wasn't falling. Both players stand a good chance to get drafted and make a team.
Falling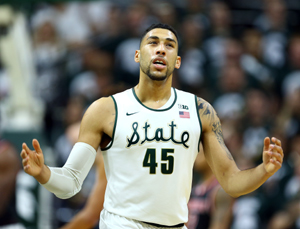 Denzel Valentine 6-5 220 SF Michigan St. Sr. — The Spartans shocking first round upset loss to Middle Tennessee State was an unfortunate end to a marvelous college career for Valentine. It's easy to kick a guy when they're down but Valentine should be championed for his incredible improvement, leadership and standout season. He's quite possibly the best leader in college and has tremendous ball skills, being able to dribble, pass and shoot at an extremely high level. But not being able to lead Michigan State on a deep run falls on his shoulders. While his overall numbers weren't terrible with 13 points, 6 boards and 12 assists, the 6 turnovers were tough to swallow, as was the team's inability to get stops. Some of the concerns about his lack of position, athleticism, size and quickness coming into the tournament are now more glaring with his inability to guide Michigan State to Houston. If Valentine isn't a lead guard, the question becomes just how effective he can be off the ball, and whether he's really athletic and talented enough to have an offense run through him when he's on the floor. He's a very difficult player to project, as he's a 6-foot-5 small forward whose best attribute is his passing ability. Will he be able to defend as well as create offense for himself and others against bigger, stronger athletes on a nightly basis? Valentine has a wide range of opinions surrounding him, and it will be very interesting to see where he ends up in the draft and how his pro career pans out. Valentine no longer appears to be the lock first rounder that he once was.
Jaylen Brown 6-7 225 SF/SG California Fr. — Brown had an extremely rough end to the season, culminated by a dreadful tourney performance. His 1-6 FG, 4 point performance in which he fouled out won't give teams a lot of confidence in his readiness to contribute right away. The broken hand for Tyrone Wallace was damaging for both players as Brown had no one to set shots up for him, which is his real weakness at this point. His inability to create offense off the dribble remains a real concern and that was painfully apparent in the Bear's opening round upset loss to Hawaii. Brown will likely have the chance to move back up the wing prospect rankings in individual workouts, but it's apparent that a few of the top guys available such as Buddy Hield and Jamal Murray have moved in front of him on many team's draft boards.
Jakob Poeltl 7-0 240 C Utah So. — Despite a 16 point, 18 rebound opening round performance against Fresno State, Poeltl's disappointing 5 point, 4 rebound game in the Utes blowout loss to Gonzaga is the lasting memory scouts have of his play in the Big Dance. While it's important to consider his age, his physical attributes and his body of work this season, the lack of energy and fire that he displayed in Utah's biggest game of the season will have a damaging effect. How damaging remains to be seem, but for a guy that was considered a likely top 10 pick, that no longer seems to be a certainty. Sabonis may not have Poeltl's physical attributes, but he very well may leap frog him on draft night due to his competitiveness and intangibles. Poeltl's inability to shine against top level competition is a concern, especially considering his struggles during the summer at Nike Academy facing players such as Damian Jones.
Damian Jones 7-0 C Vanderbilt Jr. — Jones had a very inconsistent season. When he decides to show up and play, he can be a dominant, versatile bigman. When he doesn't decide to show up, he's a player that runs the court with no purpose and appears content to fade into the background, and not compete. Jones has a lot of intriguing attributes, with a great basketball body, the strength to rebound and defend at the highest level in the paint, plus a jump shot that has shown real potential. Unfortunately, his feel for the game and level of intensity just don't seem to show the type of consistency and progress one would expect from a player with his talent. He has gone from a likely first rounder to a player who could slip into the 2nd round due to all of the concerns. Strong workouts should help his cause, but they can't erase the negative concerns scouts have developed due to his lack of focus, intensity and development.
Wade Baldwin 6-3 195 SG/PG Vanderbilt So. — Baldwin had some strong games early on in the season and began to get some buzz as a possible mid first rounder. But scouts soured on him as the season progressed, noting deficiencies in his game. He's got great length for a point guard with a 6-10 wingpsan on a 6-3 frame. However, is he really a point guard? Scouts wonder if he really has any lead guard attributes, as he doesn't create offense for others very often, and seems to struggle in the half court set. His numbers were solid shooting from the perimeter, however there are still concerns with his shooting form as he lacks great lift and a fluid release. While he shows nice athleticism and detemrination, in particular attacking the rim, the team's struggles are another concern, considering he was the floor leader. The good news is that Baldwin is a sophmore and has time to return and smooth out some of the rough edges of his game.