"Situational Analysis" is a series of articles that seeks to examine the circumstances that most often influence an NBA prospect's success. Each player will be scored on a scale from 1-10 in four different categories: NBA-specific skill(s), fatal flaw(s), collegiate/overseas/pre-NBA environment, and ideal NBA ecosystem.
Lonzo Ball is a 19-year-old point guard from Chino Hills, California, who averaged 14.6 points, 7.6 assists and 6 rebounds during his freshman season at UCLA. He officially declared for the draft on March 24, immediately after the Bruins' 86-75 loss to Kentucky in the NCAA Tournament. Ball is expected to be selected in the top-5 of this year's draft — perhaps as high as No. 1 overall. NBADraft.net currently has him positioned to go No. 3.
NBA-Specific Skills
It's a disservice — almost an insult — to call Lonzo Ball a "good passer." It's like saying Zach LaVine is a good dunker, or that Albert Einstein was good at math. Ball bends the game to his will with his passing and court vision.
It's impossible to quantify the impact Ball's unselfishness can have on a game. The assist stat is borderline useless. Advanced stats capture a portion of what Ball brings to the floor, but only a portion. Most college point guards pass the ball to a teammate only when he is open. Ball passes his teammates open — a small, but important distinction. It's similar to the difference between a journeyman quarterback and Tom Brady. Ball knows when a play is about to open up before his teammates do. Ball makes passes that lead to dunks or open 3s three or four steps down the line. Ball is a savant.
Steve Alford's UCLA teams aren't exactly known for their offensive innovation and fan-friendly style. With Ball, the Bruins became college basketball's most aesthetically pleasing team in years. It's exceedingly rare to find players at any level who make basketball so fun that their teammates start looking to make highlight-reel passes they wouldn't even attempt otherwise — Steve Nash, LeBron James, Nikola Jokic, and Jason Kidd come to mind. It's unheard of to find it in a player who hasn't turned 20 yet.
At nearly 6-foot-6, Ball can see over most point guards and survey the floor from a unique vantage point. While he isn't a jaw-dropping athlete, Ball understands angles and changes gears better than the majority of his counterparts, making it seem as if he plays the game at an entirely different speed. He's rarely out of control, as he seems to consistently dictate the game's pace whenever the ball is in his hands.
Almost as an aside, Ball can routinely knock down step-back 3s from well beyond NBA range.
On a scale from 1 (me when I try to dunk a basketball and end up two feet short of the rim) to 10 (Stephen Curry during one of his 3-point barrages), Ball's NBA-ready passing skills are a 9.
Fatal Flaws
Much has been made about Ball's, um, "unorthodox" shooting motion, but it is a legitimate cause for concern. It didn't impact his shooting percentages in college — 55-percent from the floor, 41-percent from 3 — but Ball's stroke has never previously been attempted for a reason.
When Ball lines up to shoot one of his 30-footers, he cocks the ball at his left hip, takes a pause to find the ball's seams, brings it to his left ear, and corkscrew-twists it so his dominant right hand is underneath it. He flicks the ball across his face and toward the rim. Oddly, it goes in far more often than not, but that's beside the point.
The questions every scout and general manager must ask: Can Ball even get this shot off against quality NBA defenders? Does he have a floater? Can he transfer his unique knack for passing into finding odd pathways for his own shot?
Watch Ball closely. The majority of his perimeter shot attempts are either of the catch-and-shoot variety or a step-back off the dribble to create space for his time-consuming wind-up. Unlike Curry or Nash, Ball's stroke doesn't allow him to shoot quickly off the dribble with a defender draped on him. The Ringer's Kevin O'Connor did a fascinating breakdown of Ball's shot on March 17, even pointing out that the brand of basketball had an impact on Ball's accuracy.
Picture this: It's the last 30 seconds. Ball's team is taking on the San Antonio Spurs. Kawhi Leonard picks up Ball at half court. His teammates know not to help off shooters. Ball dribbles, crosses over, crosses again, crosses again. He can't shake Kawhi — nobody can. He tries to execute a 27-foot step-back, but Leonard simply sticks his arm straight out and blocks Ball's shot at his left hip. Turnover. Spurs win.
That's the image I'd have in my head if I ran a team looking to draft Ball. Can our coaching staff figure out a way for Ball to get his own shot against suffocating NBA defenses?
It doesn't take Ball as long to load up his jumper as it took Tim Tebow to slingshot those wounded ducks in the NFL, but every split second matters in the NBA. For a player who seems to see the game happen before it happens, his lengthy wind-up helps even the playing field.
On a scale from 1 (Kevin Durant having absolutely no holes whatsoever in his offensive skillset) to 10 (Andre Drummond's horrific foul shooting) Ball's weird jumper is a 7.
Pre-NBA Setting
I guess we have to talk about LaVar, don't we?
It seems somewhat pointless, as LaVar does plenty of his own talking — and then some. Lonzo's father has been, shall we say, "available" for interviews as his son's draft stock has risen. If you have access to a live microphone and/or a television camera, odds are you can score an interview with LaVar Ball.
At times, it seems as if LaVar was created in a lab by nefarious sports talk radio hosts in order to fill time. Need an extra seven minutes of content until the tip-off of Bulls-Clippers? Program the LaVarTron 9000 to say he would have beaten Michael Jordan in a game of one-on-one. Hey, if you need a week of programming, get him to say something awful about LeBron James's parenting choices.
The majority of the time, LaVar's antics are just noise. He's a classic trash talker who knows how to create and manipulate manufactured arguments, particularly in a media climate so desperate to chronicle his latest exploits. It's not dissimilar to the way certain political figures say baseless, outrageous things in order to generate coverage and "engage debate."
However, LaVar Ball could potentially end up doing more harm than good, particularly if the Balls make good on their threats to pull a John Elway/Eli Manning and refuse to sign with anyone other than the Los Angeles Lakers.
Papa Ball has made it clear his intent is for Lonzo and his brothers to remain in Southern California and make more than a billion dollars selling shoes — which is fine. It's good to have goals and dreams.
But what NBA general manager wants to deal with this?
LaVar cuts both ways. He taught his boys how to share the ball and how to see the floor (excellent), but he also had them shooting half-courters as children, which led to these funky shooting mechanics (bad). He advocates for his son's best interest (great!), but has no problem criticizing his son's "slow, white" teammates for a loss in which Lonzo got absolutely worked by De'Aaron Fox (very bad!).
The NBA is brutal. Each of the 450 grown men in this league are among the top 0.001-percent of athletes in the world. It's exceptionally difficult for anyone to contribute to a winning effort before his 21st birthday. But given LaVar's track record, he'll be quick to shoot his mouth off about everyone from the coach to the general manager to the adults that will serve as Ball's teammates.
How's that going to work?
On a scale from 1 (Kawhi Leonard uttering less than 10 words in his entire NBA career) to 10 (when James Harden dated a Kardashian) Lonzo's pre-NBA setting and potential off-court drama rate at a 9.
Ideal NBA Ecosystem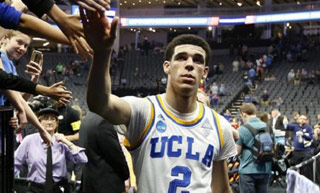 Lonzo Ball wants to be a Laker. That much is clear. It's a great fit, honestly.
Luke Walton wants to play a fun, uptempo style where everyone shares the ball and makes the extra pass. Luke's father, Bill, is one of the greatest passers the game has ever seen. Lonzo fits right into that philosophy.
He makes for an interesting backcourt mate with D'Angelo Russell, who is perhaps better served as a secondary ball handler, cutter, and catch-and-shoot threat. The Balls wouldn't be any crazier than a million other things going on in Los Angeles, so whatever off-court, First Take nonsense LaVar gets into can be laughed off.
But there are no guarantees he ends up a Laker. Odds are, he doesn't.
Can you imagine what would happen if Lonzo ended up on the Knicks? How long would it take for Lonzo/LaVar to pop off at Phil Jackson in the New York media about the triangle, about Carmelo, about how Kristaps Porzingis is "soft," about, well, you name it?
What if a non-marquee market, such as Orlando or Phoenix, ended up with Ball? Would LaVar try to get that coach fired within six weeks? Would he be ready and willing to contribute to a playoff-ready squad like Boston with an All-NBA point guard already in place?
It will probably be fine, because this is professional basketball. Lonzo Ball belongs in this league, but I have never written about a prospect quite like him. The stuff I like about Ball's game could put him in the Hall of Fame. The question marks make me wonder if he can even get a shot off against an NBA-caliber defender.
If I ran an NBA team, I'd absolutely draft Ball, perhaps as high as No. 2 overall. I think he's special. But I'd probably only sleep 2-3 hours per night for as long as he was on my roster.
On a scale of 1 (David Kahn drafting Jonny Flynn and Ricky Rubio ahead of Stephen Curry and stunting both players' development in the process) to 10 (the Bucks rolling the dice on Giannis Antetokounmpo and trusting him to develop into the Greek Freak), Ball's need for an ideal NBA ecosystem for his talents to flourish is at an 8.