By Aran Smith and Michael Visenberg
Rising
Cameron Payne 6-3 185 PG Murray St. So.
Cameron Payne has become the hottest name within scouting circles and he now faces a tough decision regarding his basketball future. Murray State went on a huge (25 game) win streak with him leading the way, but lost in their Ohio Valley conference tourney final and therefore were placed in the NIT instead of earning a bid into the big dance. Playing in the NIT actually gave Payne added exposure as more scouts were able to focus on him in the days that the NCAA Tournament was off. In three Nationally televised games, Payne was absolutely brilliant, and many scouts now project him as the top point guard potentially available after D'Angelo Russell and Emmanuel Mudiay. With great size and composure beyond his years, Payne also shows tremendous speed in the open floor. He has a beautiful three point shot, the ability to set up teammates with great vision, and a polished floater. Payne was a combined 10-for-24 from long range in the three NIT games, with numerous scouts and GMs on hand to watch him. The lefty playmaker is now projected as a potential top 10 pick for the 2016 draft and a possible lottery pick if he were to decide to enter this year's draft. With an unbelievable 3 pointer as time expired, Old Dominion ended Murray State's season, but Payne dazzled once again with 23 points on 7-18 shooting and 6 assists to 2 turnovers.
Terry Rozier 6-1 190 PG Louisville So.
Rozier has been tremendous, taking Lousiville on his back with big plays in each of their tournament games. With their backs against the wall, he came up with the big steal in the opening round. He tipped the ball away from UC Irvine in the closing seconds as they attempted to set up a game winning shot. He was also huge against Northern Iowa, helping the Cardinals to build a big first half lead with 16 points, and finished with 25 and 7 assists. There are still detractors that question his ability to run a team from the point guard position, however, he's done an excellent job of disproving the naysayers averaging 6 assists through two games. His ability to create off of isolation with great speed and athleticism puts him among the group of points projected to be first round picks.
Jahlil Okafor 6-11 270 C Duke Fr.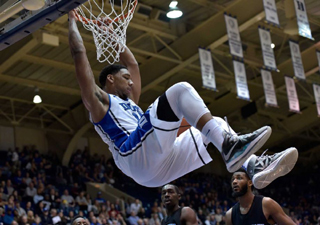 It is safe to say that Okafor has lived up to his expectations, and then some. He was neck-and-neck with Frank Kaminsky for National Player of the Year (even getting the better of him in their individual match-up), a consensus first team All-American and is looking like a seasoned pro in his more than likely lone year of college basketball. After breezing through Robert Morris with 21 points (9-11 FG) in 21 minutes, he obliterated a scrappy San Diego St. team for 26 points (12-16 FG). His post footwork and instincts are absolutely special; he has so many ways of beating you when he gets the ball close to the basket. Plus, he understands how to post up and make it easy for teammates to get him the ball. Okafor can certainly improve defensively, though he has the size to affect shots close to the basket and it is entirely possible that he will improve in the future. What he has shown is an incredibly advanced offensive arsenal that should allow him to contribute right away at the pro level. Even with his poor free throw shooting, his ability to take and convert shots at an incredibly high percentage (67.7% FG) will make him pretty tough to pass up on for whatever team secures the top pick.
Trey Lyles 6-10 250 PF Kentucky Fr.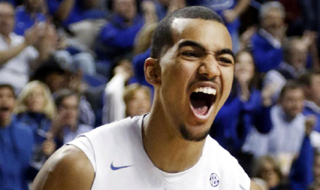 Kentucky's starting small forward for the majority of the season is obviously much more comfortable closer to the basket then on the perimeter. Even so, few 6-10 athletes would have the ability to adapt to the wing as well as Lyles has. He has not been much of a threat from long range, though he has the ability to put the ball on the floor, has solid vision and was still able to help out on the boards. While many have raised questions about his real position going forward, his size and skill set seem to be very well suited to the PF spot, where he could flourish in time. There is little doubt that his foray on the wing should add to his already impressive versatility. A common complaint regarding Lyles was his losing focus without the ball and he has done a lot to shake this with his play over the last 1/3 of the season. We feel he has shown enough to get serious consideration in the 2015 lottery.
Jakob Poeltl 7-0 235 C Utah Fr.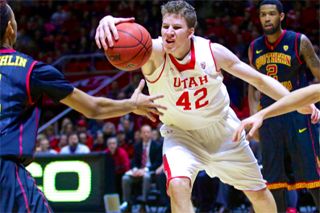 The surprising Austrian import has had two monster games to start the NCAA tournament and gets his long awaited appearance in Stock Watch. He has been a vital cog in Utah's rise to the Sweet 16, with agility to be a big factor on the boards and as a defender. Shooting 69.1% FG on the season definitely has garnered him recognition, while he shot 12-13 FG (92.3%) while averaging 15 ppg in wins over Stephen F. Austin and Georgetown. He shows a lot of potential in the pick-and-roll on offense and defense, while he has been a huge contributor as an offensive rebounder and using impressive agility to get close baskets. He has shown enough upside for rumblings about him leaving after this year. It would be great to see him develop as more of a low post option offensively to improve his readiness for the league, so it is indeed possible he comes back for his sophomore season. He is considered a likely first rounder if he were to enter this year's draft and should only improve his stock with an additional season under Larry Krystkowiak.
Frank Kaminsky 7-0 240 C Wisconsin Sr.
Many pundit's pick for National Player of the Year to start the season, he should have a full trophy case once the awards are announced. Kaminsky managed to live up to the hype after starring in the 2014 NCAA Tournament, with season averages of 18.4 ppg, 8.1 rpg and 2.7 apg. He took the necessary steps forward to become arguably the most dominant inside-out threat in college basketball. It will be interesting to see how this translates to the next level, where he will need to gain strength in order to guard and rebound against NBA centers. The fundamental skills instilled by Bo Ryan have done wonders in raising Kaminsky's stock from an NBA afterthought to a mortal lock for the first round. He may not be a standout athlete, but his ability to stretch the floor with his shooting and his competitiveness and IQ gives him promise to overcome his physical obstacles.
Joseph Young 6-2 180 SG Oregon Sr.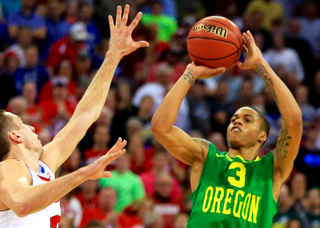 Young had quite possibly the best two game run of any player in the tournament. The Houston native capped off a terrific senior season with two sensational tournament games in which defenses keyed on him and he still found ways to score. He had 27 and 30 points, hitting exactly half of his shots, going 20-40 and 5-12 from 3, while going a perfect 12-12 from the line. He hit shots from outside as well as making athletic finishes at the rim. He almost single-handedly kept the Ducks in the Wisconsin game, with numerous huge baskets. While he lacks great point guard skills, and even calling him a combo guard is probably a stretch, his ability to shoot and score likely gives him a chance to get drafted and stick in the league, despite being severely undersized.
Justin Jackson 6-8 195 SF North Carolina Fr.
Seen as one of the more offensively polished wing players coming into college, it was not a seamless transition to NCAA success for Jackson. Luckily for the Tar Heels, he has seemed to grow as the season has progressed and has been playing his best basketball over the past few games. He has scored in double figures in 10 of his last 11 contests, averaging 15 ppg in the Heels two tournament games. Jackson has been great in transition and has been a respectable cutter, which has allowed him to remain a scoring threat as he has been very streaky as a jump shooter. It seems like another year will further help Jackson grow into a primary offensive threat, as he does indeed have a pretty full scoring arsenal. With nice vision, good size and hopefully a little added weight to his frame, Jackson has left a very positive impression during the last part of his freshman season.
Travis Trice 6-0 170 PG Michigan State Sr.
Given Tom Izzo's impressive track record, the Spartans are a tough to bet against come March. With Trice leading the way with 23 points, Michigan State managed to shock Virginia for a spot in the Sweet 16. He managed to score the first 13 points of the game in explosive fashion as Michigan State gained a 15-4 advantage early, than added to that by sealing the game with his clutch heroics. He grew into the team's leading scorer and trusted PG, with a 2.8:1 assist-to-turnover ratio. His biggest weakness remains his inability to defend, something that could make it difficult for him to stick in the league unless he can improve. He is a streaky shooter and his size will be difficult to overcome, though his play certainly has helped him enter the conversation for 2nd round draftees.
Falling
RJ Hunter 6-6 185 SG Georgia St. Jr.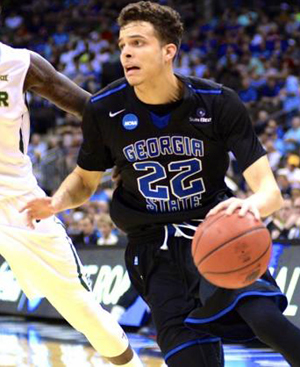 Hunter came into the tournament as a borderline first rounder, and after hitting a game winning three in the opening round win over Baylor, not to mention hitting the two free throws to win the Conference tourney final that put them into the tournament, Hunter's first round hype has taken a boost. With the circumstances surrounding his relationship with his Dad, head coach Ron Hunter, Georgia State became one of the darling stories of the tournament. So why does he appear on the falling list? Simply put, his shooting was a major disappointment all season at 30% from 3, and he wasn't able to dispel those concerns with his postseason performance. He didn't shoot well in any of his last three games (Conference final and two tourney games). From 3 he shot 1-7, 2-7 and 3-8, a combined 6-22 (27%), and overall he shot 3-15, 5-12 and 6-15, a combined 14-42 (33%). Hitting a game winning shot seems to be a cure all for some scouts, but taking a look at his overall body of work evokes a lot of concerns. He has been billed by many scouts as the best outside shooter in college, and that may be the case. But he has shown a major deficiency in his ability to create quality shots for himself, not to mention defend, and his lack of strength and athleticism seems to be the cause. Granted, opponents focused their defenses on stopping him, and he didn't exactly have a pass first point guard setting him up. But if he's going to struggle to get quality looks in a Mid-Major conference, how is he going to be able to create shots for himself at the NBA level? He will need a top tier passer to spoon feed him great looks, or else he'll need to improve his skill level considerably.
Stanley Johnson 6-7 245 SF Arizona Fr.
Johnson is a player that we are still high on and who really came to play in Arizona's slaughtering of Texas Southern. In the next game against Ohio State, it was a real struggle for him to score as he went 1-12 from the field, finishing with 4 points. While he did manage to pull down 10 rebounds (5 offensive), it points to the fact that Johnson can have difficulties finishing at the rim. Given his strength, one has to wonder whether his lack of lift could lead to even further issues once he gets to the NBA. He has actually been a very strong jump shooter from close and long range, which should alleviate a bit of the concern about his ability to score. Still, for a player with Johnson's size, he will need to find a way to improve as a finisher as his struggles during the Ohio State game further highlighted this.
Kris Dunn 6-3 205 PG Providence So.
Dunn was one of this season's pleasant surprises as a highly regarded recruit who overcame injury to become a triple double threat in Big East conference play. He posted impressive averages of 15.6 ppg, 5.5 rpg and finished 3rd in the nation with 7.5 assists per game. Unfortunately, the 6 seeded Friars were upset by Dayton in a game in which Dunn really struggled. He finished with 11 points on 4-13 FG, fouling out in 33 minutes. While he did finish with 4 assists, his 7 turnovers were a glaring number. He averaged 4.2 topg for the season, with a lot of his very high turnover games coming against marquee opponents. Though his box score numbers are very impressive, his analytics leave something to be desired, as he has only average efficiency in most play settings. His size, athleticism and defensive potential have put him in the discussion for a late 1st round pick this year and he does have a solid ability to affect passing lanes to go along with nice length. It is important to consider whether he can overcome his carelessness with the ball and show enough as a long range shooter to garner higher consideration than that.
Myles Turner 6-11 242 C/PF Texas Fr.
Turner struggled down the stretch for the Longhorns and in their lone tourney game it was more of the same. While he did log an impressive 10 boards in just 16 minutes against an undersized Butler team, he got in foul trouble (4 fouls) and shot just 1-5 for 2 points. He scored in single digits in each of his final five games. He remains an intriguing prospect due to his ability to score and defend, but his lack of mobility combined with his lack of consistency puts his draft stock in question. He is considered a borderline lottery pick at this point and may slide down into the mid-first round if he chooses to enter this year's draft.
Follow Michael on Twitter @NBADraftMikeyV. Also, feel free to e-mail him at [email protected]