The high school basketball season is coming to an end and while many schools compete for state championships, some of the national (and Canadian) powers gathered together in Kentucky for the inaugural Bluegrass National Championship. Here are some of the top prospects and their performances.
Josh Jackson – Prolific Prep 2016
Jackson is a natural talent. He is a great athlete, scorer, and passer. Whether he wants to pull up for three, take his man off the dribble and get to the rim, or stop and pop off of a step back, he finds many ways to score. He knows how to play to his strengths. When he had a size mismatch, he scored in the post. When a bigger defender was on him, he would take him off the dribble. He also rebounds very well. His ability to create for others is what makes him special. In the win over Orangeville, Jackson finished with 21 points and 9 rebounds, also rejecting some shots at the rim. In the open floor, Jackson is as good a athlete as you will find. Monday's win was a chance for Jackson to show he can also excel in a half court set. I would, however, like to see him stay more active without the ball, as he has a tendency to take breaks instead of working to get open. His combination of size, elite athleticism, and skill level makes him a special player and should see his name called very early in the 2017 NBA Draft.
Terrance Ferguson – Prime Prep 2016
Ferguson is one of the best athletes in the nation. His game mostly consists of highlight dunks and three pointers, some from NBA range. He gets great elevation on his shot. His ball handling and midrange game still need work, but have improved since last year. He doesn't break down the defense or create for himself. Ferguson scored 18 points against West Oaks, all from catch and shoot situations. He had a rough second game against Orangeville, getting hit in the eye which forced him to sit most of the first half, and finished the game with just eight points. His aggression and competitive nature can be questioned too. After coming off the bench last year, he has done a nice job of transitioning into a lead role.
Mark Vital – Prime Prep 2016 (Baylor)
While Vital may be undersized, his explosiveness makes up for it. Vital is a great athlete and tries to finish everything with a dunk, even if a defender is in his way. He also has the ability to block shots around the basket and is a great rebounder. However, at 6'6, he needs to work on his jump shot. Moving forward, he will have to do more than just catch and finish. Vital is built like a football player and was one of the strongest players on display. He finished with 24 points in the loss to Orangeville.
Thon Maker – Orangeville Prep 2015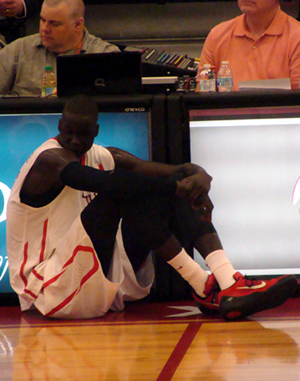 Maker is so versatile at 7'1. He's extremely coordinated and agile for his size. With his slight frame, Maker will never be huge but he looks to have gained some strength over the past year. He can score from anywhere on the floor, sometimes finishing above the rim while also showing his touch from three. At his height he is as good of a ball handler as I have seen at any level. He does however; struggle to consistently finish around the rim. His lack of quick leaping ability could be an issue as his future is as a stretch four, due to not have the foot speed to play on the wing. He doesn't have the strength to establish low post position, either. But his ability to shoot and high level competitiveness makes him a solid bet to eventually become a first round pick. Maker finished with 17 points and five rebounds against Prolific Prep.
Jamal Murray – Orangeville Prep 2016
Murray may not be as athletic as some of the other guards in his class like Dennis Smith or Seventh Woods but Murray is the type of floor general that every team wants. Murray is a great ball handler, a knock down shooter, and can create for others. He has great confidence and takes control of the game when the ball is in his hands. At 6'5 he has great size for a point guard and isn't afraid to be physical. Unlike most young guards, Murray doesn't dance with the ball or over-dribble. Every dribble and motion is with a purpose and he possesses a very high basketball IQ. He might not play above the rim much but he has enough athleticism to throw one down when given the opportunity. He changes his speed very well when he gets into the lane, and can make plays from anywhere on the floor. This is no disrespect to Maker, but having the opportunity to see Orangeville multiple times this season, Murray is the most valuable player to this team. He finished with 22 points and seven rebounds in the loss to Prolific Prep, and dropped 39 points in the win over Prime Prep.
Jarred Vanderbilt – Victory Prep 2017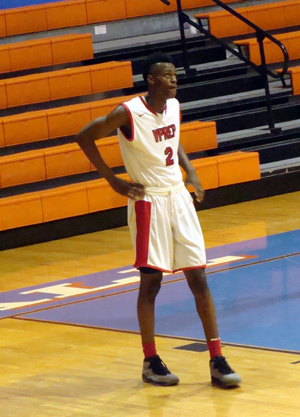 Vanderbilt is long and athletic. The left handed forward was the best passer during the tournament and does a great job of finding an open teammate under the basket. He has the ability to beat the defense off the dribble and get to the rim. His shooting really needs some work and he tends to throw up some sloppy shots. He left many points at the free throw line, one falling a few inches short of the rim. He rebounds very well, and can defend when he's committed. As only a sophomore, Vanderbilt has time on his side.
Matur Maker – Orangeville Prep 2017
The younger brother of Thon Maker, Matur now stands at 6'9 and possesses some guard skills. Maker has really improved over the last year, becoming a starter on a very good Orangeville Prep team, after being used as a utility player on Carlisle last year. He shoots it well from midrange and can drive to the rim. He moves his feet well enough to guard the perimeter and has the shot blocking instincts to be a defensive presence in the paint.
Billy Preston – Prime Prep 2017
Preston had a strong showing in a first round loss to West Oaks Academy, scoring 19 points and grabbing eight rebounds. Prime Prep's midseason addition brings a presence in the paint and has some perimeter skills too. Also possesses the ability and confidence to shoot from three when a defender is sagging off. Preston has a bright future ahead of him and projects as a big time player down the road.
Isaac Humphries – La Lumiere 2016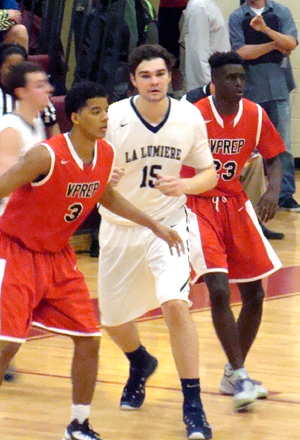 Humphries is La Lumiere's newest addition. The 6'11 Australian big man finished with 12 points and nine rebounds in the win against Victory Prep. He shows great touch around the rim and smooth free throw mechanics. While he is bigger than the opponents he faced over the weekend, he does a great job of recognizing his size advantage in the post. He does possess the ability to pass out too. After picking up his dribble and committing to a spin move in the post, he was able to react quickly to a defender sagging off of a shooter, passing it back out. Offensively he reminds me of Marc Gasol. Defensively, he has to get a lot better and needs to get in better shape.
Corey Sanders – West Oaks 2015 (Rutgers)
At 6'1, Sanders is very explosive. He has great body control, connecting on multiple alley oops. He has a nice handle but doesn't really beat the defense and get to the rim off of the dribble. He has a nice shot when given the space but he doesn't force it. His team play has helped him lead West Oaks to the championship game after beating two very talented teams in Prime and Prolific Prep. He struggled in the championship game only scoring five points, showing frustration and forced his offense in the loss to Sunrise Christian Academy.